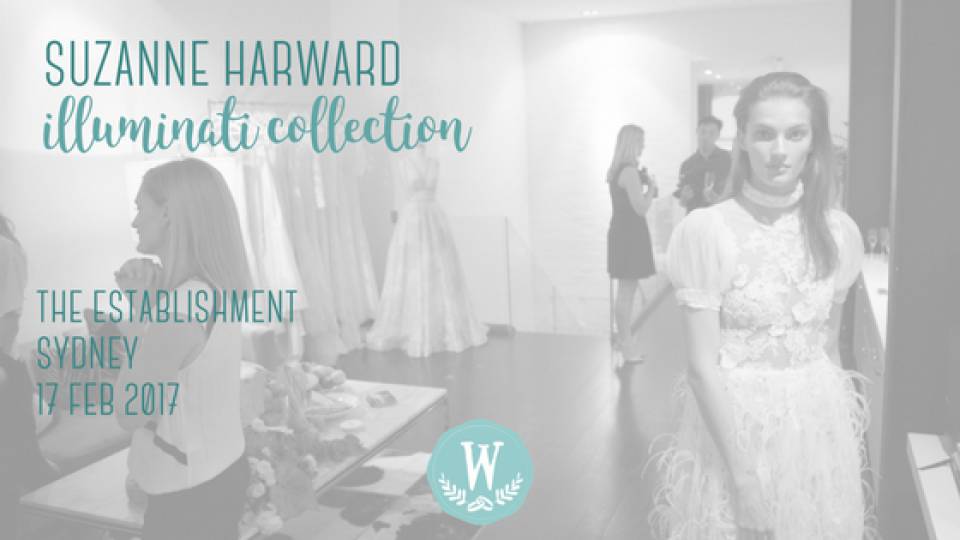 As the storms rolled into Sydney on Friday afternoon, some of the wedding industry's leading influencers were dashing out of the rain and into The Establishment Hotel.  Iconic Melbourne designer Suzanne Harward had invited Sydney Brides and members of the industry to experience her latest collection – The Illuminati.
And what an experience it was.  Greeted by the Illuminati herself, guests were welcomed with a glass of champagne into the intimate penthouse suite.  On either side of a gorgeous cheese platter stood two simple clothes racks bearing the latest collection.  The Illuminati & Celestial gowns were given centre stage on two gorgeous models who mingled & chatted with industry.  
In the room beside us were an inclusive mix of wedding publishers including Polka Dot Bride and Modern Wedding.  Soda Films were shooting a few scenes and International photographer Alice Mahran was there also with her camera.  Can't wait to see those pictures!
THE GOWNS
The range within the Illuminati collection is an art form in itself with gowns to suit every kind of woman and every style of Bride.  The collection starts at $7,000 and Brides receive a very personal service that ensures gowns are perfectly made to measure.  The Suzanne Harward team explained that sheer lace on a bodice for example, can be tailored to ensure perfect placement.
As the industry swooned over the collection picking out their favourites, we were encouraged to touch and feel the luxurious fabrics and texture of the gowns.  It seemed that this was an invitation to participate in the experience that Suzanne Harward Brides are privy to.  And as we became aware, this experience is not just about the gowns.
The women who surround Suzanne Harward are a remarkable team.  They each bring a wealth of expertise and there is an awe of respect between them.  They share a kind of down to earth confidence in the knowledge that they are blessed with flawless designs to work with, and yet their presence seems to make the brand everything it is.
I walked away with the thought that a collaboration between Suzanne Harward and Bride, would bring its own set of fond memories in addition to the wedding itself. 
View the full Illuminati Collection here.