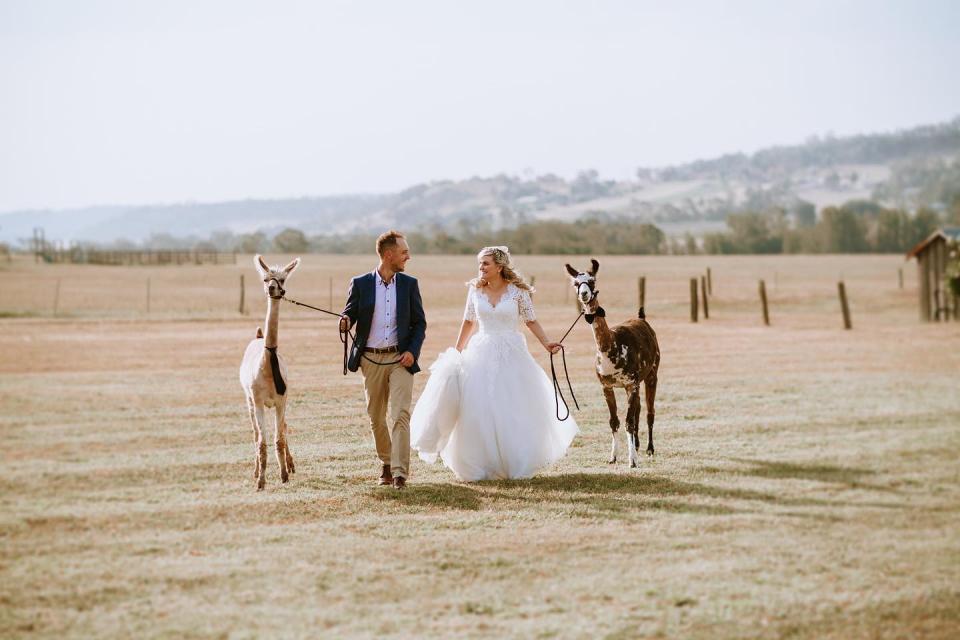 Weddings can be a bit overwhelming for lots of people, but especially introverts, as it combines some of their least favourite things: being the centre of attention, getting their photo taken repeatedly, engaging in small talk and having minimal alone time.
A lot of modern wedding traditions are built for extroverts: the first dance, photo shoots and personalised hashtags all serve the purpose of making you the star of the day. That works for some, but not for everyone.
There are a lot of introverts and more private people out there who don't feel comfortable with this level of attention—but that doesn't mean that they can't have the most amazing wedding day.
If you're an introverted, shy or sensitive person, that gives you extra reason not to conform to standard wedding traditions. You don't have to relent to family pressure or conform to the latest wedding trends either. Like all wedding planning, you have the power to make your wedding ceremony work for you. It's wonderful to do things your own way, on your own terms. 
Here's 12 wedding ceremony tips for introverts...

Relief after the wedding ceremony - Matt Ashton Photography
1. Choose the right Celebrant
There's a huge choice of wedding celebrants in Australia and they all bring a unique personality to your wedding. Some celebrants are a bundle of energy and chat a lot. Others are quite the entertainers. Some are more renowned for their sensitive and caring natures. When you meet celebrants in the lead up to your wedding, you'll want to assess if their personality is the right fit for you. 
Your perfect celebrant will be sensitive to your needs from your very first meeting. They will have the ability to see and meet you where you are at and help you feel comfortable throughout the wedding process.
A good celebrant will be able to pick up from your initial interactions if you are more on the introverted side of the scale and be able to adapt their communication style. They'll may also offer you a quick, no fuss ceremony to limit the amount of time you are standing in front of your guests.
By the time your wedding ceremony rolls around, you will have built a strong and trusting relationship with your celebrant that will calm your nerves & help you enjoy yourself on your wedding day.
View celebrants near you who offer quick/no fuss wedding ceremonies.
2. Consider having a first Look
This quiet moment before the wedding ceremony allows you to get out the jitters and nerves so you feel and look relaxed and comfortable for the rest of the day. It can also slow everything down and help avoid a frenzy.
Give yourself an hour between getting ready and your wedding ceremony to meet your fiance for a secret first look. With no other eyes on the two of you, you'll be free to have this special moment together out of the spotlight. 
This is also a wonderful opportunity to capture intimate and emotive photos of a moment that you will cherish forever. From the first look, you could even walk to the ceremony and up the aisle together. 
3. Pre-ceremony meditation
Meditation is great to help ease the nerves before your wedding ceremony. You can either play a guided meditation some time during your morning, or your celebrant may be able to offer this service. 
Julie Muir, who services the Newcastle & Hunter Valley in NSW is one such celebrant who can run proceedings for you. She will arrive early and guide a meditation for both you and your wedding party, before you walk down the aisle. Julie believes it's a great way to ground and bring you back into the moment.

Pre-ceremony meditation by Julie Muir - Celebrant. Image: Jack Chauvel Photography
4. Photo Policy
An unplugged ceremony can help you to avoid the paparazzi feel that often accompanies the wedding ceremony. Your wedding photographer will love this too as they'll have fewer heads, bodies and cameras to navigate around when getting the perfect shots of your ceremony. 
You can hire a sign or have a personalised one made for you as part of your wedding ceremony styling. You can also ask your wedding celebrant to announce that you're having an unplugged ceremony before the formalities begin.
If privacy is important to you, it is perfectly acceptable to ask guests not to post any photos of your wedding to social media.
5. Wedding Party Size
If you are shy or introverted, consider minimising your number of bridesmaids and groomsmen. You may think a large wedding party means more people for your guests to focus on during your wedding ceremony, but in fact, a larger bridal party can create a bigger sense of occasion and possibly more fuss & things to manage.
The fewer bridesmaids and groomsmen you have, means the getting-ready part of your day will be quieter and less hectic. Keeping the time before the ceremony calm and not frantic, will help you remain present, soak up the moment and enjoy this special time.  
6. Ceremony Rehearsal
Rehearsals are all about practising choreography, timing and positioning. Having one can make you feel more in control on the day and ease your anxiety come 'show-time'.  Rehearsals can also be a welcome addition to your ceremony preparations and provide an intimate moment to enjoy with your partner.  
If you feel a ceremony rehearsal is just another thing on your to do list - don't have one. There's no rules here, what's right is what feels right for you.
7. Ceremony Positioning
If the idea of standing up in front of friends and family for the wedding ceremony makes you feel uncomfortable, rest assured your celebrant will take some of the heat off you. They're there to engage and entertain the guests.
You might be surprised to hear, you can get away with minimal speaking during your ceremony. The only thing you need to say are the legal vows. If you don't feel comfortable facing your guests, you can face each other and pretend it's just the two of you up there. If you want to take it down a notch further, you could even consider sitting during the ceremony.
8. The Personalised Vows
If the idea of exchanging vows makes you break out in a cold sweat, your celebrant will have plenty of strategies to coach you through it including helping you write your vows and practicing them out loud.  But if you are dead-set that you don't want to do personalised vows, that's fine too. Your celebrant can ask you vow questions instead, where a simple 'I do' or 'I will" is all you have to say. Or you can skip that part completely and you can write a private letter to your partner instead.   
9. Include Pets

Sharing the spotlight with your furry friend takes some of the heat off you. Image: Popcorn Photography
If nothing makes you feel more comfortable than having your favourite furry friend nearby, then consider including your pet pooch in the ceremony or as a wedding guest.
There are pet minding services that specifically cater for weddings, where your minder will take responsibility for your pet at some point during or after your wedding ceremony so that you can mingle with guests or continue with your day without having to worry about your furry loved one.
Animals are a great way to distract attention from yourself on your wedding day.  If you're an animal lover you could even consider hiring a llama or two.  They make a gorgeous addition to your wedding photos.
10. Congratulations Post-ceremony
After your wedding ceremony your guests will want to congratulate you. Consider allocating a short time for this part of the day if you think it might be taxing for you. If it's all too much, ask your photographer to take a group photo and that will get you moving swiftly on to the photo shoot with just your bridal party so you can avoid having to receive congratulations from every single one of your wedding guests.
11. Recharge Time
After your wedding ceremony and congratulations from guests, factor some recharge time into your schedule. Identify a quiet and secluded space that you can retreat to so you can have a break before the next item on the agenda. Even a few minutes alone time with your partner can do a world of good and help you reset. And what better time to enjoy a private and intimate moment with your brand new spouse.
12. Cut the Guest List
Small weddings are a growing trend in Australia. And a small guest list can help you feel more comfortable and less under the spotlight. Smaller numbers also add to that low-key yet intimate feel that will put you and your partner at ease.
Lastly, try to keep at the forefront of your mind that the eyes on you are from those that love you the most. Being the focus of everyone's attention can be a bit intimidating, but remember, the 'audience' loves you and wants only the best for you.
And if your head is still spinning, you could always consider eloping !!
This article was written by Wedlockers vendor - Julie Muir Celebrant.  Cover image by Popcorn Photography.