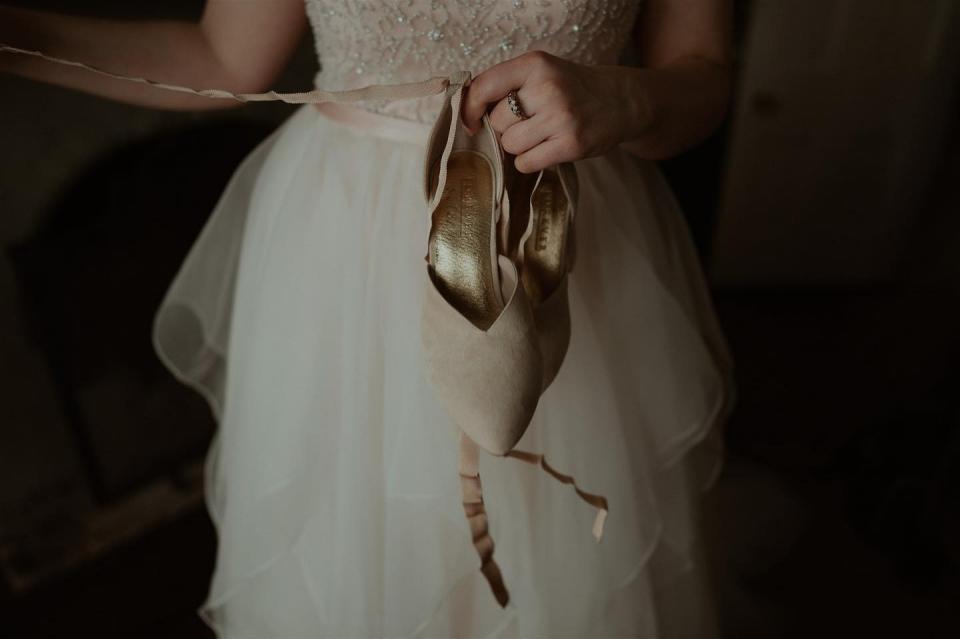 Weddings are one of the biggest days of your life, and probably one that you've imagined since you were a kid. When you pictured your wedding day in your mind, you always expected that certain people would be there at your side, smiling and laughing with you, and making happy memories. 
It may sadly be the case, though, that that special person is not able to be there in person on your wedding day because they have passed away. Instead, they'll be there in spirit and if you want to make their inclusion in your wedding all the more special you can pay tribute to them throughout the day. 
Knowing how to include them, however, can be a little tricky! You don't want to make the day feel sad, or take away from any of the happy memories you'll be making. So - how do you pay tribute to them in a way that has meaning, but also feels appropriate for such a joyous occasion?

Grandma's hanky and pearls. Image: Bec Essery Weddings
How to include loved ones who have passed in your wedding day 
One of the first things to ask yourself is whether you'd like to create a private moment just for yourself to remember and celebrate with them, or whether you would like to make a public celebration in their memory, that your bridal party and guests can share in. If the person was well known to your guests and their absence will be felt strongly, it could be a lovely touch to add their presence in a more public way, which not only celebrates and honours them, but encourages your guests to share that memory and celebration with you.
Here are some suggestions on how to include a loved one who has passed in your wedding day celebrations.
Ceremony Ideas
A locket can be a long-lasting token that you can keep with you even after the wedding finishes. Lockets allow you to carry photos of your loved ones close to your heart. Grooms can thread this onto a pin, and pin this inside their suit jacket. Brides can attach this to their bouquet as a charm, and feel that they are walking down the aisle with the support of their loved one, who walks alongside them.


Heirloom jewels can be incorporated into your wedding day. Image: White Wedding Photographers

If your loved one had an accessory or outfit that you always associated with them, this could be incorporated into your wedding day attire. It could be a vintage hair comb to pin in your hair, Mum's pearl bracelet on your wrist, or you could have an old wedding dress recut to a more modern shape. It could be Dad's original wedding suit tailored to suit your own measurements, or using Grandpa's Sunday-best tie.

If you love the idea of using one of your loved ones' outfits to include them in your special day, but the style of the garments don't really match the style of your wedding, consider using leftover material in a clever and more discreet way. A piece of lace from your grandmother's wedding dress could be used to wrap the bouquet stems. Dad's favourite checked shirt could be used to line the inside of your suit jacket. 

Did your loved one use handkerchiefs? Having a handkerchief embroidered with a special phrase or a saying that they were known for and tucking it close to your heart is a lovely way to feel close to them on your wedding day. Adding a spritz of their perfume or cologne onto it will make you feel they aren't so far away, every time you breathe it in.


Favourite florals are a great way to give the nod to loved ones

Did your loved one have a favourite flower, or were they an avid gardener? It could be particularly meaningful to you to add a rose from Grandad's garden to your bouquet, or use a sprig of lavender for the groomsmen's boutonniere, in honour of a friend who liked the fragrance so much.

It can be a very touching gesture to set aside a seat for your loved one at your wedding ceremony, out of respect of where they would be seated if they were there in person. You can place a framed photograph of them on the seat, or a card with their name and a short message about why the seat has been saved.

Consider setting aside room for a small table where you can place a framed photograph and a candle, which will burn for the duration of the ceremony all the way until the end of the reception. 
Reception Ideas
After the ceremony while you and your partner are taking photographs, it's often a nice touch to have a cocktail hour for your guests. Why not add a signature drink to the drinks service which is a nod to your loved one? On arrival to the reception, you could ask guests to have a sherry in Nan's honour, or serve Dad's favourite whiskey. If you wanted to create your own signature cocktail, you could name it in honour of your loved one, either in a subtle way, with a nod to something they loved, or in a more overt way, using their name.
If your loved one was a keen baker you could use one of their recipes as part of the meal service (with the help of your caterers or venue). Perhaps you could serve Nonna's biscotti with tea and coffee at the end of the night. Or even choose something they would have loved as one of your choices – you might know that your friend would have loved any dessert with chocolate in it, for example.

Were they always at you to learn something? Maybe Mum always teased you about your two left feet, so you could get a wedding dance lesson as a private joke between the two of you. Maybe your auntie always complimented your natural curly hair, so you could leave your curls out, as she would have loved to have seen it that way. Maybe your brother was always a natural public speaker, so you could put extra effort into delivering the perfect speech.

Incorporate your loved ones' favourite music in your wedding day


Was there a favourite book or song that your loved one had? You could do your wedding dance to a song from their favourite band, or use a tune that had special meaning to you both. If they had a favourite book, could you include a quote from their favourite author in one of the ceremony readings or reception speeches.

Was there somewhere they always wanted to go? Maybe your uncle always talked about finally going to Europe, or making a trip back to their birthplace. This could be wonderful inspiration for your honeymoon destination, and would allow you to tick off something that was on their bucket list.
Instead of a wedding favour for each of your guests, you may like to do something charitable in honour of your loved one. Consider making a donation per person to a charity you hold close to your heart, instead of giving out bomboniere. This could be a cause that they held dear, or it could be a charity connected to the way they passed if this was due to illness. This can be a very practical way to honour a loved one's memory, as instead of spending money on a gift which may not be wanted or needed by your guests, it instead can make a big difference to a charity who will gratefully receive your donation, and put it to good use.

An easy way to add a nod to a departed friend or family member is to raise a glass to their memory, during the champagne toasts and speeches. If you feel that you can handle the emotions, this could be a really poignant time to speak freely about your memory of that person, and what you think they would be thinking as they watch down on you today.
When your loved one is a pet

Image: Folk + Follow 
We haven't forgotten about your beloved pets – the death of a pet can be no less heartbreaking and there are ways you can include pets who have passed away in your wedding day too.
In lieu of wedding favours, make a donation to an animal charity in your pet's name. You can add a card to each place setting advising that instead of receiving a bomboniere, that an animal shelter or charity has received a donation in honour of your pet.

If your pet had a collar with an identity tag, you can thread the tag onto a safety pin and pin it inside the groom's suit, or add this to the bride's bouquet as a trinket.

Set aside room for a small table at your reception with a photo of your pet and a burning candle. If you wanted to make a positive contribution, add a small collection box, or even your pet's water dish, with a note advising that you will be accepting guest donations to your favourite animal charity.
It can be very upsetting to know that someone who should be there on your wedding day, will not be. But by incorporating some of these small personal touches into your ceremony and reception, it may make it feel like your loved ones' memories are still at the top of your mind. They may not be able to be with you in body, but their memory will be in your heart as you make that special trip down the aisle.
This article was written by wedding planner Nicky Oliver from White Magnolia Events.  Cover Image: Olguin Photography