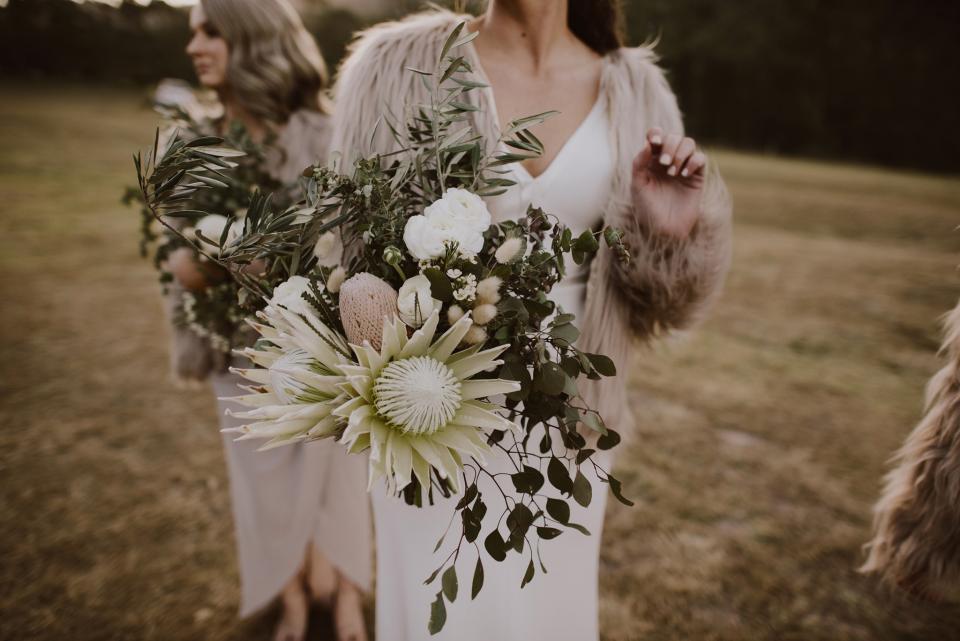 There's no person on this planet who doesn't have nightmares about what might go wrong on their wedding day. I'm willing to take a little side bet that you have worried about the dress not arriving in time, the flowers being wrong, the cake not being what you ordered, and Uncle Bob or the weird work colleague losing it in some way and being a big embarrassment. Or even that your ring bearer throws a tantie and swallows the rings. 
Those things could happen.
They've certainly happened at weddings I've officiated, though not all at the same wedding. But while any one of them would be a disappointment, or could even feel like a minor crisis, down the track you will have a unique wedding memory and a story that gets better the more you tell it.  None of those things will  completely stuff up your wedding. And they are not the things that celebrants  have nightmares about. (Yes, we do have nightmares, real ones). The things celebrants have nightmares about are those things that would make your wedding illegal.
Let me reassure you that there isn't much you can do that would bring the legality of your marriage into question. The Marriage Act is actually quite forgiving. But there are a few things that could stop your wedding from going ahead, or bring your ceremony to a crashing halt. Thankfully, the list is short.
Forgetting to book a celebrant

Without a celebrant, there is no wedding. Image: Little Black Bow
The one wedding vendor you can't do without is an authorised marriage celebrant. Given that celebrants are mobile, even if you haven't got your venue locked down, finding your celebrant early and locking the date into their diary means you can tick that box. Without a celebrant (or member of the clergy licensed to marry) you can't get married. You can't even pretend that your ceremony is a legal one. That's definitely against the law.
Failing to lodge your Notice of Intended Marriage in time
To marry in Australia you must give a minimum notice of a full calendar month by completing a Notice of Intended Marriage, having your signatures witnessed, and giving it to your chosen celebrant. Your celebrant will guide you through what you need to do. Your celebrant can also witness your signatures, but so can a short list of other acceptable witnesses. 
Failing to present original official ID documents to your celebrant
The Marriage Act is very clear about using official documents to prove three things
that you were born (that is, your date and place of birth)
your identity (you need photo ID for this)
that you are free to marry (if you have ever been married before)
It is also clear about what documents are acceptable as proof.
for proof of birth, your birth certificate or passport
for proof of ID, current driver licence, current proof of age card, or passport
to prove you are free to remarry, your divorce certificate or the death certificate of your former spouse
All of these documents must be originals as issued by a relevant authority.
Turning up under the influence of substances - legal or illegal 

Image: Little Black Bow Photography
Nothing can derail your wedding faster than turning up drunk, or appearing to be under the influence of other substances, including prescribed medications. Getting married changes your legal status and that affects a wide range of legal matters, including who your next of kin is, who is entitled to inherit your estate, or who you are entitled to inherit from (Succession Laws). 
Anything that might compromise your capacity to give real consent, or that might be argued to have done so, can call the legality of your marriage into question. Your celebrant has to be confident that you are in a fit state to make decisions and to give your consent to your marriage. If there is any doubt, your marriage cannot go ahead.
Saying or doing something that casts doubt on your consent
Celebrants in Australia have to make a big deal about something called Real Consent. What this means is that we have to be on the lookout for any indication that you might not be freely and willingly agreeing to marry, and if we are even slightly suspicious that all is not on the up-and-up, we are required to pull the plug on the wedding. 
Real consent means that you are mentally capable of making far-reaching legal decisions, you are freely and willingly marrying. And you are not being physically forced, emotionally or psychologically coerced, or tricked into the marriage. 
So if you say or do anything that might be interpreted to cast doubt about whether you are marrying completely of your own free will, at any time before or during the ceremony up until the point where both of you have made your vows, your celebrant has to stop the ceremony then and there.

Image: Frankly Photography 
Ignoring social distancing rules
While social distancing is not mentioned in the Marriage Act, that does not absolve you or your celebrant from having to obey the law, which includes directives about gatherings, weddings, and social distancing. Failure to comply with restrictions could invite a visit from authorities who have the power to shut your ceremony down and force everyone to leave. There are reports from several states of police doing just that, as well as handing out hefty fines. That might make a story, but it would never be a good one.
This article was written by Jennifer Cram - The Inclusive Celebrant.
Cover Image: Leah Cruikshank Photography