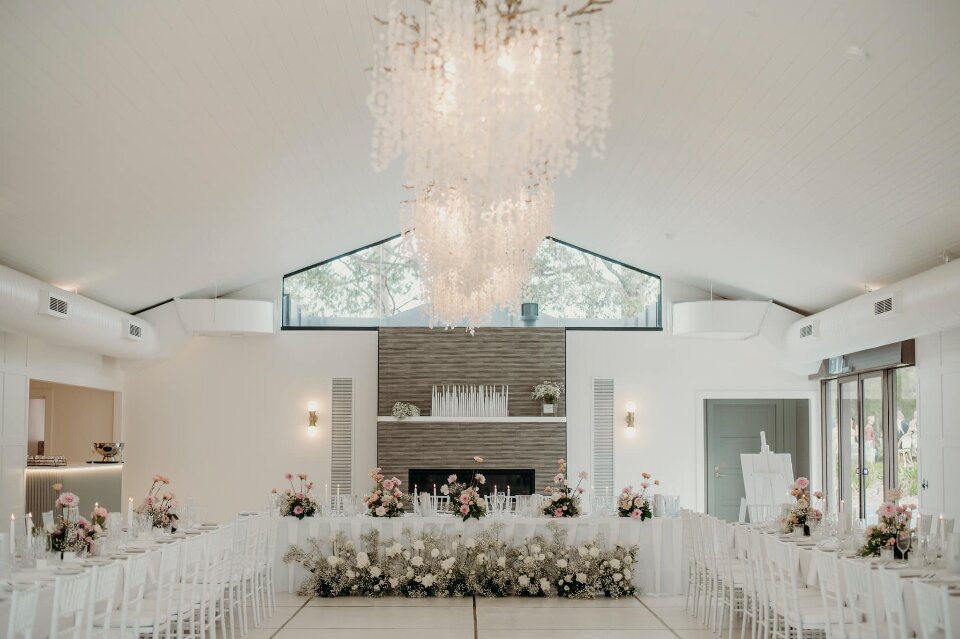 Looking for a romantic spot to get married to the one you love? This list of the most romantic wedding venues in NSW features the state's dreamiest locations to tie the knot. From intimate elopement sites to romantic beach locations, here is your go-to guide for romantic weddings in NSW. 
Without further ado, here are the 24 most romantic places to get married in NSW...
Top 24 Romantic Wedding Venues in NSW

1. Goosewing Cottage
Location: 1194 Mount View Rd, Mount View, NSW 2325
Capacity: 20
Accommodation: Sleeps 12
Elopement packages: $3,295+
Goosewing Cottage is an intimate elopement venue that offers all inclusive wedding packages for 2 - 20 guests in the Hunter Valley. Surrounded by undulating hills and lush green farmland, the unique little open-air chapel is one of Australia's most romantic spots to quietly say "I do".
Affordable wedding packages start at $3,295 inclusive of a tailored wedding ceremony with a choice of celebrants and a full set of high resolution images by one of the Hunter's best wedding photographers. Optional onsite accommodation is available in a cottage (sleeps 4) and homestead (sleeps 8) and has a swimming pool. The ideal elopement venue for a romantic getaway! 

2. The Woods Farm
Location: Bayly Road, Tomerong, NSW 2540
Capacity: 200
Accommodation: Sleeps 120
Wedding Packages: BYO
The Woods Farm is one of the most romantic places to get married in Australia. The 40 acre property is immersed in nature and just a few minutes from the beach, offering accommodation for up to 120 guests onsite for a 3 day wedding surrounded by loved ones. 
The property's fairytale-like bush chapel is hidden in the woods. It is accessed via a 120 metre grass aisle that curves through jasmine covered archways creating a romantic path through trees and shrubs to the chandelier altar. The property also features an incredible chandelier hall, an outdoor reception area with alfresco bar, and a gorgeous pool area where recovery brunch is served. 

3. St Joseph's Guesthouse
Location: 1029 Saint Albans Road, Saint Albans, NSW
Capacity: 100
Accommodation: Sleeps 10
Venue Hire: $3,500 - $7,500
Built from the ruins of a 160 year old Catholic Church, St Joseph's Guesthouse is a charming wedding venue with a unique romantic atmosphere. Surrounded by the peace and tranquility of the Hawkesbury, this heritage Airbnb offers an incredible backdrop for outdoor ceremonies & receptions and has the original church bell installed at the altar on the front sandstone steps.
On the ground floor is a spacious event area that can seat up to 60 guests or caters for cocktail events of up to 100. Upstairs are 5 luxury bedrooms, a huge open plan kitchen & dining and several indoor & outdoor lounges. Venue hire starts at $3,500 for elopements with 10 guests and goes up to $7,500 for larger weddings including all accommodation for 4 nights.

4. The Cove Jervis Bay
Location: Ellmoos Road via Booderee National Park, Jervis Bay NSW 2540
Capacity: 150+
Accommodation: Sleeps 111
Wedding Packages: BYO
The Cove is a private seaside resort in Jervis Bay. Accessed via a beautiful dirt road through pristine National Park, the resort is a totally secluded and highly romantic wedding destination with your own private beach for the weekend.
At The Cove, you bring your entire guest list to stay with you for the weekend. There's a large funhouse onsite, a glamping village with luxury amenities and cute little beach cabins. But the piece de resistance for romantic weddings is the incredible outdoor courtyard. Surrounding an outdoor bar with fairy-lit trees and festoon lights hanging overhead, this highly atmospheric space is reminiscent of the Amalfi Coast.
To hire The Cove for your wedding there is a minimum accommodation spend of $20,000 which guests are able to book & pay themselves. This gives you free use of the resort for your wedding including the fully furnished, brand new reception hall. 

5. The Pavilion Kiama
Location: 2 Bong Bong Street, Kiama, NSW 2533
Capacity: 80 - 400
Wedding Packages: All inclusive 
Located on the Kiama Headland with sweeping coastal views, the Pavilion Kiama is a highly affordable wedding venue with a romantic seaside ambience. The light-filled reception venue is a versatile and modern space with polished timber floors, a stage, entrance foyer and bar. 
Affordable all inclusive packages are sometimes available under $100/pp (depending on the season) and there two beautiful ceremony sites conveniently located on the waterfront right outside the venue. One of our favourite things about The Pavilion is that guests can walk home after the reception with affordable quality accommodation just across the road.

6. Fig Tree Park
Location: Central Tilba, NSW
Capacity: 2 - 200
Accommodation: Sleeps 2
Fig Tree Park is a new romantic wedding venue that has only recently opened for micro weddings and elopements Situated on an elevated hill top near the quaint holiday town of Tilba Tilba on the NSW South Coast, the luxe European style homestead and lawns feature spectacular ocean & countryside views.
Expansive, private grounds are perfectly designed for romantic weddings under the stars with views for miles, up-lit gardens and fig trees adorned in fairy lights and overhead festoons. You can either set up long tables under the fig trees, hire a marquee or for micro weddings, utilise the homestead's private dining room.
Intimate accommodation for 2 is provided in a luxury barn and is included with all wedding packages. All inclusive elopement packages include celebrant, photographer and cocktail style catering. Alternatively for larger weddings you have the freedom to choose your own caterers. 

7. Willow Farm
Location: Berry - South Coast, NSW
Capacity: 130
Accommodation: Sleeps 10
With 160 acres of picturesque countryside exclusively yours for the weekend, Willow Farm is the perfect setting for relaxed, country romance. A rustic entertainment shed provides a versatile setting for dining, dancing or both, and there's an adjoining marquee site with connecting lawns that are perfect for canapés, cocktails & lawn games.
At Willow Farm you can also dine and dance under the stars with long tables and a dance floor set up on the lawns. Preceded by a romantic ceremony down by the creek and with farmhouse accommodation onsite, Willow Farm offers the ultimate weekend wedding retreat for lovers. 

8. Figbird Cottage
Location: Terara - South Coast, NSW
Capacity: 150+
Accommodation: 2 cottages sleep 8
Featuring stunning English rose gardens and surrounded by lazy green grazing paddocks, Figbird Cottage is a serene and pretty property that oozes romantic charm. The elegant European marquee is a permanent feature of the gardens and has an adjoining lawn area where outdoor dining tables can be set up under festoon lighting.  
All furniture, lighting and tableware is included in wedding packages which are remarkably affordable. The owner Lisa is very knowledgeable on the local area and can help you arrange catering and other vendors as required.

9. Mimosa Wines
Location: 2845 Tathra-Bermagui Rd, Bermagui NSW 2546
Capacity: 180
Accommodation: Sleeps 13
Wedding Packages: All inclusive
With beautiful sunsets casting a warm glow over the winery below, Mimosa Wines is one of the most romantic wedding venues on the NSW South Coast. The architecturally designed reception venue is located on an elevated section of the 200 acre property and has a birds eye view over the vineyard and surrounding National Park for as far as the eye can see.
The chefs hatted restaurant features glass walls that open onto a huge wrap around balcony offering a stunning spot for wedding ceremonies. The property also has a romantic wedding ceremony deck at a lily pond within the vines. Venue hire is $5,000 and includes two onsite cottages that sleep 13 guests and all inclusive wedding packages are well priced and amazing value. Foodies will love the menu.

10. Greystone Estate
Location: 617 Hermitage Rd, Pokolbin, NSW 2320
Capacity: 30 - 110
Accommodation: Sleeps 32
Wedding Packages: High end
Greystone Estate is a private and luxurious destination for romantic weddings in the Hunter Valley. The unique Hamptons-inspired property is located on 10 resort-like acres and has 4 seperate self contained dwellings that accommodate 32 guests in 5 star luxury. 
When you hire Greystone Estate for your wedding you get exclusive use of the property and all accommodation for 2+ nights. You can get married in the all-white, open-air pavilion or an outdoor location on the grounds and host your reception in the stunning wedding hall.

11. Eleven Eighty Weddings
Location: 1180 Bolong Road, Coolangatta, NSW 2535 
Capacity: 80
Wedding Packages: DIY/BYO
Accommodation: Sleeps 15
The quirky Eleven Eighty Venue is a romantic wedding destination that caters for intimate weddings of 20 - 80 guests in the Shoalhaven region of NSW. The 3 acre block has two cottages that sleep 15 guests, a shed full of furniture and styling items and 5 different event spaces in which to create your dream wedding.
A heritage listed wedding hall is the largest indoor space seating up to 50 guests. The hall flows onto a private courtyard which seats up to 80 guests and is serviced by an indoor/outdoor bar that opens from the barn (seats 30). There's also a refurbished train carriage that seats 20 and for more casual get togethers an Argentinian BBQ and pergola.
Venue hire includes 3 days access to all venues and accommodation so you can host pre & post wedding functions utilising all or any of the amazing spaces. Cool street art murals and manicured gardens add to the photo opportunities.

12. Coorabell Estate
Location: 36 Keys Road, Coorabell, NSW 2479
Capacity: 10 - 150
Accommodation: Sleeps 10
Coorabell Estate is a private Airbnb style property situated at the end of a country lane just 20 minutes from Byron Bay. The secluded estate offers a quiet and natural setting for romantic weddings and comes with accommodation for up to 10 guests in 5 luxury bedrooms.
The house has a covered balcony that seats 40 guests overlooking the surrounding rainforest canopy, a poolside event space suitable for cocktail receptions with up to 55 guests, and an outdoor terrace which caters for up to 150 guests with hire of a marquee or tipis.

13. The Conservatory at Briars
Location: 653 Moss Vale Rd, Burradoo, NSW 2576
Capacity: 200
Wedding Packages: 80+ People
Accommodation: Sleeps 130
Briars Conservatory is a versatile and romantic wedding venue on 15 acres of tranquil gardens in the Southern Highlands. The light-filled and newly renovated conservatory overlooks a beautiful lake and rotunda for waterfront ceremonies and is privately situated away from the Inn and Motel on the same site.
Having Briars Inn & the motel right next to the venue offers guests an opportunity to book & pay for their own onsite accommodation, plus the option to take refreshments at the Inn while the bridal party has wedding photos between the ceremony and reception. The Inn also has private dining rooms suitable for pre & post wedding functions.

14. Tides Byron Estate
Location: 290 North Teven Road, Teven, NSW 2478
Capacity: 140
Accommodation: Sleeps 22
Wedding Packages: Tailored
Situated on a beautiful macadamia farm just outside of Byron Bay, Tides Estate is a picturesque and romantic wedding location with a tropical/coastal vibe. The property centres around a luxurious 8 bedroom villa that has a swimming pool and entertaining area (seats 40) on the top floor with sweeping views to the ocean.
Tides has a beautiful new wedding hall & bar beside the villa that features a huge glass wall looking over its outdoor terrace and across the macadamia orchard to Lennox Head. Long table dining can be set up on the terrace or for a uniquely romantic setting - nestled in the orchard between rows of macadamia trees.

15. Daisy Field Weddings
Locations: Tilba Tilba, NSW
Capacity: 2 - 25
Accommodation: Sleeps 2 - 14
Wedding Packages: All inclusive $8,500
Every year at the start of spring the Daisy Fields at Mountain View Farm burst into paddocks of bloom offering a one-of-a-kind location for romantic weddings. Exclusively available for a limited 6 week season you can say "I do" immersed in thousands of vibrant blooms at a romantic altar in the centre of the Daisy Fields.
All inclusive wedding packages at this unique Sapphire Coast location are $8,500 including a personalised wedding ceremony by Debra Summer, wedding photos by Serenity Shots, live music by Singer in the Park, wedding florals and a gourmet grazing & drinks table. Accommodation is available for 2 to 14 guests in a cute love shack and glamping tents. 

16. Paradise Botanical Gardens
Location: Kulnura - Central Coast, NSW
Capacity: 230
Accommodation: Sleeps 8
Wedding Packages: DIY/BYO
Paradise Botanical Gardens is a secluded and highly romantic wedding venue hidden on 230 acres of unique gardens & bushland in the tiny hamlet of Kulnura. The property is the ideal spot for outdoor weddings with open-air and covered spaces for ceremonies and receptions surrounded by lush greenery, rare plants and beautiful national park.
This gorgeous garden venue features some of the most unique locations for wedding ceremonies, photos and receptions in Australia! They include heritage Roman Columns, a Monet Bridge and a grand circular ceremony lawn aptly titled 'The Kings Garden'. A homestead is available for accommodation & getting ready. Enquire about camping.
 View Paradise Botanical Gardens

17. Growwild Wildflower Farm
Location: Alpine - Southern Highlands, NSW
Capacity: 145
Accommodation: Cabins + mansion next door
The unique Growwild Wildflower Farm is a picture of garden paths meandering through 25 acres of native wildflowers and manicured lawns. Framed by native bushland the property is a registered sanctuary with the Wildlife Land Trust and home to a variety of birdlife and Australian marsupials.
Secluded gardens offer a choice of intimate ceremony locations that change in look & feel in different seasons. A stunning permanent marquee offers views over the picturesque property and a blank canvas that is easily styled to all wedding themes. The affordability of wedding packages and the intimacy & versatility of the pretty spaces here, make Growwild one of our top 10 most romantic wedding venues in NSW.

18. Mali Brae Farm
Location: Moss Vale - Southern Highlands, NSW
Capacity: 30 - 110
Accommodation: Sleeps 2
Mali Brae Farm is a private 90 acre farm that is family owned & operated onsite. The warm and inviting property features two distinct reception venues for different sized weddings. The hay shed oozes rustic romance for larger weddings of up to 110 guests, while the new Augustine's Room is a purpose built intimate wedding space with floor to ceiling glass windows that overlooking the sweeping country landscape.
There are 6 romantic ceremony spots to choose from on the farm including landscaped gardens, a pavilion and perhaps the most romantic spot in the entire Southern Highlands - The Rustic Ruins. Mali Brae Farm offers all-inclusive wedding packages with exclusive use of the entire property, catering + drinks and complimentary overnight accommodation for two.

19. Goolawah Retreat
Location: 288 Point Plomer Rd, Crescent Head NSW 2440
Capacity: 30 - 150
Sleeps: 32 + camping
Wedding Packages: DIY/BYO
Goolawah Retreat is a romantic coastal venue perfectly suited to outdoor festival style weddings. The retreat is situated on 28 acres surrounded by native bushland and has 5 self contained cottages that sleep up to 32 guests plus a covered wedding pavilion that caters for receptions of up to 150 guests.
The reception pavilion and adjoining festoon-lit courtyard have stunning views over the property to the ocean and flow onto a spacious lawn where food trucks and drinks vans are welcome to set up. The affordable venue hire fee starts at $6,800 including all accommodation for 3 nights and use of a caterers kitchen and onsite furniture. No curfew. Pet friendly.

20. Blair Athol Bathurst 
Location: 281 Keppel Street, Bathurst, NSW 2795
Capacity: 10 - 100
Accommodation: Sleeps 10
Wedding Packages: DIY/BYO
Blair Athol is an architecturally designed Victorian mansion built in 1892 for the then Mayor of Bathurst. Having recently undergone a multimillion-dollar refurbishment the mansion's stately reception & dining rooms, conservatory and 5 luxuriously styled suites (accessed via a grand staircase or lift) offer a one-of-a-kind location for intimate and highly romantic weddings.
Surrounding the prestigious property are more than an acre of manicured gardens and lawns that overlook Bathurst city and feature a beautiful garden pavilion for private wedding ceremonies. This Italianate landmark and 21st century trophy home is available to hire for DIY & BYO weddings.

21. Dantosa Estate
Location: 

76 Mort St, Katoomba, NSW 2780

Capacity: 16 - 60
Accommodation: Sleeps 18
Wedding Packages: DIY/BYO
Dantosa Estate is a 9 acre Blue Mountains property that offers romantic weddings completely surrounded by nature. Situated in a clearing within world heritage national park, Dantosa Estate features two cottages that sleep 18 guests and which overlook a pretty lake, lake house, ceremony jetty and picture-perfect country gardens.
The larger of the houses at Dantosa Estate has a function area that seats up to 60 guests (or can be stretched a little further for cocktail weddings). An adjoining balcony overlooks the lake and makes an ideal spot for pre-dinner cocktails and canapés. Versatile venue hire packages include the option for a 1 or more night stay and you can BYO all your preferred vendors.

22. Ravensthorpe Guesthouse & Restaurant
Location: 56 Tongarra Rd, Albion Park NSW 2527
Capacity: 200
Accommodation: Sleeps 14
Wedding Packages: Semi inclusive (choose your caterer)
Ravensthorpe is an elegant country manor house surrounded by 3 acres of romantic wedding gardens that enjoy a stunning rural vista and mountain backdrop. When you book the Guesthouse you get exclusive use of the entire estate for 24 hours including space to get ready, a romantic wedding ceremony at the garden rotunda, photos on the grounds, fully catered reception and a post-wedding recovery breakfast. 
The property features a range of individual and versatile spaces that you can utilise for seperate events throughout your day. There is a light-filled conservatory, intimate courtyard, tennis court and a luxe reception marquee as well smaller rooms within the homestead well suited to micro weddings. 

23. Midginbil Eco Resort
Location: 252 Midginbil Rd, Midginbil, NSW 2484
Capacity: 150
Accommodation: Sleeps 150+
Wedding Packages: 3 day/2 night BYO
Imagine waking up in a luxury safari tent that has its own private timber balcony with sweeping views over sub tropical rainforest. The 400 acre Midginbil Eco Resort is one of the most romantic wedding destinations in Northern NSW and comes accommodation for 150 or more of your closest loved ones.
Located one hour inland from Byron Bay, Midginbil is completely immersed in National Park and has no neighbours (and hence no curfew). There are 3 different ceremony sites to choose from that all have stunning views over nature and you can then choose between an outdoor, marquee or tipi reception or utilised the rustic wedding shed. 
Midginbil is a 3 day/2 night wedding venue where all guests stay onsite with you. There's a swimming pool, tennis & volleyball courts, a games room and a communal dining room for breakfasts.

24. Palm Beachfront Estate
Location: Palm Beach, Sydney NSW 2108
Capacity: 100
Wedding Packages: Please Enquire
This intimate wedding venue is nestled in the prestigious Northern Beaches overlooking breathtaking views of Palm Beach. The grounds offer a uniquely romantic setting for private wedding ceremonies with a beautiful coastal backdrop for timeless wedding photos. 
Venue hire includes access to over 2,500 sqm of Balinese-inspired gardens and meticulously manicured lawns. The venue provides the convenience of onsite bathroom facilities, easy road access, ample street parking, and a private jetty - offering a memorable arrival and departure experience.

25. Coolangatta Estate
Location: 1335 Bolong Road, Coolangatta, NSW 2535
Capacity: 2 - 200
Accommodation: Sleeps 70
Wedding Packages: All inclusive + DIY
Elopement Packages: All inclusive
Coolangatta Estate is a budget friendly wedding venue in a beautiful location at Shoalhaven Heads which was the first site of settlement in the region. Heritage buildings are set within spacious gardens and are surrounded by picturesque rows of vines and bush covered hills creating a beautifully romantic atmosphere that exudes across the property.
There are two romantic sites to say "I do" at Coolangatta Estate including a large fairy-lit fig tree and a hedge bordered croquet lawn. For intimate wedding receptions there's the 200 year old Grand Hall which was the town's original community centre and for larger receptions a rustic-themed function centre. Other amenities include a 26 unit motel, swimming pool and tennis courts.
Cover Image: Greystone Estate by Muse Photography
Have a romantic wedding venue to add to this list? Get Started