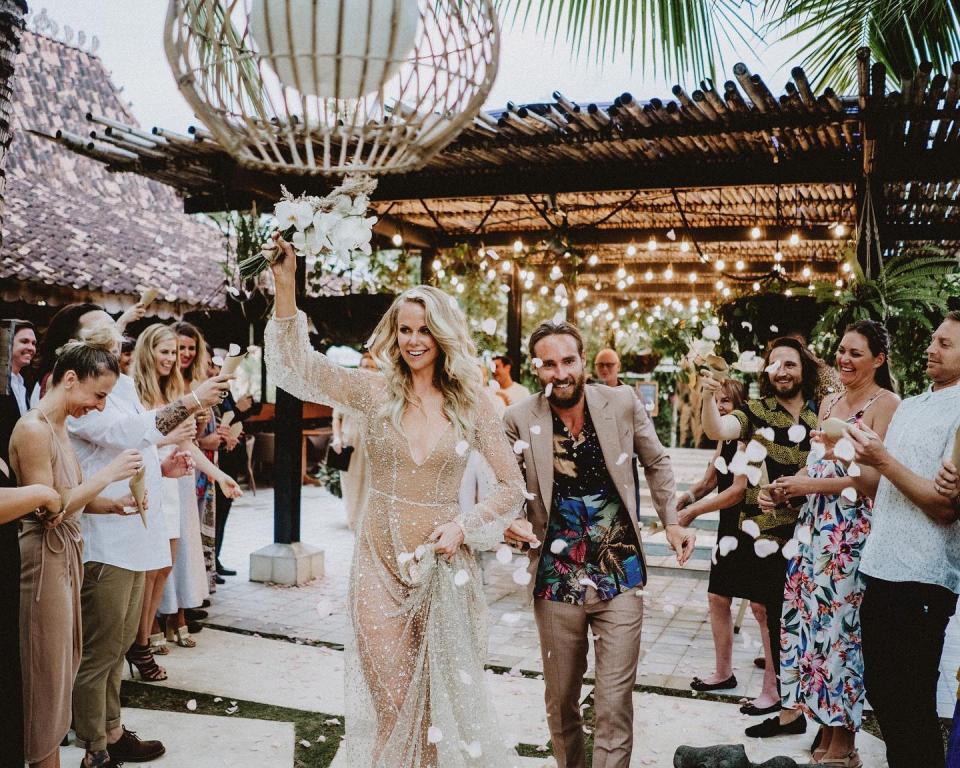 Bali is one of the most desirable wedding destinations on the planet and for numerous good reasons too. Bali island is an exquisitely beautiful location with impressive wedding chapels, luxurious resorts, infinity pools, plush river valleys and well-preserved shores. With a prestigious list of jaw dropping wedding spots and gorgeous villas, Bali is able to charm and enchant every living being who sets foot on the island, especially those looking for a budget friendly and exotic destination wedding experience. 
If you're planning on tying the knot in Bali, keep reading! This is your unrivalled guide to ensuring your destination wedding in Bali surpasses all dreams and expectations.   
Best time to have a Bali wedding
Although Bali is tropical and breathtaking all year round, the island does experience the seasonal shift between wet and dry months. Generally, couples opt to have their wedding during the drier seasons, but this doesn't necessarily mean that a wedding in the wet months is any less delightful. Bali's rainy season is rather short-lived, in the sense that it could be raining buckets all night long and then be cloud free and clear skies by the morning. 
If you do decide to get hitched during the rainy season, it's crucial to prepare a Plan B, whether it be with a marquee or tent on standby. If sun-scorched beaches, blue skies and crystal waters is your wedding utopia, your big day will likely need to take place between May and September. This period is known as the dry season, in lament terms – moderate humidity, a good balance of sunshine and surfable waves. 
Bali wedding locations and venues 
Whether it's something blue in the Indian Ocean, or something borrowed for a floral frangipani arrangement, who wouldn't want a dream destination wedding in Bali? With world renowned beaches and villas, you won't easily find stuffy grand ballrooms or rustic barn settings here. Instead, Bali's most picturesque wedding venues are all about the gorgeous locations and jaw dropping views, with some of the most elegant decorations around. 
Some of the most breathtaking wedding venues include magical jungle sanctuaries, private villas, dazzling clifftop chapels and every other budget-friendly, luxury venue in between. Bali meets and exceeds all expectations when it comes to finding your perfect wedding venue to say your "I do's".
There's an endless collection of all-in-one wedding ceremony, reception and after party venues in Bali that routinely come with infinity pools, hectares of manicured gardens and some of the most beautiful ocean views in the world. 

Image: Alma Photography
Private luxury villas are one of the most popular venue choices – and for a good reason. The main reason couples opt for the option of a private villa is exactly that – privacy. Forget about worrying about any ogling hotel guests or party poopers with noise curfews. Instead, enjoy filling a luxurious villa with as many friends and family as you can fit and take pleasure in having the whole place to yourselves. 
A villa on Bali's South-West Coast provides a mix of natural charm with traditional Balinese elements. With a magical backdrop provided by the Indian Ocean and expansive outdoor space catering for groups of 100 guests standing or a more intimate setting for 80 guests seated, you and your guests are guaranteed a sense of enchantment.
Best areas to get hitched in Bali 
As beautiful and magical as a destination wedding in Bali sounds, it's almost near to impossible to imagine any part of Bali not screaming "TROPICAL PARADISE". However, differences do exist between the various areas of Bali with each carrying their own distinct characteristics, experiences and beauty.
Here's some of the breathtaking areas you'll want to consider for your destination wedding in Bali.
Ubud District
A scenic hour drive from Bali's coast and beaches, you will find the vibrant "one with nature" Ubud District. With blends of local tradition and contemporary style hidden amongst enchanting lush valleys, flowing waters and green foothills – Ubud lends its beauty to couples to make an oath and begin life together as one in an awe-inspiring intimate and romantic wedding ceremony. 
Ungasan
Seamlessly blending into the greater Uluwata area, resting on the southernmost tip of the island -  Ungasan is notoriously known as one of the most scenic areas in Bali. She offers majestic clifftops with views for as far as the eye can see. The area combines peaceful rural surroundings with some of the most élite luxury resorts and clifftop villas the Island has to offer. 
Ungasan is also home to some of the most spectacular beaches on Bali Island, with pristine white sand shores and clear blue waters. Weddings are all about elegance and comfort here. Ungasan is the epitome of a seaside wedding sanctuary, offering discrete privacy and intimacy.

Image: Alma Photography
Bali wedding packages & prices 
The total cost of a Bali wedding is dependent on factors such as; the time of year, type of venue chosen (whether it be a wedding chapel, resort hotel, private villa or an event venue such as a restaurant), number of wedding guests, beverage arrangement, the menu to be served and even the type of entertainment. With hundreds of exotic venues and wedding packages of offer in Bali, you can have a cliff top, chapel, beach front or a rooftop venue – it's all do-able, irrespective of a big budget or not. 
How much does it cost to get married in Bali?
With a budget of AUD $8,500, you can expect a budget friendly wedding package in Bali, to offer the following inclusions:
Ceremony 
Package for 30 - 35 guests
Private ceremony space with hire for 2 - 3 hours
Chairs & hire decorations
Personal assistance during the ceremony 
Pressing service for Bride & Groom 
Preparation room for Bride & Groom
Hair & Makeup for Bride
Fresh flower arrangements at the altar, aisle & signing table
Wedding bouquet & boutonniere
Balinese Gong to announce the bridal procession 
English speaking marriage celebrant
Commemorative wedding certificate 
Beverage Package
Standard sound system for music use
Photographer for 3 hours before, during and after ceremony with a wedding album and all photos on a flash drive 
Reception 
3 course set menu 
Beverage Package for 3 - 4 hours
Standard furniture & decorations
Gift/souvenir for the couple
Saying "YES" to a wedding planner?
Planning a hometown wedding presents enough trials and tribulations. Add a tropical destination wedding into the mix, and you officially need the assistance and services of a wedding planner. Wedding planners know the local area and customs, what is and isn't included in packages, and are able to circumvent issues that may arise from assumptions you make based on the way things work at home. Things in Bali, work the Balinese way.

Typical Bali wedding location with views of the Indian Ocean. Image: Alma Photography
Hiring a wedding planner reduces the risk of going over budget, eliminates your need to manage and delegate smaller tasks, ensures you comply with the legalities required in a foreign country and typically ensures your expectations are met and you receive what you pay for. 
Finding someone who is familiar with local vendors brings cost-effective ideas to the table  so you can enjoy creating a unique and perfectly you wedding, and have the planning process run smoothly.
Bali wedding legalities 
Getting married in a foreign country is a great way to celebrate your special occasion with loved ones. More and more couples opt to pack their bags and jet off to an exotic wedding destination to experience an event of a lifetime.
Getting hitched overseas however, does involve some extra paperwork and know-how. To ensure that you are legally married once you return to Australia, it's crucial that you comply with the local Australian law. You can have your dream Balinese wedding, but to make it legally binding with the Australian Consulate, you'll need to submit the required Australian paperwork. 
What you should be aware of when getting married in Bali
Here are some interesting pointers to be aware of when considering getting legally married in Indonesia. 
If you wish to be legally married in Bali, you will be required to have both a civil and religious ceremony. Easily enough in recent years as the civil ceremony is often consolidated with the religious ceremony. 
It is a compulsory requirement for couples to file first a "Notice of Intention to Marry". This is done at the Civil Registry Office in the regency where you are staying in Bali. Couples are then also required to present a "Certificate of non-impediment". This document is generally obtained from your consulate or embassy in Indonesia. 
Generally, persons of any nationality can marry in Indonesia, providing they hold one of the five religions recognised by Indonesia (Buddhism, Catholicism, Hinduism, Islam, Protestantism). 
Not only are you required to declare your religion, under the Indonesian Law – you and your partner must declare the same religion. Before you go down this path, keep in mind that it is a mere formality to verbally declare to be of the same religion as your partner. The vast majority of international couples get married in Bali under Protestant faith. 
Couples of the Catholic Faith face are often restricted by law to marrying in a church. Bali allows you to take advantage of their Island's beauty and tie the knot almost anywhere. Whether it be on a scenic clifftop, your private villa, on the beach, in between rice fields or at a fine dining restaurant.
In a nutshell, with the help of a Bali wedding planner, a tropical destination wedding in any of Bali's wonderful districts is more than achievable. With an abundance of luxury villas and breathtaking wedding spots, Bali remains an unbeatable and affordable wedding destination. 
Cover image: Alma Photography