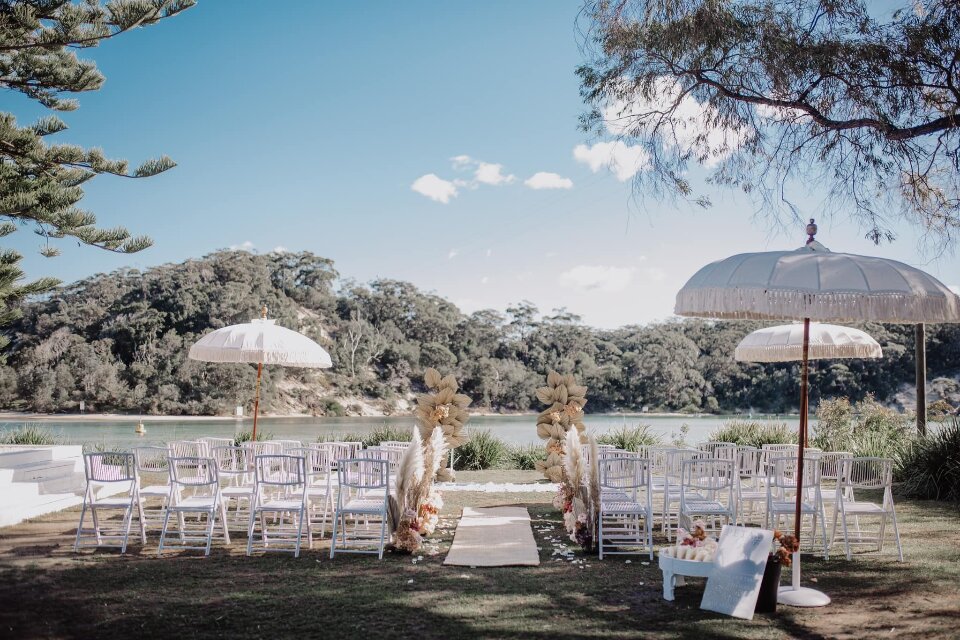 Wedding resorts are the ultimate in luxury for destination weddings. We're lucky in Australia to have a great variety of wedding resorts for getaway celebrations of all sizes. Whether you're thinking of eloping or treating your entire guest list to a wedding resort experience, Australia has some incredible destinations to choose from.
Being a large island, Australia has an excellent selection of beach wedding resorts including several you can hire for the exclusive use of you and your guests. Many of the larger beachfront resorts have elopement packages and offer spaces suitable for micro destination weddings.
In addition to beach wedding resorts, other wedding venues with accommodation that have a resort-like ambience include golf resorts, country clubs, luxury farmstays with glamping villages and private, exclusive-use hotels. 
If you're tossing up with an overseas wedding or a destination wedding down under, Australia's best wedding resorts will have you staying on shore for sure. Here are 20 of the best wedding resorts in Australia.
Top 20 Wedding Resorts in Australia

1. The Cove Beachfront Resort
Location: Ellmoos Road via Booderee National Park, Jervis Bay NSW 2540
Capacity: 150+
Accommodation: Sleeps 111
Wedding Packages: BYO
The Cove is a seaside wedding resort located on its own private beach in Jervis Bay. When you hire The Cove for your wedding you get the entire resort for your private use for 2 nights with accommodation for 111 guests.
The Cove features an oceanfront garden for your wedding ceremony, a luxe all-weather reception hall and a beautiful festoon-lit courtyard surrounding an outdoor bar. At night The Cove comes alive under fairy lit trees and is a spectacularly atmospheric location for coastal weddings under the stars.

2. The Lodge Wedding Resort
Location: 406 Jamberoo Mountain Road, Jamberoo, NSW 2533
Capacity: 300
Accommodation: Sleeps 136
Wedding Packages: All inclusive
The Lodge is an amazing wedding resort with 43 newly renovated hotel rooms surrounding a huge outdoor swimming pool. The affordable wedding destination allows you to bring all your family & friends to celebrate with you for 2 nights with all catering and drinks provided onsite.
Amenities at the hotel include an open-air Pine Tree Ceremony Cathedral, a luxe wedding reception hall, private gardens & courtyards, tree covered avenues that offer a spectacular setting for outdoor dining tables and a bar & restaurant providing for a welcome night and after party.

3. The Woods Farm
Location: Bayly Road, Tomerong, NSW 2540
Capacity: 200
Accommodation: Sleeps 120
Wedding Packages: Dry hire, DIY & BYO
The Woods Farm is a country wedding resort nestled in a bushland setting 2.5 hours from Sydney and Canberra. A village of glamping tents and self-contained cottages provide accommodation for 120 guests onsite along with a swimming pool, petting farm animals, veggie garden where breakfasts are served and a free-use bike shed.
The 40 acre wedding venue has an incredible open-air bush chapel nestled amongst native trees and shrubs. To reach the chapel you walk through jasmine covered archways on a grass aisle stretching 120 metres to a chandelier altar. An outdoor bar area and furnished lawn sits beside the luxe reception shed styled with a rustic bar, timber tables and chandeliers.

4. Hayman Island Resort
Location: Hayman Island, Whitsundays QLD
Capacity: 2 - 300
Accommodation: Sleeps 300+
Hayman Island Resort is a spectacular wedding venue located on Australia's iconic Great Barrier Reef. The Whitsundays landmark is one of the best resort wedding destinations in Queensland, offering a range of packages from elopements to grand celebrations with up to 300 guests.
You can access the resort via a luxury catamaran, helicopter or seaplane and there are 166 luxury guest rooms spread across three wings - offering the option to book out your own wing. The resort offers the option of a poolside, garden or beach wedding ceremony and indoor or outdoor receptions.

5. Greystone Estate
Address: 617 Hermitage Rd, Pokolbin, NSW 2320
Capacity: 30 - 110
Accommodation: Sleeps 32
Wedding Packages: $400+/pp 
Greystone Estate is a resort-like wedding venue located in the Hunter Valley. It has 3 seperate dwellings across 10 acres that centre around the main homestead with an adjoining swimming pool area and large outdoor gathering verandah.
The 5 star Hamptons-inspired property has an all-white open-air chapel and reception hall that cater for weddings of up to 110 guests. Inside the main house is a large kitchen and butlers pantry from where your preferred private chefs can cater your event. Mid-week venue hire starts at $13,800 including all accommodation for 2 nights.

6. Austinvilla Estate
Location: 31 Austinville Road, Mudgeeraba, QLD 4213
Capacity: 130
Accommodation: Sleeps 90
Wedding Packages: All inclusive
Austinvilla Estate is a country wedding resort in the Gold Coast hinterland region of Queensland. This tropical wedding destination offers elopement packages to which you can add accommodation, or you can hire the entire resort for your exclusive use with 90 guests staying onsite with you.
The resort features an award winning bridal suite, self-contained cottages, an open air ceremony pavilion and an elegant fairy-lit reception venue. You can have a welcome night dinner on the cocktail sundeck and host a pool party recovery the day after your wedding.

7. Sheraton Grand Mirage Wedding Resort
Location: 71 Seaworld Drive, Main Beach, 4217
Capacity: 600
Accommodation: Sleeps all
Wedding Packages: All inclusive
You do not need an overseas wedding for a tropical beach celebration with the Sheraton Grand Mirage offering a stunning beach setting for weddings on the iconic Gold Coast. The Sheraton Grand Mirage is the only 5 star wedding resort in this popular beachfront destination, and comes with beautiful oceanfront villas for guests.
At the resort you'll find lagoon pools with a swim up bar, restaurants, bars & lounges, and a range of indoor + outdoor event spaces for private celebrations. Wedding venues include tropical gardens that overlook the lagoon pool, outdoor beachfront terraces and indoor function rooms that overlook the ocean.
 View Sheraton Resort Gold Coast

8. Angourie Wedding Resort
Location: 166 Angourie Rd, Yamba NSW 2464
Capacity: 40 - 170
Accommodation: Sleeps everyone
Wedding Packages: All inclusive
Angourie wedding resort is located in Northern NSW at the beachfront destination of Yamba. The region offers perfect temperatures for outdoor celebrations year round with the resort providing a lush subtropical rainforest setting for private use weddings.
At Angourie Resort all your wedding guests stay onsite with you for the weekend and there is a restaurant, pool and day spa for their convenience. An open-air poolside venue and function room provide your reception spaces with wedding ceremonies held in the gardens.

9. Linga Longa Estate
Location: 256 Cassia Road, Southampton, WA 6253
Capacity: 300
Accommodation: Glamping/Camping
Wedding Packages: DIY/BYO
Linga Longa Estate is a destination wedding venue located at Blackwood River in South West WA. The secluded 700 acre property is hidden within a private forest offering a beautifully secluded and intimate destination for relaxed outdoor weddings.
Wedding ceremony locations include an enchanting festoon-lit forest cathedral and floating lake gazebo. For wedding receptions there's a permanent marquee with a timber deck that overlooks the lake and surrounding hills. As your reception draws to an end, an outdoor log lounge provides a relaxed and romantic site to wind down for the evening.

10. The Retreat Port Stephens
Location: 4302 Nelson Bay Rd, Anna Bay NSW 2316
Capacity: 70 - 100
Accommodation: Sleeps 91
Wedding Packages: Affordable
Backing onto the largest living sand dunes in the Southern Hemisphere is The Retreat, one of the most affordable wedding resorts on the North Coast of NSW.  The Retreat offers mid week elopement packages or for larger weddings you can book out the entire resort for your exclusive use.
The Retreat is conveniently located right on the sand and just 3 minutes to the Anna Bay shops but feels secluded and private within surrounding bushland. There is a function room included with venue hire and you're welcome to set up an outdoor reception and can BYO drinks.
 View The Retreat Port Stephens

11. One&Only Wolgan Valley Resort
Location: 2600 Wolgan Road, Wolgan Valley, NSW 2790
Capacity: 2 - 90
Accommodation: Sleeps 90
Wedding Packages: Mid-High end
The One & Only Wolgan Valley Resort is the largest wedding resort in Australia located on a 2,800 hectare wilderness area in the Blue Mountains. The luxury resort features 1, 2 & 3 bedroom freestanding villas, all with private plunge pools, spacious living areas and verandahs with incredible views over the valley.  
A team of in-house wedding planners provide one-on-one assistance to couples and are on hand to source the best in goods & services from across the world. You can book the entire resort for your exclusive use or there are private spaces available for elopements and micro weddings.

12. Spicers Sangoma Retreat
Location: 70 Grandview Ln, Bowen Mountain, NSW 2753
Capacity: 30
Accommodation: 6 Luxury suites sleep 16
Wedding Packages: Top end
Spicers is a name synonymous with Australia's best wedding resorts with the brand's renowned 5 star service and luxury surrounds on offer at Sangoma Retreat. This tranquil destination in the Blue Mountains/Hawkesbury region offers the epitome of luxury for small weddings of up to 30 guests immersed in natural serenity.
There are 6 private and individually unique suites at the resort which can be booked for your exclusive use with an overnight or two night package. Weddings are catered by the chefs hatted onsite restaurant with a 5 course degustation menu and drinks package. Elopement packages available.

13. Spicers Vineyards Estate
Location: 555 Hermitage Road, Pokolbin, NSW 2320
Capacity: 80
Accommodation: 12 rooms + house ($399 - $1,599 per night)
Wedding Packages: Min $30k spend on weekends
Spicers Vineyards Estate is a secluded, resort-like wedding destination located in the heart of the Hunter Valley wine region. The 22 acre estate is surrounded by native bushland with views to the Brokenback Ranges and features 4 acres of vineyards as the backdrop for your wedding.
The 80 seat Restaurant Botanica caters perfectly to intimate wedding receptions and has a large covered verandah soaking in the stunning views. Weddings require booking of accommodation. There are 12 luxury guest rooms overlooking a spacious pool area, plus a secluded house perfectly suited to bridal accommodation. 

14. Starline Alpacas Farmstay Resort
Address: 1100 Milbrodale Road, Broke, NSW 2330
Capacity: 80 seated, 120 cocktail
Accommodation: Sleeps 60+ ($155 - $200/pp per night)
Wedding Packages: DIY
Starline Alpacas Farmstay is one of the cheapest wedding resorts in Australia offering a farmstay style setting perfect for relaxed country weddings. The working alpaca farm is situated in the Hunter Valley and is surrounded by the spectacular Brokenback ranges and Yengo-Wollemi National Park.
There are 15 self-contained cottages on the property and a gaggle of four legged friends for your wedding guests to pet during their stay. A reception hall seats up to 80 guests or you can host a cocktail function for up to 120. The resort hire fee for weddings is $5,200 with BYO catering and drinks. A minimum accommodation booking also applies.

15. Cypress Lakes Wedding Resort
Location: 15 Thompsons Rd, Pokolbin, NSW 2320
Capacity: 900
Accommodation: Sleeps 900+
Wedding Packages: Affordable
Elopements & micro weddings available
Cypress Lakes is the largest golf resort in the Hunter Valley with an 18 hole championship course, luxury day spa, two restaurants, a viby public bar, several swimming pools, tennis courts and an amazing kids playground. This resort is too big to hire for your exclusive use, but offers a vibing & fun atmosphere in which to celebrate with your guests.
The 25 acre country-club style complex has 12+ ceremony & reception venues onsite ranging from a man-made lake with rotunda and water fountain, to poolside spots and secluded garden, bush & golf course settings. Function rooms include a grand marquee for weddings with 400+ guests, a ballroom and smaller more intimate spaces.

16. Mercure Resort Hunter Valley Gardens
Location: McDonalds Road, Pokolbin, NSW 2320
Capacity: 40 - 120
Accommodation: Sleeps everyone
Wedding Packages: $119+/pp
The Mercure Group has a 4½ star hotel and wedding resort located within the iconic Hunter Valley Gardens complex. You get access to the world class gardens for your wedding photos when you book your wedding ceremony & reception at the resort.
Within the resort are 5 reception venues including a ballroom, conservatory and two function rooms. Some of the venues have views into the gardens and access to private courtyards. Wedding packages are available for 15 to 120 guests and are among the more affordable in the Hunter Valley starting under $150 per head. 
 View Mercure Resort Hunter Valley

17. Freedom Shores
Location: Pringle Road, Woodwark, QLD 4802
Capacity: 40
Accommodation: Sleeps 34
Wedding Packages: All inclusive
Elopements: From $9,890
Freedom Shores is an oceanfront wedding destination located in a hidden valley at Airlie Beach in the Whitsundays. Surrounded by hills and with its own private beach, the expansive grounds and luxurious boutique accommodation is like its own island getaway and the perfect spot for an overseas wedding in the pacific, right here on Australian sand.
At Freedom Shores you get your own private wedding resort with on-shore accommodation in purpose-built boats for the weekend. Guests pay their own accommodation. All inclusive destination weddings are $32,150 for 40 guests including ceremony, celebrant, flowers, hair & make up, reception & catering plus accommodation for the Bride & Groom for 2 nights.

18. NRMA Murramarang Beachfront Holiday Resort
Location: Banyandah Street, South Durras, NSW 2536
Capacity: 20 - 120
Accommodation: Villas sleep 40+
Wedding Packages: All inclusive from $160/pp
Murramarang Beach Wedding Resort is located just north of Batemans Bay on the South Coast of NSW. The oceanfront resort is surrounded by National Park with villas just a few steps from the sand. There are four receptions venues at the resort that cater for micro weddings of 20 - 40 guests up to parties of 120 and include both indoor & outdoor settings.
All inclusive wedding packages come with a choice of menus including gourmet banquets or low-key canapés. Being a non-exclusive resort, packages are relatively affordable and there is a restaurant and kiosk onsite to cater to the remainder of your stay should you wish to honeymoon.
 View NRMA Murramarang Beach Resort

19. Pullman Magenta Shores Resort
Location: 1 Magenta Drive, Magenta, NSW 2261

Capacity: 220 - 400

Accommodation: Sleeps everyone
Wedding Packages: All inclusive
Pullman Magenta Shores is a 52 acre, 5 star beachfront wedding resort located on Tuggerah Lake on the Central Coast. The resort is set amongst landscaped gardens and has 1 - 3 bedroom appartments, 3 swimming pools, a pool bar and day spa.
Pullman Magenta Shores is much like a country club wedding venue and has an 18 hole championship golf course where golfers can T-off on the morning of their wedding. There are 6 reception venues within the resort plus a manicured lakeside lawn should you prefer a garden wedding over the nearby beach. 

20. The Beachcomber Hotel & Resort
Location: 200 Main Road, Toukley, NSW 2263
Capacity: 200
Accommodation: Sleeps Everyone
Wedding Packages: $180+
The Beachcomber Hotel & Wedding Resort is located on Budgewoi Lake just north of Sydney on the Central Coast. Styled in a Hampton's theme, the resort is the ideal setting for coastal weddings and has two light-filled reception venues with floor to ceiling glass opening doors.
All inclusive wedding packages start from 30+ guests and come with a private lakefront courtyard that has a roof for weatherproof ceremonies.
 View The Beachcomber Hotel & Resort
Cover Image: Josephine Sicad Photography
Have a wedding resort to add to this list? Get Started