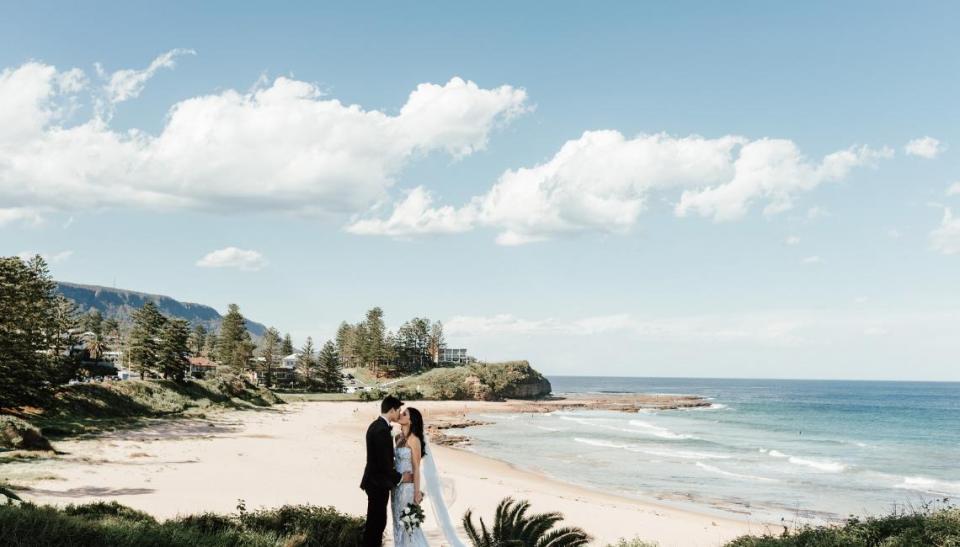 Dreaming of a destination wedding with endless skies and cotton-puff clouds? An exquisite landscape as the backdrop to your special day? I'll let you in on a not-so-secret secret: destination weddings don't have to be far-off and exotic to be beautiful.
Your dream wedding destination might be right in our own Aussie backyard. Well, maybe not the backyard with the old Hills Hoist and the swimming pool. But the backyard with the wide blue sky and the blue-hazed gums and the exciting city-scapes and sparkling river ways. Oh, yes!
NSW is full of stunning locations for your destination wedding, from the sharp coastal glory of the sea and sky, to the sun-drenched regional inland towns, to the lush bushland and rainforests that stretch from one end of the state to the other. Whatever your style, whatever your preference, there's a place to get married in New South Wales that will speak to your heart on your wedding day.
12 Best Destination Wedding Locations in NSW

1. The Cove Jervis Bay
Location: Jervis Bay, NSW
Capacity: 150+
Accommodation: Sleeps 126
Wedding Packages: DIY/BYO
The Cove is top of the list for wedding destinations in NSW for good reason. You get your very own private beach, at your very own private resort where all your favourite people stay with you onsite for the weekend.  
The secluded 3 acre seaside oasis is located on the white sands of Jervis Bay and offers intimate gathering areas both indoors and out for pre & post wedding events. The relaxed & intimate outdoor setting features an open pavilion, garden bar with festoon lighting and romantic fairy lit trees. intimate space to enjoy time with loved ones. 
Your wedding ceremony can take place on your own private beach, barefoot on a secluded sand bar or in the waterfront gardens. As the sun sets cocktails are served under fairy lights at the outdoor bar. There is a brand new reception venue known as 'The Wedding Hall' for covered events, or you can set up outdoor tables for alfresco dining. 

2. The Woods Farm
Location: Jervis Bay - South Coast, NSW
Capacity: 200
Accommodation: Sleeps 120
Wedding Packages: DIY/BYO
In a woodland setting reminiscent of a fairy tale, old tractors sit regal and chandeliers hang unexpectedly from trees. Wander further and you'll find hidden in the woods a decadently furnished, open air chapel complete with an extravagant arbor through which you make your grand entrance to the altar. Welcome to The Woods Farm - one of the world's most unique wedding destinations.
This 40 acre wedding wonderland is exclusively yours for 3 days with all guests staying onsite with you. The property features a luxe rustic reception venue that carries with the chandelier theming and has a built in bar. Large doors open onto an expansive games lawn with a fire pit.
A permanent glamping village adds to the luxe rustic, vintage vibe and luxury bathroom and kitchen amenities service all guests for the duration of the weekend. There's a swimming pool, goats and a handful of other friendly farm stay animals to enjoy and of course, the woods to explore. Accommodation includes 8 x 3 bedroom cottages.

3. St Joseph's Guesthouse
Location: Hawkesbury, NSW
Capacity: 100
Accommodation: Sleeps 10
Wedding Packages: DIY/BYO
The unmistakable St Joseph's Guesthouse is an award winning wedding destination built in the ruins of a 160 year old church. Now transformed into a luxury 5 bedroom residence with plunge pool and idyllic bush views, the building offers an utterly unique and magnificent backdrop for small destination weddings.
On the ground floor an elegant function area seats up to 60 guests or caters for standing functions with up to 100. You can get married under the internal arch or on the sandstone steps under the original church bell which still works today.
The outdoor setting around the church is beautifully peaceful with stunning valley views and offers an ideal setting for relaxed, festival-style wedding receptions. With your choice of catering and BYO drinks, St Joseph's Guesthouse is also one of the cheapest wedding destinations in NSW.

4. Midginbil Eco Resort
Location: Northern Rivers, NSW
Capacity: 150
Accommodation: Sleeps 150+
Wedding Packages: 3 days from $7,900 midweek
Slightly off-the-beaten-track in the hinterland of Byron Bay, Midginbil Eco Resort offers relaxed & peaceful, 3 day destination weddings set within sub-tropical rainforest surrounds. This venue is one of the most tranquil wedding destinations in NSW.
The 400 acre property sleeps all guests onsite in a range of accommodation options including cottages and luxurious permanent safari tents. The main homestead provides catering for guests during their stay and guests are welcome to BYO drinks for pre & post wedding events.
Your wedding reception is DIY/BYO providing the ability to cater within your budget. The reception venue is a weather proof open barn surrounded by grounds perfect for outdoor cocktails & canapés with a bonfire for later in the night. If you're looking for a relaxed & unique location for a destination wedding, Midginbil is ideal. 

5. Goolawah Retreat
Location: 288 Point Plomer Rd, Crescent Head NSW 2440
Capacity: 30 - 150
Accommodation: Sleeps 32 (5 cottages) + camping
Wedding Packages: DIY/BYO
Goolawah Retreat is a new wedding destination located a few minutes from coastal holiday spot of Crescent Head on the NSW mid north coast. It's on this list for its size, convenient amenities, location and price. At just $6,000 for a 3 night stay for 32 guests including exclusive use of the property for your wedding ceremony & reception, the value for money here is exceptional.
Goolawah Retreat is a secluded, 28 acre property surrounded by native bushland. It has ocean views and is within a short drive of the beach as well as other nearby accommodation and shops in Crescent Head. Onsite are 5 refurbished cottages, each sleeping 6 people. 
A brand new open sided reception pavilion overlooks the manicured lawns and caters for up to 90 seated guests but suits more intimate events of 30 - 40 guests equally well. It has commercial kitchen facilities. There are no neighbours near Goolawah and hence, there is no curfew.

6. Willow Farm
Location: Berry - South Coast, NSW
Capacity: 130
Accommodation: Sleeps 10
Wedding Packages: DIY/BYO
Willow Farm offers the epitome of class when it comes to DIY wedding destinations. The 160 acre South Coast property is just minutes to nearby beaches but is surrounded by lush green farmland synonymous with Sydneysiders' favourite holiday spot of Berry.
Willow Farm weddings are all about the luxe country landscape with versatile indoor + outdoor spaces providing the bones on which to create your special day. Centred around a rustic entertainment shed is a marquee site, adjoining games lawn and space to set up outdoor dining and/or an outdoor dance floor.
Ceremony sites includes gardens, a ceremony tree paddock or a quiet little brookside spot where you can tie the knot to the sounds of gentle trickling water. Owner Keri is a highly experienced events manager and offers a more 'all inclusive' option if you prefer. 

7. Fig Tree Park
Location: 58 Sherringham Lane, Central Tilba, NSW 2546
Capacity: 2 - 200
Accommodation: Sleeps 2
Wedding Packages: Elopements from $4,990
Fig Tree Park is the newest wedding destination in NSW and is a beautiful European style property highly suited to elopements, micro weddings and receptions of up to 200 guests. The 33 acre estate is perched on a hilltop just a couple of minutes from the tourist town of Tilba Tilba and overlooks the Pacific Ocean and Montague Island.
Elopements start at $4,990 for a 2 night stay including exclusive use of the grounds for 3 days with the option of a private chef to cater for 10 guests onsite. Indoor + outdoor ceremony & reception areas include the manicured lawn with unobstructed ocean views, a fairy-lit Fig Tree and an up-lit olive grove and a private dining room within the homestead.
For larger weddings you get access to the refurbished onsite barn or there is the option of installing a marquee and/or outdoor dance floor on the lawns overlooking the incredible views. Larger wedding packages include accommodation for two and price depends on numbers. Enquire for details.

8. The Pavilion Kiama
Location: 2 Bong Bong Street, Kiama, NSW 2533
Capacity: 80 - 400
Wedding Packages: All inclusive 
The Pavilion is a highly affordable wedding destination situated on the beautiful Kiama beachfront. With two waterfront ceremony areas right outside the reception venue and accommodation for all guests within metres, The Pavilion is an incredibly convenient all-in-one wedding site in one of the state's most beautiful coastal locations.
All inclusive wedding packages start at $125 per person and are often discounted for winter weddings. The venue is a modern and airy space with polished timber floors, has large windows with incredible views and an entrance foyer that can be utilised as your wet weather ceremony alternative.

9. Tides Byron Estate
Location: 290 North Teven Road, Teven, NSW 2478
Capacity: 140
Accommodation: Sleeps 22
Wedding Packages: Tailored
Tides Estate is an elegant wedding destination located on a 100 acre macadamia farm near Byron Bay. The farm features a brand new sound proof wedding hall with a built-in bar and huge glass wall that overlooks the lush macadamia orchard to Lennox Head. 
Venue hire comes with a luxury two storey villa which has 8 bedrooms and a swimming pool. The poolside entertainment area caters for up to 40 guests and can be utilised for pre and post wedding functions. 

10. Mimosa Wines
Location: 2845 Tathra-Bermagui Rd, Bermagui NSW 2546
Capacity: 180
Accommodation: Sleeps 13
Wedding Packages: All inclusive
With incredible views over hundreds of acres of pristine national park and its private vineyard below, the chefs hatted restaurant at Mimosa Wines is one of the state's most scenic wedding destinations. Wedding packages include exclusive use of the 200 acre winery which comes with two onsite cottages that sleep 13 guests.
The architecturally designed restaurant has a modern rustic vibe with tree pylons and glass walls that fully open to the huge wraparound balcony. Ceremonies can be held on the balcony, in the vines or on a purpose built lily pond deck. Fully catered menus including drinks are very well priced starting at under $150/pp.

11. Mali Brae Farm
Location: 562 Nowra Rd, Moss Vale, NSW 2577
Capacity: 30 - 110
Wedding Packages: Elopements, Micro Weddings & 60+ People
Accommodation: Complimentary for 2
Mali Brae Farm is a family owned and operated boutique wedding venue on a 90 acre farm in the Southern Highlands. This property caters to two distinct types of destination weddings. Micro weddings are accommodated in the brand new Augustine's room and larger weddings in the original (and beautifully refurbished) hay shed.
Augustine's room seats between 30 - 55 guests and features a modern fireplace, luxe curved bar and floor to ceiling windows overlooking the lush green surrounds. The hay shed features a rustic brick fireplace, polished wood floors, corrugated iron and exposed timbers. 
For your wedding ceremony and pre dinner drinks there are 6 locations to choose from including the landscaped gardens and rustic ruins surrounding the main building. There's a seperate indoor barn for wet weather ceremonies and a popular waterfront location under weeping willows. 

12. Ravensthorpe Guesthouse & Restaurant
Location: 56 Tongarra Rd, Albion Park NSW 2527
Capacity: 200
Accommodation: Sleeps 14
Price Guide: $200 - $300 per person
Ravensthorpe is a romantic Georgian manor house that offers a unique 24 hour destination wedding experience starting with getting ready before your wedding and ending with a recovery breakfast the morning after.
Wedding spaces at Ravensthorpe include 3 acres of classic gardens including a ceremony rotunda, a reception conservatory, adjoining courtyard and a garden marquee. 
12 Popular Wedding Destinations in NSW
1. Sydney
Sydney is a chameleon of a city, with a thousand locations and just as many moods.  It's not difficult to find a wedding venue that offers all the good vibes and logistical ticks you're looking for.  With plenty of nearby spots for wedding photos, the choices are huge.

Wedding photos in The Rocks, Sydney.  Image: Florent Vidal Photography
Going for tradition and timelessness? The sandstone and waterfront backdrop of the Rocks is classic golden beauty. Want the gritty, funky feel of urban mod? Try one of the industrial, repurposed factories found hidden away on the city's rim. 
Intimate and lively events can be booked in the many private rooms with views of the harbour.  There's loads of private elopement and mini wedding venues in Sydney too.  Think historic pubs and award-winning restaurants. And if you're looking for something a bit different there's Luna Park or Taronga Zoo.
Sydney wedding venues also include an excellent choice of eco-friendly, ethical, not-for-profit & pay-it-forward locations. There's all types of goodness in this grand and bustling city!
2. Hunter Valley
A mere two hours drive north of Sydney and close to Newcastle Airport, the Hunter Valley offers rolling hills, wide open green spaces and spectacular views across picturesque vineyards. 

Destination wedding at Bimbadgen Estate in the Hunter Valley.  Image: Cavanagh Photography
Wineries provide you and your wedding guests plenty to do.  Sample the fruits of the local land with a wine tasting tour on bicycles and enjoy the many world class restaurants on offer.  You can even explore the beautiful landscape from one of the region's many hot air balloons.
There's a huge choice of wedding venues in the Hunter Valley. It's a great location for a long table wedding reception in the great outdoors and most farms and wineries have indoor options too.  Plenty of estates will offer a marquee wedding if you'd rather DIY or prefer to create a space in a less well-trodden location.
The region is familiar with weekend holiday makers and home to many international music & cultural events, so there's plenty of private properties and other accommodation options available to house your guests before and after your wedding.  
 View Hunter Valley Wedding Venues
3. Central Coast
The Central Coast boasts all the urban advantages of a city mingled with the softer, slower feel of the country. There's some quirky destination wedding options here like the reptile park with native Australian crocodiles and Tassie devils for example. You can get married on a boat, at the beach, or in an old, converted factory.  The classic options are also available: restaurants, golf clubs, and hotels abound, and the garden gifted from the Japanese city of Edogawa is spectacular in any and every season. 

Central Coast wedding ceremony at The Forest Chapel.  Image: IdleWild Creative 
A mere hour north of Sydney, the Central Coast offers the same long summer days and temperate evenings - without the urban price tag.  Accommodation is plentiful and affordable and your wedding guests will love the easy access to beautiful beaches.  There's a great variety of wedding venues on the Central Coast and finding availability is often much easier than other wedding destinations.  
 View Central Coast Wedding Venues
4. The Illawarra
An extremely popular location for destination weddings, the Illawarra region is all about fresh produce, farm life and the beautiful views out to the ocean.  There's plenty of adventurous, fun, and active options for you and your guests, from hang-gliding down from Stanwell Tops to skydiving over the ocean. Kitesurfing and windsurfing are available for water-lovers and cyclists will enjoy the challenge of the Sydney-to-Gong ride. 
The Illawarra region features spectacular cliffside venues with ocean views, lush national parks, a vibrant food and arts scene, and the largest Buddhist temple in the Southern Hemisphere: Nan Tien Temple. Many wedding venues offer accommodation on-site, too, so your guests can celebrate through the night and sleep in come the morning. 
Popular wedding spots are Kiama, Gerringong and the area's biggest city - Wollongong.  Make sure you enquire with wedding venues in the Illawarra early, as they book out months in advance thanks to the region's gorgeous outlook and close proximity to Sydney.
5. Southern Highlands and Southern Tablelands
With over twenty townships in the region, the Southern Highlands and Southern Tablelands are two of the most popular places for destination weddings in Australia. These networks of small towns have spectacular old churches for your ceremony, all the classic venues for your wedding reception, and no shortage of accommodation or entertainment for your guests coming in from out of town. 

The incredible Bendooley Estate in the Southern Highlands. 
Coffee trails, heritage trails, food trails, tucked-away museums about the region's history, and art exhibitions will keep your wedding guests busy. Long Sunday drives are a popular event in this picturesque countryside which you can also enjoy with a cycling tour available through many of these tiny towns. It's also a short drive to Kangaroo Valley, where wildlife-and-nature lovers will find some exciting wedding venues set in the native Australian bush.
Wedding venues in the Southern Highlands include some unique and fascinating properties.  There's a book barn, farms, private golf course, heritage listed properties and places you can exclusively hire for the entire weekend.  Being an easy drive from both Sydney and Canberra, you'll want to enquire with venues early - they're regularly booked out 18 months in advance.
 View Southern Highlands Wedding Venues
6. Riverina
Known as Australia's Food Bowl, this destination wedding location is a must for foodie groups and wine-lovers. There's award-winning wineries and breweries, locally-made cheese and chocolates and farmers' markets bursting with fresh, local produce. The area is also an adventurous couple's dream. The Murrumbidgee River runs through the region providing camping, fishing, hiking, and mountain-biking options for your entire guest list.
The largest town in the area, Wagga Wagga, has not only gorgeous gardens and parks for wedding ceremonies, but tranquil riverbank locations for you to exchange your vows. Just a couple of hours away lie the Snowy Mountains - Australia's main alpine and ski resort - available for camping and stays through the summer. Accommodation is in high demand throughout the ski season.  
The beauty of the Riverina is guaranteed to provide an iconic Australian setting for your destination wedding. It's also an affordable location and less busy than other holiday places in NSW.  Wedding venues in the Riverina tend to have better availability too, being slightly further afield from the larger cities.
7. Regional NSW

Blue Wren near Mudgee has a beautifully modern, white canvas shed for your wedding reception + 5 bedroom farmhouse.
Head out west of the Great Dividing Range and NSW's regional towns offer a broad spread of possibilities for your destination wedding. Bathurst has a cheerful and celebratory reputation from its Gold Rush heritage, aided and abetted by the yearly Bathurst 1000. If you enjoy car racing, Bathurst will certainly get your engine revving.  The town has several cute wedding venues and plenty of accommodation.
Orange is a quiet and dignified setting with crisp snowy winters and cool-climate wines. Mudgee is an international by-word for it's wineries and farms. Meanwhile Tamworth revels in its title of 'Country Music Festival Capital Of Australia', brassy-bold and full of laughter. Exchange your vows in the area's world-heritage-listed Wollemi National Park, or at quirky boutique wineries. 
A short flight or a long and rolling drive from Sydney, Regional NSW offers a culture-rich wedding experience that will be enhanced in the knowledge that you're supporting the much-needed tourism in an area that was not only badly affected by the bushfires of 2020 but also hit by the preceding years of drought. Following these events, regional areas were further affected when the Covid 19 virus put restrictions on travel and tourism. There's a surprising number of great wedding venues in regional NSW should you feel inclined to lend these communities your support by bringing your wedding to town.
 View Wedding Venues in Regional NSW
8. South Coast
Stunning beaches of endless white sand and cliff-top ocean views combine with bushland and coastal farmlands to provide a great range of South Coast wedding venues. Guests can kayak, snorkel, or scuba dive in the crystal clear waters around Jervis Bay, and animal lovers will delight in the opportunity to see dolphins, fur seals, penguins, and the annual whale migration. 

Cupitts Winery & Brewery in popular tourist destination - Ulladulla.  Image: Translucent Photography
The area boasts all the choice in wedding venues you could ever want. There's luxury resorts, glamping & festival-style venues, farms, wineries and boat houses. There are venues where you can book out an entire property for your wedding and DIY it all yourselves. There's a great range of properties where your entire wedding party and guests can stay on location with you for the weekend. There's small, intimate wedding venues for elopements and micro weddings. And there's plenty of places where your international guests will love watching kangaroos in the early morning and late afternoon.
Whatever your pleasure, the South Coast has all the options.  Perhaps for this reason, it is one of the most popular wedding destinations in Australia.  Venues have limited availability 12 months in advance so if you want your pick of dates, you'll need to enquire early.
 View South Coast Wedding Venues
9. Blue Mountains
Frosty air in the morning, magpies warble in the dawning,
Lookout 'cross the views: bush greens and sky blues,
Walking through Blue Mountains winterland!
World-famous for the Three Sisters, the Scenic Railway and Skyway, and the picturesque views off the long escarpment, the Blue Mountains region has opportunities galore when planning out your destination wedding. Hotels with hundred-year histories, private properties, quaint and quirky villages, and traditional pubs all provide venue possibilities, as well as activities and accommodation for your guests. For a truly unique destination wedding, a mere hour away from the main Blue Mountains township of Katoomba, you can be married in a stalactite-lined limestone cave.  Your guests can stay at the one hundred and twenty-three year old hotel nearby. 

Lithgow State Mine Heritage Park.  Image: Samantha Heather
The Blue Mountains is a popular tourist location so there's no shortage of activities to engage your guests here.  They'll love the bushwalking, mountain bike riding, birdwatching, shopping and learning about the rich history of the region - but beware! Certain times of year are considerably busier than others. Avoid from Christmas through to early in the New Year, as well as the Easter Long Weekend.
Wedding venues in the Blue Mountains include quaint restaurants, heritage listed buildings, state mine railway, Air Bnb's and some fabulous spa retreats and resorts.  Winter weddings are likely to enjoy snow and the area enjoys beautiful evening temperatures in summer.  
 View Blue Mountains Wedding Venues
10. North Coast
For the free-footed souls seeking a wedding destination that reflects their life style, the North Coast has everything from beaches of surf, sun, and glittering white sand, to walking trails through national parks that overlook the ocean.  There's lots of beautiful private places for small and secluded weddings & elopements. 
If the great outdoors isn't your style, there are luxury yoga retreats and eco-resorts, oceanfront and riverfront resorts, and plenty of venues tucked in the towns off the long and winding highway headed up to the Queensland border. Spot humpback whales off the coast from May to November, dolphins in the ocean in the spring, and koalas in the gumtrees all year round. 
Wedding venues on the NSW North Coast include several budget options that provide flexibility for DIY and BYO events. Demand isn't as intense in some spots along the north coast so it's a great place research waterfront venues.
 View North Coast Wedding Venues
11. Byron Bay and Surrounds
The easternmost region of mainland Australia has not only a fantastic ocean outlook, but a classy vibe - perfect if you're a sophisticate looking for buzz and boutique. The warm weather lends itself to the glamour and romance of an evening wedding and the views make a dazzling backdrop to your wedding day. Whether you choose the long haze of the ocean horizon or the rolling hills of the hinterlands, you can not find a venue that doesn't offer one of the country's most beautiful wedding backdrops.

Beautiful views from Ardeena Events in the far North Coast region.  Image: Janneke Storm
Wedding venues in Byron Bay and its surrounding country towns include boutique hotels, weekend retreats and high end large AirBnB's.  Kayaking, following coastal trails, shopping, dining, celebrity spotting and mingling down on the beach are highlights of this popular tourist haven. The area is a foodie's paradise, considerate of vegans, vegetarians, and people with specific dietary requirements. 
12. Off the Beaten Track
And if you don't particularly want to hold your destination wedding somewhere where everyone else has been, NSW is some 800,000 square kilometres of sun-washed land, and has any number of places to get away from the well-worn routes. Find an off-the-beaten-track wedding venue that suits you, whether an eco lodge deeply set in rainforest, a farmstay out beneath the sparkling night sky, or campsite out in the National parks.
Ultimately, NSW has plenty of stunning wedding destinations with world class views and excellent service. From high end luxury to affordable and fun, you'll find a perfect destination wedding venue in NSW.