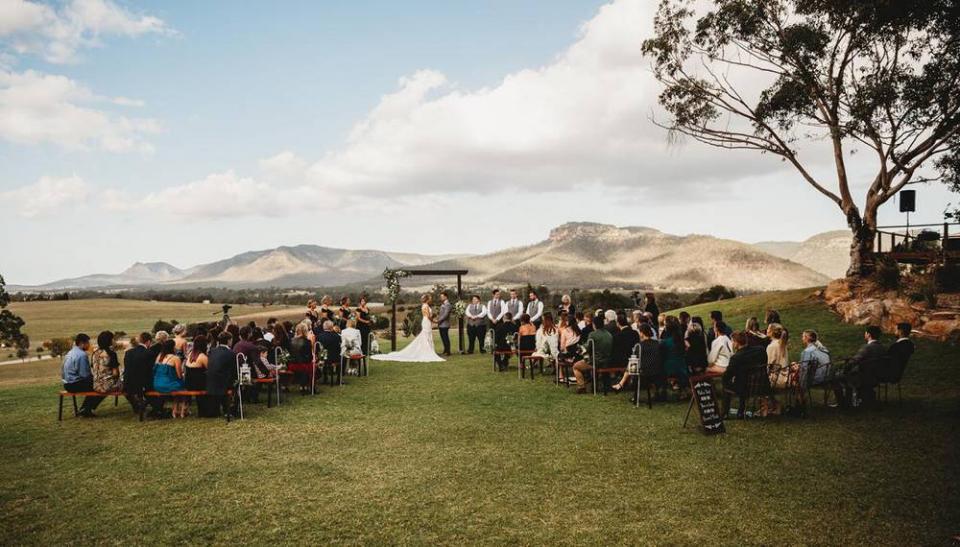 The Hunter Valley has a huge range of wedding venues and is one of Australia's most popular wedding destinations.  From world class wineries, to picturesque farms, private acreage to exclusive retreats and luxury homes - whatever setting you envisage for your special day, find your perfect venue at the following Hunter Valley wedding locations.
Hunter Valley Venues
Wineries
Small Venues
Venues with Accommodation
Affordable Venues
Private Venues
Venues with a View
Luxury Venues
BYO Venues
Marquee Venues
Outdoor Venues
Barns
Farms
Rustic Venues
Bush Venues
Pet Friendly Venues
Garden Venues
HUNTER VALLEY LOCATIONS
The Hunter Valley region is just shy of 30,000 square kilometers in size and offers a few different scenic landscapes.  Here's a rundown of the region's most popular wedding spots and the different backdrops they'll provide for your celebrations.
Pokolbin Wedding Venues
Pokolbin is the tourist centre of the Lower Hunter Valley.  Some of Australia's most well known wineries and most impressive cellar doors are located along the scenic rural roads here.  Many transport operators provide bus and shuttle services in the area and you can also explore on hire bikes from tour operators.  Biking between wineries is a popular activity here and so some wedding venues also make bikes available with your booking.
▹ View all Pokolbin wedding venues
There are 26 wedding venues located in Pokolbin and they cater for small elopements to weddings of up to 900 guests.  
Pokolbin has: 17 winery venues, 10 marquee venues, 5 BYO venues, 7 outdoor reception venues, 3 barn/sheds, 13 small & micro wedding venues and 20 venues that offer onsite accommodation sleeping from 8 to 100 guests.  There's 8 properties that can be booked for your exclusive use that sleep between 8 to 80 guests.
If you're looking for a wedding destination that offers easy logistics for you and your guests, Polkolbin is your spot.
Lovedale Wedding Venues
Lovedale is famous for its wineries, ballooning, cycle and horseback adventures and the Lovedale Long Lunch - which is a two-day food & wine festival held every May.  The area is slightly quieter and smaller than Polkolbin and has more boutique style wineries where it's the owner who provides the tastings and you'll enjoy a more personal experience.
Fine food is an event to be enjoyed over and over again in this part of the Hunter and you'll find cheese, olive and chocolate tastings at the various cellar doors.
▹ View Lovedale wedding venues
Lovedale has: 6 winery venues, 5 BYO/DIY venues, a farm, 3 barn/shed venues, 4 garden venues and .  All Lovedale wedding venues provide accommodation onsite with most sleeping from 2 to 48 guests.  For larger weddings there's the Crowne Plaza which has hundreds of rooms available.  
Lovedale is a pretty, vineyard dotted landscape with wide open green spaces.  It is best enjoyed from the air in one of the Hunter's vast supply of hot air balloons or by a lazy horseback ride through the area's many sprawling properties.
Broke Wedding Venues
Broke is one the Hunter Valley's most tranquil pockets of countryside.  The air is fresh over the vineyards and kangaroos graze on the rolling green foothills of Broken Back Range - a world heritage wilderness.  Expect laid-back venues with spectacular views.  
▹ View Broke wedding venues
Broke has 6 formal wedding venues and a number of private homes suitable for small weddings and elopements.  Broke venues include 3 wineries and 2 farms.  Three venues are BYO and 2 have suitable spaces for an outdoor wedding reception.
The average temperature from November to March is above 27 degrees.  The days can be very warm and the evenings beautifully balmy and perfect for enjoying your first dance as a married couple under the open sky.  The night air is perfectly clear here and the stars put on a spectacular show, and create a very romantic ambience.
Maitland Wedding Venues
Maitland is one of the Hunter Valley's major centres with a population of 83,000.  It has a thriving food scene, some fabulous heritage buildings and a growing arts culture.  Maitland's eclectic mix of historic landmarks and changing street murals make a fantastic backdrop for wedding photos and you'll be afforded a great mix of shots for the album here!
Maitland has several heritage listed wedding venues (including a gaol) and some budget friendly options where you can BYO alcohol and catering.  It's not as popular a destination for weddings as the other Hunter regions, but offers a fantastic background, moody DIY event spaces and is rich in culture and history.  Couples who get married in Maitland love the slightly eccentric vibe.  
Rothbury Wedding Venues

Hunter Valley Elopement Venue.  Image: Cavanagh Photography
Rothbury is a quiet country setting with abundant wildlife, native bushland and beautiful views of the Broken Back Range. 
▹ View Rothbury wedding venues
There's plenty of accommodation in the area with Pokolbin and Lovedale not far away.
Rothbury wedding venues include 3 wineries, a barn, a marquee venue, garden settings for wedding ceremonies and onsite horse riding.  With a population of around 450 permanent locals, it's a wonderfully peaceful and private location to get married.
Wollombi Wedding Venues
Wollombi Valley is often described as the gateway to the Hunter Valley.  It is a quaint little village with cafes, shops and a museum.  There's also heritage listed churches, several wineries and cellar doors and a local pub.
▹ View all Wollombi wedding venues
Wedding venues in Wollombi include several DIY and BYO options with most venues offering Marquee style weddings and all providing accommodation for 12 to 30 guests.  Venues include a winery, 2 farms and 3 properties with barns or sheds.  Some venues are suitable for outdoor receptions and 4 offer complete privacy being well off the beaten track.
Wollombi is an adventure lovers ideal wedding destination with close access to dense and rugged bushland.  This is a place of unexplored wilderness, dangerous canyons, cliff climbing and abundant bird and wildlife.  Perhaps the perfect honeymoon destination for advanced bush walking enthusiasts.