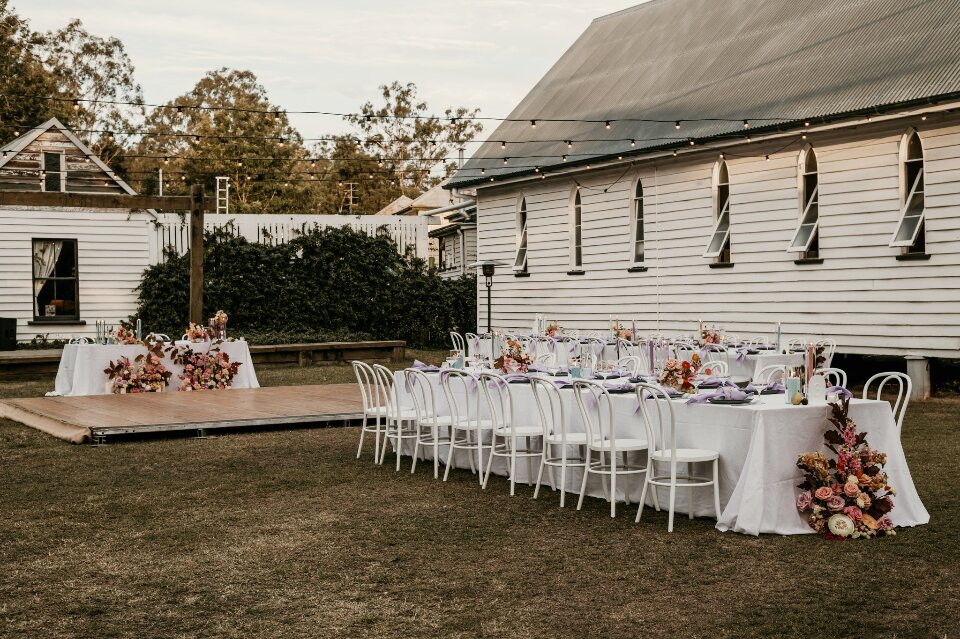 Affordable Wedding Venues: QLD | NSW
Looking for an inexpensive wedding venue in QLD? Queensland's most affordable wedding venues include some incredibly beautiful places to get married from Brisbane & the Gold Coast to tropical North Queensland. There are cheap wedding locations in all of the Sunshine State's largest cities and some amazingly affordable wedding destinations in stunning country regions.
The cheapest wedding venues in Queensland start at just a few hundred dollars to hire. If you're wanting to get married for under $5,000, the state has many budget friendly ceremony sites that can be hired for several hours, and where small gatherings lingering over a champagne afterwards can be held.
Affordable wedding packages under $100 per person are still readily found in most regions of Queensland, with more than a handful on this list. Couples who are prepared to get married slightly out of the city centres will find some of the state's most unique wedding venues delivering cheap weddings with a cracking, one-of-a-kind experience.
Budget weddings can also be achieved by hiring a DIY venue that comes with lots of value-add inclusions. With Queensland having plenty of caterers that offer wedding packages under $50 per person, venues that come fully furnished and require little styling offer a great opportunity to organise a cheap but beautiful wedding.
Here are 29 affordable wedding venues in Queensland that are low on price and high on unique, scenic & amazing vibes.
Inexpensive Wedding Venues
Brisbane
Gold Coast
Sunshine Coast
Toowoomba
Northern QLD
Top Affordable Venues In Brisbane

1. Workshops Rail Museum - Moving Goods Hall
Location: North Street, North Ipswich, QLD 4305
Capacity: 300+
Wedding Packages: $65+/pp
The Workshops Rail Museum is one of the cheapest and most unique wedding venues in Queensland. The historic location is the site of the state's first railway workshop and the grand buildings built in the late 1800's provide an incredibly atmospheric backdrop for ceremonies, photos and receptions. 
The Moving Goods Hall is one of two budget friendly reception venues and has a one-of-a-kind centrepiece. The PB 15, No444 steam locomotive sits proudly centre stage and puffs fog on cue. Cheap wedding packages start at $65 per person including catering and there's a cool option for guests to have private access to the museum between your ceremony & reception.

2. Workshops Rail Museum - Wedding Hall
Location: North Street, North Ipswich, QLD 4305
Capacity: 200
Wedding Packages: $65+/pp
The Wedding Hall is the original dining room used by the workers of Queensland's first railway workshop. Built in the late 1800's it has since undergone a refurbishment and is now a surprisingly cheap wedding venue perfect for elegant, rustic receptions. 
The Workshops Rail Museum complex also houses a number of beautiful wedding ceremony areas and photo opportunities. Fully furnished ceremony packages are just $750 including floral aisle arrangements and affordable reception packages start at $65 per head with catering.

3. White Chapel Kalbar
Location: 87 George Street, Kalbar, QLD 4309
Capacity: 90
Accommodation: Sleeps 8
Venue Hire: $1,475+
With venue hire from just $1,475, White Chapel Kalbar is both an affordable place to get married, and a surprising find. Featuring a chic neon altar, polished wooden floors, an all-white interior including luxe bentwood chairs, the chapel is a one-of-a-kind wedding ceremony venue in one of the most scenic locations in the world.
Located on a quiet corner in a quaint country town within the Scenic Rim, the chapel is surrounded by private gardens and several little breakaway event spaces. There's a covered courtyard with a modern fireplace adjoining the chapel, a luxe black reception barn that seats 74 guests, a rustic outdoor bar and a spacious manicured lawn perfect for lawn games.

4. Black Hall Barn Bar
Location: 87 George Street, Kalbar, QLD 4309
Capacity: 60+
Wedding Packages: All inclusive
If you're looking for a low key wedding venue where you can get married and have a cocktail or seated celebration all in the same place (without robbing a bank), the Barn Bar behind White Chapel is a great option. This quirky outdoor space comes fully catered and has a very affordable venue hire fee.
There's a spacious lawn adjoining the bar area where ceremony set up is included with venue hire, or if you prefer you can also hire White Hall on the same property. Seated dining can also be set up on the lawn with festoon lights and mix'n'match tables & chairs.

5. Emporium Hotel Brisbane
Location: 267 Grey Street, South Brisbane, QLD 4101
Capacity: 30 - 400
Wedding Packages: All inclusive from $130/pp
Accommodation: 143 suites
One of the cheapest hotel wedding venues in Brisbane is the Emporium, with all inclusive wedding packages from $130 per person. The hotel has 3 seperate reception venues, an iconic rooftop bar & infinity pool that overlook beautiful views of the Brisbane skyline, and convenient accommodation for the couple and any wedding guests who wish to stay.
The most popular reception space within the hotel is the impressive Frangipani Ballroom which seats up to 260 guests and caters for cocktail functions of up to 400. Other options include a Piano Bar for up to 100 guests and a gorgeous private dining space for up to 30 guests with a funky Parisian vibe.

6. Ipswich Events & Entertainment Centre
Location: 219 Brisbane Road, Bundamba, QLD 4304
Capacity: 40 - 500
Wedding Packages: $80+/pp
Offering all inclusive wedding packages from $80 per person, the Ipswich Events and Entertainment Centre is among the most affordable wedding locations in Queensland. The versatile function centre is just 30 minutes from the centre of Brisbane and is located trackside, in the unique precinct of a horse racing club.
The event centre has a brand new lounge that seats up to 260 guests, and also a range of smaller function spaces that seat between 40 to 120 guests. The cheapest wedding packages are between $80 - $117 per person and trackside ceremonies are just $600 fully furnished and with set up.

7. Holy Red Deer Estate
Location: 65 Ipswich Street, Esk, QLD 4312
Capacity: 120
Accommodation: Sleeps 10
Wedding Packages: DIY/BYO
Holy Red Deer Estate is a 3 day wedding venue located on a corner block in a quaint country town between Brisbane, Toowoomba and the Sunshine Coast. The property marks the original centre of town and features a cute little country chapel, a backyard for outdoor receptions, a billiard wedding hall, bridal suite, groom's parlour and cottage that sleeps 10 guests.
The affordable venue hire fee is under $5,000 and includes exclusive use of the entire site with a 2 night stay plus furniture & props including trestle tables and bench seating. Things you'll need to spend extra on are catering, drinks, styling, flowers and furniture such as pictured.
All guests can be accommodated in town, and all accommodation is within a 5 minute walk of Holy Red Deer Estate - so no taxis or Ubers required.  

8. Samford Valley Weddings
Location: Hansen Road, Yugar, QLD 4520
Capacity: 45
Wedding Packages: $600+
This hidden timber pavilion is the cheapest wedding venue in Queensland, offering a secluded spot to get married surrounded by majestic rainforest. The pavilion is located on a private "Land for Wildlife" property a short drive from the Brisbane CBD and can be hired for small ceremonies with up to 45 guests for $600.
The rainforest surrounding the pavilion has a tranquil creek flowing gently through it and a short walk away is a beautiful waterfall that offers some fantastic wedding photo opportunities.

9. Rydges South Bank Brisbane
Location: 9 Glenelg Street, South Brisbane, QLD 4101
Capacity: 20 - 500
Wedding Packages: $135+/pp
At the Rydges Hotel in South Bank, sophisticated reception venues with stunning views over the Brisbane skyline come with budget friendly packages ranging from $135 - $165 per person. The popular wedding venues include Level 12 Rooftop which seats 220 guests and the Podium Ballroom for larger weddings of up to 350 seated guests.  
The versatile function rooms can be concertinaed to create more intimate event spaces and there's a couple of private dining rooms including a decadent library well suited to micro weddings. Wedding packages offer exceptional value with all food, drinks and styling of spaces included.
 View Rydges South Bank Brisbane

10. Coronation Hall
Location: 2 Short Street, Somerset Dam, QLD 4312
Capacity: 250
Wedding Packages: DIY/BYO
Coronation Hall is the ultimate in budget friendly wedding venues offering the authentic community hall experience of a quaint country town. This cheap as chips wedding hall was originally a picture theatre used by the construction team who built the Somerset Dam wall. Both the interior & exterior retains its original rustic charm and offers the perfect blank canvas for DIY'ers.
Hall hire comes with trestle tables, pews and a modern amenities block. You'll need additional budget for furniture hire, styling including tableware, flowers, catering and BYO drinks. 

11. Darling St Chapel Brisbane
Location: 16 Darling Street East, Ipswich, QLD 4305
Capacity: 100
Wedding Packages: $95+/pp
Back in 1879 the Darling St Chapel didn't have a bar and was used for its intended purpose as a Catholic Church. It has since undergone a makeover & takeover, now offering a modern, all white, non-denominational location for affordable weddings and unique receptions. 
You can either hire the chapel for your wedding ceremony, as your reception venue or for your entire wedding day with fully catered packages available from $95 per person. 
---
---
Affordable Venues - Gold Coast

12. Midginbil Eco Resort
Location: 252 Midginbil Rd, Midginbil, NSW 2484
Capacity: 70 - 150
Accommodation: Sleeps 150+
Wedding Packages: 3 Days/2 Nights
Midginbil Eco Resort is one of the most fun and affordable wedding destinations for Queenslanders. Situated just over the QLD border with NSW, this beautiful 400 acre rainforest property has a unique range of accommodation for all guests onsite including a village of safari tents with individual timber balconies and incredible views from each.
At Midginbil, all guests stay onsite for 2 nights. The suggested itinerary is a welcome evening BBQ on day 1, your wedding on day 2 with an after-party bonfire, and a recovery breakfast on day 3. There's a rustic reception shed, plenty of open areas for outdoor weddings, a swimming pool, tennis and volleyball courts, a games room and a homestead dining room for breakfast & lunches.
To save on your wedding budget we recommend setting up an Eventbrite where guests can book & pay their own accommodation. Wedding catering & drinks are BYO to suit any budget.

13. Coorabell Estate
Location: 36 Keys Road, Coorabell, NSW 2479
Capacity: 10 - 150
Accommodation: Sleeps 10
Coorabell Estate is a 28 acre hinterland property that centres around a luxury 5 bedroom house. Larger weddings will require hire of a marquee or tipi which pushes costs up, but for weddings under 55 guests the house has two amazing function areas that cater to weddings on a budget.
The spacious living & kitchen area opens onto a large covered balcony that seats up to 40 guests with incredible views over the canopy of surrounding rainforest. On the other side of the house, the poolside event space is a lush spot for cocktail weddings and the perfect place for a recovery party the following day.

14. Tides Byron Estate
Location: 290 North Teven Road, Teven, NSW 2478
Capacity: 40
Accommodation: Sleeps 22
Venue Hire: $3,900+
Another luxury house that offers an affordable spot for weddings is Tides Byron Estate. This 8 bedroom Balinese-inspired villa has a poolside event space that overlooks the property's macadamia orchard and has expansive views to the Tweed coastline.
Venue hire starts at $3,900 for a 2 night mid-week stay with beds for up to 22 guests. Weddings and receptions can either be held poolside or down in the orchard with long tables between the trees. 

15. Pioneer Country
Location: 98 Fraser Drive, Tweed Heads South, 2486
Capacity: 300
Accommodation: Optional glamping
Wedding Packages: All inclusive
With pizza-catered wedding packages starting at $5,000, Pioneer Country is one of the cheapest wedding venues in Queensland. The 200 acre working cattle farm is situated just 10 minutes from the Gold Coast airport making it a convenient spot for travelling guests, or for your honeymoon getaway.
The grounds feature a plantation style wedding chapel that has opening sides and seats up to 120 guests in antique pews. There's a charming country barn for wedding receptions and plenty of photo backdrops with a picturesque lake and beautiful bush surrounds.

16. Rydges Gold Coast Airport
Location: Terminal Drive, Bilinga, QLD 4225
Capacity: 10 - 250
Wedding Packages: All inclusive
Located 5 minutes from the beach, Rydges at Gold Coast Airport is a lifestyle themed hotel with a 24hr reception desk just 56 paces from the domestic terminal. When you get married at Rydges Gold Coast, discounted accommodation is provided to guests including access to the 25m resort pool and a gym that overlooks the airport runway. 
The hotel has two budget reception venues and a private dining room. On the ground floor the Bilinga Room seats up to 120 guests and has its own entrance lobby. On the rooftop the Kirra Room & adjoining covered terrace has picturesque views over the Gold Coast to Surfers Paradise.
 View Rydges Gold Coast Airport
Affordable Venues - Sunshine Coast 

17. Little White Wedding Church
Location: 

89 McCarthy Road, Maleny, QLD 4552

Capacity: 120
Wedding Packages: $1,290
The Little White Wedding Church is an historic timber chapel that has been fully renovated and features a modern white interior with polished wooden floors. Set on 2 acres of gardens surrounded by rural countryside, the chapel offers a beautiful location for wedding ceremonies and photos, with many budget friendly reception venues nearby.
Cath & Rich offer a grazing table and drinks package which can be added to venue hire and guests are free to roam the grounds before & after the wedding ceremony. There's restrooms for guests and convenient onsite parking.
 View Little White Wedding Church

18. The Creek Whitsundays
Location: 30 Valmadre Road, Kelsey Creek, QLD 4800
Capacity: 130
Wedding Packages: All Inclusive
The Creek is an 800 acre working farm situated near Airlie Beach in the picturesque Whitsundays. The centrepiece of this property is an atmospheric barn that features timber slat walls, chandeliers, two interior bars and an adjoining outdoor area with epic mountain sunsets, festoon lighting and a fire pit. 
An inexpensive venue hire fee provides exclusive use of the farm and barn, affordable catering & drink options, an onsite wedding planner to coordinate set up and pack down, plus coach transfers for guests to Airlie Beach.
Affordable Venues in Toowoomba

19. Silver Ridge Weddings
Location: 123 Silver Pinch Road, Silver Ridge, QLD 4352
Capacity: 150
Ceremony Venue Hire: $650+
Reception Venue Hire: $550+
The wedding gazebo at Silver Ridge has 360° views over Toowoomba Tabletop Mountain and offers an incredibly scenic and affordable location to get married. The ornate gazebo is accessed via a paved aisle that is surrounded by manicured lawns on a private cliff top estate.
There is a small undercover space with weather proofing that can be utilised for wedding receptions with up to 40 guests, and  Tiffany & Americana chairs are available for hire onsite.

20. Reflections Lake Cooby
Location: 239 Loveday Road, Geham, QLD 4352
Capacity: 300
Accommodation: Sleeps 150+
Wedding Packages: DIY/BYO
Reflections is a private 50 acre property with a scenic outlook over Lake Cooby. The relaxed country location has accommodation for 150+ guests onsite in a homestead, brand new cabins and bell tents, and with no curfew, a late-night bonfire site and plenty of open space for backyard cricket, offers a fun spot for destination weddings on a budget.
The waterfront wedding spaces include a permanently erected reception marquee that caters for up to 300 guests, and a rustic barn and function centre that seat 60 and 120 guests respectively. The inexpensive venue hire fee starts at $3,850 and includes a night in the homestead. Guests can book & pay their own accommodation. 

21. Aberfeldy Farm
Location: 124 Macaulay Road, Westbrook, QLD 4350
Capacity: 140
Wedding Packages: All inclusive
Aberfeldy Farm is a 50 acre country estate that offers an all-in-one country location for ceremonies, photos and receptions just 20 minutes from Toowoomba. The owners of Aberfeldy Farm - Cass & Tony, take the hard work out of planning a country wedding by including full planning, styling and staff with one affordable venue hire fee.
The property comes with an elegant Hamptons-style barn that features 410m² of floor space, a romantic canopy of fairy lights and a custom bar & lounge area furnished with an interesting collection of street signs. Drinks are BYO and budget friendly wedding catering including a buffet option is provided by Southern Downs Catering from $35 per person.

22. Jubri's Hideaway
Location: 63 Chelldan Avenue, Dalby, QLD 4405
Capacity: 80
Wedding Packages: DIY/BYO
Accommodation: Sleeps 14
Jubri's Hideaway is not your average wedding venue. It has a secret Balinese garden hidden behind authentic hand carved doors, a bush garden with rusted cars and tractors, a bamboo garden, a contemporary shed for wedding receptions and a quirky cocktail courtyard with a rustic outdoor bar.
Budget friendly wedding packages start at $8,499 including a night's accommodation for 6 people and everything else you need to execute your wedding except food, and BYO drinks. 

23. Bunnyconnellen
Location: 

286 Swain Road, Plainby, QLD 4355

Capacity: 250
Wedding Packages: DIY
Bunnyconnellen is a licensed country venue that offers unique outdoor weddings in a beautiful olive grove, luxe-rustic weddings in a renovated open-sided shed and beautiful wedding ceremonies immersed in the quintessential Queensland landscape. Fresh country air, huge Moreton Bay Fig trees and a picturesque lake with a romantic rowboat complete the wedding experience here.
Couples looking for a low key wedding venue will love this Darling Downs hideaway set on 250 acres just 45 minutes from Toowoomba. Affordable wedding packages are tailored to most budgets and with the option to hire in-house furniture. The premises is licensed.
Affordable Venues in the Whitsundays

24. Daydream Island Resort & Living Reef
Location: Daydream Island, Whitsundays, QLD
Capacity: 2 - 
Accommodation: Sleeps everyone
Wedding Packages: $4,500+
Situated at the gateway to the Great Barrier Reef and immersed in the Whitsunday's picturesque scenery, Daydream Island is one of Queensland's most romantic wedding destinations. Just 30 minutes from the mainland by boat, the island offers a world-class location for weddings at budget friendly prices with affordable wedding & elopement packages starting at $4,500.
Facilities at the island include a beautiful glass chapel, private beaches, an infinity celebration deck on the ocean's edge, indoor & poolside function spaces and an underwater reception observatory. Wedding packages are fully customisable and come with an in-house events consultant to make planning your big day easy.  
Affordable Venues in Northern QLD

25. Rainforest Lakes
Location: 1030 Kennedy Highway, Kuranda, QLD 4881
Capacity: 600
Wedding Packages: $90/pp+
In tropical North Queensland, Rainforest Lakes is a budget friendly wedding location nestled amongst world heritage rainforest. Vows can be exchanged underneath swaying palms, in a cute country rotunda or waterfront on a floating pier.
Three reception venues are located within the grounds with affordable wedding packages starting at $90 per person. Micro weddings are also welcome and come with set up in private spots like this outdoor rotunda. Rainforest Lakes is a popular destination for weddings & elopements being just 30 minutes from Cairns.

26. The Farm Plumeria Road
Location: 405 Plumeria Road, Black River, QLD 4818
Capacity: 150
Wedding Packages: DIY/BYO
The Farm at Plumeria Road is an expansive 540 acre country wedding destination situated 25 minutes from Townsville between the base of Mt Black & Black River. Immersed in tranquil bushland, the property is a haven for nature lovers and features a huge 30x12m wedding shed that comes with an assortment of rustic props, decor and timber tables & chairs. 
The budget friendly venue hire fee provides exclusive use of the entire farm for as long as you wish to stay with the option of DIY glamping. You bring all your own suppliers to suit your budget.

27. KUR-Cow Barnwell Farm
Location: 112 Barnwell Road, Kuranda, QLD 4881
Capacity: 120
Accommodation: Sleeps 6
Wedding Packages: All inclusive
KUR-Cow Barnwell Farm is one of Queensland's best kept secrets when it comes to fun & thrifty weddings. Located a convenient thirty minutes from Cairns airport and just 6 minutes to the rainforest village of Kuranda, this little known 626 hectare working cattle farm offers budget friendly weddings with a couple of unique features.
In addition to weddings, KUR-Cow is open to the public for farm stays, horse rides and quad bike adventures. It has a purpose built hilltop arbor for weddings and transports guests to the scenic site via a tractor & trailer ride. For wedding receptions there is a marquee dining room and a sunset deck with beautiful views that comes fully catered according to your budget.

28. Elite Barn Weddings
Location: Hervey Range Road, Alice River, QLD 4817
Capacity: 300
Wedding Packages: DIY/BYO
Elite Barn Weddings is a low key wedding location set within an authentic Australian Outback landscape. Situated half an hour from Townsville, the property is perfect for country and rustic weddings with a huge open-sided barn for wedding receptions.
The barn is a dream DIY wedding location with a versatile blank canvas that suits all sorts of wedding vibes from glam shimmering gold palettes to vintage boho. Also onsite is an open-air, all white chapel that comes with rustic pews. 

29. St Aubins Village
Location: 73-75 Canoona Road, West Rockhampton, QLD 4700
Capacity: 130
Accommodation: Sleeps 4
Wedding Venue Hire: $1,800
St Aubins Village centres around an 1889 era Queenslander homestead which is set on a 2 acre block surrounded by blooming gardens. The inexpensive wedding location is one of Rockhampton's oldest heritage sites, and is the perfect backdrop for modern outdoor weddings with seated dining and dancing under the beautiful tropical skies of Northern QLD.
When you hire St Aubins Village for your wedding, you get full access to the Homestead for wedding preparations and photos. Your chosen caterers are able to use the kitchen and food trucks are also welcome on the lawns. There are two cute cottages that sleep 2 guests each within the grounds.  
Cover Image: Sal Singh Photography
Have an affordable wedding venue to add to this list? Get Started