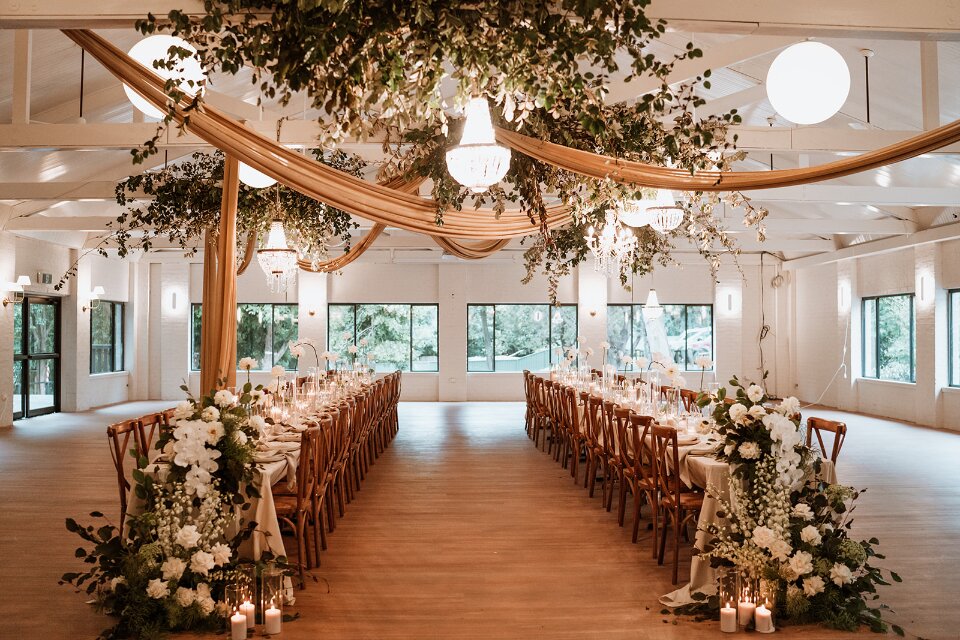 All Inclusive Wedding Packages: NSW | QLD


All inclusive wedding packages in NSW are available at wedding venues from Byron Bay in the state's north to the far South Coast and Sydney. Fully inclusive wedding packages are available for celebrations of all sizes from large events to elopements with micro wedding packages being particularly popular in recent times. 
Typically, all inclusive wedding packages in New South Wales have the following inclusions: venue hire, a choice of menus, beverages with standard & deluxe options, in-house ceremony and reception furniture plus tableware with set up & pack down and a full front of house team that serves food & drinks. Three-day wedding packages usually also include accommodation.
The average cost of a fully inclusive wedding venue package in NSW ranges between $170 - $260 per person (for 80+ guests). The way these packages are structured can vary considerably. To give you a rough guide, the venue hire component might be $1k - $40k. Food ranges from $40 - $150/pp. Drinks range from $50 - $200+/pp with spirits & cocktails included at the upper end.
Exclusive use venue hire at all inclusive hotels or resorts that come with accommodation for all of your guests will be between $5k - $45k. Guests typically cover this fee by booking & paying for their own accommodation making them highly affordable as the food & beverage component is typically very cost effective at these places.
Here are 12 highly recommended wedding venues in NSW that offer all inclusive wedding packages - with prices included.
Top 12 All Inclusive Wedding Packages in NSW

1. The Lodge Jamberoo
Location: 406 Jamberoo Mountain Road, Jamberoo, NSW 2533
Capacity: 300
Accommodation: Sleeps 136 (included)
Guest Payment Facilities: Yes
At The Lodge, you get your very own 43 room country hotel to get married and celebrate with all of your family and friends for 3 days. All of the hotel rooms surrounded a huge outdoor pool and with an onsite bar, restaurant and wedding facilities, The Lodge is one of the most fun wedding destinations in NSW.
A unique Pine Tree Cathedral sets the scene for romantic wedding ceremonies and is located beside a tranquil running creek. The site is fully paved with two nearby suites for getting ready and has the luxe wedding hall for receptions a few steps away.
Base Wedding Package - $25,000+
This seasonal venue hire fee includes all venues and accommodation within the resort and is usually billed individually to staying guests for their accommodation. You can set the amount you wish guests to pay through an online booking system.
With the venue hire fee covered by guests, this leaves only the food & beverage cost to the couple. In-house catering packages start from $45/pp and drinks packages from $50/pp. 

2. The Pavilion Kiama
Location: 2 Bong Bong Street, Kiama, NSW 2533
Capacity: 80 - 400
The Pavilion Kiama is an affordable, all inclusive reception venue that overlooks stunning ocean views on the Kiama headland. The space features large, airy windows with views of the beach, a large dancefloor and band stage, a seperate entrance foyer and beautiful blank canvas to style as you please.
All wedding packages include room set up with linen, tableware & glassware, cut & service of wedding cake, wireless microphone, use of the entry foyer & bar and access to a seperate space for the bridal party. Optional upgrades include time extensions, 2 hour cocktail bar and gourmet grazing tables.
Cocktail Wedding Package - $135/pp
Includes champagne cocktail on arrival, a 5 hour beverage package, selection of hot & cold substantial canapés and dessert.
Seated Dining Package - $139/pp
Includes canapés & champagne cocktail on arrival, choice of 2 entrees, mains and desserts and a 5 hour beverage package. Upgrade to 3 courses from $149/pp.
Shared Feast Wedding Package - $160+/pp
Includes canapes & champagne cocktail on arrival, 3 shared entrees served in the middle of the table, 2 shared mains, side dishes, dessert and a 5 hour drinks package.

3. Goosewing Cottage
Location: Hunter Valley, NSW
Capacity: 2 - 20
Accommodation: Sleeps 2 - 12
Goosewing Cottage specialise in all inclusive wedding packages with 2 - 20 guests. This gorgeous farm stay is situated in the picturesque Hunter Valley and has an intimate open-air chapel for wedding ceremonies and loads of beautiful spots for wedding photos.
There are two cottages providing optional accommodation on the property and the larger house has a swimming pool and a spacious dining room suitable for a privately catered reception for staying guests. If you have more than 12 guests the venue provides recommendations for local restaurants that offer private dining. 
Wedding Package for 2: $3,295+
Includes venue hire, onsite wedding planner, a choice of celebrants to craft your personalised ceremony, & all legals and paperwork, award winning wedding photography, witnesses if required and a bottle of bubbles. 
Wedding Package for 20: $5,095+
Includes the above with up to 20 guests and a 2 night mini moon with gourmet breakfast hamper for the couple. You also get a single tier wedding cake and flowers including a bouquet & buttonhole or 2 x bouquets or 2 x buttonholes.

4. Chapel Hill Retreat
Location: 36 Berambing Crest, Berambing, NSW 2758
Capacity: 150
Accommodation: Sleeps 36
Wedding Packages: All inclusive
Chapel Hill Retreat is a versatile, all inclusive wedding venue situated on 35 scenic acres overlooking the beautiful Blue Mountains. There are 7 event spaces to choose from including spacious lawns & gardens, a natural tree cathedral, a non-denominational chapel and a luxe reception hall with an adjoining outdoor event deck. Optional accommodation includes 6 cottages and a honeymoon suite.
All Inclusive Wedding Package - $115+/pp
Wedding packages including a catered reception with seated or cocktail menus start at $115 per person. All table ware, linen & centrepieces are included plus discounted wedding night accommodation for the couple.
The venue hire fee is $3,800 without accommodation (or $6,450 with accommodation) and includes exclusive use of the property, ceremony & reception set up, an events team, access to helicopter landing facilities plus use of the bridal lounge for getting ready. 
Small Wedding Package - $4,200+
Chapel Hill offers an elopement package which is $4,200 mid week and includes a celebrant to officiate your wedding & lodge all legal paperwork plus wedding night accommodation. A catered reception can be added for small weddings of between 10 - 40 guests and flowers, styling and photography can be added on from $1,650. 

5. Briars Conservatory
Location: 653 Moss Vale Rd, Burradoo, NSW 2576
Capacity: 80 - 200
Accommodation: Sleeps 130 (optional)
Briars Conservatory is a light-filled reception venue located on the grounds of Briars Lodge - a country style hotel, bar and restaurant in the heart of the Southern Highlands. The conservatory is only a short walk from the lodge but completely private and set on beautiful gardens with a waterfront gazebo ceremony area.
All inclusive wedding packages come with a lakeside ceremony, wedding photos in the surrounding private gardens & a fully catered reception in the conservatory. Between ceremony and reception guests are welcome to use the facilities at the lodge and the public bar makes an ideal after party destination.
Wedding Packages - $165+/pp
The all inclusive wedding packages at Briars are among the most affordable in the Southern Highlands. Catering for weddings with 80+ guests, cocktail menus start at $165 per person including drinks and alternate drop menus are $185/pp. 

6. Mali Brae Farm
Location: 562 Nowra Rd, Moss Vale, NSW 2577
Capacity: 30 - 110
Accommodation: Complimentary for 2
Mali Brae Farm is a family owned and operated 90 acre farm with 7 ceremony sites and two reception venues onsite. One of the reception venues is a brand new luxe-rustic style room purpose built for small weddings with 30 - 55 guests. The other is a beautifully renovated barn with polished wooden floors, skylights and a grand rustic fireplace.
All inclusive wedding packages leave nothing left to book yourself aside from your celebrant and photographer. A complimentary nights accommodation in The Dairy Cottage is included with all bookings and there is plenty of local accommodation for guests with the venue located in the heart of the Southern Highlands.
Wedding Package for 30 - 55 Guests
Includes use of Augustine's Room for Wednesday, Friday or Sunday weddings. Seasonal availability applies. Menu options include table share and alternate drop that both come with canapés and sweets.
Wedding Package for up to 110 Guests
Includes 7 hour venue hire including set up of 1 of 7 ceremony sites, use of The Barn, full front of house team, tableware and 1 night in The Cottage. Menu options include shared platters, alternate drop, pizza and wood fired meats.

7. Mimosa Wines
Location: 2845 Tathra-Bermagui Rd, Bermagui NSW 2546
Capacity: 180
Accommodation: Sleeps 13 (optional)
Mimosa Wines is a stunning 200 acre vineyard completely secluded within pristine National Park. The architecturally designed restaurant is a chefs hatted foodie haven and along with excellent wedding menus has the best views in NSW. A huge outdoor balcony wraps around the restaurant and overlooks the vineyard below and expansive bushland surrounds.
Wedding ceremonies can be held on the balcony, in the adjoining Tuscan style courtyard, at the water lily dam jetty or immersed in a bushland setting. A homestead and cottage provide accommodation a short walk from the restaurant through the vines and can be added to wedding packages from $350 & $220 respectively per night.
Wedding Reception Package - $5,000
Includes 2 nights accommodation in 2 cottages, exclusive use of the winery for your wedding, a full service front of house team and all furniture and table settings. Add your preferred menu from $75/pp and drinks package from $60/pp. Winter discount of 10% applies.
Wedding Ceremony Package - $1,000
Includes use of your preferred ceremony site, signing table and garden seating. This fee is waived for winter weddings.

8. Coolangatta Estate
Location: 1335 Bolong Road, Coolangatta, NSW 2535
Capacity: 2 - 200
Accommodation: Sleeps 70
Coolangatta Estate is a versatile wedding venue situated on the Shoalhaven River just minutes from Berry. The 100 acre coastal property features rows of picturesque grape vines, historic & atmospheric buildings, ocean backdrops and a choice of 2 ceremony and reception venues.
One of the reception venues is a 200 year old Grand Hall that features towering ceilings under which intimate and atmospheric feasts are served on long tables for up to 80 guests. There's also a function room that seats 200 guests and outdoor areas on a hedge framed croquet lawn and under fairy lit fig trees.
Elopement
Package
-
$6,999
Includes celebrant, ceremony and witnesses if required, a photographer for 2 hours, flowers, 2 hour picnic and 1 night accommodation for the happy couple.
Basic Wedding Package - $119/pp ($99/pp off peak)
Includes a furnished onsite ceremony with bubble blowers, 1 hour canapés & drinks package, 5 hour reception package with 3 course set menu and 1 nights accommodation for the couple. Min 80 guests. 
DIY Wedding Package - $15,000
Includes 26 motel rooms for 2 nights sleeping up to 70 guests, furnished onsite ceremony, function room hire, tables & chairs, tableware, commercial kitchen, on-the-day supervisor, 1:50 RSA Bar Staff. Drinks must be purchased in-house. BYO caterers.

9. Ravensthorpe Estate
Location: 56 Tongarra Rd, Albion Park NSW 2527
Capacity: 50 - 200
Accommodation: Sleeps 18 (included)
Ravensthorpe is an elegant country estate set on 3 acres of manicured gardens. The Georgian style homestead offers 24 hour all inclusive wedding packages with a choice of spaces to suit a variety of weddings. There's a light-filled conservatory, a paved garden marquee and a courtyard between the two spaces well suited to outdoor dining under the stars.
Wedding ceremonies are typically held in the front gardens where a paved path extends from the manor's front door to a chandelier installed rotunda. Accommodation is in 3 separate dwellings and comes with a recovering breakfast and access to the swimming pool - one of several beautiful spots for wedding photos.
Winter Wedding Package - $9,500
Includes exclusive 24 hours access to the property with 1 night accommodation for 18 guests between June and August. All ceremony & reception set up is provided. Simply add a drinks package from $65/pp and a menu as quoted from the preferred caterers list.
Standard Wedding Package - $13,500
Includes everything in the off peak wedding package for peak season dates.

10. Fig Tree Park
Location: 58 Sherringham Lane, Central Tilba, NSW 2546
Capacity: 2 - 200
Accommodation: Sleeps 2
Fig Tree Park is an elegant country property with fields of horses surrounding an elegant French-style homestead. The homestead's immaculate lawns and gardens overlook incredible sweeping views to the ocean, taking in Montague Island and surrounding countryside vistas.
The incredible views make this elegant but relaxed venue one of the best locations for outdoor weddings in Australia. At night, thousands of fairy and festoon lights create a highly romantic ambience throughout the gardens with reception tables set up under a huge fairy-lit fig tree. 
Small Wedding Package - $3,220+
Includes exclusive use of Fig Tree Park for 2 nights with accommodation for the couple and set of up of ceremony & dining. You'll need to BYO celebrant & photographer. Add $90 - $110 for in-house catering or you're welcome to BYO caterers & drinks. Available for 2 - 30 guests.
Large Wedding Package - $8,500+
As above for 30 - 120 guests. 

11. The Cove Jervis Bay
Location: Ellmoos Road via Booderee National Park, Jervis Bay NSW 2540
Capacity: 150+
Accommodation: Sleeps 111
The Cove is a world-class 3 acre seaside resort nestled in the Booderee National Park. When you book The Cove for your wedding you get the entire resort to yourself for two nights with all guests staying onsite with you. Accommodation includes a large fun house and an amazing glamping village with luxe amenities.
You get your own private beach, an oceanfront ceremony garden, option of getting married ankle deep in ocean water on the resort's sandbar, use of the reception hall (pictured) or the option of an outdoor wedding in the hall's waterfront courtyard which is amazing at night when the grounds twinkle under thousands of fairy lights and festoon bulbs. 
Wedding Package - $20,000+
Includes exclusive use of the entire resort with accommodation for up to 111 guests, indoor & outdoor ceremony and reception spaces, all furniture, styling items, free kayaks and paddle boards, use of spaces for a welcome night and recovery brunch.

12. Frida's Field 
Location: 76 Booyong Road, Nashua, NSW 2479
Capacity: 120
Accommodation: Sleeps 2 (optional)
Frida's Field is a Foodie's wedding haven located on a 120 acre regenerative farm in the rolling hills of the beautiful Byron Bay Hinterland. Farm fresh produce is grown onsite or sourced locally with menus crafted by the venue's hatted restaurant.
At Frida's Field a tree is planted for every wedding on the property which couples are able to return to visit. There are ceremony sites and photo spots with scenic countryside views and an architecturally designed barn style reception venue which opens onto a large lawn terrace taking in the stunning sunsets. 
All Inclusive Wedding Package - $200+/pp
Includes your ceremony & reception set up, choice of a cocktail menu or feasting event both with canapés to start and a drinks package. Optional extras include cheese & charcuterie, seafood and oyster grazing tables, late night snack menu and premium drink packages. Use of the onsite bridal suite can be added for $700 including a 2 night stay.
These all inclusive wedding packages in NSW make planning a wedding very easy and stress free. All packages listed above include everything you need to get married and celebrate all in the one location. They include all inclusive small wedding packages as well deals for larger weddings.
Discover more all inclusive wedding packages at these NSW locations.

All Inclusive Venues:
Sydney
Blue Mountains
Hunter Valley

Cover Image: Lea and Lens Photography
Have an all-inclusive wedding package to add to this list? Get Started