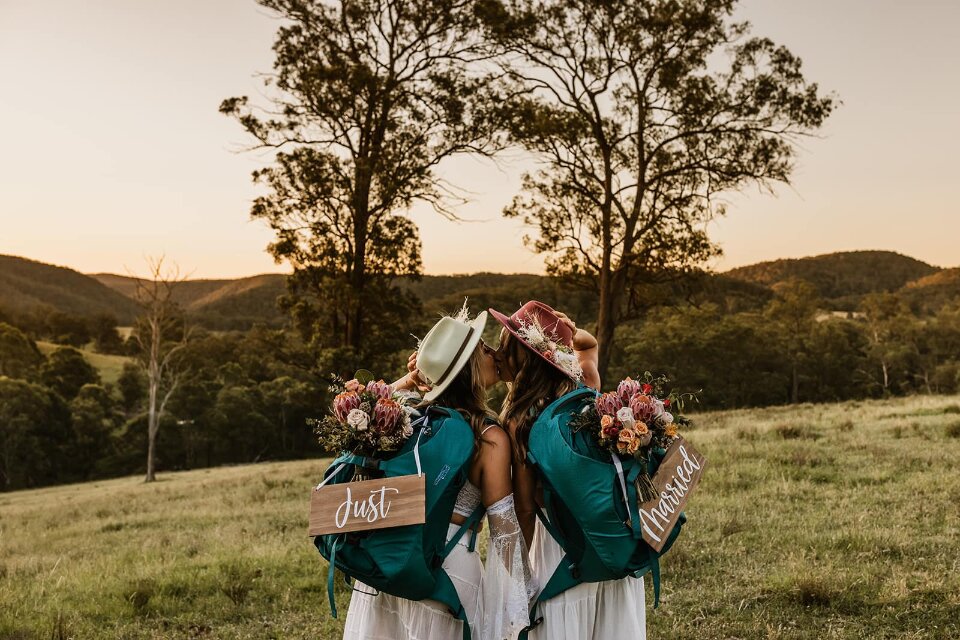 If you're looking for an all inclusive small wedding package in New South Wales you're in for a treat. The state has some amazing packages for intimate weddings including all inclusive elopements, pop-up micro weddings and little gardens, farms and urban spaces that tailor packages with everything you need included.
All inclusive micro wedding packages in NSW come with a variety of inclusions. Some fully inclusive packages provide venue hire, celebrant and a photographer with or without accommodation. Other small wedding venues prefer to leave the choice of external vendors up to you but service your catering and drinks onsite.
The intimate wedding venues featured on the list below cater for small celebrations with 2 - 80 guests. Some are elopement venues that provide all inclusive wedding packages for a maximum of 20 guests while others cater for micro weddings with 20 - 60+ guests.
Here are 10 all inclusive wedding packages for intimate celebrations in NSW.
Top 10 All Inclusive Small Wedding Packages

1. Goosewing Cottage
Location: 1194 Mount View Rd, Mount View, NSW 2325
Capacity: 20
Accommodation: Sleeps 12
Goosewing Cottage specialises in all inclusive micro wedding packages for intimate celebrations with 2 - 20 guests (plus children). The elegant little farm stay is located in the Hunter Valley and has a gorgeous open-air wedding chapel surrounded by picturesque views over lush green rolling hills.
The farm offers optional accommodation in a homestead which sleeps 8 guests and has a swimming pool and large private dining room, and a cottage that sleeps up to 4 guests. All staying guests are welcome to enjoy a privately catered reception onsite or for larger receptions the venue offers recommendations for local restaurants with private dining rooms.
Elopement Package for 2: $3,295+
This all inclusive tiny wedding package includes private venue hire, wedding planner, your choice of celebrants to create & deliver your personalised ceremony, all legals & paperwork, an award winning wedding photographer with a copy of all images and witnesses if required. 
Small Wedding Package for 20: $5,095+
This micro wedding package caters for up to 20 guests with a 2 night mini moon and gourmet breakfast hamper for the couple. Extras with this package include a single tier wedding cake and a bouquet & buttonhole or 2 x bouquets or 2 x buttonholes.

2. Leaves & Fishes
Location: 737 Lovedale Road, Lovedale, NSW 2325
Capacity: 2 - 22+
Accommodation: Sleeps 12
Leaves & Fishes is a micro wedding destination situated on 20 acres of rainforest gardens in the Hunter Valley. The property surrounds a tranquil Lotus Lake that fills with flowers & lush greenery between November to March each year and has 5 boathouses with individual floating decks that sleep up to 12 guests. 
Spaces for your wedding ceremony and reception include the tropical gardens, ornamental pear tree, a Tuscan-style sunken garden, the intimate onsite restaurant and the villa's dining room and floating deck. All inclusive micro wedding packages come with the flexibility to choose your own celebrant and photographer.
All Inclusive Elopement Package: $3,000+
Includes venue hire for your wedding ceremony and photos, two nights boathouse accommodation for the couple and a bottle of champagne and grazing board to enjoy on your private deck. The elopement package is priced at $3,000 for a 2 person elopement on weekdays and $4,000 on weekends.
All Inclusive Micro Wedding Package: $7,500+
Includes exclusive use of Leaves & Fishes and accommodation for up to 12 guests in the boathouses and villa for 2 nights. The venue's private chef (or external caterer) can be booked for an intimate reception in the villa dining room or spacious deck overlooking the Lotus Lake. Weekday packages are $7,500 and weekend $8,500 + catering.

3. Augustine's Room - Mali Brae Farm
Location: 562 Nowra Rd, Moss Vale, NSW 2577
Capacity: 30 - 55
Accommodation: Complimentary for 2
Augustine's Room at Mali Brae Farm was purpose built to offer all inclusive small wedding packages to couples with 30 - 55 guests. Located in the Southern Highlands within easy reach of Sydney and Canberra, Mali Brae Farm is an easy location for destination weddings with plenty of local accommodation nearby.
Augustine's Room features floor to ceiling windows that overlook beautiful views of the farm, a luxe rustic bar with a dedicated dance floor area and a modern fireplace that matches the polished wooden floors. 
All Inclusive Micro Wedding Packages
All inclusive wedding packages are available for 30 - 55 guests and incur an affordable venue hire fee + food & beverage cost per person. You get 6 hours exclusive venue hire, a choice of 6 ceremony sites and complimentary accommodation for two.

4. Figbird Cottage
Location: Comerong Island Rd, Terara - South Coast, NSW
Capacity: 30+
Accommodation: Sleeps 8+
Figbird Cottage is an all-in-one garden venue surrounded by peaceful farmland near Nowra on the NSW South Coast. Gorgeous English style rose gardens feature decorative arbours, ponds and rotundas with a variety of beautiful backdrops for intimate wedding ceremonies and photos.
There is a large permanent marquee within the gardens which adjoins a spacious festoon-lit cocktail lawn. The gardens are ideal for outdoor weddings and suit everything from food truck and relaxed festival style celebrations to elegant black tie events. 
Wedding Package for 2 - 6 guests: $3,995+
An all inclusive elopement for just the two of you with wedding coordination & ceremony set up, 2 hours photography & all images, experienced celebrant with customised vows and all legal paperwork. Available Monday to Thursday with exclusive use of the grounds. 
Wedding Package for 2 - 30 guests: $7,300
Includes 4 hours venue hire with ceremony set up & styling for up to 30 guests. You get wedding coordination, 3 hours photography & all images, celebrant & customised ceremony with all legal paperwork, 1 nights accommodation with breakfast hamper, wedding cake, flowers and lawn games.
DIY Wedding Package for 30+ guests: $8,800+
Includes 3 days exclusive use of venue with accommodation for 8 guests in two onsite cottages. Styling items included are fairy lights, chandeliers & festoons, tables & designer chairs, tableware & glasses and outdoor furniture. Use of commercial kitchen. BYO caterers & drinks or in-house catering & drink packages available from $145/pp.

5. Daisy Field Pop-Up Weddings
Location: Tilba Tilba, NSW
Capacity: 2 - 25+
Accommodation: Sleeps 2 - 14
The picturesque Mountain View Farm is a private country venue situated under the scenic gaze of Mount Gulaga on the NSW South Coast. The property offers year-round weddings for up to 120 guests but offers a very special opportunity to in Spring each year to get married with up to 25 guests in the middle of a romantic daisy field.
The Everlasting Daisies bloom from mid August to the end of September and each year a new aisle and altar is designed into the fields. For a limited 6 week season all inclusive small wedding packages offer the most romantic way to get married in New South Wales. 
All Inclusive Wedding Package: $8,500
Includes a personalised wedding ceremony with up to 25 guests with a live wedding singer, flowers and 3 hours of professional wedding photography. You also get a gourmet grazing table & drinks with the option to add accommodation. Mid-week discounts are available and you have the option to BYO suppliers if you prefer.

6. Coolangatta Estate
Location: 1335 Bolong Road, Coolangatta, NSW 2535
Capacity: 2 - 200
Accommodation: Sleeps 70
Coolangatta Estate is a versatile wedding venue situated on the Shoalhaven River just minutes from Berry. The 100 acre coastal property features rows of picturesque grape vines, historic & atmospheric buildings, ocean backdrops and a choice of 2 ceremony and reception venues.
One of the reception venues is a 200 year old Grand Hall that features towering ceilings under which intimate and atmospheric feasts are served on long tables for up to 80 guests. There's also a function room that seats 200 guests and outdoor areas on a hedge framed croquet lawn and under fairy lit fig trees.
Elopement
 Package 
-
 $6,999
Includes celebrant, ceremony and witnesses if required, a photographer for 2 hours, flowers, 2 hour picnic and 1 night accommodation for the happy couple.
Basic Wedding Package - $119/pp ($99/pp off peak)
Includes a furnished onsite ceremony with bubble blowers, 1 hour canapés & drinks package, 5 hour reception package with 3 course set menu and 1 nights accommodation for the couple. Min 80 guests. 
DIY Wedding Package - $15,000
Includes 26 motel rooms for 2 nights sleeping up to 70 guests, furnished onsite ceremony, function room hire, tables & chairs, tableware, commercial kitchen, on-the-day supervisor, 1:50 RSA Bar Staff. Drinks must be purchased in-house. BYO caterers.

7. Butchers Daughter
Location: 11-15 Alexander Street, Crows Nest, NSW 2065
Capacity: 100
Butchers Daughter is a small reception venue in Sydney that caters for seated weddings of 50 guests or up to 100 for cocktail weddings. The intimate space comes fully styled with foliage, crystal vases, neon and loads of candles by owner Bridget Ditte, who's crazy beautiful florals are wrapped and handed to guests as they leave.
Two all inclusive and affordable small wedding packages are available. The Daughters Feast and Butchers Table are both shared dining experiences that cater for seated or cocktail weddings respectively and come with open bar, packaged or BYO drink options.
Small Cocktail Wedding Package: 
$46 - $85/pp
All inclusive small wedding package for up to 100 people with of a grazing food bar plus 5 canapés. A minimum spend of $2,500 applies for Monday to Friday weddings and $4,000 on the weekend. Add a 4 or 5 hour drinks package from $45/pp or BYO drinks $20/pp.
Small Seated Wedding Package: $60 - $85/pp
Includes a 2 - 3 course set menu with the house specialty shared feast served down the centre of the table. 

8. Fig Tree Park
Location: 58 Sherringham Lane, Central Tilba, NSW 2546
Capacity: 2 - 200
Accommodation: Sleeps 2
Fig Tree Park is a new European style, hilltop homestead that overlooks the ocean on the NSW South Coast. Impeccably styled grounds surround the large house and are ideal for intimate outdoor weddings immersed in pristine green countryside with incredible sea views.
The immaculate French style gardens feature uplighting throughout with flat, soft lawns framed by large, fairy lit fig trees. At night the property lights up creating a spectacular atmosphere akin to being on the Mediterranean. 
All Inclusive Wedding Package for 10 - 35 guests: $5,150+
Include private venue hire with a 2 night stay for the couple in the luxury Bridal Cottage. Your ceremony & reception are set up & styled in the locations of your choosing and a catered cocktail or seated meal is provided. All inclusive small wedding packages start at $5,150 for 10 guests and range up to $9,500 for 35 guests.
All Inclusive Wedding Package for 35 - 50 guests: $10,200
As above with additional guests.

9. Australian Botanic Gardens Mount Annan
Location: 362 Narellan Rd, Mount Annan, NSW 2567
Capacity: 2 - 600
Venue Hire Cost: $865 - $1,250
The Australian Botanical Gardens is a popular outdoor venue set on 416 hectares of rainforest, native bushland, waterfront lawns and woodlands. The gardens are located in Western Sydney and offer numerous indoor (or covered) and outdoor spaces for intimate wedding ceremonies and receptions. 
One of the most popular outdoor spots for intimate weddings is the Connection Garden which seats up to 70 guests and caters for both ceremonies and receptions. Indoors is the Bowden Function Centre which seats up to 200.
Small Wedding Packages
Small wedding packages start at $1,600 including ceremony site hire and set up of ceremony chairs, arbor, signing table and aisle. For all receptions the venue provides a list of preferred caterers and you can BYO drinks.
 View Australian Botanic Gardens 

10. Ravensthorpe Guesthouse & Restaurant
Location: 

56 Tongarra Road, Albion Park, NSW 2527

Capacity: 20 - 200
Accommodation: Sleeps 14
All inclusive 24 hour experience
Ravensthorpe is a romantic Georgian manor house that offers all-inclusive small wedding packages over a 24 hour experience including accommodation for 14 onsite. The property is conveniently situated in a private country spot just a few minutes from Albion Park and has a relaxed country feel with all the benefits of a city venue.
A picture perfect ceremony rotunda sits on 3 acres of elegant wedding gardens which provide a variety of backdrops for wedding photos. Reception spaces include a light-filled conservatory, adjoining outdoor courtyard and a grand reception marquee. There's also private dining rooms for smaller weddings.
24 Hour All Inclusive Wedding Package
Wedding packages include exclusive use of the entire estate and are all-inclusive of ceremony, reception and post-wedding recovery breakfast. Pricing is dependant upon your chosen menu and drink options.
Cover Image: Cavanagh Photography
Have all inclusive small wedding packages to add to this list? Get Started