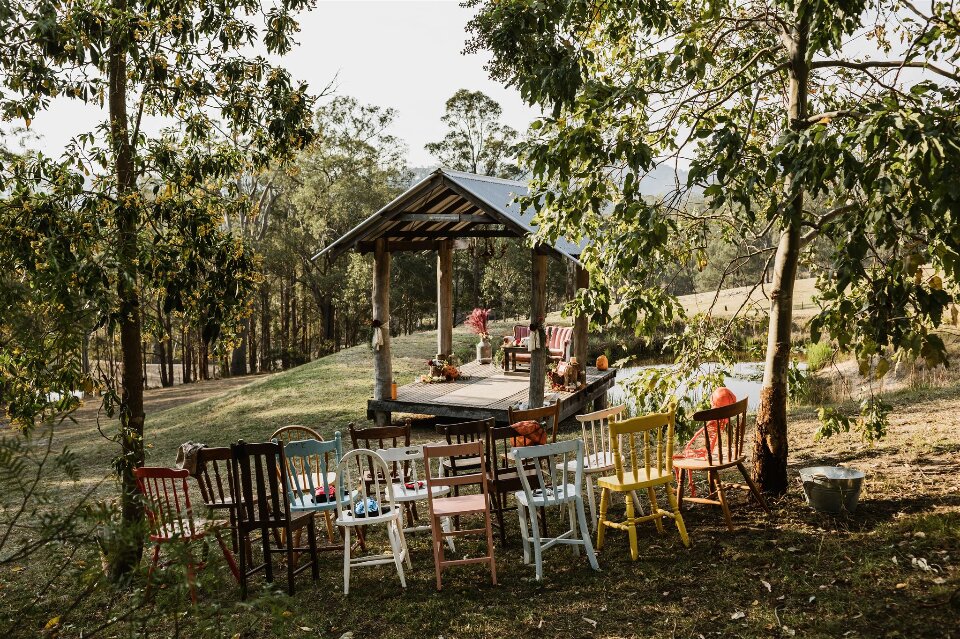 Looking for a small wedding venue in NSW? NSW has a huge range of micro wedding venues suitable for elopements and mini weddings. The 52 micro venues listed in this article cater for weddings of between 2 - 60 guests.  Some of these spaces cater for a maximum guest list of well fewer than 60, so if you're looking for a truly intimate wedding venue you're in the right place!
At Wedlockers, we classify small weddings as 60 guests or less, micro or mini weddings at 30 guests or less and elopements are usually 20 guests or less. Small wedding venues can be anything from intimate locations that cater solely to micro weddings, to private spaces within larger venues.
Included in this list are our top 10 small wedding venues in NSW where you'll find some truly unique & intimate locations for smaller weddings. From cafes and small restaurants to private dining rooms, farms & orchards, private properties, estates, wine bars, industrial spaces, urban & country retreats and some gorgeous hotels and resorts.
Table of Contents:
Top 10 NSW
Blue Mountains venues
Byron Bay venues
Central Coast venues
Hunter Valley venues
Illawarra venues
North Coast venues
South Coast venues
Southern Highlands venues
Sydney venues
Top 10 Small Wedding Venues in NSW

1. St Joseph's Guesthouse
Location: Hawkesbury, NSW

Capacity: 10 - 60+

Accommodation: Sleeps 10
Venue Hire: $3,500+
St Joseph's Guesthouse is an award winning heritage estate built in the ruins of a 160 year old church. The unique 5 bedroom, 3 level micro venue is an ideal location for intimate weddings seating up to 60 guests in the small function area on the ground floor or up to 100 outside.
An affordable hire fee of $3,500 mid-week and $4,500 on weekends provides exclusive access to the Guesthouse, grounds and accommodation for 3 nights for up to 10 guests. Venue hire for a micro wedding with up to 100 guests is $7,500. You can then DIY & BYO to your own budget. 

2. Goosewing Cottage
Location: Hunter Valley, NSW
Capacity: 2 - 20
Accommodation: 4 - 12 guests
Wedding Packages: $3,295+
Goosewing Cottage specialise in affordable micro weddings and elopements offering all inclusive packages from $3,295. The little country estate is located in the beautiful Hunter Valley and is surrounded by lush dairy paddocks, picturesque hills, farm animals and wildlife. 
Goosewing Cottage offers intimate weddings with 2 - 20 guests on a Monday to Thursday and has optional onsite accommodation in two cottages where stays can be extended into the weekend. Packages include a choice of well known celebrants + all legal paperwork and a popular award winning photographer who provides all high resolution images.

3. Goolawah Retreat
Location: 288 Point Plomer Rd, Crescent Head NSW 2440
Capacity: 30+
Accommodation: Sleeps 32 + camping
Venue Hire: $6,800+
Goolawah Retreat is an affordable spot for small destination weddings with accommodation for 32 guests onsite in 5 refurbished cottages (plus the option of camping). The 28 acre coastal property is surrounded by native bushland and has views of the ocean from the wedding pavilion.
The affordable venue hire fee of $6,800 includes use of the open-air wedding pavilion and all accommodation for 3 nights. You have the freedom to choose your own suppliers according to your budget. Pet friendly. No neighbours. No curfew.

4. Fig Tree Park
Location: 58 Sherringham Lane, Central Tilba, NSW 2546
Capacity: 2+
Accommodation: Sleeps 2
Venue Hire: $4,990
Fig Tree Park is a brand new outdoor venue that specialises in intimate weddings and elopements. Perched on a hill top overlooking sweeping views of the South Coast, the property's manicured lawns and fairy lit gardens offer a romantic outdoor setting for small weddings with 2 - 80+ guests.
Small wedding packages start from $4,990 including accommodation for 2 in a romantic little barn. Venue hire includes elegant furniture for ceremony and reception set up and the option for in-house catering for weddings smaller than 30 guests.

5. Augustine's Room - Mali Brae Farm
Location: 562 Nowra Rd, Moss Vale, NSW 2577

Capacity: 30 - 55

Accommodation: Sleeps 2
Wedding Packages: All inclusive
Augustine's Room is a purpose built, micro wedding venue for 30 - 55 guests, with floor to ceiling windows overlooking stunning countryside views. There's 6 private & intimate ceremony spots to choose from including rustic ruins, gardens and waterfront locations. All inclusive elopement and small wedding packages include complimentary accommodation for 2.

6. Eleven Eighty Weddings
Location: Shoalhaven, NSW 2535 
Capacity: 80
Accommodation: Sleeps 15

Wedding Packages: DIY/BYO
Eleven Eighty is one of the most unique locations for small weddings in NSW with 5 intimate spaces catering for weddings with 12 - 80 guests. There's a barn that seats 30, a train carriage that seats 20, a refurbished school hall that seats 50 and an incredible courtyard adjoining the barn with an indoor/outdoor bar. 
When you hire Eleven Eighty for your wedding ($7,500) you get exclusive use of the 3 acre property for 2+ nights including accommodation in two cottages. There's also an amazing props shed you're free to access which contains all required furniture for ceremony, lounge areas and reception.

7. Tides Byron Estate
Location: Byron Bay, NSW 2478
Capacity: 18 - 140
Accommodation: Sleeps 22
Tides Byron Estate is a 100 acre macadamia farm located in the beautiful Byron Bay Hinterland. The property centres around a micro wedding hall and luxury 7 bedroom villa which overlook the macadamia orchard and have incredible views to the Tweed Coastline. 
Tides is a versatile property for small weddings offering the option of a poolside celebration in the villa (suitable for weddings with up to 40 guests), an outdoor celebration in the orchard, a wedding reception in the hall or on the hall's outside terrace. Villa hire starts at $3,900. Hall hire & weddings in the orchard are additional.

8. Greystone Estate
Capacity: 32+
Location: 

617 Hermitage Rd, Pokolbin, NSW 2320

Sleeps: 32
Venue Hire: $15,200+
Greystone Estate is a luxurious private estate set on 10 park-like acres of beautifully manicured lawns and gardens. With accommodation for up to 32 guests in 4 seperate dwellings, Greystone Estate is the ideal spot for an intimate weekend away celebrating with family & friends in the Hunter Valley.
The property features a purpose-built open air pavilion for wedding ceremonies and receptions can be held in the modern function room A gorgeous outdoor area perfect for small cocktail or seated functions adjoins the main house and has stunning views overlooking the property's gardens, walkways and dam.
Venue hire ranges from $15,200 - $20,300 for mid-week & weekend weddings respectively and includes all accommodation. Food & beverage starts at $150/pp.

9. Daisy Field Micro Weddings
Location: 11 Mount Dromedary Trail, Tilba Tilba, NSW 2546
Capacity: 2 - 120
Accommodation: Sleeps 2 - 14
Micro Wedding Packages: $8k
At Mountain View Farm on the Sapphire Coast of NSW is one of the Australia's most unique & romantic spots for a micro wedding. Every year for a limited 6 week season couples are invited to elope in the middle of the Spring Daisy Fields serenaded by a wedding singer and surrounded by thousands of romantic blooms.
Each year a new aisle is crafted into the Daisy Fields creating a once-in-a-lifetime altar under the spectacular gaze of Mount Gulaga. All inclusive micro wedding packages include a celebrant, photographer, wedding singer, flowers and nibbles with optional onsite accommodation. 

10. Coorabell Estate
Location: 36 Keys Road, Coorabell, NSW 2479
Capacity: 10 - 55+
Accommodation: Sleeps 10
Coorabell Estate is a 28 acre rainforest retreat located twenty minutes from Byron Bay. The property features a luxury 5 bedroom house with an open plan layout and is surrounded by private terraces bordered by forest.
The house has two small areas for intimate weddings. One is the back verandah which is a covered space seating up to 40 guests overlooking the rainforest canopy. The other is the poolside entertaining area which caters well for small cocktail weddings with up to 55 guests. Larger weddings require hire of a marquee and can be set up on the lawn.
Small Venues in the Blue Mountains

11. Dantosa Estate
Location: 

76 Mort St, Katoomba, NSW 2780

Capacity: 16 - 60
Sleeps: 18
Dantosa is an intimate, private property in the heart of the Blue Mountains world heritage listed national park. The 9 acre garden location can be hired for your exclusive use and offers a secluded all-in-one wedding destination ideally suited to small weddings of 16 - 60 guests. 
The private estate features park like gardens, a picturesque lake with pontoon and lake house, a secluded forest and two seperate houses sleeping 18 people. The larger house caters for small wedding receptions of up to 60 guests.
When you book both houses you get exclusive use of the entire property, and the freedom to choose all your own suppliers.


12. Spicers Sangoma Retreat
Capacity: 2 - 30
Location: 70 Grandview Ln, Bowen Mountain, NSW 2753
Sleeps: 12
Elopements: $12,000+
Small Weddings: $30,000+ (inc accommodation, exclusive use, food & beverage)
Spicers Sangoma Retreat is an intimate wedding retreat that offers elopement packages for 2, small indoor & outdoor wedding ceremony sites and micro wedding receptions with seating for 30 guests in the main dining room. Bush, Luxury, Private, Intimate, Spa, Formal, Weekend Hire, Exclusive Use, Pool, Eco Friendly. 
---
---
Small Venues in Byron Bay

13. Byron Luxury Guest Retreat
Location: 192 Koonyum Range Road, Wilsons Creek, NSW 2482
Capacity: 12 - 100
Accommodation: Sleeps 12
Venue Hire: $8,000+
Byron Luxury Guest Retreat is a hill-top Airbnb available to hire for small weddings in the Byron Bay Hinterland. The private property is well secluded from the road and offers jaw dropping ocean views across a lush tropical vista including a waterfall and swaying palms.
This impressive yet small wedding venue has 5 luxury bedrooms, an open plan dining and kitchen area and an expansive outdoor terrace for celebrations beside the infinity pool. For micro weddings and elopements you are welcome to DIY your own arrangements. Weddings with 20+ guests require the venue's preferred wedding planner to manage additional amenities.
 View Byron Luxury Guest Retreat

14. Summergrove Estate
Location: 363 Carool Rd, Carool, NSW 2486
Capacity: 20 - 130
Accommodation: Sleeps 10 in 5 villas
Wedding Packages: $12,850+
Summergrove Estate offers a location for small weddings with 20+ guests on Tuesdays & Wednesdays. Mid week wedding packages range from $12,850 - $17,250 for 20 - 60 guests respectively and include 5 villas, exclusive venue hire and catering and you get your choice of ceremony and reception venue.
---
---
Small Venues on the Central Coast

15. Paradise Botanical Gardens
Location: 

147 Cherry Ln, Kulnura, NSW 2250

Capacity: 50+

Sleeps: 8
Venue Hire: $4,995+
Paradise Botanical Gardens is a boutique wedding venue located on 230 acres of unique gardens and pristine countryside in the relatively unknown little hamlet of Kulnura. The gardens offer a one-of-a-kind destination for small weddings across 3 days with a cottage that sleeps 8 on the property and space for glamping and camping for additional guests.
These Roman Columns set an amazing scene for intimate wedding celebrations and suit seating for 12 - 100 guests. The property also features a circular ceremony lawn ideal for elegant wedding ceremonies and a collection of wonderfully diverse backdrops for wedding photos. Weddings with 50+ guests are required to hire a marquee.
 View Paradise Botanical Gardens

16. Our Secret Garden
Location: 120 Berkeley Road, Berkeley Vale, NSW 2261
Capacity: 2 - 250
Accommodation: Sleeps 10+
Our Secret Garden is a private, 58 acre estate that offers a secluded sanctuary for intimate weddings on the Central Coast. All inclusive elopement packages start at $3,300 including 2 hours hire of the grounds mid-week, a photographer and celebrant. For small weddings with 10 - 60 guests you can opt for a marquee reception and there is a luxury 5 bedroom house also available on the property.
---
---
Small Venues in the Hunter Valley

17. Redleaf Wollombi
Capacity: 40 - 60
Location: 2480 Wollombi Rd, Wollombi, NSW 2325
Sleeps: 12
Cost Guide: $500+/pp (inc accommodation)
Redleaf Wollombi and grand Tuscan style residence with 6 luxury bedrooms and an adjoining function room which used to be a restaurant. The Garden House as its is now called, seats up to 60 guests (50 comfortably) and is included with venue hire which starts at $14,300 for a 2 night stay midweek. Weekends are $24,970.
Most couples planning a small wedding at redleaf opt to get married in the beautiful Tuscan courtyard and this area is also perfect for a micro wedding reception under the stars. 

18. Lonely Goat Olives
Capacity: 12+
Location: 153 Eglinford Ln, Congewai, NSW 2325
Sleeps: 5
Info: DIY/BYO, Marquee, Budget Friendly, Micro Weddings, Private, Pet Friendly, Glamping, Eco-friendly, Olive Grove

19. The Bath House Gardens
Location: Forest Hill Drive, Oakhampton Heights, NSW 2320
Capacity: 30
Wedding Packages: DIY or all inclusive
The Bath House Gardens is an intimate wedding venue on 4 acres of tranquil lawns and gardens in the Hunter Valley region of Maitland. Small weddings with 30 guests or less are perfectly catered on the elevated ceremony site with arbor overlooking the gardens.
The Garden Room seats up to 14 guests for small wedding receptions or 30 for cocktail weddings. DIY or all inclusive private dining packages.

20. Wedding Grounds
Capacity: 30
Location: Wollombi Road, Laguna, NSW 2325 
Sleeps: 2
Info: DIY, Private, Bush, Weekend Hire, Micro Weddings, Elopement Packages

21. Maddies of Bolwarra
Capacity: 40+
Location: 35 Paterson Rd, Bolwarra, NSW 2320
Sleeps: 14
Maddies of Bolwarra is a little wedding venue ideally suited to micro weddings and elopements of 20 - 40 guests hidden on a private property away from the Hunter Valley's busiest areas. Ceremonies are held under a giant Morton Bay Fig in the gardens. The dining room caters for micro wedding receptions or there is a garden pavilion that seats up to 60 guests. 
Small wedding packages start at $3,100 including venue hire fee and exclusive use of ceremony and reception areas. Add catering and accommodation.
---
---
Small Venues in the Illawarra

22. Ravensthorpe Guesthouse
Location: 

56 Tongarra Rd, Albion Park, NSW 2527

Capacity: 20+

Accommodation: Sleeps 14
Ravensthorpe is an elegant Georgian Manor House with a dining room to cater for small wedding receptions, accommodation for 14 and 3 acres of picturesque gardens perfect for a wedding ceremony. Small wedding packages cater for 20+ guests including a 24 hour all-inclusive wedding experience starting from getting ready to a recovery breakfast the next morning.

23. Interbane House
Location: 8 Lawrence Hargrave Drive, Stanwell Park, NSW 2508
Capacity: 50
Accommodation: Sleeps 18
Wedding Packages: DIY/BYO
Interbane House is a private Airbnb that overlooks spectacular ocean views including Stanwell Park's new Sea Cliff Bridge. The historic Victorian period house has 5 spacious bedrooms that sleep up to 18 guests and an open plan kitchen and dining area that can seat up to 18 or easily caters for cocktail functions of up to 50 guests.
A wide wrap around balcony with wrought iron balustrades and a flat lawn area that overlooks the incredible views offer intimate wedding locations in the great outdoors and a marquee can be pitched on the lawn to cater for larger celebrations. The affordable venue hire fee starts at $2,850 for a 2 night stay.

24. Tumbling Waters Retreat
Capacity: 30+
Location: 31 Stonehaven Rd, Stanwell Tops, NSW 2508
Sleeps: 24
Info: Luxury, BYO, Garden, Private, Elopement Packages, Small Weddings, Pet Friendly, Formal, Bush, Ocean Views, Pool, Spa

25. Ruby's Mount Kembla
Capacity: 30+
Location: 39 Harry Graham Dr, Kembla Heights, NSW 2526
Sleeps: 0
Info: Heritage, Small Weddings, All Inclusive Packages
---
---
Small Venues on the North Coast

26. Nelson Bay Lighthouse
Location: Lighthouse Road, Nelson Bay, NSW 2315
Capacity: 100
Venue Hire: $550
Nelson Bay Lighthouse is a small wedding ceremony venue hidden in a private seaside garden behind the onsite museum. Officially called the Inner Light Reserve, the area features an intimate wedding ceremony platform with a surrounding lawn amphitheatre and stunning views over the ocean to Shoal Bay.
This hidden garden is available to hire for small weddings and elopements with up to 100 guests with the hire fee ranging from $550 - 900. Packages come with seating & styling plus a wedding coordinator who sets up and packs down your ceremony.

27. Tanilba House
Location: 32 Caswell Cres, Tanilba Bay, NSW 2319
Capacity: 20 - 90
Accommodation: Sleeps 4
Wedding Packages: All inclusive from $215/pp
Tanilba House is a waterfront wedding venue with 3 acres of gardens surrounding a heritage listed homestead in Port Stephens. The property is ideally suited to weddings of 40 - 70 guests, has both indoor & outdoor event spaces and offers all inclusive & easy small wedding packages from 4+ guests.
Mid week wedding packages for 4+ guests start at $3,900 including 2 hour venue hire & catering. Small weddings on the weekend range from $215 - $360 per person with a fully inclusive 4 hour wedding experience.

28. The Banksias
Capacity: 12+
Location: 1126 Point Plomer Rd, Crescent Head, NSW 2440
Sleeps: 18 + Glamping
Price Guide: $30,000+
Info: Marquee, Waterfront, Private, Bush, Weekend Hire, Exclusive Use, Tennis, Golf, Kayaks, Jetty

29. Kings Creek Retreat
Location: 84 Kings Creek Road, Krambach, NSW 2429
Capacity: 30
Accommodation: Sleeps 26
Wedding Packages: Micro weddings from $6,600
The Mexican themed farm stay of Kings Creek Retreat is a micro wedding venue located 30 minutes from the beaches of Forster. Up to 26 wedding guests can sleep onsite in cabins, caravans and tipis for the weekend and venue hire includes exclusive use of the entire property.
Particularly well suited to small weddings in the great outdoors, Kings Creek Retreat comes with landscaped gardens, manicured lawns and lots of romantic outdoor mood lighting. Couples looking for an affordable and intimate wedding destination will appreciate the relaxed pizza receptions.

30. Villa Vivante
Capacity: 40+
Location: 111A Bruxner Park Rd, Korora, NSW 2450
Sleeps: 10
Info: Private, Formal, Luxury, Intimate, Weekend Hire, Ocean Views, Exclusive Use, Pool, Helicopter Arrival
---
---
Small Venues on the South Coast

31. Figbird Cottage
Location: 330 Comerong Island Rd, Terara, NSW 2540

Capacity: 2 - 20

Accommodation: Sleeps 8
The elegant English style gardens at Figbird Cottage offer a relaxed & intimate setting for small weddings on the NSW South Coast. Romantic fairy-lit rose arbors and manicured lawns set the scene for elopements and micro weddings with 2 - 20 guests. 
Micro wedding packages at Figbird Cottage start at $3,995 with 2 hour venue hire, a photographer, celebrant and bubbles to celebrate.

32. Coolangatta Estate
Location: 1335 Bolong Road, Coolangatta, NSW 2535
Capacity: 2 - 200
Accommodation: Sleeps 70
Coolangatta Estate is a sprawling 100 acre winery that offers all inclusive micro weddings and elopements. Located in Shoalhaven Heads the property is the site of first settlement in the region and is surrounded by stunning scenery including bush covered hills, the ocean, rows of picturesque vines and character-rich heritage buildings.
Country gardens, fairy lit fig trees and a hedged croquet lawn provide an intimate setting for wedding ceremonies and there is a small reception venue that seats up to 80 guests which was built by convicts and is the region's original community hall. Small wedding packages start at $6,999 including an intimate ceremony for two with a celebrant, photographer and accommodation.

33. Willow Farm Berry
Location: Galls Lane, Berry - South Coast, NSW
Capacity: 130
Accommodation: Sleeps 10
Wedding Packages: BYO
Willow Farm is a versatile country venue set on 160 acres of lush green paddocks just a few minutes from the centre of Berry. The farm offers a blank canvas of scenic farmland on which to plan your ideal wedding and includes use of a rustic shed, flat marquee lawns and a luxe yoga barn (wet weather ceremony venue). 
The venue hire fee includes exclusive use of the farm and farmhouse for 2 nights, onsite planning assistance and set up, wait staff and a range of props and furniture. You may wish to hire a marquee, tipis or a Sperry Tent, and outdoor dance floors look amazing in the paddock.

34. Kullindi Homestead
Location: Booderee National Park, Ellmoos Rd, Jervis Bay, NSW 2540
Capacity: 15+

Accommodation: Sleeps 20+

Venue Hire: $3,800
Kullindi Homestead is a private waterfront property that offers an affordable destination for small and intimate weddings in Jervis Bay. The venue hire fee includes exclusive use of the property and all 5 self contained cottages with the ability to DIY and BYO all your own suppliers including catering and drinks.
Private, Heritage, Budget Friendly, Weekend Hire, Late Curfew, Lawn Games, Kangaroos, Birdlife, Jetty, Camping

35. The Jackson Ranch
Capacity: 10+
Location: 101 Willinga Rd, Bawley Point, NSW 2539
Sleeps: 30
Info: DIY/BYO, Waterfront, Small Weddings, Private, Rainforest, Function Centre, Weekend Hire, Intimate
---
---
Small Venues in the Southern Highlands

36. Growwild Wildflower Farm
Capacity: 50
Location: 916 Old Hume Hwy, Alpine, NSW 2575
Accommodation: Next door
Info: The micro wedding barn at Growwild Wildflower Farm is a rustic location for small ceremonies and receptions of up to 50 guests. The property features stunning outdoor gardens, intimate bushland and a clear walled marquee for weddings of 100+ guests. 

37. Hillview Heritage Hotel
Capacity: 30+
Location:

 

7277 Illawarra Hwy, Sutton Forest, NSW 2577

Sleeps: 21
Info: DIY/BYO, Marquee, Farm, Heritage, Budget Friendly, Pet Friendly, Weekend Hire

38. Peppers Manor House
Capacity: 20+
Location: Kater Rd, Sutton Forest, NSW 2577
Sleeps: 12
Info: Garden, Pool, Tennis, Golf, Lawn Games, Kangaroos, Small Packages

39. Southern Highlands Winery
Capacity: 30+
Location: Oldbury Rd, Sutton Forest, NSW 2577
Sleeps: 0
Info: Marquee, Private, Industrial, Cows, Vineyard
 View Southern Highlands Winery

40. The Secret Garden
Capacity: 2+
Location: Blencowes Lane, Wildes Meadow, NSW 2577
Sleeps: 0
Info: DIY/BYO, Marquee, Waterfront, Garden, Bush, Outdoor + Covered Ceremony Venues, Small Receptions
---
---
Small Venues in Sydney

41. Lords Estate Chapel
Location: 313 Seven Hills Rd, Seven Hills, NSW 2147
Capacity: 2 - 80
Wedding Packages: $1,250+
Lords Estate is a private little Sydney chapel that can be booked for non-denominational wedding ceremonies with 2 - 80 guests and features surrounding gardens for wedding photos. The chapel also makes a unique reception venue for long table seated events of up to 30 guests with space for a lounge and dance floor. 
An authentic vintage drawing room and private dining room seating 8 - 12 guests is located behind the chapel in the estate's main homestead and offers one of Sydney's most exclusive private dining wedding experiences. 

42. Australian Botanic Gardens Mount Annan
Location: 362 Narellan Rd, Mount Annan, NSW 2567
Capacity: 2+
Wedding Packages: $550+
The Australian Botanical Gardens in Western Sydney has a choice of lawns and gardens to hire for small wedding ceremonies and garden receptions. Wedding packages start at $550 for 2 hour lawn hire with the option of adding additional hours and ceremony set up.
 View Australian Botanic Gardens 

43. Butchers Daughter
Location: 11-15 Alexander Street, Crows Nest, NSW 2065
Capacity: 100
Wedding Packages: All inclusive
Butchers Daughter is a small reception venue that offers a quirky setting for up to 50 seated guests in Crows Nest. The street-side shop front is the premises of renowned floral designer Bridget Ditte and is one of Sydney's most unique venues for intimate wedding receptions. 
Affordable all inclusive packages cater for shared dining with seated and cocktail menus from $50 per person. There's a minimum spend of $2,500 week days and $4,000 on the weekend. Consider booking Bridget to style the space for you in her eclectic signature vibe with bold unique shaped floral installations, neon rope, loads of candles and coloured glass vases.

44. Private Property for Micro Weddings
Location: Palm Beach, Sydney NSW
Capacity: 100
Venue Hire: $10k
This private property on the Northern Beaches of Sydney has a private beachfront garden to hire for intimate weddings overlooking the ocean. Situated at a secluded $40m holiday house in Palm Beach, the Balinese style gardens offer 2,500m² of manicured lawns for wedding ceremonies and photos.
The estate is easily accessed via road and has onsite parking or there's a jetty on the beach a short walk across the sand. Venue hire includes access to onsite bathroom amenities and the option to host nibbles after your wedding. 
 View Private Micro Wedding Venue

45. Mejico Cafe
Capacity: 40+
Location: 105 Pitt St, Sydney, NSW 2000
Sleeps: 0
Info: Exclusive Use, Foodie Venue, Mexican, Micro Weddings

46. Hazelhurst Cafe
Capacity: 10+
Location: 782 Kingsway, Gymea, NSW 2227
Sleeps: 0
Info: Bush, Garden Ceremonies, Exclusive Use, Cafe, Arts, Small Weddings

47. Salon Privé
Location: 264 George Street, Sydney, NSW 2000
Capacity: 28 - 40
Salon Privé is a private dining room located at Australian Square on the 47th floor. Part of the revolving restaurant O Bar & Dining, Salon Privé is a unique small reception venue with some of the best views and food in Sydney.
The dining room caters for intimate wedding receptions with up to 28 seated or 40 standing guests and has 360º views over the Sydney skyline.

48. Audley Dance Hall
Location: 2 Lady Carrington Dr, Royal National Park NSW 2233
Capacity: 30 - 60
Accommodation: Sleeps 5
Audley Dance Hall is an all-inclusive wedding destination in Sydney's Royal National Park and offers a spectacular setting for intimate weddings overlooking the Audley Valley and Hacking River. 
Audley Dance Hall offer small wedding packages on a Monday to Thursday for 30 - 60 guests. Pricing starts at $2,000 for a ceremony only and includes a choice of ceremony locations, furniture, set up & pack down and a wet weather option on the reception venue verandah. Small weddings with an all inclusive 4 hour lunch start at $160/pp.

49. Chiswick
Capacity: 30+
Location: 65 Ocean St, Woollahra, NSW 2025
Sleeps: 0
Info: Award Winning Chef, Foodie Venue, Outdoor Ceremonies, Semi Private Dining, Small Weddings

50. Olio Kensington St
Capacity: 12+
Location: 2/2/10 Kensington St, Chippendale, NSW 2008
Info: Sicilian Restaurant, Foodie Venue, Private Dining, Micro Wedding Receptions

51. Little Zimzala
Location: The Esplanade, Cronulla, NSW 2230
Capacity: 35 - 40
Wedding Packages: All inclusive from $135/pp
Little Zimzala is the affectionate title of the small private dining area at the south side of Zimzala Restaurant. The intimate wedding reception area is small on space but big on atmosphere within the busy Cronulla esplanade. The outdoor space has expansive ocean views and comes with an all-inclusive seafood style menu.

52. The Terrace @ Jonah's 
Capacity: 40+
Location: 69 Bynya Rd, Palm Beach, NSW 2108
Sleeps: 22
Info: Ocean Views, Micro Weddings, Gardens, Private Hire, All Inclusive Wedding Packages
---
---
You can enquire with any of these 52 small wedding venues in NSW by using the enquiry form at the links provided.
Cover Image: Cavanagh Photography
Want to add your business to this list? Get Started