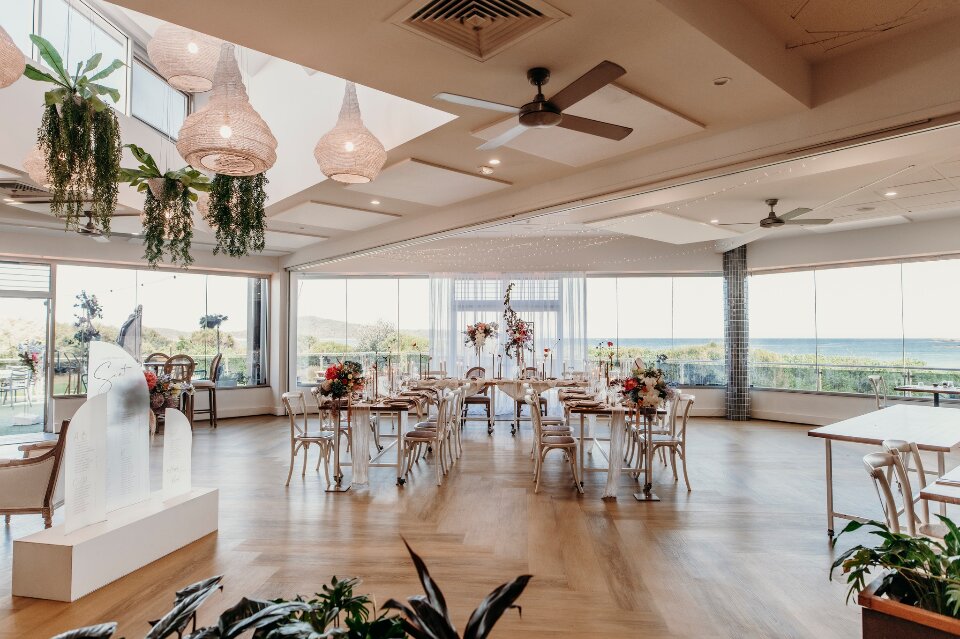 Looking for a beautiful beach venue for your wedding reception in New South Wales? Coastal reception venues in NSW are situated in some of Australia's most beautiful beachfront places. With views over pearl white sand, crystal clear turquoise water and awe inspiring seaside cliffs, the state's lengthy shoreline offers plenty of beautiful spots for coastal weddings.
Beach reception venues in NSW include a wide range of seaside settings from luxury hotels and coastal resorts to function rooms and yacht clubs. And while beachfront weddings are typically synonymous with the luxury end of the market, the state offers plenty of affordable venues for celebrations overlooking the sand such as surf life saving clubs.
The vast majority of beach wedding venues from the South Coast to the state's north are all-in-one locations that offer ceremony, photo and reception spaces all in the one place. These include private beachfront resorts where your entire guest list can stay onsite for the weekend and smaller private properties with views of the ocean. 
This list of amazing beach reception venues includes 12 of the most popular places to hire for private functions on the oceanfront and a couple of our favourite seaside locations that are a little off the beaten path. Congratulations on your engagement, and happy planning!
Top 12 Beach Reception Venues in NSW

1. The Pavilion Kiama
Location: 2 Bong Bong Street, Kiama, NSW 2533
Capacity: 80 - 400
Wedding Packages: All inclusive 
The Pavilion is a popular beachside reception venue with beautiful ocean views to Kiama Lighthouse. The function room is a modern light-filled event space with huge windows overlooking the beach and has polished wooden floors, a raised stage and a seperate entrance foyer with its own bar.
Situated in the centre of town, The Pavilion offers guests the convenience of accommodation less than 5 minutes walk from the venue. Budget friendly wedding packages offer excellent value from $100 per head and venue hire includes the option for an onsite ceremony at one of two waterfront sites or in the weatherproof entrance foyer.

2. The Cove Jervis Bay
Location: Ellmoos Road via Booderee National Park, Jervis Bay NSW 2540
Capacity: 150+
Accommodation: Sleeps 111
Wedding Packages: BYO
The beachfront wedding reception hall at The Cove in Jervis Bay is just a couple of metres from its own private pearly white sand beach and overlooks the glistening bay waters. The Cove is a 3 day wedding destination where all your guests stay onsite with you and venue hire includes the beachfront wedding hall and adjoining outdoor reception area.
This 3 acre seaside resort also comes with a pamper room for getting ready, a beach wedding ceremony lawn, relaxed pre & post wedding event areas and accommodation in beach cabins, a luxe glamping village and funhouse. Guests can pay for their own rooms separately which covers venue hire and you can then DIY & BYO your preferred caterers to your own budget.

3. Tides Byron Estate
Location: 290 North Teven Road, Teven, NSW 2478
Capacity: 140
Accommodation: Sleeps 22
Wedding Packages: Tailored
Tides Byron Estate is a 100 acre macadamia farm situated 8 minutes from the sandy shores of the North Coast in an elevated location that looks over Lennox Head to the ocean. The property features a fully furnished luxury wedding hall with an adjoining outdoor reception terrace that both have incredible ocean views.
When you hire Tides Byron Estate for your wedding reception you also have the option of booking the 8 bedroom onsite villa which has a beautiful poolside entertaining area that seats up to 40 guests. Pre & post wedding functions are permitted at the villa.

4. Fig Tree Park
Location: 58 Sherringham Lane, Central Tilba, NSW 2546
Capacity: 2 - 200
Accommodation: Sleeps 2
Wedding Packages: DIY/BYO
Fig Tree Park is a grand French-style estate set on a South Coast hill top overlooking 360° ocean & country views. Surrounded by manicured country gardens and paddocks with free roaming horses, the estate offers an incredibly scenic outdoor location for romantic seaside receptions.
Hire of Fig Tree Park for your wedding reception comes with elegant round tables and cross back chairs, full lighting throughout the gardens and huge fig tree, and complimentary accommodation for 2 in a private barn. Reception spaces include under the fig tree, on the estate's front lawn or in the grand pavilion.

5. Goolawah Retreat
Location: 288 Point Plomer Rd, Crescent Head NSW 2440
Capacity: 30 - 150
Sleeps: 32 + camping
Wedding Packages: DIY/BYO
Situated on the private bush-covered shoreline at Crescent Head, Goolawah Retreat's open-air pavilion offers an idyllic location for relaxed, coastal wedding receptions. The pavilion comes with beautiful ocean views and has an adjoining festoon-lit courtyard alongside a spacious festival-style lawn area. Food trucks & mobile drink vans fit perfectly here.
The 28 acre beach retreat is an affordable destination to hire for a beach wedding weekend with venue hire from $6,800 including accommodation for up to 32 guests in 5 self contained cottages for 2 nights. Camping is permitted onsite and there's more accommodation nearby. No curfew. Pet friendly.

6. The Beachcomber Hotel & Resort
Location: 200 Main Road, Toukley, NSW 2263
Capacity: 30 - 200
Accommodation: Sleeps everyone
Wedding Packages: 

$150+/pp
The Beachcomber Hotel & Resort is a lakefront wedding venue on the Central Coast and is a quick walk away from the local beach. A covered courtyard offers the ideal option for weatherproof ceremonies on the waterfront and there's two beachfront wedding reception venues with floor to ceiling opening glass doors.
The Beachcomber Hotel is a Hamptons-inspired wedding location that can accommodation up to 120 guests for a seated reception or up to 200 for cocktail events. All inclusive wedding packages also cater for small and intimate weddings from 30+ guests.

7. Kullindi Homestead
Location: Booderee National Park, Ellmoos Rd, Jervis Bay NSW 2540
Capacity: 20 - 200
Accommodation: Sleeps 20
Venue Hire Cost: $3,800
Situated on the shores of the Sussex Inlet waterway, the lawns of Kullindi Homestead offer a blank canvas outdoor setting for waterfront wedding receptions. Ideally suited to long table dining under the stars you can also hire a marquee, tipis or sperry tent to furnish this unique reception site.
Venue hire costs $3,800 and includes 2 nights accommodation for up to 20 guests in 5 self contained units. Glamping is permitted.

8. Interbane House
Location: 8 Lawrence Hargrave Drive, Stanwell Park, NSW 2508
Capacity: 100
Accommodation: Sleeps 18
Venue Hire Cost: $2,850+
Interbane House is a gorgeous Victorian period home that can be hired for weddings and events with up to 100 guests for 2 nights including accommodation for up to 18 guests. The 5 bedroom house has a spacious open plan dining area that seats 18 guests easily, a wrap around verandah perfect for cocktail functions and a flat backyard function area.
All event spaces in and outside of the house have amazing ocean views that take in the new Sea Cliff Bridge and provide a birds eye view of the marine traffic around Wollongong's ports.

9. Saltwater Fingal Bay
Location: level 1/3 Marine Dr, Fingal Bay, NSW 2315
Capacity: 150
Accommodation: Available nearby
Wedding Packages: All inclusive from $135/pp
Saltwater Fingal Bay is a breezy beach venue situated in Port Stephens on the Mid North Coast of New South Wales. Featuring wrap around floor to ceiling glass windows and an ocean facing cocktail deck, Saltwater offers a beautiful Hamptons-inspired setting for beachside receptions.

10. Capiche Wedding Receptions
Location: 65 Lighthouse Parade, East Ballina, NSW 2478
Capacity: 120
Wedding Packages: $140+ per head
Capiche Italian Restaurant is one of the best beach wedding venues in the state with floor to ceiling glass walls sitting right over the sands of Lighthouse Beach Cove. Just 30 minutes from Byron Bay, this light-filled function space seats up to 90 guests and offers affordable reception packages from $140 - $200 per person.
 Contact Capiche Wedding Receptions 

11. Mollymook Beachside Weddings
Location: 72 Golf Avenue, Mollymook, NSW 2539
Capacity: 220
Wedding Packages: $140+/pp
Mollymook Beachside Weddings is an affordable wedding reception venue located on the sand at Mollymook Beach. Seating up to 160 guests or catering for cocktail functions of up to 220, The Oceanview Room looks over an expansive seascape to the horizon and enjoys incredible year-round sunsets. 
All inclusive wedding packages average between $150 - $180 per person and require a minimum of 50 - 80 guests.
 View Mollymook Beachside Weddings

12. City Beach Function Centre
Location: 1 Marine Dr, Wollongong NSW 2500
Capacity: 420
Wedding Packages: All inclusive
City Beach Function Centre is the only reception venue on the beach in Wollongong and is conveniently situated in the heart of the city with views over the dunes to the ocean. The high-end function centre has two ocean-view reception venues that both feature a pillarless design and come with elevated bridal tables. 
City Beach Function Centre offer all inclusive wedding packages for receptions of 80 to 280 guests which range in price from $155 - $250 per head on a Saturday night. 
 View City Beach Function Centre
Beach Reception Venues
Best in NSW
Byron Bay
Sydney
Wollongong

Cover Image: Muse Photography
Have a beach reception venue to add to this list? Get Started