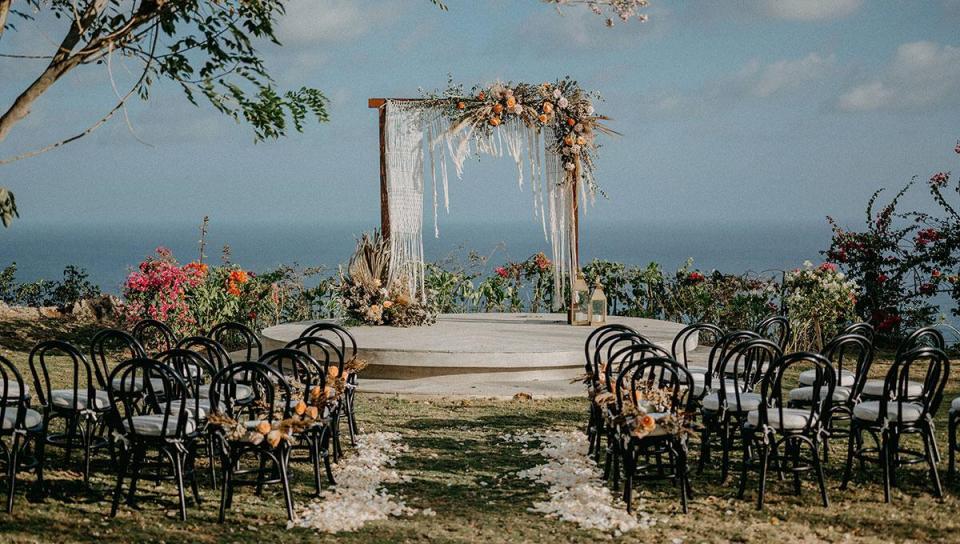 Bali is one of the most exotic and sought after wedding destinations in the world. The rich culture, spectacular locations and scenic beauty make the island a popular holiday spot for domestic and international tourists alike, and a highly anticipated honeymoon destination for newlywed couples. But it is Bali's stunning wedding ceremony and reception venues, their unique architecture, unique chapels and breathtaking location that make the island one of the most sought after wedding destinations on the globe. 
With a large number of domestic and foreign couples electing to marry in Bali, there are literally hundreds of wedding venues to take your pick from. Most couples jetting in for their wedding narrow down the choice of venues by deciding on a preferred region on and around the island. Bali is a large island (it takes around 12 hours to drive around it without stopping) and has a diverse cultural and topographic landscape that provides very unique wedding experiences depending on the region you choose.
The 6 regions below offer the best of Bali's wedding experiences. If you're looking for a destination wedding location in Bali, these are the regions where you'll find the island's best wedding venues and services.
Best 6 Places to Get Married in Bali

Batu Karang Nusa Lembongan Resort
Nusa Lembongan Island
At a small island lying off the Southeast coast of the main Island Bali, you'll find the paradise utopia more commonly known as Nusa Lembongan. Quickly becoming one of Bali's most popular attractions, this idyllic island is a world away from the frenzied pace of Southern Bali. Nusa Lembongan is a wedding destination for romantics, with breathtaking panoramic views across the Indian Ocean and luxurious accommodation and venues to host the most intimate occasion with your loved ones. 
With a high density of 5-star resorts and villas, Nusa Lembongan's serene landscape and flawless facilities are perfect for those couples who desire all the comforts, complemented with friendly and attentive service. Nusa Lembongan is commonly the likelier choice of couples who wish to have a fancier, grander or more of a formal wedding, with the focus on an overall high-end guest experience. Accommodation at the island's best wedding resorts ranges from AUD $90 to $260 per night on average (via booking sites) and you could expect to pay around US $100 per person for an all-inclusive wedding package with catering and drinks.

Sunset at Nusa Lembongan Island. Image: Gold Hat Photography
The island is equally famous for its iconic sunrises & sunsets, and its pristine white beaches that offer views to mainland Bali and the magnificent Mount Agung. There's a great choice of wedding venues at Nusa Lembongan island, from eco retreats to thatch villas and resorts that you can hire exclusively for your extended wedding. Finding your perfect destination wedding venue in this region won't be an issue at all.   
Nusa Dua 
Beautiful beaches, luxurious hotels, seclusion, minimal crowds and a rich culture is what you'll find in Nusa Dua. Being in its own Bali bubble, weddings in Nusa Dua are all about luxury experiences, beautiful beaches and local traditions. Whether visiting quiet and secluded beaches is your preference, or kicking your feet up poolside Nusa Dua is a guaranteed relaxing experience for holidays, weddings, honeymoons or simply a romantic break for two.
Being on the less commercial side of Bali (despite the convenient 30 minutes drive from bustling Kuta), daytime activities are a little more low key here. You can visit small shopping centres and daytime markets, browse the wares of many local talents, enjoy authentic street food or simply stroll along the shoreline. Swimming and snorkelling are popular daytime activities, Pandawa Beach offers kayaking and other water sports rentals and the area also has some challenging surf beaches.
There's loads of places for wedding guests to explore in Nusa Dua too. From beaches with huge limestone cliffs and impressive carved statues, to water blow holes, to fishing spots and golf courses.

Bali culture. A destination wedding in Bali offers a rich cultural experience.
Temples are a prevalent feature of the landscape in Nusa Dua and add to the rich culture of the region. There's also several galleries that display valuable artwork from across Asia and the Pacific Islands. Cultural events include the Nusa Dua Fiesta held every October which includes street parades and live performances of music, dancing and arts.
Nusa Dua is a popular location for small weddings and elopements with many wedding ceremony packages on offer. Prices range from approximately $1,500 to $7,000 depending on your venue choice and the type of ceremony you choose. Options include culturally sacred ceremonies, Hindu or Buddhist weddings, cliff top ceremonies, beach nuptials and waterfall weddings. 

The Ungasan Resort
Ungasan
Seamlessly blending into the greater Uluwata area, resting on the southernmost tip of the island -  Ungasan is notoriously known as one of the most scenic areas in Bali. She offers majestic clifftops with views for as far as the eye can see. The area combines peaceful rural surroundings with some of the most élite luxury resorts and clifftop villas the Island has to offer. 

One of the many architecturally spectacular ocean view wedding venues in Bali
Ungasan is also home to some of the most spectacular beaches on Bali Island, with pristine white sand shores and clear blue waters. Weddings are all about elegance and comfort here. Ungasan is the epitome of a seaside wedding sanctuary, offering discrete privacy and intimacy as well as world-class cuisines and luxurious accommodation and facilities.
Wedding guests will enjoy exploring Ungasan by the many tour options available. There's a popular half day 'hidden secrets' jeep tour and a busy industry of private drivers that will escort you to less touristic spots in the region. Adventure lovers can explore the area from above by booking a paragliding experience.
Ungasan is a picture perfect setting for chilling out with a specially crafted beverage in hand, while watching the sun disappear behind the ocean line. It is a dream setting for a tropical and exotic wedding celebration, although it is not as cheap as other areas in Bali. 
The going rate for an all-inclusive wedding for 10 people in one of Ungasan's exclusive resorts is around AUD $16,000. For 70 people you could expect to be quoted around $50,000. The list of inclusions offered at these resorts is impressive, with accommodation and spa treatments for all guests included, a private butler, driver and nanny, wedding ceremony and reception and a host of smaller ticket items.
Ubud District
Ubud is a place where traditional Balinese culture infuses every waking moment and where colourful offerings decorate the streets. The area is a showcase of sustainable design, culinary inventiveness, mindfulness and a celebration of culture. Ubud is an inland destination without the beaches or cliff top views, but it is as visually spectacular in its green finery, as its coastal neighbours are with their ocean outlooks. 

The stunning inland waterfalls of Bali's Ubud District
A scenic hour drive from Bali's coast and beaches, you will find the vibrant "one with nature" Ubud District. With blends of local tradition and contemporary style hidden amongst enchanting lush valleys, flowing waters and green foothills – Ubud lends its beauty to couples to make an oath and begin life together as one in an awe-inspiring intimate and romantic inland wedding ceremony.
Ubud offers plenty of exciting things to see and do before and after your wedding. From exploring ancient temples, palaces and archaeological sites, to visiting the local museums and galleries, to taking photos at the Tegallalang Rice Terraces and visiting the Ubud Monkey Forest. Nature lovers will enjoy the 9km Campuhan Ridge Walk, shoppers will love the Ubud Art Market and the Bali Agung Show is a must see experience for those who enjoy the theatre.
Many couples choose Ubud for their destination Bali wedding for the unique inland tropical location. The green countryside and rice terraces make a stunning backdrop for wedding photos as do the waterfalls and pools. While most couples head to seaside resorts to celebrate their Bali wedding, there's something magical and especially intimate about weddings in Ubud. 
With its natural surroundings and peaceful atmosphere Ubud provides a sense of divine spirituality and connectedness. Planning a wedding is easy here too, with many wedding venues connecting you with experienced industry professionals to do all your styling and planning for you.
Simple ceremonies at Ubud's waterfalls are popular and usually cost between AUD $2,000 - $3,000. Traditional Balinese ceremonies start at around AUD $500. And a wedding ceremony and dinner for 20 people at one of Ubud's treetop venues with stunning valley views starts at AUD $3,600.
Seminyak 

Alila Seminyak in Bali
Often characterized as Bali's most sophisticated and upscale beach resort, despite humble beginnings – Seminyak is now a very modern part of Bali. This world renowned beach resort area at the southern end of Bali, is home to many luxury villas, hotels, spas, restaurants as well as high-end shopping malls.
Compared to Ubud, there's fewer things to do in Seminyak. But if a relaxed, casual beach setting in which to exchange your vows is what you're after or an ultra-glamorous celebration with all the glitz and glams – Seminyak will be your ideal wedding destination. It's the ideal location for couples who are in quest of a unique and relaxed location to celebrate love, be it a legal wedding or a commitment ceremony. 
Sunbathing is the popular sport in Seminyak. If you can muster the energy there's also some wonderful boutique shopping on offer and the fine dining is some of the best in Bali. The region also has a chocolate factory, several escape rooms, surf beaches, temples and cooking classes on offer.
There is no more luxurious location to say "I Do", set on a tropical island, in earshot of the Indian Ocean waves and with breathtaking sunsets than Seminyak. To give you a rough idea of the cost of a wedding ceremony in Seminyak, a well known international hotel chain offers ceremonies attended by up to 50 guests including two nights accommodation for up to 4 couples from AUD $5,000.
Sanur 
Sanur is the oldest, original beach resort destination on the whole island and yet, it never failed to lose its unique personality, tranquillity nor the traditional Balinese feel. The coastline of Sanur spans 8km of sand and includes several popular beaches that don't get quite as congested as those in the tourist centre of Kuta.

Villa at a Sanur wedding venue
Away from the hordes of tourists, in Sanur people enjoy bicycle rides to the local markets or strolls from the villa to the beach. Lining long stretches of the clean shore, traditional jukung fishing boats rest in colourful arrangements on the sand. The beaches are perfectly safe for swimming and if you're after the thrill of action there are plenty of water sport activities including the unique Bali Seawalker where you can walk underwater and experience the beautiful reefs and tropical marine life. 
Sanur's coastal strip has a wonderful selection of resorts and hotels that offer a range of wedding packages which are on average, cheaper than in Seminyak. Connected by a paved footpath and cycle track, the Sanur beaches with the best wedding venues include:
Keramas Beach
Sanur Beach
Sindhu Beach
Mertasari Beach
Off the beach, villas in the area offer well-tended lawns, luxurious pools and traditional thatched-roofed pavilions. Perhaps the world's most spectacular wedding pavilion is also situated here, providing an all-glass-enclosed, spectacular setting for weddings of up to 60 guests overlooking Sanur beach.

Ulu Cliffhouse, Bali
Bali is one of the world's most popular wedding destinations for many great reasons. The island is a tropical paradise with its stunning beaches and ocean views providing a picturesque backdrop against its lush greenery. The architecturally stunning chapels and glass pavilions. The impeccable landscaping and poolside lounges at its villas and resorts. And the culturally rich and diverse people and services. 
Bali is also one of the most affordable wedding destinations on the planet. Luxury weddings are not expensive in Bali and flights into the country are affordable too. For couples with guests travelling into Bali from a variety of places around the world, the island's location and accessibility to flights is especially convenient.
If you're planning on having a destination wedding or elopement, you're all but guaranteed to find a stunning wedding venue in Bali, that fits well with both your budget and your preferences.