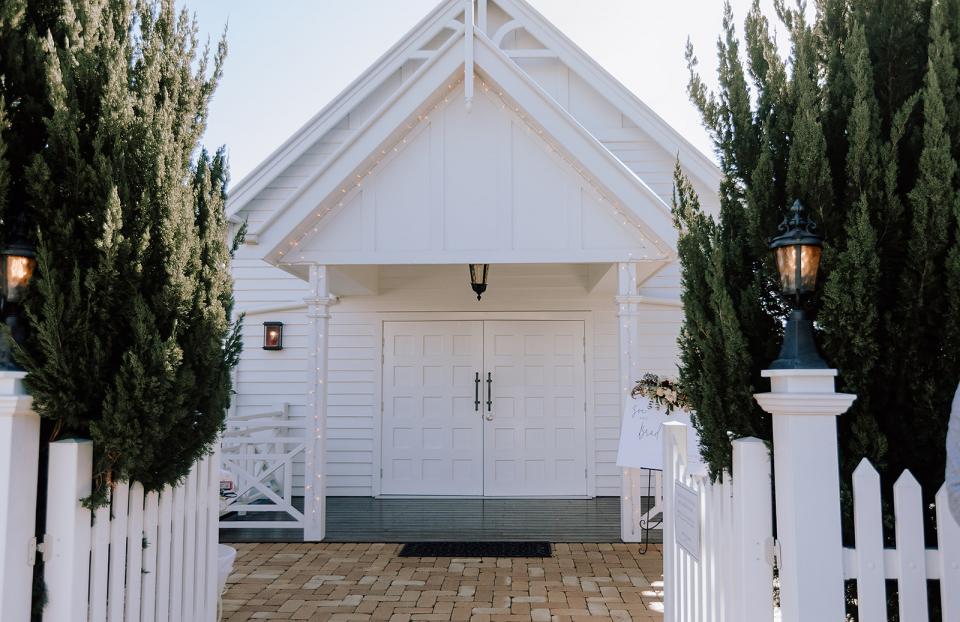 Finding a wedding chapel in Queensland is easy. It's choosing which one to get married in that's the difficult part. With a huge variety of beautiful wedding chapels & churches to choose from, Queensland is the capital of Australia when it comes to intimate chapel weddings.
The traditional wedding chapel has had a modern makeover in recent years with a growing range of ceremony venues now available. Modern all white chapels and unique open-air churches have become more prevalent across Australia with Queensland home to several of the country's most unique.
The Sunshine State has Australia's only Balinese wedding chapel. There's also destination venues with chapels onsite, traditional little churches with modern amenities including air conditioning, digital sound & lighting systems, and chapels where you can have a reception as well as your ceremony inside.
Here are 11 amazing wedding chapels in Queensland that come highly recommended by industry professionals.
Wedding Chapels
Country QLD Chapels
Brisbane Chapels
Gold Coast Chapels
Sunshine Coast Chapels
Whitsunday's Chapels
Country QLD Wedding Chapels

1. White Chapel Kalbar
Location: 87 George Street, Kalbar, QLD 4309
Capacity: 90
Accommodation: Sleeps 8
Venue Hire: $1,475+
In the quiet country town of Kalbar in the beautiful Scenic Rim, White Chapel offers a modern, non-denominational destination for wedding ceremonies, where you can also have your photos and reception.  The chapel itself seats up to 80 guests on elegant bentwood chairs and features polished wooden floors, a backlit altar and light filled interior.
Behind the church are beautiful gardens that provide a variety of backdrops for wedding photos and the gorgeous Black Hall that seats up to 75 guests for receptions. Adjoining the reception venue is a rustic outdoor bar area ideal for cocktails and canapés in the garden.
The owners of White Chapel have an Airbnb that sleeps 8 guests 150 metres down the road, and a 1948 Bentley and party bus to transport you & your guests from the plentiful supply of other accommodation nearby. White Chapel can be hired for ceremonies only from $1,475 or there are all inclusive wedding packages including photos + reception.

2. St Andrews White Chapel - Red Deer Estate
Location: 65 Ipswich Street, Esk, QLD 4312
Capacity: 120
Accommodation: Sleeps 10
Wedding Packages: DIY/BYO
St Andrews White Chapel at Holy Red Deer Estate is a quaint country venue located in the quiet town of Esk an hour from Brisbane. The chapel and surrounding estate is a fun, all-in-one property where chapel weddings and relaxed outdoor celebrations go hand in hand. 
Beside the chapel is "The Arches", a flat lawn area with a timber platform used as an altar for outdoor ceremonies, and later in the day a stage for bands. Also onsite is a Stags funhouse, a bridal suite and a cute little country cottage. Extra accommodation is located within a 5 minute walk so guests can have a few drinks without the need for designated drivers.

3. Woodlands of Marburg Chapel
Location: 

174 Seminary Road, Marburg, QLD 4346

Capacity: 65
Accommodation: Sleeps 65+
Wedding Packages: All inclusive
Woodlands of Marburg is a grand historic mansion set on 250 acres of lush green countryside 45 minutes from Brisbane and Toowoomba. The elegant property features a heritage listed 19th century country chapel that was relocated from Talegalla and has since been restored providing a quaint wedding ceremony venue with authentic old-world charm. 
Around the mansion are numerous photo opportunities within the gardens and lawns, with country backdrops over the Marburg Ranges. Onsite reception venues include two sophisticated vintage settings for micro weddings in a sandstone cellar and dining room & lounge that both seat up to 26 guests. Other spaces cater for celebrations of up to 60 and 300 guests.

4. Jubri's Hideaway - Balinese Wedding Chapel
Location: 63 Chelldan Avenue, Dalby, QLD 4405
Capacity: 80
Accommodation: Sleeps 14+
Wedding Venue Hire: $5,950
At Jubri's Hideaway in the sleepy town of Dalby, there's a secret garden with one of the most unique open air wedding chapels in Queensland. The Balinese wedding chapel is hidden behind magnificent timber doors that reveal a secret zen garden with authentic Buddha altar, statues, gongs and totem poles.
Jubri's is an all-in-one venue for destination weddings with accommodation in a guesthouse and two cabins. There's a modern-rustic shed for wedding receptions which adjoins an outdoor courtyard area filled with knickknacks of historic interest. The courtyard and adjoining indoor/outdoor bar is an ideal spot for pre-wedding drinks or cocktail events.

5. Cedar Creek Estate
Location: 104-144 Hartley Road, Tamborine Mountain, QLD 4272
Capacity: 120
Wedding Packages: $1,800+
The wedding chapel at Cedar Creek Estate is a non-denominational sandstone venue surrounded by beautiful gardens with pretty views over rows of grape vines. Venue hire includes seating for up to 80 guests, silk floral displays, signage easel and use of modern amenities including air con and sound systems.
You can hire the chapel for wedding ceremonies only for 2 hours at either 11am or 12pm and the cost is $1,800 without a reception package. The property caters for all inclusive micro weddings with use of the chapel and there's a reception venue a few steps away that seats 120 guests.
 View Cedar Creek Estate
Brisbane Wedding Chapels

6. Darling St Chapel Brisbane
Location: 16 Darling Street East, Ipswich, QLD 4305
Capacity: 100
Wedding Packages: All inclusive
The Darling St Chapel was built in 1879, originally as a Catholic Church for the Brisbane community. It has since been lovingly restored into a non-denominational wedding chapel that offers affordable packages for both ceremonies and receptions.
You can either hire the chapel for a wedding ceremony, a wedding reception or both together with fully catered and affordable wedding packages. Drinks are BYO and there's a courtyard out the back where canapés are served while staff transform the space from ceremony chapel to reception venue.

7. High Church Brisbane
Location: 483 Brunswick Street, Fortitude Valley, QLD 4006
Capacity: 150
Wedding Packages: $2,000+
High Church Brisbane is an iconic destination and wedding venue in the centre of Brisbane. The church has three seperate spaces for weddings including a rooftop terrace, a street level art-deco gallery and the church itself which seats up to 100 guests for ceremonies & receptions and caters for cocktail events of up to 150.
Ceremony only wedding packages are available from $2,000 and include the use of the rooftop terrace for guests to gather before entering the church. All inclusive wedding packages are around $220 - $250 per person and incorporate extended hire for your reception as well as service of food & beverage.
Gold Coast Wedding Chapels

8. Braeside Wedding Chapel
Location: 251 Gooding Drive, Merrimac, QLD 4226
Capacity: 120
Wedding Packages: All inclusive
Braeside Wedding Chapel is located at Gin House Greek Estate, a 2 acre garden venue just 10 minutes from the Gold Coast's famous Broadbeach. The chapel features beautiful timber doors, traditional wooden pews that seat up to 90 guests and huge arched windows behind the altar that overlook the gardens. 
In addition to chapel weddings, Braeside offers garden weddings around a chic outdoor bar and receptions in a light-filled pavilion. Elopement & micro wedding packages are available from 2 to 20 guests.
 View Braeside Gold Coast
Sunshine Coast Wedding Chapels

9. Little White Wedding Chapel
Location: 89 McCarthy Road, Maleny, QLD 4552
Capacity: 120
Wedding Packages: Ceremonies only
Little White Wedding Chapel is an indoor ceremony venue seating 120 guests for religious or civil ceremonies in the Sunshine Coast Hinterland. The chapel is surrounded by 2 acres of manicured gardens with the picturesque Glass House Mountains nearby and is a beautiful place to get married with photo opportunities aplenty within the immediate vicinity.
Inside the chapel is an elegant blank canvas with polished wooden floors, crystal chandeliers and padded tiffany chairs. Modern amenities include air conditioning and a Bose sound system. Outside is a gathering courtyard area and a unique hedge which is a popular wedding photo area.
 View Little White Wedding Chapel

10. The Prideaux Estate
Location: 264 Wilson Road, Tanawha, QLD 4556
Capacity: 100
Venue Hire: $1,750 
Down an elegant country drive lined with old trees and lush foliage is The Prideaux Estate - a traditional style, modern wedding chapel surrounded by the peaceful sounds of rural living. The chapel at Prideaux Estate is a non-denominational ceremony venue set on 35 country acres in the Sunshine Coast Hinterland and welcomes both civil and religious ceremonies.
Inside the airy chapel are large arch windows and antique handcrafted pews. Outside the little church is a romantic haven of photo opportunities from a garden swing to a duck pond with timber jetty and row boat.
Whitsunday's Wedding Chapels

11. Daydream Island Resort & Living Reef
Location: Daydream Island, Whitsundays, QLD
Capacity: 2 - 300
Accommodation: Sleeps everyone
The beautiful beach chapel at Daydream Island sits on the ocean's edge overlooking the stunning turquoise waters of the Whitsunday's. Floor to ceiling glass walls on the front and rear facades fill the chapel with light, creating an incredibly romantic ambience for intimate wedding ceremonies.
Ceremony & elopement packages at Daydream Island are inclusive of chapel hire and come with seating for a maximum of 40 guests (60 standing) plus a signing table & chairs. Affordable reception packages are optional and can be booked for 2 - 300 guests in beachfront, poolside and indoor reception spaces on the island.
Chapel weddings in Queensland come in a great variety of styles with many different types of chapels and little churches available to hire for weddings. From traditional chapels to neon churches, Queensland offers a truly modern collection of places to get married under the definition of a wedding chapel.
If you haven't found a ceremony venue you love in Queensland, there's also a great range of wedding chapels across the border in NSW.