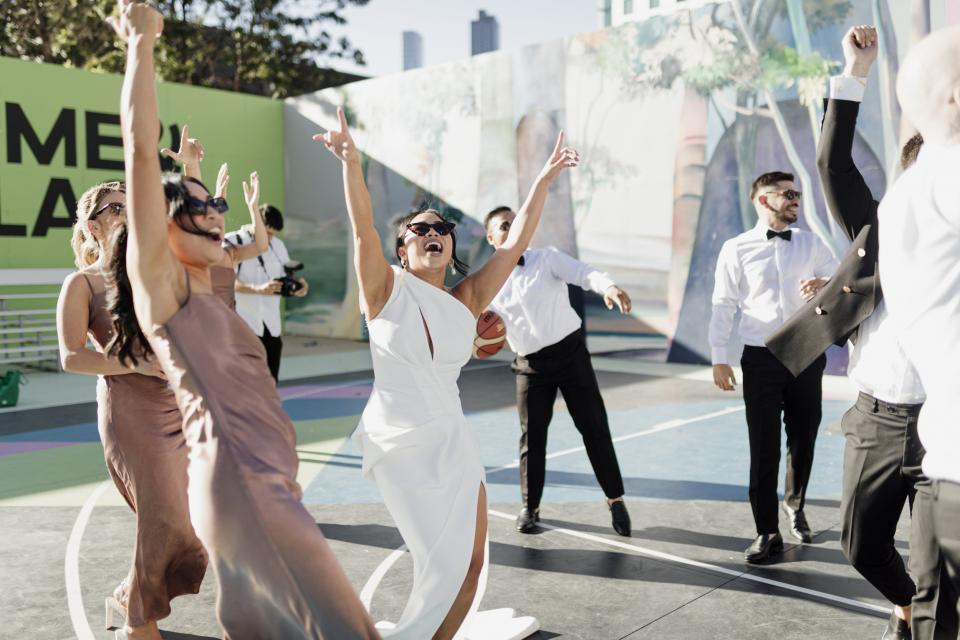 Candid wedding photography is the most in-demand style of professional wedding imagery in Australia. Photographed naturally with no posing, the shots document the wedding day allowing events to unfold in a relaxed way in front of the lens.
Candid wedding photos have continually gained in popularity in the last decade, attributed perhaps to the increasingly sophisticated & critical eye of couples, and also a growing openness in Australia to revel in and celebrate love and human connection - in all its forms.
With unposed photos there is an extraordinary ability to capture feelings and emotions in a way that transports people back to that moment. Candid pictures invoke feelings and memories like no other. Because they capture meaningful moments.
What is candid wedding photography?
Candid wedding photos capture the day's events as they unfold naturally in front of the camera. There is no posing, rather the images tell the story of the wedding day, showcasing all the little and big moments with an authenticity that captures the raw emotions and feelings experienced.
A candid wedding photographer might shoot weddings 100% without posing. Others offer some direction during the photo shoot section of the wedding day. Direction can range from simple suggestions that get you and your partner interacting like "take a wander over there", or a more editorial style approach which involves specific direction on placement of hands, face and body.
Almost every wedding photographer from New South Wales to Western Australia captures at least some candid photos. Below is a curated list of candid wedding photographers who preference a more natural approach to the day. They're less directive, and far more fly-on-the-wall in the way they work.
Here are our top candid wedding photographers in Australia's most populated cities...
Candid Wedding Photographers
Sydney NSW
Melbourne VIC
Brisbane QLD
Perth WA
Adelaide SA
Canberra ACT
Candid Wedding Photographers in Sydney

1. Mr Wigley Photography
Location: Redfern - Sydney, NSW
Images: Happy, colourful & natural
Wedding Packages: $1,499 - $3,000
Mr Wigley is a candid wedding photography studio based in central Sydney. The boutique team of 3 led by owner Daz produce fun, happy and colourful images shot without any awkward posing. Expect bright & joyful wedding images with bold colour backgrounds. 
Mr Wigley are affordable wedding photographers with packages ranging from $1,499 - $3,000 for a half to full day of coverage. All high resolution images are supplied with digital images to share online. 

2. The Salty Shutter
Location: Eastern Suburbs - Sydney
Images: Highly emotive
Wedding Packages: $5,200+
Named among the world's best wedding photographers by respected industry publication Rangefinder Magazine - Dane Tucker is unsurprisingly one of Sydney's most in demand photographers. His images are highly emotive, telling an entire story in one single frame. Collections include subtle, high contrast and warm-toned photos mixed with intensely moving black & whites. 
To book the Salty Shutter investments start at AU$5,200 and include all high resolution images, a blog to share online and a handy downloadable gallery. Optional extras include prints and highly personalised albums imported from the US.

3. Oliver Smith Photo
Location: North Sydney, NSW
Images: Storytelling
Wedding Packages: $5,000 on average
Oliver Smith is a visual storyteller who specialises in capturing fun wedding memories for adventurous couples. Non-posed and candid wedding photography is Oliver's main game, shooting a hybrid of 35mm film and digital images to suit the moment. Expect emotive images with movement, lots of black & whites and warm, natural tones.
Most couples spend around $5,000 on their wedding photos with Oliver. As he loves to travel, special offers are available for European and NZ weddings.

4. Jason Corroto Weddings
Location: Northern Beaches - Sydney
Images: Romantic, emotive & warm
Wedding Packages: $4,990
Jason Corroto is a fun wedding photographer who loves to work with deeply connected couples. His wedding photos include highly romantic portraiture, emotive candid moments captured with an impeccable sense of timing and story finishing details of the day. Jason isn't fussed on where in Sydney your wedding is or what's organised so much as the chemistry between you both. He wants to capture love and connection.
All-day wedding packages are $4,990 and include high res images on usb. Elopements are $3,400. Enquiries for weddings in Asia, Europe and other Australian states outside of NSW are welcome.

5. Kevin Lue Photography 
Location: Sydney, NSW
Images: Fun, luminous, interesting
Wedding Packages: $3,000+
Kevin Lue is a natural-light wedding photographer who captures fun collections throughout Sydney. His images are almost entirely unposed, are crisp, always perfectly lit and are oozing in character and personality. Kevin's work often surprises us. Expect unique angles, lots of fun scenes and totally natural, entirely alive, journalistic wedding portraiture that jumps off the page.
Great value photography packages start at $3,000 for 6+ hours. Optional extras include wedding films from $2,000. 
---
---
Candid Wedding Photographers in Melbourne

6. Tay Bassi Creative
Location: Melbourne, VIC

Images: Dark & moody

Wedding Packages: $3,990 - $5,500
Tay Bassi are the two photographer duo of Tay and Pete who capture weddings candidly throughout Melbourne and happily travel with couples world-wide. Their images are rich in moody blacks and feature all the shenanigans and mischief, intimate moments and the small happenings that contribute to the overall story.
Wedding packages start at $3,990 including 7 hours coverage and all images on USB. An album, 2 wedding photographers and 10 hours coverage is included for $5,500.

7. Sarah Godenzi Photography
Location: Melbourne, VIC
Images: Journalistic
Wedding Packages: $4,600+
Sarah Godenzi is a Melbourne based lifestyle and wedding photographer who produces images in subtle rich and moody contrasts. Photos are fun and very candid having been shot with as little interference as possible. Sarah's clients describe her as super chilled, relaxed, warm and approachable.
Photography packages start at $4,600 including 6 hours coverage and fine art albums are available from $1,600.
 View Sarah Godenzi Photography 

8. Aleksandar Jason Weddings
Location: Melbourne, VIC

Images: Natural

Elopement Packages: $2,200+
Aleksandar Jason is a highly published wedding photographer with a preference for candid style portraiture. His collections document the wedding day, capturing the fun and joy with guests, but it's the special bond between couples where his lens is largely focused.
Expect very clean and crisp, natural light wedding photos of the style that are very easy to hang on the wall. Some styling is provided where framing in the natural surrounds warrants. Wedding photography starts at $2,200 for elopements with up to 10 guests and go up from there. 
 View Aleksandar Jason Weddings

9. Briars Atlas
Location: Melbourne, VIC

Images: Candid Nostalgia

Wedding Packages: See below
A contender for the title of Australia's best wedding photographer, Oli Sansom brings an incomparable artistry to weddings. His work is raw, gritty and a vast treasure trove of human energy and connection painted as imperfectly perfect as his human subjects.
Capturing weddings on analogue film is Oli's specialty and you can choose whether he brings modern gear to your big day or solely a selection of old cameras from the 1920's to 1980's. Images are processed at a world-class film lab and you can have input into the formats used.
Oli's work is priceless. His packages aren't cheap. Gazing at, and enjoying his work is free. 

10. Tahnee Jade Photography
Location: Melbourne + Perth

Images: Documentary

Wedding Packages: $3,950+
Tahnee is a Melbourne local who's relaxed and natural approach to wedding photography has seen her work published in all the best magazines. A photojournalist by nature, Tahnee's images capture all the happenings going on around the couple unobtrusively and in a lightly processed and timeless format. 
Photography packages start at $3,950 and fine art albums and prints can be added.

11. Sayher Heffernan Photography
Location: Melbourne, VIC

Images: Documentary

Wedding Packages: $4,000+
Sayher Heffernan's wedding photography is 95% unposed, capturing all the shenanigans from getting ready to the dance floor in a journalistic style. You'll get an album of very natural photos that celebrate architecture, locations and people. Collections are shot from a distance as well as close up and interspersed with creative black & whites.
Most wedding packages include 8 - 12 hours of photography with 700 - 1,000 edited images.
 View Sayher Heffernan Photography
Candid Wedding Photographers in Brisbane

12. Sage & Stone Photography 
Location: Brisbane, QLD
Images: Documentary
Wedding Packages: $1,900+
Sage & Stone Photography is the studio of Erin, a Brisbane local who grew up in Pennsylvania. Erin has a condition called Aphantasia which inhibits her ability to visualise and remember, hence photography became her way to capture memories. Photographing meaningful moments as they occur naturally is an art form Erin has developed for herself and now shares with others. 
Four hour wedding photography packages start at $1,900, elopements are available from $950 and engagement shoots from $350.

13. Lauren Olivia Photography
Location: Brisbane, QLD

Images: Ethereal

Wedding Packages: $3,600+
Lauren Olivia is a hybrid film & digital wedding photographer who's work has appeared in many of Australia's leading wedding magazines. She photographs weddings in her trademark light & bright style throughout South East Queensland and produces romantic pastel collections with perfect natural skin tones.
Wedding packages start at $3,600 and come with the option for luxury velvet albums complete with torn edge pages. 
 View Lauren Olivia Photography

14. Chris Jack Photography
Location: Brisbane, QLD
Images: Crisp
Wedding Packages: $2,350+
Chris is an affordable and very experienced candid wedding photographer based locally in Brisbane. His images are crisp, luminous and vibrant and come processed in natural, slightly enhanced colours.
Wedding packages start at $2,350 for 6 hours of photography and go up to $3,400 for 9 hours. Elopement packages including 3 hours coverage are also available from just $1,525.

15. Fox & Bear 
Location: Brisbane, QLD
Images: Photojournalism
Wedding Packages: $2,599+
Keira and husband Tones offer nostalgic, down to earth wedding photos and videos throughout Brisbane and South East QLD. A relaxed, crisp and very natural style has seen their work published in some of Australia's most well known magazines. Expect a collection of timeless portraits and fun shenanigans.
Wedding photography packages start at $2,599 and include cool products like vinyl covered albums. Combined photo and video packages start at $3,997 for 6 hours coverage.

16. Tennille Fink Photographer
Location: Brisbane, QLD
Images: Photojournalism
Wedding Packages: $3,600+
Tennille Fink describes herself as a very "hands off" documentary style photojournalist who produces very candid wedding photos. Her collections include a mix of black and whites and straight-from-the-lens colour shots. She has a special knack for capturing her couples looking into the lens without the portraits being staged.
Half day photography packages start from $3,600 and include high resolution photos in a downloadable gallery and travel within 2 hours of Brisbane.
 View Tennille Fink Photographer
Candid Wedding Photographers in Perth

17. Wild Feathers Creative
Location: Perth & Margaret River, WA
Images: Nostalgia
Wedding Packages: $3,000+
Alex and Sophie are a fly-on-the-wall wedding studio, specialising in combined photography & video packages. Their ninja style makes them barely noticeable on the wedding day resulting in a collection of precious candid moments. Wild Feathers Creative shoot weddings on digital and film incorporating some fun with super 8 cameras.

18. Alex Cohen Photography
Location: Perth, WA
Images: Highly romantic
Wedding Packages: $5,500
Alex is a destination wedding photographer originally from France and now residing in Perth. She is available for bookings anywhere in the world and her photos are often published in international wedding magazines. Alex's work is highly romantic, emotive, honest and often very raw, produced in natural tones & hues with some black & whites. 
Prices start at $5,500 for a 5 hour package and increase from there to 10+ hours. Images are provided in a password protected online gallery.

19. Taylah Jayde Photo
Location: Perth, WA
Images: Intimate
Wedding Packages: $3,300
Taylah is a wedding and portrait photographer who captures very warm and intimate moments up close and naturally. Her photos are produced in warm tones and black & whites and collections feature some semi-styled portrait amongst a majority of candid photos.
Photography packages start at $3,300 including 5 hours of coverage.

20. West Creative 
Location: Perth & Swan Valley, WA
Images: High contrast
Wedding Packages: $4,000+
Sandie Bertrand captures weddings in an elegant, non-staged style that includes lots of candid portraits shot as the couple simply enjoy time together on their wedding day. Images are produced in a high contrast, moody style rich in saturated blacks. Plenty of details are included in collections. 

21. The Beautiful Strange
Location: Perth, WA
Images: Dark & moody
Wedding Packages: $3,800+
Unconventional couples take note. Carly Williams is a self titled "part mad scientist" who finds beauty in that all people are a little bit strange. She captures each couples brand of unique with candid photo collections processed with moody dark saturation and vignettes. 
Candid Wedding Photographers in Adelaide

22. The Ivory Story
Location: Adelaide Hills, SA
Images: Classic
Wedding Packages: $2,600+
The Ivory Story are a natural light wedding photography studio that capture classic collections throughout the Adelaide and Adelaide Hills area. Favouring candid images for most of the day, the experience includes some direction through the photo session.

23. Wilson & Lewis Photography
Location: Adelaide, SA
Images: Classic
Wedding Packages: $1,600+
Tony and Tereza are experienced wedding photographers who capture a classic mix of candid wedding photos and couple portraits. Four wedding packages are available including 2 wedding photographers who bring smoke and eco confetti bombs for portraits. Elopements and micro weddings can be booked within 3 months of the date.
 View Wilson & Lewis Photography
Candid Wedding Photographers in Canberra

24. Erin Latimore Photography 
Location: Goulburn & Canberra, ACT
Images: Classic
Wedding Packages: $2,900+
Erin Latimore is a Goulburn based wedding photographer who covers weddings in Canberra and across the ACT into southern NSW. Erin produces a classic mix of 100% candid wedding photography with group portraits in a relaxed and warm style. 
Photography packages start at $2,900 and including password protected gallery, images on USB and a sneak peak within 48 hours of your wedding day.
 View Erin Latimore Photography
Candid wedding photography offers couples the opportunity to capture all the authentic and raw moments that happen on their wedding day. The photos provide a collection of un-posed moments taken with a fly-on-the-wall approach and document the day as it unfolds naturally.
If you're looking for a candid wedding photographer to capture your special day, the above curated list are all professionals who prioritise a very natural approach. From affordable candid photographers to high end storytellers, whatever your budget the above list of pros are the ideal choice for delivering candid wedding photography all over Australia. 
Cover Image: Aleksandar Jason Weddings