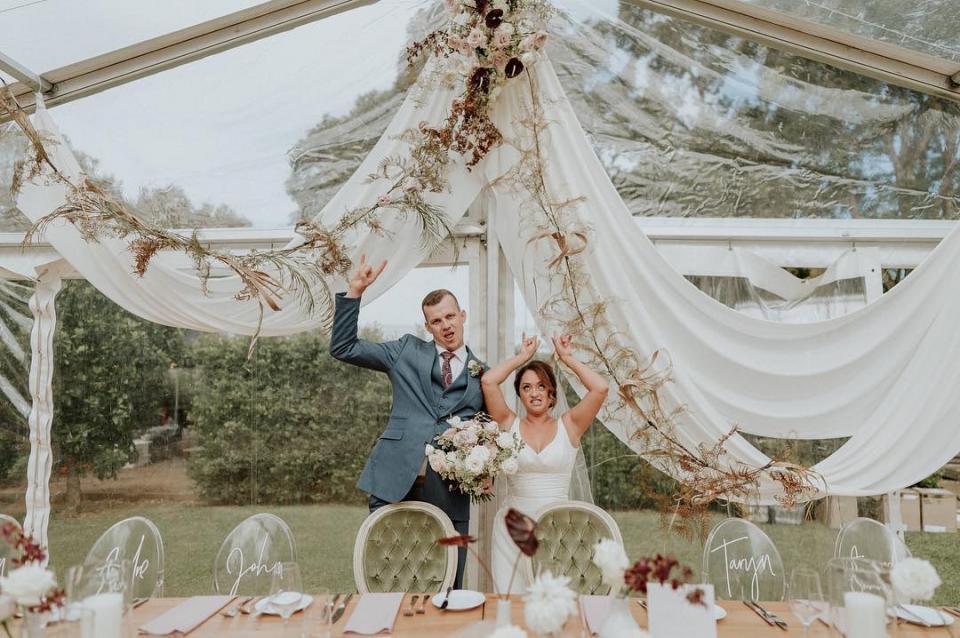 How much should you budget for styling your wedding?  Whether you intend to spend under $1,000 or more than $100k, there's one sure way to keep costs under control, and that's to understand the price of products & services up-front and where you can save money.
One of the most enjoyable parts of planning your wedding is nailing its look and feel. Poring over Pinterest, Instagram and Wedlockers will give you all the styling and theming ideas you could ever want - in fact, so many you're virtually guaranteed to be overwhelmed!
Will you have a boho wedding in a tipi? A destination wedding on a tropical beach? A VIP wedding in a museum? A rustic affair in a shearing shed? 
Planning your wedding style long before you have finalised your venue booking is the first step in achieving the look & feel you want for the budget you've got.  Because it is the venue that will determine the inclusions you need and the costs involved.
What does the wedding venue include?
Ivory Lane Event Styling in country NSW.  Image: Feather & Birch Photography
A restaurant, hotel, function centre, resort or yacht/golf club will have the basic elements: chairs, tables, dance floor, table linen, table numbers, cutlery, crockery, and glasses. They may also have a range of centrepieces and/or vases, candle holders, AV equipment, and a podium, for example.
A dedicated wedding function centre may have all these items plus a chapel, chuppah, bridal dressing room, arch, signing table and/or aisle runner. They are used to dealing with couples: it's their specialty. However, a wedding function centre may not offer much "wow-factor" or Instagrammability.
Why not organise a blank space venue?
A blank space venue gives you enormous flexibility and creativity to style the venue in whatever way you want. It's unlikely your guests will have ever been there – and if they have, it will have been styled entirely differently. 
Imagine you want to get married in your parents' garden in a marquee. A garden marquee wedding requires you to supply literally everything from the marquee and flooring and then everything inside, and outside as well (such as Portaloos and decking to protect your parents' grass and your girlfriends' heels from damage). 
An Indian-style Raj tent marquee for a 100-guest sit-down dinner costs $6,500 to hire on its own, excluding delivery and requires a perfectly flat grass lawn. The grass area needs to measure at least 28m x 4m or 14m x 8m to fit the marquee and its staked poles. Not many homes have that much garden space.
Warehouse wedding styled by Upside Down Events in Sydney.  Image CJ Picture 
A "blank canvas" industrial warehouse provides the (concrete) floor and (exposed brick) walls and is inexpensive to hire - but again you need to bring in nearly all your event items. They are also located in, unsurprisingly, industrial areas. Consider if your guests (especially elderly guests) could be uncomfortable in a somewhat "gritty" location and the potential lack of taxis, Ubers, trains or buses.
Choose the best venue match for your wedding theme style
The ideal venue matches your style and offers many inclusions in the style you want. A mismatched venue requires more money and effort than one which is congruent with your style. 
It takes a lot of money and styling for example, to transform a surf club into a garden fantasy wonderland, to turn a city hotel function room into a boho escape, and to create a Hamptons style wedding at an Indian restaurant!
Your styling budget rises very quickly if you need to bring in furniture and structural elements to your venue to achieve the look you want.
Budgeting for event hire
Event hire and styling companies typically have very tight turnaround times (such as 60-90 minutes) to deliver, unpack and install your items before your wedding, and then very late return times of midnight-1am which attracts staff overtime rates.
You should include a delivery and installation fee of at least $1,000-$2,000 in your wedding styling budget.
Personalized chair decals by Nikki Design Co.  Styled by Upside Down Events.  Image by Soul Made Stories. 
If your venue has generic function chairs (think grey or burgundy polyester oval-back chairs) which don't evoke your theme – or no chairs at all such as with the garden marquee or warehouse venue – you will need to budget for chairs per guest.
The least expensive ones to hire are simple folding wooden chairs ($6-$8 per chairs). Glamorous Tiffany chairs typically run to $10-$15 each as do French bistro-style Bentwoods. You'll pay up to $24 per Victoria Ghost chair so if you have 100 guests your chair component alone can cost anywhere from $600-$2,400 excluding delivery.
Virtually all venues with existing furniture will have round banquet, or rectangular tables to make up communal tables. Both types are usually lightweight laminate-topped so they require tablecloths to make them presentable. However, table linen is typically restricted to white tablecloths and napkins; black table linen is less common.
Napkins provide a pop of colour and help theme your wedding. Coloured polyester or cotton napkins cost around $2.50 each while velvet napkins cost about $4 each to hire. Add around $250-$400 for napkin hire for 100 guests.
Centrepieces options

The Wedding & Event Creators at Secrets of Terara on the NSW South Coast.
Centrepieces are limited only by your imagination and your budget. They can comprise mercury glass compote bowls, mirror cubes topped with silver posy vases, crystal candelabras filled with coloured candles, glass dome cloches full of taxidermy, wooden troughs filled with pinecones, Moroccan star lanterns, blue and white Chinoiserie ginger jars, mini topiary trees, copper geometric terrariums, live goldfish in goldfish bowls, sunbleached driftwood, coral and shells, deer antlers, white pillar candles and foliage, potted maidenhair ferns, gleaming brass lanterns, glass trumpet vases with splayed white cherry blossom branches, infinity light glass boxes, amber fairy light cloches, gold cordless lamps – the list goes on and on.
On our 75cm deep communal wedding tables we had space only for submerged orchids in cylindrical vases. It's a wise option for allergy sufferers (they can't smell the florals' fragrance underwater) and water creates an optical effect of enlarging the florals which gives you more bang for your buck floral-wise. Plain cylindrical vases, often hired as trios in tiered heights cost about $25-$30 per set. Allow for about $250-300 for a 10-table wedding excluding florals. 
Venues with towering ceilings, such as hotel ballrooms, require tall arrangements on guest tables to help absorb the space, to create drama and foster intimacy. 
You can hire gold metal stands (typically 100cm high at $35-$45 each) with florals arranged above, or faux trees of 150cm and taller ($400-$500 each). If you had 10 tables and wanted to alternate the tables, for visual interest and improving sightlines in the room, you'd be looking at $2,175-$2,725 before florals.
Centrepieces (including the florals) should measure under 30cm high or over 60cm. If centrepieces measure 30cm-60cm high which is eye level when sitting down, your guests cannot see each other across the table without leaning sideways. You don't want your guests getting so irritated at their centrepiece they take it off the table!
Communal tables vs round tables
This below-30cm-above-60cm centrepiece rule applies both to venues with round banquet tables and communal tables (including the bridal table).
There are advantages and disadvantages to using round vs communal tables. Round tables let guests speak equally with everyone on their table creating good feng shui (you'll notice most Chinese restaurants have them) however they are more formal in style. Communal tables are faster for waitstaff to serve guests and easier for your photographer to shoot, however your guests are limited to speaking to those immediately opposite and adjacent.
Ensure your communal table is at least 100cm deep. With guests on both sides taking up to 40cm depth each for their plate (and charger plate if applicable), and water, wine and champagne glasses you have only 20cm for centrepieces. Typical centrepiece choices need to be narrow, such as a slim glass and mirrored trough filled with tealight candles, or a slender base such as the 100cm high x 100cm wide x 20cm deep gold metal frame which can be topped with candles, lanterns, vases, greenery or blooms well above the line of vision.
Allow about $5-$6 per guest for hiring gold wide stripe or glass beaded charger plates and $8-$10 per guest for hiring gold, iridescent, copper, black or rose gold cutlery (based on an entree fork and knife, dinner fork and knife and dessert spoon per guest). This will add $1,300-$1,600 for 100 guests.
Florals
M Event Hire in Perth 
When are you getting married? If you specify non-seasonal florals, you will pay an exorbitant amount for flowers to be flown in specially. One option is to get acquainted with flowers that approximate each other in look. This gives you flexibility should Mother Nature decide not to supply your chosen blooms that week (which happened to me) and helps you achieve a similar style - sometimes at a lower cost. 
For example, the gorgeous, but overhyped (and expensive) peony, is available from October-November. Flowers which closely resemble the peony include the lisianthus and ranunculus (available year-round), and the David Austin Cabbage roses and Rosalind roses (available during peak wedding season which is October through May).
Chat with your florist about florals suitable for your venue. If you fear your summer wedding flowers could wilt in the heat, choose the hardy carnations, calla lilies, antheriums, amaranthus and phalaenopsis orchids.
If you're getting married outside, you may like to scent the air with fragrant tuberose, sweet pea or garden roses, all of which have the longest lasting scents.
Faux florals are generally cheaper than genuine flowers however you will be renting them from your florist so you will be charged for the hire pickup after the wedding.
For example, supplying peach and white roses, tropical foliage & green fillers, accompanied by white orchids & gypsophila for 10 guest tables, with a 10-person bridal table and a cake table, hiring 10 x 100cm gold metal stands for each guest table and 5 x gold metal cubes on the bridal table with a small posy for the cake table costs around $3,000-$3,500 while swapping to fully faux flowers and foliage costs $2,200-$2,700.
Your choice of venue will have a big impact on the cost of styling your wedding. A good venue choice can save you thousands, and so too can a great wedding planner & stylist!  Browse awesome wedding stylists and planners plus a huge range of wedding venues right here on Wedlockers.
This article was written by Elizabeth Hollingsworth from www.myeventdecor.com.au.  My Event Decor sell, hire & source bespoke decor for instagrammable weddings and other events in Melbourne. Cover Image by James Day Weddings.