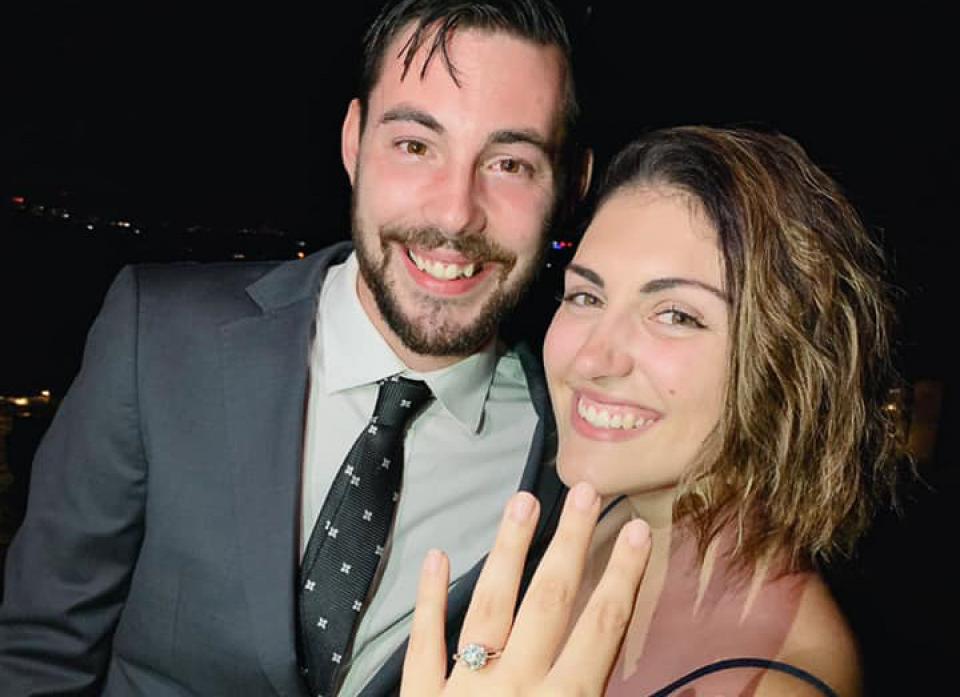 I've always dreamt about what my wedding day would look like. From a young age, I've had my Pinterest board adorned with white lace dresses, moody floral arrangements and almost too-good-to-eat cakes.
When I got engaged in January 2019, the dream became a reality and instead of pinning to my wedding board, I was able to start making enquiries and booking wedding vendors.
I'm a very organised person and like to know what's happening at all times. So it only took my fiance and I a few months to lock in everything from the venue to entertainment, our photographer, celebrant and even my dress.

Ovolo Woolloomooloo - Dom & Florian's wedding venue (image by Fiona & Bobby)
And because I'm organised, I'd also already thought of what could go wrong in the lead up to, and on my wedding day. There were backup plans to my backup plan! But it's difficult to preempt a global pandemic.
We were to marry on March 28th 2020. My fiance and I resigned from our jobs with exciting plans to move to Paris after the wedding. We would have our first year as newlyweds in the most romantic city in the world.
But March came around, and time started to tick by in super slow motion.
News of a flu-like bug exploding in China had seemed so insignificant to our wedding plans. But every couple of days, there was Scott Morrison appearing before us on our TV's with news that Australia was not immune to Covid-19. We were told to brace for a total lifestyle overhaul.
I never thought an invisible bug would impact my wedding. Yet here we were. Our
prospects of achieving a wedding and moving abroad were getting slimmer by the day. My well laid plans in disarray. Cue random bursts of crying at the drop of a hat.
On the 20th of March, 8 days before our wedding, the Australian borders were closed to all international travellers. The announcement was expected so we already knew that some guests coming from overseas would no longer be able to attend our wedding.
Due to the travel ban, we had to chop around 20 people from our guest list. This meant having to reshuffle the seating plan and work with our venue to reorganise the space and catering.
The following day restrictions were set to 100 people - including venue staff and vendors.

The Piper Room at Ovolo Woolloomooloo where Florian & Dom were to have their wedding reception. Image by Fiona & Bobby
Excluding our international attendees, we were expecting a total of 150 local guests. Uninviting 60 people was one of the most stressful and difficult moments of the entire wedding planning process. I come from a huge Italian and Spanish family. Invitees on my side alone were close to 100, plus all my fiance's family and our combined friends. It was heartbreaking having to send out that message.
Our seven-piece band was stripped to a duo and we had to send one of the photographers home early. So many guests were incredibly understanding and some even volunteered up their spot to make more room. However, we did have a couple who weren't impressed and haven't spoken to me since receiving the un-invitation.
I lost count of the times I cut our guestlist and redid the seating plan. Over and over again, to try to make it work. Some days my fiance would come home to find me crawled up in the foetal position in different rooms around the house.
I was so frustrated about the entire situation and how helpless I felt in the middle of it all. I had looked forward to this day for my entire life and each week that passed saw that dream slip further out of reach.
I was annoyed at so many things I couldn't change. I was annoyed at seeing photos posted to social media of those friends who squeezed in their wedding in the months earlier. I didn't think I was a very jealous person, but the green-eyed monster made an appearance from time to time, leaving a path of hysterical crying and scrunched up seating plans in her path.
The week before the wedding saw the restrictions become even stricter with each venue requiring the square-metre rules enforced. With seven days between this new requirement and the wedding day, we decided our wedding was no longer looking like the day we had originally hoped or the one I dreamt of since I was a little girl. I don't think I could have coped with the uncertainty looming over my head for another week so we made the call to postpone the wedding.
We informed our wedding reception venue and asked for available dates they had in
September for Fridays and Sundays (we knew Saturdays would have been snapped up
months beforehand). Once we were able to find a suitable date, we emailed our amazing wedding planner, Janet from J Event Design, who coordinated with our incredible vendors to lock in the new date.

Styling, florals & wedding planning by J Event Design
We had decided to get an on-the-day coordinator to ensure everything ran smoothly and found Janet through Wedlockers. I honestly can't recommend a wedding planner/coordinator more highly. Janet became our go-to person, taking care of all vendors throughout this process. In hindsight, I'm not sure how I would have coped without a planner.
We had no issues reorganising with our wedding vendors. We didn't want a refund from any of them because we planned to use their services, just at a later date. In the end, we only lost about $400 in the process, which came from the florist as she wasn't able to cancel an order of imported roses. We had the roses delivered to our house to brighten up the place.
From the day we made the decision to postpone, it felt as if a weight had been lifted and I could finally think about something other than the wedding.
It's funny when you find another couple who had to also reschedule their wedding as you both have a mutual understanding of the pain endured in the past few months. I recently had a job interview where I bonded with the interviewer over our shared misfortune and the heartache that we'd endured having to reschedule our wedding. I ended up getting the job!
I laugh when I hear of how stressful people found planning their wedding pre-covid, thinking I would plan three weddings in place of what I went through. It's cute you were worried about your welcome sign, I had to get a whole new one! Complaining about the cost of posting thank you notes? Try sending out invitations twice!
I guess the most important lesson I took from all of this is whilst the wedding day itself is something so many dream of, more focus should be put on why you're getting married in the first place.
My fiance was so incredibly supportive and loving during this time, wiping away tears and sending emails all over the place. It was a great exercise of throwing a couple into a high-pressure situation and seeing how they perform.
A message to all those Brides and Grooms who have had to reschedule - hang in there! We're all in this together. One day we'll have the fairytale wedding we've always dreamt of.
And for those who have friends going through planning during Covid, reach out and let them know you're there for them. Offer to help or lend an ear for a rant or cry. These are unprecedented times and some days are harder than others, so a quick message checking in goes a long way.
As for me, I'll be sitting with fingers (and toes) crossed that I can finally get married at the end of September.
You can follow Dom & Florian's wedding journey at The Girl From Sydney.