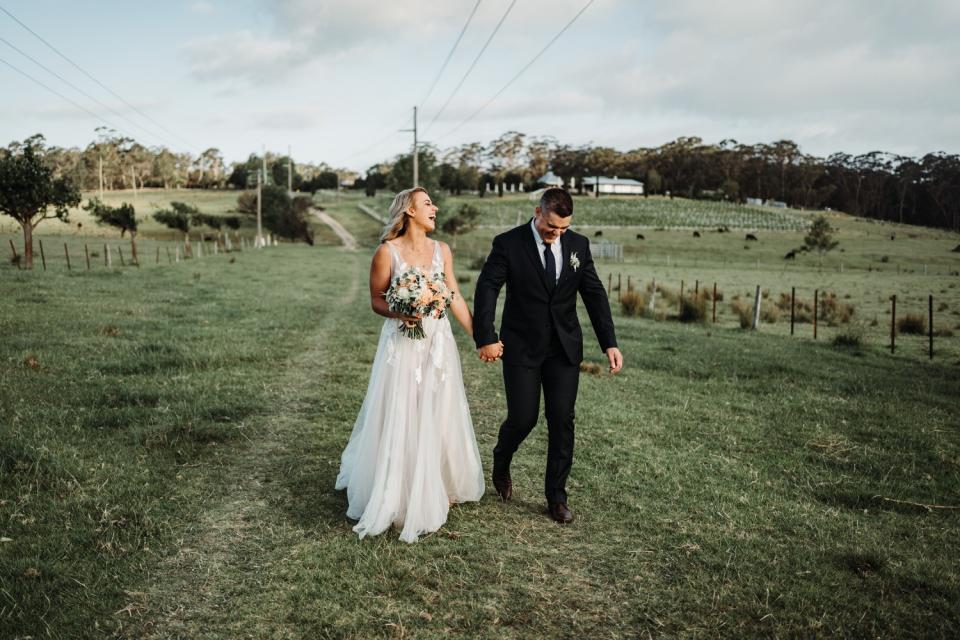 Farm Wedding Venues: South Coast | Top 10 NSW | Illawarra | Hunter Valley | North Coast | South Coast | Southern Highlands |  Sydney | Byron Bay | Blue Mountains

Planning a farm wedding on the NSW South Coast? Farm venues on the South Coast of NSW range from private estates in Jervis Bay to farm-stays in Nowra and the Sapphire Coast. If you want your ceremony in a farm paddock and your wedding reception in a barn, these South Coast farms are the ideal spots for you.
Get your gumboots ready because we've got loads of farm wedding venues to share with you here. Most South Coast farms offer wedding ceremony and reception venues all in the one spot with the additional benefit of being able to stay the night in farmsteads or cottages onsite.
And just a heads-up, because farm venues in NSW are typically all-in-one wedding locations they're often one of the first places to get booked out during peak wedding season. So make sure you enquire early! Here's a list of the most recommended farm wedding venues on the South Coast of NSW. 
Farm Wedding Venues on the South Coast

1. The Woods Farm
Location: Jervis Bay - South Coast, NSW

Capacity: 200

Accommodation: Sleeps 126
Wedding Packages: BYO
The Woods Farm is a 40 acre farm stay wedding venue where all of your guests stay with you for a weekend away on the South Coast. The property features one of the best open-air timber chapels in Australia with its' chandelier altar accessed via a 120 metre jasmine-arch aisle that winds through native bushland and scrub. 
Other amenities at the farm include a rustic wedding shed also adorned in chandeliers, an outdoor chandelier bar, a glamping village with fire pits and luxe amenities, a swimming pool, bike sheds and a vegie garden BBQ area suitable for pre & post wedding shenanigans.

2. Willow Farm
Location: Berry - South Coast, NSW

Capacity: 130

Accommodation: Sleeps 10
Wedding Packages: DIY/BYO
Willow Farm is a 160 acre country wedding venue near Berry on the NSW South Coast. The picturesque location is just 5 minutes from Berry and offers a beautiful blank canvas to DIY the wedding of your dreams. Facilities include a rustic wedding barn, yoga room (which doubles as a wet weather ceremony space) and loads of flat lawn areas for outdoor weddings overlooking lush paddocks and dams. 
Wedding packages include exclusive venue hire, accommodation for 10 in the farm house and BYO catering and drinks. 

3. Figbird Country Cottages
Location: Terara - South Coast, NSW

Capacity: 150+

Accommodation: Sleeps 8
Wedding Packages: DIY/BYO
Figbird Cottage is a country wedding venue set within rambling ornamental gardens and surrounded by peaceful dairy paddocks. The property features a large hard-floor marquee which opens onto a festoon-lit cocktail lawn and two country cottages which sleep 8 guests.
Farm weddings at Figbird Cottage are affordable and come with loads of value-add inclusions such as all furniture, tableware and lighting. Venue hire options include single day hire or 3 day wedding packages inclusive of accommodation. 

4. Fig Tree Park
Location: 58 Sherringham Lane, Central Tilba, NSW 2546
Capacity: 2 - 200
Accomodation: Sleeps 2
Wedding Packages: DIY/BYO
Perched atop a hill near the quaint holiday village of Tilba Tilba, Fig Tree Park offers an incredible destination for farm weddings overlooking the Sapphire Coastline. Surrounding a French style homestead are beautiful European gardens with hedge trimmed lawns, up-lit gardens with a giant fairy-lit fig tree and paddocks of friendly horses.
If you're looking for an elegant country venue for an outdoor wedding surrounded by nature and stunning views, Fig Tree Park ticks all the boxes. Venue hire includes large round tables, cross back chairs and accommodation for two in a romantic little barn.

5. Mountain View Farm
Location: Tilba Tilba - South Coast NSW
Capacity: 2 - 120
Accommodation: Sleeps 2 - 14
Wedding Packages: DIY/BYO
Mountain View is an affordable farm wedding venue situated at Tilba Tilba on the beautiful Sapphire Coast. The stunning property is the home of unique Daisy Field Elopements that are available in Spring when couples can get married with up to 25 guests in the middle of a blooming field of colourful daisies.
Year round the farm offers elopements and rustic weddings of up to 120 guests in The Old Dairy -  an open-sided shed and adjoining cattle yard surrounded by stunning views of the Gulgoa Mountains. Optional accommodation includes 3 cottages that sleep 8 guests, 2 glamping tents and a two person love shack.

6. Eleven Eighty Weddings
Location: 1180 Bolong Road, Coolangatta, NSW 2535 
Capacity: 80
Wedding Packages: DIY/BYO
Accommodation: Sleeps 15
Eleven Eighty is a quirky little country wedding venue with 5 unique event spaces and two cottages that sleep 15 guests. The 3 acre property is not a farm exactly, but has a gorgeous barn venue for small weddings of up to 30 seated guests, an old rural school hall which has been refurbished and seats 50 plus a rustic courtyard that seats up to 80. 
Also at this incredibly unique destination is a heritage train carriage that's often used as a parlour for getting ready, random street art murals and an Argentinian BBA & Grill with an adjoining pergola suitable for pre & post wedding events.

7. Kullindi Homestead
Location: Booderee National Park, Ellmoos Rd, Jervis Bay NSW 2540
Capacity: 20 - 200
Accommodation: 5 units
Wedding Packages: DIY/BYO
Kullindi Homestead weddings are a DIY, waterfront occasion where venue hire comes with 5 self contained cottages and a blank canvas lawn to style as you like on the shores of Sussex Inlet. The budget-friendly venue sleeps up to 20 with more guests able to camp onsite, plus you have the option of setting up a glamping village. 
Kullindi Homestead is DIY & BYO for all catering, drinks and structures. There's no reception venue onsite so you'll need to hire a marquee, Sperry tent or tipis and all furniture. At the time of publication the venue hire fee is less than $4,000 but you'll need to budget another $10k for hire items. 

8. Coolangatta Estate
Location: 1335 Bolong Road, Coolangatta, NSW 2535
Capacity: 2 - 200
Accommodation: Sleeps 70
Wedding Packages: All inclusive
Surrounded by bush covered hills and with rows of picturesque vines, Coolangatta Estate is one of the most beautiful rustic wedding venues on the South Coast. This budget friendly winery is located at Shoalhaven Heads and is the site of first settlement in the area with a convict built 26-room motel and community hall onsite, plus a function centre that seats up to 200 guests.

9. Mali Brae Farm
Location: 562 Nowra Rd, Moss Vale, NSW 2577
Capacity: 30 - 110
Accommodation: Complimentary for 2
Wedding Packages: All inclusive
Set on 90 acres of lush paddocks, Mali Brae Farm offers a beautiful boutique destination for farm weddings just north of the South coast in the Southern Highlands region. The property has 6 unique ceremony locations onsite and two rustic reception venues including a large repurposed barn and a brand new micro wedding venue that seats 30 - 55 guests.

10. Growwild Wildflower Farm
Location: 916 Old Hume Hwy, Alpine, NSW 2575
Capacity: 30 - 145
Wedding Packages: DIY/BYO
Growwild Wildflower Farm is one of the prettiest farm wedding venues in the South Coast region. The secluded property features 25 acres of wildflower plantings, manicured lawns and two reception venues surrounded by peaceful native bushland.
With exclusive access to the entire farm for 24 hours, you can simply take your pick of ceremony areas and set up however you like. Outdoor receptions are popular within the gardens and there's a micro wedding barn or luxe garden marquee for indoor parties.

11. Terara Park Farm
Capacity: 180
Location: Nowra, NSW
Terara Park Farm is a 22 acre horse farm with a large converted indoor arena barn. Wedding venues include an overhanging jetty that makes a picturesque setting for outdoor ceremonies. The farm offers a laid back, waterfront setting for affordable rustic weddings in a peaceful rural setting. Accommodation on the farm includes 4 units that sleep 12 guests.

12. Oaklands Farm Weddings
Capacity: 300
Location: Pambula, NSW
Oaklands Farm is one of the South Coast's largest barn wedding venues catering for rustic receptions of up to 300. The farm also has a beer barn that's ideal for pre & post wedding events such as a next day recovery brunch. Farm animals on the property include friendly horses, sheep and donkeys and the homestead gardens offer a private setting for country wedding ceremonies just a few steps from your accommodation.

13. Barn on the Ridge
Capacity: 130
Location: 24 Clyde Ridge Road, Morton, NSW 2538
Barn on the Ridge is a rural wedding venue on 55 acres of rugged farm land. The barn is a modern space with adjoining deck that overlooks stunning valley views across the South Coast countryside. A choice of wedding ceremony locations include paddocks, next to the dam or on the barn deck.
---
---
Farm Wedding Locations: South Coast
For the full farm experience including climbing over paddock fences in your whitest best there's plenty of working cattle and horse farms in the area.  All working farms have on-site accommodation so you can enjoy the property and it's furry inhabitants over several days.
If sharing the views with a Llama or two and collecting chook eggs is more your thing there's loads of farmlets and farm stay properties with DA approval for weddings.  These properties range in size and cater from elopements right up to weddings with 180 guests.
And if it's largely the fresh and relaxing country air you're looking for, many properties that double as event venues in the area are surrounded in neighbouring farm land.  These venues include wineries, breweries, estates and the like. Many of these venues are popular with couples as you can have a 'farm wedding' even though the venue isn't actually a farm itself. For more farm wedding options explore our complete list of Wedding Venues on the South Coast.  
Other South Coast wedding venues that you may be interested in are:
Barn wedding venues
Country wedding venues
Small wedding venues
Rustic wedding venues
Destination wedding venues
Whether you're wanting to cuddle furry creatures or soak up the relaxing country air, enjoy peace and privacy or take in the epic farmland views across hills and out to the ocean, the South Coast has a huge variety of farm style properties for every type of wedding experience. 
Farm Venues in the Illawarra
The Illawarra has several farm wedding venues, and they come with extra trimmings. There's a popular family-owned winery and microbrewery in Gerringong with views across rolling farm hills. There's a ceremony only wedding venue which offers the opportunity for rustic wedding photos. And there's a refurbished woolshed where you can style your own rustic wedding reception.
Farm Venues in the Southern Highlands
A convenient two hours from both Sydney and Canberra and nestled in the stunning bush surrounds of the Southern Highlands, are several working farms which are hugely popular for weddings. From the luxurious Bendooley Estate to historic Mali Brae Farm and the rustic Sylvan Glen Country Estate, find all the best farm wedding venues in the Southern Highlands. 
 View Farms in the Southern Highlands
Farm Venues in the Shoalhaven
Choosing a farm wedding in the Shoalhaven is exciting for everyone - both you, and your guests.  The landscape from its country paddocks to pristine white sand beaches, turquoise water and native bush surrounds makes it one of the most spectacular places in the world.  Adventure starts here!
For water lovers there's surf beaches, kite surfing, snorkelling, diving and paddle boarding.  If you're engaging in water sports try to avoid bumping into a whale :) From May to November the annual migration takes place and you'll easily spot whales heading to warmer waters from the coastline.  If you're having a spring wedding in the area, keep your eye out for the newborn whale calves on their way back south. 
Aside from the other aquatic wildlife attractions including seals, penguins and dolphins, you might also spot an elusive platypus if you're staying or getting married at one of the area's many farms.  Just about all farms have resident kangaroos, the area has a healthy population of wombats and the birdlife here is to behold.
Several South Coast farms have enough onsite accommodation to sleep your entire guest list. These farms enable you and your guests to stay for the weekend, hiring the property for your exclusive use of all facilities onsite.
The South Coast also has plenty of not-exactly-a-farm wedding venues surrounded by farmland.  There are wineries where cows graze in the surrounding paddocks.  There's a farmlet with affordable marquee options.  There's also a horse farm where you can enjoy a peaceful and private wedding ceremony on the banks of the Shoalhaven River followed by a rustic reception in the converted indoor arena. 
Whatever style of farm wedding you're planning, there's a property for it at a South Coast wedding venue.
Cover image: Translucent Photography @ Cupitts