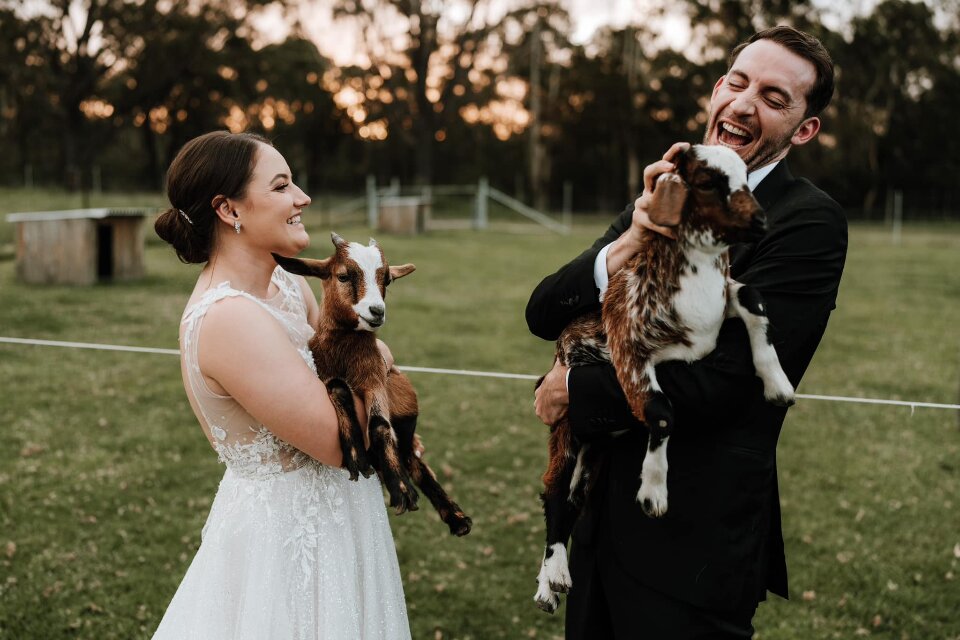 Farm wedding venues are in plentiful supply in NSW, with the state offering a variety of rural properties for those wishing to have a farm wedding. From working cattle & sheep farms to farm stays and barn weddings - rural wedding venues in NSW cater to just about every type of farm wedding you could imagine.
If you're tossing up whether to have a farm wedding on a rural property, there are plenty of benefits. Farm weddings seem to have a unique intimacy about them that bring family and friends together like you've never been apart. Maybe it's the wide open space or the fresh country air or the leisurely way in which the sheep and cattle go about grazing in their paddocks. Conversation comes easy on a farming property. The pace is slower. Time is free.
Getting married in the country is easy too. Farm venues don't have parking meters or parking rangers or even painted parking spots. Just drive on in - and don't block the gate. Easy. Have your ceremony under the tree or in the gardens or next to the dam. Easy. If it's sunny and warm, tables & chairs and epic styling can be enjoyed under the stars. Or take the fun inside. Whatever you like.
Here's another reason to have a farm wedding: You'll be supporting the sustainability of a local community and their businesses. When you have your wedding in a rural area and your guests stay, eat and shop locally, you contribute to that region's local economy. Nowhere are communities more in need of the support from out-of-towners than rural areas. Particularly after droughts, fires or random pangolin-blamed viruses. The financial impact of which, have a devastating effect on farming industries. 
So without further ado, here are 52 Farm Wedding Venues in NSW...
Table of Contents
Top 10 Farms in NSW
Blue Mountains
Byron Bay
South Coast
Southern Highlands
Central Coast
Hunter Valley
Illawarra
Mid North Coast
Far North Coast
Riverina
Sydney
Regional NSW
Top 10 Farm Venues in NSW

1. The Woods Farm
Capacity: 200
Location: Berry - South Coast, NSW
Accommodation: Sleeps 120
If you're looking for a farm stay wedding venue, The Woods Farm has you covered with an adorable collection of goats and assorted petting animals onsite. This 40 acre farmstay sleeps your entire wedding guest list and is an ideal destination for a weekend away where everyone stays onsite with you.
The farm features one of the most unique ceremony venues in NSW - an open air rustic chapel with a fairytale, jasmine-covered arbor walkway leading up to it. You can have an outdoor wedding reception or utilise the refurbished barn which is hung with a glorious assortment of luxe chandeliers.

2. Willow Farm
Capacity: 130
Location: Berry - South Coast, NSW
Accommodation: Farmhouse sleeps 10
Willow Farm is a private & relaxed country retreat on 160 acres of picturesque farmland. Wedding ceremonies are often held under an old tree in a paddock but you can choose your own preferred spot from the many on offer.
Reception venues include a rustic entertainment shed or marquee site which has stunning views over the property and is an ideal location for a relaxed, outdoor reception. Owner Keri offers fully DIY wedding packages or as an experienced event planner herself is also happy to provide a more 'all inclusive' option.

3. Figbird Cottage
Capacity: 150+
Location: Terara - South Coast, NSW
Accommodation: 2 Farm cottages sleep 8
Figbird Cottage is a budget friendly wedding venue with picturesque English gardens surrounded by peaceful farm and grazing land. With the largest European marquee on the NSW South Coast, Figbird Cottage is the perfect spot for relaxed farm weddings in an outdoor setting.
Wedding packages include 1 day or 3 day venue hire with exclusive use of the property and all furniture hire included. Three day hire includes accommodation for up to 8 guests in two cottages.

4. Mali Brae Farm
Capacity: 30 - 120
Location: Moss Vale - Southern Highlands, NSW
Accommodation: Sleeps 2 in The Dairy
Mali Brae Farm is a private 90 acre wedding farm with two reception venues to suit large and small weddings. The elegantly transformed hay shed seats up to 120 guests and smaller Augustine's Room is ideal for elopements and micro weddings from 30 - 55 guests.
The farm features extensive dam views, drystone wall features, sculptures and garden art and a rustic old boat shed. Wedding packages include complimentary accommodation for two in an onsite cottage.

5. Growwild Wildflower Farm
Capacity: 145
Location: Alpine - Southern Highlands, NSW
Growwild is a wildflower farm that provides fresh cut native flowers to the Sydney Flower Markets. The picturesque location is also a registered sanctuary with the Wildlife Land Trust. There's a number of picturesque wedding ceremony locations on the farm's 25 acres, plus a reception barn which has a capacity of 50 guests.
The crowning jewel of Growwild Wildflower Farm is its large garden marquee which overlooks the surrounding plantings and caters for weddings of up to 150 guests. A paved and festoon lit courtyard extends from the marquee creating a beautiful spots with views for pre-dinner cocktails & canapés and a romantic first dance under the stars.

6. Mimosa Wines
Location: 2845 Tathra-Bermagui Rd, Bermagui NSW 2546
Capacity: 180
Accommodation: Sleeps 13
Wedding Packages: All inclusive
Mimosa Wines is a 200 acre country wedding venue set on a private vineyard and entirely surrounded by National Park. At the centre of the farm style setting is an architecturally designed hatted restaurant which overlooks sweeping views of the vineyard and expansive bushland.
Wedding ceremonies with a bush backdrop can be held amongst the trees or overlooking the view from the huge  restaurant deck. You can also get married at the water-lily dam jetty or in the venue's rustic Tuscan style courtyard. All inclusive packages are very affordable and there's two private cottages onsite a short walk through the vines. 

7. Tides Estate Macadamia Farm
Location: 290 North Teven Road, Teven, NSW 2478
Capacity: 140
Accommodation: Sleeps 22
Wedding Packages: Tailored
This incredible 100 acre macadamia farm is situated in the Byron Bay Hinterland and features a luxe reception venue that seats up to 140 guests and a private 7 bedroom villa. The villa caters for small events of up to 40 guests and is typically packaged with the reception hall for a 3 day wedding experience including a recovery party.
Both the reception hall and villa have stunning views over the macadamia farm to the ocean at Lennox Head. The hall comes fully furnished and has a licensed bar with a choice of preferred caterers. For smaller farm weddings the villa can be hired without the reception hall mid-week and comes with the option of dining between the macadamia trees or poolside overlooking the incredible vista. 

8. Paradise Botanical Gardens
Location: Kulnura - Central Coast, NSW
Capacity: 230
Wedding Packages: 2 night venue hire
Catering: DIY/BYO
Accommodation: Sleeps 8
Paradise Botanical Gardens offers private country weddings on 230 acres of farm-style grounds high in the hills of Kulnura. The property is home to some of the most unique rustic wedding locations in NSW including heritage Roman Columns through which you can set up long table dining for a one-of-a-kind outdoor reception.
Other wedding venues onsite include this newly renovated covered pavilion that seats up to 90 guests in a weather-proof open-air setting. You can also bring in a marquee should you wish and a grand circular Kings Garden Lawn is a beautiful setting for ceremonies. An onsite cottage sleeps 8.
 View Paradise Botanical Gardens

9. Midginbil Eco Resort
Location: Midginbil - Far North Coast, NSW

Capacity: 150

Accommodation: Sleeps 150+
Midgbinbil Eco Resort is a 400 acre wedding farm surrounded by picturesque subtropical rainforest. An ideal country location for destination weddings, the property comes with accommodation for 150+ guests in a range of dwellings including a fun village of safari tents that each have their own timber balconies overlooking the forest. 
Affordable wedding packages include exclusive use of the entire 400 acres with use of a refurbished reception barn, 3+ ceremony sites and a late night bonfire. Due to Midginbil's secluded location there is no curfew at this venue. Bring your swimmers as there's a swimming pool, tennis court and plenty of other entertainment onsite.

10. Greystone Estate
Address: 617 Hermitage Rd, Pokolbin, NSW 2320
Capacity: 30 - 110
Accommodation: Sleeps 32 ($18,400 inc 2 nights)
Wedding Packages: $400+/pp 
25% mid-week discount
Set in the heart of the Hunter Valley, Greystone Estate is a luxury Hamptons-inspired property that offers a one-of-a-kind destination for unique country weddings. The 5 star self-contained estate boasts luxurious accommodation for up to 32 wedding guests across the main homestead and two other dwellings which is all included with venue hire.
Greystone features 10 resort-like acres of lawns, gardens and farm-style acreage with a Hamptons pool, games room and spacious gathering areas. Perfectly set up for a luxury wedding weekend with family & friends staying onsite with you, the estate has a purpose built open-air chapel and all-white reception venue.
Farm Venues in the Blue Mountains

11. Waldara Farm
Capacity: 150
Location: Oberon - Blue Mountains, NSW
Accommodation: Farm house + lodge sleeps 20
Waldara Farm is an authentic Australian working farm on 800 acres just outside the Blue Mountains. Wedding venues include a rustic barn, a repurposed shearing shed, a lawn with gazebo & wharf and a reception hall. Manicured seasonal gardens make a picturesque ceremony venue surrounded by rolling hills and rugged farm landscapes. The entire farm can be hired exclusively for your wedding with accommodation bookings.

12. Dryridge Estate
Capacity: 220
Location: Megalong Valley - Blue Mountains, NSW
Accommodation: 4 bedroom homestead + 2 bedroom lodge
Dryridge Estate is a boutique vineyard and hilltop wedding venue with extensive country views over surrounding farm land. Wedding venues include manicured gardens and a clear glasshouse marquee. Venue hire includes accommodation for 2 nights and you can BYO all your own wedding vendors.
---
---
Farm Venues in Byron Bay

13. Coorabell Homestead
Location: 36 Keys Road, Coorabell, NSW 2479
Capacity: 10 - 150
Accommodation: Sleeps 10
Coorabell Estate is a 28 acre private property located 20 minutes from Byron Bay. Nestled within beautiful rainforest at the centre of the country estate is a luxury 5 bedroom homestead that is included with all venue hire packages.
The house has an open plan layout featuring a poolside event space suitable for cocktail weddings of up to 55 guests, and a balcony adjoining the living area which seats up to 40 overlooking the rainforest canopy. The surrounding lawn terraces are ideal for marquee or tipi weddings with up to 150 guests celebrating under the stars.

14. Midginbil Eco Resort
Capacity: 150
Accommodation: Sleeps 150+
Location: Midginbil - Far North Coast, NSW
Midginbil Resort is an eco-friendly wedding venue on a sprawling 400 acre farm. Budget friendly wedding packages include exclusive use of the property and hire of all wedding venues including a rustic reception barn and covered outdoor shed. With stunning mountain views and accommodation for all wedding guests, Midginbil is a stunning place for 3 day farm weddings.

15. Forget Me Not Farm
Capacity: 30 - 250
Accommodation: 5 Farm Cottages
Location: Bangalow - Byron Bay, NSW
Forget Me Not Farm is a private wedding venue on a working cattle farm near Byron Bay. With award winning gardens, a central dam with fountain water feature and a flat marquee area for wedding receptions, Forget Me Not Farm is the ideal spot for farm weddings in the great outdoors. 
---
---
Farm Venues on the South Coast

16. The Woods Farm
Location: Bayly Road, Tomerong, NSW 2540
Capacity: 200
Accommodation: Sleeps 120
Wedding Packages: BYO
The Woods is one of the best farm stay wedding venues in NSW, set on 40 beautiful bush-bound acres 5 minutes from the beaches of Jervis Bay. The resort-style venue includes accommodation for up to 120 guests in a range of cottages and a luxury glamping village with pristine amenities.
Hidden in the woods is an incredible outdoor chapel which is accessed via a 120 metre grass aisle that curves through native trees and shrubs under jasmine covered arches. There's also a chandelier reception hall with an adjoining outdoor bar, a swimming pool where after parties can be held, a herb garden with covered arbor & BBQ facilities, bike sheds and fire pits.

17. Fig Tree Park
Location: 58 Sherringham Lane, Central Tilba, NSW 2546
Capacity: 2 - 200
Accommodation: Sleeps 2
Wedding Packages: DIY/BYO
On the far south coast of NSW surrounded by paddocks of horses is the elegant Fig Tree Park. This French-style country estate is conveniently situated 2 minutes to Tilba Tilba and the beach and has incredible ocean views from its hill top location.
Fig Tree Park is an outdoor wedding venue that comes with large round tables and cross back chairs that are set up under a giant fig tree overlooking the sweeping country & coastal views. A cute barn provides romantic accommodation for two beside the main homestead and accommodation for all guests is located in the immediate vicinity.

18. Coolangatta Estate
Location: 1335 Bolong Road, Coolangatta, NSW 2535
Capacity: 2 - 200
Accommodation: Sleeps 70
Wedding Packages: All inclusive + DIY
Coolangatta Estate is a budget friendly vineyard and farm wedding venue situated at Shoalhaven Heads just a few minutes from Berry. The 100 acre property is the site of first settlement in the region and has a unique convict-built motel and community hall that offers a beautiful setting for rustic weddings.
In addition to the wedding hall which seats 80 there is a function room with rustic decor that seats 200. Outside, giant fairy-lit fig trees and a hedge-rimmed croquet lawn feature in the gardens with sweeping views over the vines to surrounding bush covered hills. 

19. Kullindi Homestead
Location: Booderee National Park, Ellmoos Rd, Jervis Bay NSW 2540
Capacity: 20 - 200
Accommodation: 5 units
Venue Hire: $3,800
Kullindi is an historic homestead wedding venue situated on the shores of Sussex Inlet. The budget-friendly farm style property has 5 self contained cottages which are basic but clean, and plenty of space for guests to BYO camping. 
There is no reception venue at Kullindi Homestead so you'll need to hire a marquee or tipis which create an amazing scene set up on the waterfront. There are plenty of mobile catering options in the area including food trucks and you can BYO drinks. 

20. Terara Park Farm
Capacity: 180
Location: Nowra - South Coast, NSW
Accommodation: 4 Units
Terara Park Farm is a 22 acre horse farm with a large converted indoor arena for wedding receptions and a picturesque dam area for waterfront ceremonies. BYO alcohol and catering.

21. Oaklands Event Centre
Capacity: 300
Location: Pambula - Sapphire Coast, NSW
Accommodation: Farm House sleeps 6
Oaklands Event Centre is a micro farm with a large rustic barn for wedding receptions and an adjacent beer hall and garden that's perfect for post wedding recovery events. Trees provide a shaded ceremony area in the homestead gardens and it's a short and pleasant walk past paddocks of horses, sheep and donkeys to get to the reception barn. 

22. Barn on the Ridge
Capacity: 130
Location: Morton - South Coast, NSW
Accommodation: Honeymoon Suite
Barn on the Ridge is a 55 acre farm wedding venue with stunning country views over valleys, waterways and grazing land. The reception barn is a modern, refurbished space ideally suited to luxe-rustic weddings and ceremonies usually take place next to the picturesque dam. 
---
---
Farm Venues in the Southern Highlands

23. Mali Brae Farm - Augustine's Room
Capacity: 30 - 55
Location: Moss Vale - Southern Highlands, NSW
Accommodation: Sleeps 2 in The Dairy
Augustine's Room at Mali Brae Farm is a purpose-built micro wedding barn that seats 30 - 55 guests overlooking lush green paddocks. The space features floor to ceiling windows, an elegant fire place and a luxe rustic bar with a dance floor area.
The private 90 acre wedding farm has 6 ceremony sites to choose from including a dedicated nuptials shed, rustic ruins, weeping willows, waterfront settings and gardens. All inclusive wedding packages are reasonably priced and come with a free night's accommodation for two in The Dairy cottage onsite.

24. Growwild Wedding Barn
Location: 916 Old Hume Hwy, Alpine, NSW 2575
Capacity: 50
Wedding Packages: $7,000 venue hire
Accommodation: next door
The micro wedding barn at Growwild Wildflower Farm can seat up to 50 guests inside or caters for cocktail weddings of up to 100. The barn is adjoined by a rustic courtyard where weddings can be held under festoon lights and there's plenty of surrounding space for food trucks and catering vans.
Also at Growwild is a luxury garden marquee and secret bush valley that offer indoor & outdoor ceremony venue options. Situated on 25 acres of commercial gardens which supply the Sydney flower markets with native cut flowers, Growwild is one of the prettiest farm wedding venues in New South Wales. 

25. Petrichor Farm
Capacity: 150
Location: Gundaroo - Southern Tablelands, NSW
Accommodation: Bridal cottage + glamping
Petrichor Farm is an outback wedding venue with 170 acres of grazing land in regional NSW. Wedding receptions are held in a modern rustic barn which opens to a relaxed outdoor area where wildlife can be watched in the late afternoons. Farm weddings in NSW don't get more rural than at Petrichor Farm. 
---
---
Farms on the Central Coast

26. Paradise Botanical Gardens
Location: Kulnura - Central Coast, NSW

Capacity: 230
Accommodation: Sleeps 8
Wedding Packages: DIY/BYO
Set on 230 acres of peaceful gardens hidden in the hills of Kulnura, Paradise is one of the best kept secrets for beautiful country weddings. Surrounded by fresh air and native unspoilt bushland, the gardens house a choice of beautiful outdoor wedding locations including this lake-side marquee site.
 View Paradise Botanical Gardens

27. Fernbank Farm
Capacity: 140
Location: Yarramalong Valley - Central Coast, NSW
Accommodation: 4 Bedroom house with pool + 4 bed cottage
Fernbank Farm is a heritage listed wedding venue with 25 acres of farm land, gardens, waterways and bushland. A majestic steel arbor and lakeside rotunda provide picturesque ceremony venues while marquees and a small rustic barn cater for wedding receptions. Resident Clydesdales Lola & Lulu can you take you by regal carriage to your altar in true farm style.

28. Albion Farm Gardens
Capacity: 120
Location: Woodville - Central Coast, NSW
Albion Farm Gardens is a 100 acre farm that features 15 acres of spectacular gardens for wedding ceremonies and photos. The farm features a rustic ceremony barn with elegant chandeliers and wedding receptions can be held across the road at the Woodville Reception Hall. 
---
---
Farms in the Hunter Valley

29. Mulla Villa Farm
Capacity: 150
Location: Wollombi - Hunter Valley, NSW
Merrindah Weddings at Mulla Villa Farm is an all-in-one wedding venue well suited to relaxed, country weddings. Reception venues include a rustic barn or you can pitch marquees or teepees for an outdoor wedding and enjoy the fresh country air and farm landscape. Wedding packages include venue hire and DIY so you can bring your choice of vendors.

30. The Barn - Moravia Park
Capacity: 200
Sleeps: 2
Location: Lovedale - Hunter Valley, NSW
Moravia Park is a horse farm that offers 3 day 'stay & play' weddings.  Venue hire gives you 3 day access to the grounds and rustic barn so you can spend time styling the day before or host pre-wedding and/or post wedding events. There's a waterfront location for wedding ceremonies on the farm and hire includes most furniture & styling items for ceremony and reception. 
---
---
Farms in the Illawarra

31. Ravensthorpe Estate
Location: 56 Tongarra Rd, Albion Park NSW 2527
Capacity: 200
Wedding Packages: 24 hrs exclusive hire
Accommodation: Sleeps 14
Set in a rural region between Albion Park and Shell Harbour, Ravensthorpe is luxe country wedding venue overlooking mountains and surrounding paddocks. The elegant estate has a conservatory and permanent marquee adjoining a large outdoor courtyard with 3 acres of classic country gardens for your wedding photos. 
Wedding packages include 24 hour access to the property with accommodation in 3 separate onsite dwellings. You simply choose your caterers from the preferred supplier list and everything else is included including a recovery breakfast for staying guests the next morning.

32. The Lodge Jamberoo
Location: 406 Jamberoo Mountain Road, Jamberoo, NSW 2533
Capacity: 300
Accommodation: Sleeps 136
Wedding Packages: All inclusive
The Lodge is a 43 room private hotel surrounded by acres of peaceful farmland on a quiet country road just south of Wollongong. Surrounding a huge outdoor swimming pool, The Lodge can be hired exclusively for your wedding sleeping up to 136 guests a short walk from the onsite reception venue.
This experiential country wedding destination has an amazing Pine Tree Cathedral with an outdoor chapel for wedding ceremonies. Purposely renovated for 3 day weddings, the hotel comes with two huge getting ready rooms, a restaurant where guests are served breakfast & lunch and an after-party bar. Online booking & payment facilities are available for guests.
---
---
Farms on the Mid North Coast

33. Goolawah Retreat
Location: 288 Point Plomer Rd, Crescent Head NSW 2440
Capacity: 30 - 150
Sleeps: 32 + camping
Wedding Packages: DIY/BYO
Set on 28 coastal acres surrounded by native bushland, Goolawah Retreat is an affordable spot to bring all your friendly & family for a relaxed country wedding. The property has 5 refurbished cottages that sleep 32 guests and plenty of open lawn area for camping with more accommodation within a few minutes drive.
Venue hire at Goolawah Retreat comes with a newly constructed wedding pavilion that seats 90 guests overlooking the farm-like grounds. With no nearby neighbours there is no curfew at Goolawah. 

34. Longview Farm
Capacity: 120
Location: Manning Valley - North Coast, NSW
Accommodation: Rotating house + camping
Longview Farm is a secluded rural property with waterfront ceremony and reception venues. There's a rustic entertainment shed that's ideal for larger weddings, a luxury rotating homestead with balcony for smaller weddings and plenty of flat paddock space for camping or glamping. With no curfew, Longview Farm is the ideal spot for a relaxed wedding weekend away with the rowdiest of clans. 

35. Valhalla
Capacity: 12 - 150
Location: Nelson Bay - North Coast, NSW
Accommodation: Sleeps 15
The Scandinavian Valhalla Restaurant & Bar is a rustic wedding venue located on The Spruce Estate Farm. Renowned for growing the best Anna Bay Tomatoes, the farm not only provides fresh vegetables to the Port Stephens region but is a popular spot for farm weddings. From farm paddocks to country lanes to secluded forest, Valhalla offers a great choice of backdrops for rustic wedding photos. There's even photogenic Scottish Highland Coos.
---
---
Farms on the Far North Coast

36. Pillar Rock Farm
Capacity: 200
Location: Pillar Valley - North Coast, NSW
Accommodation: Guesthouse, barn loft, hunting cottage
The distinctive big red barn at Pillar Rock Farm is an iconic spot for rustic farm weddings. Surrounded by 270 acres of farm paddocks and bushland, there's plenty of ceremony locations to choose from. If you hire this place for your wedding you'll want to stay a few days to enjoy the wildlife spotting, fishing, bushwalking, rock climbing, mountain biking & 4WD'ing. The farm is a fully DIY wedding venue and you'll need to BYO catering and all other suppliers. 

37. The Earthhouse
Capacity: 120
Accommodation: B&B sleeps 4
Location: Corndale - Far North Coast, NSW
The aptly named Earthhouse is a wedding venue constructed from rammed earth on a 110 acre farm in the Byron Bay hinterland. The unique reception venue and surrounding manicured lawns set a picturesque scene for farm weddings with spectacular views of the surrounding paddocks and bushland. Wedding packages include venue hire only so you can bring your own wedding vendors.

38. Ardeena Events
Capacity: 130
Accommodation: 9 Guest rooms
Location: Carool - Far North Coast, NSW
Located high in the rural hinterland, Ardeena Events is a farm-like wedding venue with views for days. Many couples choose to get married outdoors at this wedding venue because of the spectacular backdrop. Ardeena Events is a DIY ceremony and reception venue best catered by the likes of food trucks and teepee bars. An onsite barn provides an alternative weather-proof space and there's 9 rooms for guests to stay overnight.

39. Summergrove Estate
Capacity: 130
Accommodation: 5 Villas sleep 10
Location: Carool - Far North Coast, NSW
Summergrove Estate is another of the hill top wedding venues in Northern NSW that enjoys picturesque views over surrounding farming paddocks to the ocean. The versatile farm venue is located an hour north of Byron Bay and features well maintained gardens, an onsite chapel, modern reception barn, and a place where helicopters can land. The accommodation has a swimming pool + tennis court. 
Farms in the Riverina

40. Kimo Estate
Capacity: 200
Accommodation: Sleeps 32
Location: Gundagai - Riverina, NSW
Kimo Estate is a 7,000 acre working sheep & cattle farm with farm stay accommodation for up to 32 wedding guests. The reception venue is a rustic grain shed and wedding ceremonies can be held on the farm or in the homestead gardens. Kimo Estate is a pet friendly farm with a unique choice of accommodation including 3 Eco huts, 2 cottages and a 6 bedroom shearers quarters.

41. The Wild Vine
Location: Oura - Riverina, NSW
Capacity: 205
The Wild Vine is a Wagga Wagga wedding venue, winery and 17 acre boutique farm. Renovated to keep with the original essence of the building, The Wild Vine offers a luxe-rustic setting for intimate farm weddings and receptions. Ceremony spots include The Paddock, a Gum Tree alley and a wooden platform in front of the grape vines. In true farm style you can have drinks and canapes on the lawn, or a hot cocoa station by the fireplace in winter. 

42. Perricoota Station
Capacity: 500
Accommodation: Sleeps 17
Location: Moama - Riverina, NSW
Perricoota Station is an historic all-in-one wedding venue on 3.5km's of Murray River frontage. You can arrive by boat or by horse and cart to this 120 hectare rural station that has associations with Cobb & Co, wool production and citrus groves. There's plenty of spots that are idea for wedding ceremonies and The Packing Shed is a large barn perfect for rustic wedding receptions.

43. St Edwards of the Riverina
Capacity: 200
Accommodation: Luxury homestead sleeps 8
Location: The Gap - Riverina, NSW
St Edwards of the Riverina is a picturesque country property that offers garden or farm ceremonies, marquee receptions & dancing under the bright stars of a regional night sky. Use the spacious country homestead to get ready and host a recovering brunch the following day. Surrounded by lazy farm land, St Edwards is a perfectly relaxed spot for extended weekend weddings.

44. Magpies Nest
Capacity: Approx 100
Location: Estella - Riverina, NSW
The historic stables at Magpies Nest have been converted into a restaurant and rustic wedding venue. The 20 acre farm style property features sweeping views over the vineyard and olive groves to the Murrumbidgee River. All inclusive wedding packages come with exclusive use of the venue and grounds for ceremony, photos and reception plus an onsite coordinator. 
---
---
Farm Venues in Sydney

45. St Joseph's Homestead
Location: 1029 Saint Albans Road, Saint Albans, NSW 2775
Capacity: 10 - 100
Accommodation: Sleeps 10
Wedding Packages: $3,500 - $7,500
St Joseph's Guesthouse is a homestead wedding venue with a difference. Built in the ruins of a 165 year old church, the heritage homestead has 5 bedrooms in its two upper levels and an intimate function space that seats up to 60 guests on the ground floor.
Set on a private hilltop in the Hawkesbury and surrounded by peaceful country views, St Joseph's is a unique alternative to a traditional farm wedding. Venue hire includes exclusive use of the accommodation & grounds for 5 nights and has a swimming pool, large backyard for outdoor weddings and a ceremony spot on the front sandstone steps under the original church bell which still works.

46. Rustic Weddings Sydney
Location: Wilberforce - Sydney, NSW
Capacity: 150
Rustic Weddings Sydney at The Australiana Pioneer Village offers affordable venue hire for farm style weddings. In addition to the rustic reception barn there's also the option for marquee weddings. Farm ceremonies are held under a giant gum tree with the rustic barn in the background.

47. Springfield House
Location: Dural - Sydney, NSW
Capacity: 400
Located in Sydney's North West rural district, Springfield House is offers a farm style setting with 5 acres of gardens and bushland. A private ceremony area features a permanent arbor, sandstone paving and a grand staircase leading down from the main building. Two reception venues have large glass windows looking out over the surrounding farm landscape.

48. Riverside Oaks Resort
Capacity: 250
Location: Cattai - Sydney, NSW
Accommodation: 33 Guest rooms
Riverside Oaks Resort is 587 acre regional wedding venue with farm land, historic ruins, a golf course and waterfront ceremony location. There's also lots of great places for wedding photos and the golf clubhouse serves as the reception venue. Expect affordable wedding packages.
---
---
Farm Venues in Regional NSW

49. Eleven Eighty Weddings
Location: 1180 Bolong Road, Coolangatta, NSW 2535 
Capacity: 80
Wedding Packages: DIY/BYO
Accommodation: Sleeps 15
Eleven Eighty is a relaxed destination for small country weddings suitable for 20 - 80 guests. Set on 3 intimate acres in the Shoalhaven region, the property comes with 5 unique event spaces including a wedding barn, hall, rustic courtyard and a refurbished train carriage.
Venue hire includes 2 nights accommodation for up to 15 guests in two onsite cottages. You get exclusive access to all event spaces on the property including an amazing Argentinian Grill & Pergola which comes stocked with wood. There's also a props shed with all furniture and a huge range of styling items including velvet couches, tables, chairs and outdoor lighting.

50. The Vinegrove
Capacity: 150
Location: Mudgee, NSW
Accommodation: Sleeps 8
The Vinegrove is a 100 acre farm with a wedding ceremony and reception courtyard in the middle of the farm's picturesque vineyard. If you're looking for a romantic place to tie the knot, imagine getting married amidst the grape vines and having your first dance under the rural night sky. Lighting features throughout the courtyard gardens seal the deal.

51. Wallaroo Wines 
Capacity: 100+
Location: Wallaroo - NSW/ACT border
Accommodation: Homestead sleeps 10
The Georgian style homestead at Wallaroo Wines is a private farm venue on 300 acres. The ceremony area is a classic oval garden with herbaceous border and features stunning views over the Brindabella Mountains. Wedding receptions are held in a garden marquee. The farm features a 25 acre vineyard and relaxing walking tracks.

52. Tangaratta Vineyards
Location: Peel Valley, NSW
Capacity: 220+
Tangaratta Vineyards is a ceremony and reception venue located just minutes from the farming hamlet of Tamworth. The regional location features a 104 year old chapel, a large rustic function centre and a large open space for outdoor wedding ceremonies with a picturesque vineyard backdrop.
About Farm Weddings in NSW
Over the last few years many couples have opted out of an urban wedding preferring instead the laid back country landscape as a backdrop for their special day. Farm wedding venues also provide a wonderful opportunity to DIY & BYO everything from food & beverage to styling. The glossy pages of Australia's wedding magazines are regularly adorned with detailed images of beautifully styled spaces framed by unexpected country landscapes. Regional locations lend something different to weddings, which is perhaps why farms are now highly sought after venues.
Farm weddings became popular when rustic barns and converted hay sheds began popping up on Pinterest. Jars of hand picked flowers, cheese platters on tree stumps and hessian table runners took over and #rusticweddinginspo was the social media tag to follow. Rural councils received a flurry of applications from NSW landowners wanting to become wedding venues. Farm venues started to become more plentiful and easier to find.
Since the birth of the unique shed wedding we've seen the innovation of horse stable weddings, outdoor & undercover cattle yard weddings, flower farm ceremonies and reception venues made of all sorts of other repurposed rural amenities and structures.
Several purpose built barns have sprung up across the NSW landscape in recent years offering a modern and edgy option so that you can now have a shed wedding without the rustic hashtag. These modern wedding barns have the benefit of being truly blank canvases that you can decorate however you like.

Highland cattle at Lonely Goat Olives in the Hunter Valley.
Farm Stays and farmlets are another great option for a relaxed country wedding and come with all sorts of animals in residence. The difference between a farm stay or farmlet and a proper working farm is in the size of the herd. Or flock. Or huddle - which incidentally, is the collective noun for a group of walrus. Not a farm animal exactly, but essential trivia knowledge nonetheless. #MostImpressiveAnswer-of-the-Night!
One of the best things about farm weddings is that they provide a unique opportunity to have an extended celebration across an entire weekend. Farm venues usually offer exclusive use of the entire property and most have accommodation onsite. Hence, a farm wedding is a great opportunity to bring everyone together for an extended period to enjoy the company of loved ones, including at pre-wedding and post-wedding events. 
Farm weddings are as unique and memorable as they are relaxed and fun. Pick your favourite farm venues from the above list and enquire early. They book out fast. Happy planning.
Cover Image: Translucent Photography