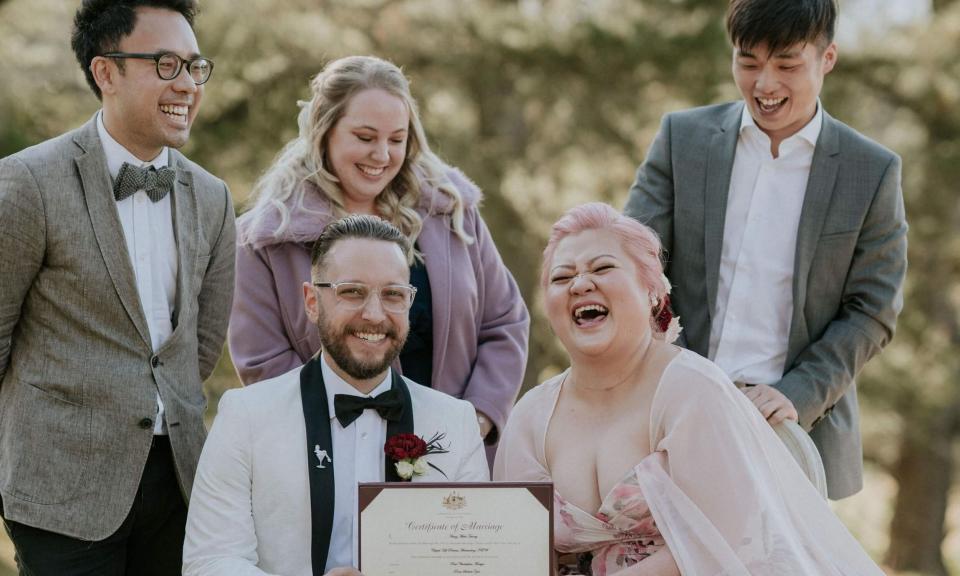 A fun wedding celebrant creates an upbeat mood that sets the tone for your entire wedding day.  They rouse the attention of your guests and establish a sense of joviality and good humour which creates excitement about the events to come. And all of this happens before you've even walked up the aisle. 
If you're a fun loving couple and want your wedding to be filled with laughter & happiness, your choice of celebrant will be especially important to you. You'll want them to have a similar sense of humour, a similar sense of fun and a common understanding of what will be included (or not) in your wedding ceremony.  
All celebrants have their own unique style of delivering a wedding ceremony. And so too do those who are renowned for making ceremonies fun. From the hundreds of wedding celebrants in NSW, you'll find all sorts of fun professionals to choose from. From those who deliver very calm, laid-back ceremonies to the outrageously flamboyant.
Explore Fun Wedding Celebrants:
Sydney Hunter Valley Byron Bay Shoalhaven
One thing that all fun celebrants have in common is that they do not deliver boring ceremonies. There's nothing that will put your guests to sleep quicker than an oratorical piece about the meaning of marriage. No one wants to hear about the hard work that relationships sometimes require. Half of your audience are likely already married. THEY GET IT.
Rather, your guests want to feel inspired by your love and the possibilities that lay ahead for you. And this is where a fun celebrant is really worth their service fee. 
Fun celebrants almost always craft entertaining wedding ceremonies by focusing in on your love story. How you met. What you've done together so far. What your proposal was like. And why you're getting married. The process to achieve a ceremony like this is pretty simple, you just need to choose a celebrant who's with the program.
In order to get to know you, your celebrant will ask you a series of questions via a face to face meeting or online forum such as Zoom. These questions are designed to get you talking about your relationship together, and from the information you provide your celebrant will craft the love story that they deliver at your ceremony. Therefore, the questions your celebrant asks and the information they hitherto extract from you is the key ingredient in a fun ceremony. 
Finding a like-minded celebrant is a great way to ensure your love story is presented in a way that you'll absolutely treasure. Someone who's sense of humour is similar to yours will have you and your guests laughing along the way. And someone with whom you have shared values will celebrate in your love and warmth, with happy tears following. 
Most of the wedding celebrants on this list are funny. They all have a sense of humour. And they're all about creating a fun wedding ceremony that focuses on you & your love story. You can enquire with all celebrants by viewing their profile & using the enquiry form provided there.

Zoe Sabados
Locations: Sydney + 100km
Services: Weddings, Elopements, Legals Only, Surprise Weddings, MC
Bio: Official party starter, Zoe is an upbeat, super fun officiant who delivers very personal, heartfelt ceremonies with plenty of hype and energy. Reviews typically state "most fun celebrant ever" and "guests were raving about her".

Meggan Brummer
Locations: Northern Beaches + 30km
Services: Weddings, Elopements, Vow Renewals
Bio: Meggan is a sophisticated, warm and engaging storyteller who crafts one-of-a-kind wedding ceremonies drawing on 20 years experience as a published writer. With Meggan you get an elegant, calm and funny wedding officiant with a cheeky and endearing sense of fun.

Michael Janz
Locations: Sydney CBD + 50km
Services: Weddings, vow renewals, MC
Bio: Engaging marriage celebrant who puts people at ease with his warm & welcoming voice and mischievous sense of humour. Michael is a brilliant conversationalist & storyteller who easily connects with people of all backgrounds. Simple and fun wedding ceremonies are Michael's main style, delivered with experienced professionalism. 

Josh Withers Wedding Celebrant
Locations: NSW wide
Services: Weddings & Elopements
Bio: Kind & passionate people person with a relaxed approach and infectious laugh. Suits adventurous couples who want a ceremony with meaning & purpose. Fun & funny ceremonies that are full of heart on mountaintops & beyond.   
 View Josh Withers Wedding Celebrant

Monty King
Locations: Newcastle, Hunter Valley, North Coast, Sydney
Services: Weddings, Elopements, MC
Bio: Around 150 online reviews describe Monty's wedding ceremonies as relaxed, funny and full of love. A larger than life personality with a quick wit and heart of gold who shares stories like "how you met, where you're at and what's up next". 

Wed By Jade 
Locations: Newcastle, Central Coast, Hunter Valley
Services: Weddings, MC, Vocalist
Bio: A singing celebrant with ceremony, music & MC combined packages. Bubby, happy personality with a beautiful voice, fun nature & calming presence.

Robyn Pattison
Locations: Sydney + surrounds
Services: Weddings, Elopements, MC
Bio: Possibly the most loved wedding celebrant in Sydney. Known as 'The Wedding Pixie', Robyn's trademark ceremonies are filled with love and laughter, and very often liberally dispersed with perfectly delivered one-liners in the foreign language of her guests. A tiny, pocket rocket of a human with a huge, delightfully warming & inclusive presence.

Sharon Bridges
Locations: Wollongong & Illawarra
Services: Weddings, MC
Bio: Delivers fun & personalised ceremonies in a calmer style than some of the more energetic celebrants on this list.  Couples love how helpful, organised and easy to work with that Sharon is. 

Holymatrimonty
Locations: Newcastle, Hunter Valley & Central Coast
Services: Weddings, Elopements
Bio: You'd better believe he's turning up to your wedding crackin' that whip. Expect 

special memories and funny moments thrown in all over the place. Deeply personal and loving ceremonies full of hilarity and all the feels.


Trung Minh Truong
Locations: Sydney
Services: Weddings, Elopements, MC
Bio: Helpful, organised and accommodating, Trung ensures a stress free, fun ceremony. 

Ali Rollinson
Locations: Byron Bay & North Coast
Services: Weddings
Bio: Kenny Rogers loving, horse rider & trainer who was once a r

hinoceros zoo keeper & who's previously opened a rural cafe

. Gregarious, bubbly, outgoing & fun.

Belinda Pooley
Locations: Hunter Valley, Central Coast, North Coast
Services: Weddings, Vow Renewals, Legals Only
Bio: Gentle natured, funny celebrant with a quirky sense of humour. Fun & down to earth, Belinda is a calming influence who puts her couples at ease. Easy to talk to and smiley.

Rebecca Bunyan
Locations: Mudgee, Riverina, anywhere rural or coastal
Services: Weddings
Bio: A farmers wife, Bec is well at home in a rural setting. She delivers fun & relaxed weddings in her easy going, bubbly manner. Helpful & accommodating in the lead up.

Adam Straney
Locations: South Coast, Southern Highlands
Services: 

Weddings, Elopements, Legals Only, Vow Renewals, MC

Bio: Fun radio personality who delivers light hearted, romantic wedding ceremonies with plenty of laughs. Adam has a cheeky sense of humour and is a calming influence on the wedding day.

Megumi Carver
Locations: Sydney
Services: Weddings, Legals Only, Vow Renewals, MC
Bio: Diminutive style icon and bubbly Japanese speaking wedding celebrant with a fun sense of humour. Quirky and easy going, Megumi delivers heartfelt, bilingual ceremonies full of warmth and laughter. 

Andrew Michael
Locations: Byron Bay
Services: Weddings, Elopements, MC, Musician
Bio: Guitar strumming, charismatic & funny celebrant who can soundtrack your ceremony. Intrepid, relaxed & down to earth.
These 15 professionals are some of the most fun wedding celebrants in NSW. We've curated this list from literally 100's of celebrants so chances are, if you're a fun loving couple who want a ceremony that reflects who you are & what your wedding means to you, one of the celebrants on this list will be your perfect fit. 
All of the celebrants on this list come highly recommended both within the industry by the vendors they regularly work with, and by the many couples whose wedding ceremonies they have officiated. The bio's provided for each celebrant, give an overview of their individual expertise and the type & style of ceremonies they deliver. This should help you pick out celebrants most likely to understand and provide exactly the ceremony you want.
Adventurous couples who are planning to get married on a mountaintop that requires a 4 hour hike or overnight camping expedition will find 'adventurous' & 'intrepid' celebrants on this list. Similarly, these celebrants are likely to be ideal for couples getting married somewhere that's only accessible by helicopter. You'll also find some celebrants described as 'funny'. These are your go-to officiants for laughter filled celebrations. Don't be concerned that you're signing up for a comedy act with a 'funny' officiant, these are professional celebrants who balance humour with the right sense of occasion.  
Once you've chosen a handful of celebrants to enquire with, use their enquiry forms to ask about availability on your preferred wedding date and request more information about their services. Be mindful that you've found these celebrants on a list of Most Fun Celebrants in NSW. They are incredibly sought after celebrants. 
To ensure that your enquiry is given priority, provide plenty of details about your wedding & tell the celebrant why you think they'd be a great fit for your ceremony. The more information a celebrant receives from you, the better they can respond, and the better you'll get to know each other before your big day - leading to a very 'you' ceremony filled with love & laughter. Celebrants love clients who invest time in sending their enquiry. It shows you care about the service they provide and value their expertise.
Based on the responses you receive, we suggest taking the time to meet with 3 or 4 celebrants to find 'the one'. A question you could ask yourselves is, "will this person kickstart our marriage the way we intend it to continue?" 
Explore all fun wedding celebrants in Sydney, Hunter Valley, Byron Bay and the South Coast.