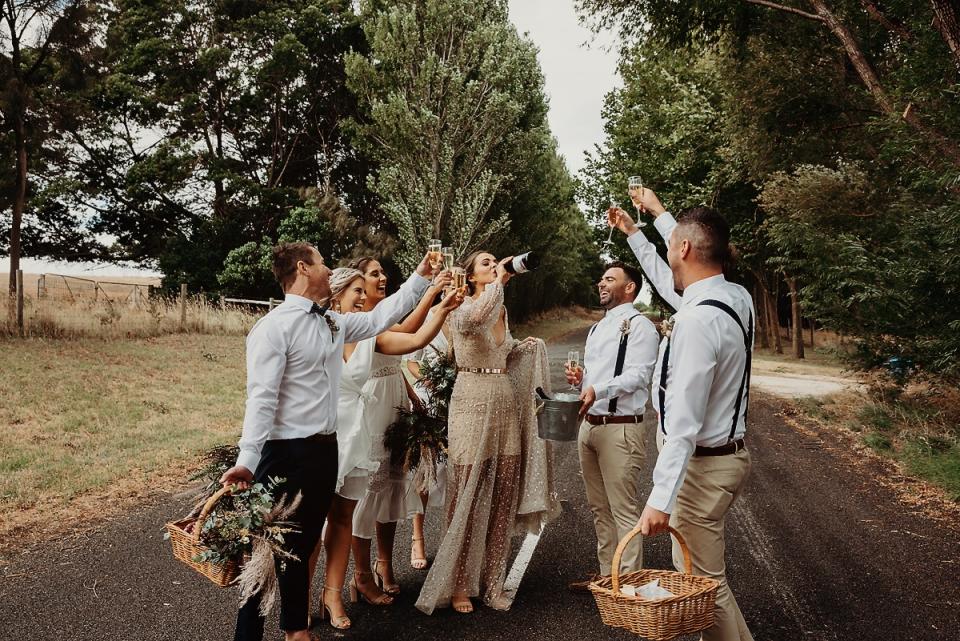 Want to create a unique wedding hashtag for your big day? Having a unique wedding hashtag is a great way to bring your wedding party together and celebrate one of the most beautiful and memorable days of your life with the people you love. There's no better way to get guests involved in the excitement of your wedding day, than having a unique wedding hashtag.
There are probably tons of new wedding phrases buzzing around in your head now that you've embarked on the wedding planning journey—everything from outdoor wedding venues to escort cards to sequel weddings, first looks, micro-weddings, and now wedding hashtags. If the word "wedding hashtag" is new to you, read on friend, we're here to help.
What Is A Wedding Hashtag? 
Here's the deal... a wedding hashtag is just like the everyday hashtags you use on Twitter, TikTok, "The Gram," or Facebook. They're words or phrases grouped together "technically" by putting the tiny # character in front. For example, if you were to search #wedlockers on Instagram, you'd find all posts that we, our couples and Australian wedding venues and vendors have tagged us in. Hashtags enable you to search posts and filter relevant content on social media.
Wedding hashtags are published in the caption or comments of social media posts, enabling users to filter posts featuring that hashtag. Wedding hashtags are often created by engaged couples to encourage wedding guests, vendors, friends and family to connect on the topic of their wedding by sharing images, videos and other posts on social media. 
Wedding hashtags are a pretty cool way to connect all your favourite peeps, draw them into the excitement of your wedding and make everyone feel included in your big day.
Creating unique wedding hashtags allows you to group and share your wedding photos by creating an on-the-go, online social photo album. You don't want your wedding photos to get lost in the sea of endless images on social platforms. And creating a unique wedding hashtag helps you tell your love story digitally. And it's not just for your wedding photos. You can use your hashtag throughout the entire wedding planning process. 
What Is A Wedding Hashtag Used For?
There are many uses a couple can get out of brilliantly well-crafted, unique wedding hashtags. Most couples want the wedding and the tasks surrounding it to be as organised as possible. That's where wedding hashtags enter the stage (pun intended) because they have multiple uses in modern wedding celebrations. Here are some ways engaged couples are using hashtags. 
1. It's A Creative And Fun Way To Announce Your Wedding
A wedding hashtag is an informal announcement to create excitement around your upcoming nuptials. The hashtag signifies every small and big effort that goes into making the reception happen. You can use the hashtag when you find the perfect dress or tuxedo, when you pick out your floral theme, and when you pack those to-die-for wedding favors. Then, when the festivities have ended, the wedding hashtag will live on when you look back on the photos of that day. 
2. It Helps Organise Photos And Social Media Posts On Your Wedding Day
Wedding hashtags are incredibly practical because it takes a lot of effort and time to manually send all the photos to everyone. And it's more time-consuming to ask them for precious moments that they captured. Using unique wedding hashtags means everyone can easily tag themselves and save/repost which photos they like and may have been missed by the photographer. If you've used an inside joke in your wedding hashtag known only to your dearest loved ones, you could laugh about it for years to come. 
3. You Can Use It As A Creative Element In Your Wedding 
Hashtags are not just for use on social media, they're invaluable for tons of fun activities during the wedding itself. You can use the hashtag on invites, banners, signage in the reception, seats, cookies, and even on cakes and napkins if you wish. It's a staple for any halfway decent photo booth and the props to go with it. You can play around with fonts, colours, and letter sizes to maximise the appeal and style. A master tip is to use puns or recognisable words for your wedding hashtag. 
Wedding Hashtag Ideas 
Coming up with fresh ideas for unique wedding hashtags can be a bit of a challenge. Naturally, you want a unique hashtag. One that hasn't been used before and would really stand out in a sea of hashtags. If you have a considerable social media following,  you'll want to use a good mix of popular, trending hashtags. Here are some wedding hashtag ideas to get your creative juices flowing. 
#Tobemarried
#forlove
#soontobehitched
#Smithweddingparty2021
#MarysaysIdo
#Murreymatchmadeinheaven
#Isaidyes
#Tohaveandtoholdwilliam
#Tilldeathdowebringjoy
#Myonlyfishinthesea
#newlywedsinthehouse
#Igothitched
#livingtogetherforevermore
#MarkwedsLacey2021
#Wedandforeverprosperous 
#Metyouandlovedyou
#loveatfirstclick
#beautywedsbeast
#Onceuponawedding
#aloveasoldastime
How To Get A Custom Wedding Hashtag
If you want your wedding to be the event of the year, then a custom wedding hashtag is a must. And there are tons of ways to come up with one that will be unique. You can use inside jokes, combine names, or puns. The sky's the limit when you're thinking up imaginative hashtags to capture attention. A custom wedding hashtag is a perfect opportunity to express yourself, showcase your personality, and highlight what you love most about life. 
Use A Wedding Hashtag Generator
What Is A Wedding Hashtag Generator
A wedding hashtag generator is an online tool that asks you for various details such as the name of the spouse and your name, birth dates, anniversary dates, along with a few quick, insightful questions. Then it churns out possible hashtag choices.
What Are The Pros/Cons Of Using A Generator
There are several pros to using a wedding hashtag generator. Firstly, you'll receive many options to choose from immediately. This is fantastic if you like immediate results. And even if you don't set your heart on one, they'll give you ideas to brainstorm on. They're also great if you're suffering from severe writer's block. But one of the best pros for using a hashtag generator is that they're typically free. And, of course, you can always improve the options it produces and tailor them to your needs. 
One of the cons of using a hashtag generator is that they're machine generated. A wedding hashtag generator doesn't have the creativity and innovative spirit of a professional writer specialising in immortalising unions or clever and unique hashtags. It can produce generic options that may not have the effect you are hoping for. You never know how many people have received the same answers from a wedding hashtag generator, as they tend to have finite combinations. 
Use Professional Services Like Wedding Hashers
Get Wedding Hashtags Written By Real Professional Writers 
Getting a custom wedding hashtag written from a professional writer that specialises in such content is, of course, a whole other ball game. So instead, the company Wedding Hashers employs scores of gifted young individuals who have experience crafting wedding hashtags for both linguistic appeals and social media impact. Do you want a few thousand likes on your wedding photos? Then hire Wedding Hashers to come with some killer hashtags to leave people in awe.
Advantages Of Getting Hashtags Written By Real Professionals
The first and most obvious advantage is the original thought you get from working with a professional writer. A professional knows how to combine various elements with thought and feeling to create a hashtag no one will forget. It's no less than the work of a true wordsmith.
With companies like Wedding Hashers, the couple can talk to the writer about their sense of style, preferences, and what makes them happy. The writer can then incorporate those sentiments into beautiful words, which an automated generator would never be able to do. 
Hiring a professional also comes with the advantage of receiving wedding hashtags that haven't been used, reused, and recycled. This means they have high chances of going viral or starting a trend! Contrary to popular belief, hiring a professional wedding hashtag writer won't necessarily break the bank (it all depends on who you hire). You can hire one for as little as $30, depending on the package or number of hashtag options you want. It's a small but very worthwhile investment to add that extra sparkle to your festivities. 
Relevance is a significant concern for wedding hashtags. However, for professional hashtag writers, it's a given that they have their finger on the pulse and know what's trending. And they absolutely know what sounds good rolling off-the-tongue. So, you don't need to worry about carrying out relevant research if you've hired a professional hashtag wordsmith. 
How A Professional Wedding Hashtag Service Works
A professional hashtag service has a team of dynamic writers who use details from a questionnaire to create your unique wedding hashtags. They use a combination of your names, likes, favourite places, and perhaps even the wedding venue. And the result is a unique wedding hashtag distinctive to you as a couple.
It All Starts With The Little Details
An exciting, mind-blowing, and unforgettable wedding experience begins with the minor details, including your hashtag. Having a wedding hashtag will make the entire wedding journey an experience that you'll enjoy every step of the way. From the epic wedding proposal to the wedding exit and every step in between can be stored together online in your social photo album using your unique wedding hashtags.
Wedding hashtags are the best way to relive and revisit your wedding day for many years. And, you can continue to use your hashtag as a slogan for life, celebrating every milestone you experience throughout your love story. 
Want to learn more about wedding hashtags? For the history buffs...
Origins Of The Wedding Hashtag Trend
The hashtag symbol itself, formally known as the Octothorpe, also called the number sign or pound sign, dates back to ancient Roman times. WOW! Who would have thought? A New Yorker article,  "The Ancient Roots of Punctuation," explains that the hashtag's story begins around the 14th century with the introduction of the Latin abbreviation "lb," which eventually mutated into the abstract #.
The specific use of the hashtag symbol as we know it is a lot older than you may think. A Lifewire article on the topic explains,  "The metadata tags have been around for quite some time, first being used in 1988 on a platform known as Internet Relay Chat or IRC. They were used much then as they are today for grouping messages, images, content, and video into categories. The purpose, of course, is so users can simply search hashtags and get all the relevant content associated with them." We had no idea the hashtag had been around so long. 
But, when did the wedding hashtag emerge on the scene? Buzzfeed tried to track down the first wedding hashtags and, based on researching old Twitter posts from June 2008, the first wedding hashtags were used by a man named Jon Bohlinger. (Source: Offbeat Bride)
Ready to create your very own unique wedding hashtag? Have fun getting creative and if you need inspiration on the witty word-smithing front, Wedding Hashers have you covered. Thanks to One Day Collective for the cover image.
Have a topic of interest to Brides & Grooms? Submit a guest post to share with our audience.