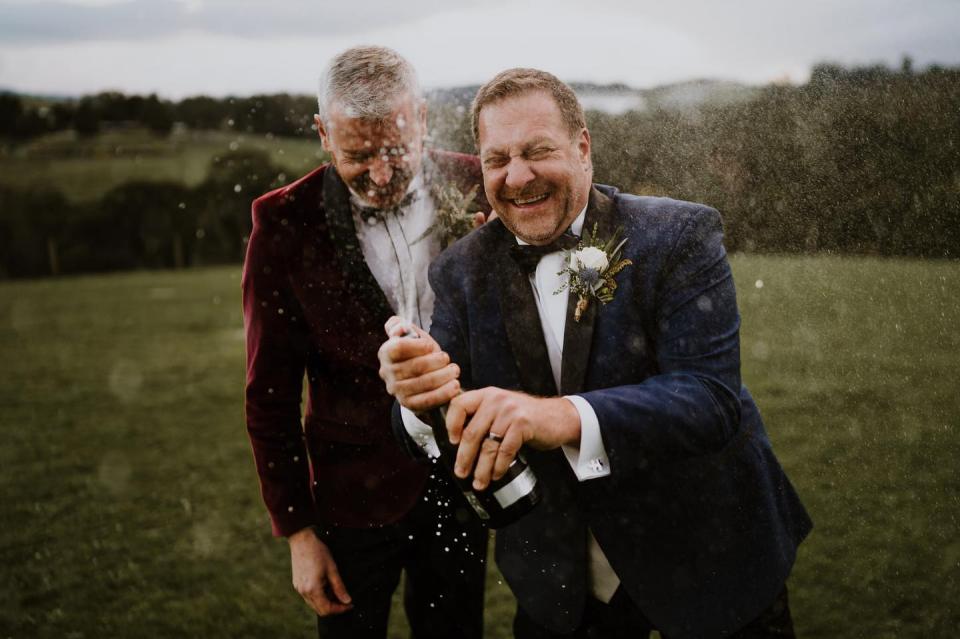 In no other life event have traditions endured so stubbornly as they have with weddings. Brides are still being given away. Dowry's remain a thing. There's the aisle, the vows, the rings, the first dance, the Dad dance and the list goes on. Some of these moments you wouldn't give up for a modern quid. But where's the shiny new traditions? The italic-fonted neon sign version of the ceremonial to-do's?
In this article, 4 industry professionals share how their couples are creating their own wedding traditions. They describe how modern couples are striving for a more relaxed wedding day filled with fun and laughter. This is often being achieved through ceremonial ideas that are more inclusive of wedding guests. 
There is also a movement among modern couples to inject more meaning into their wedding ceremony, and the ideas shared by wedding professionals in this article offer great inspiration for couples who wish to create their own traditions in this regard. Here's some of the new ways that couples are formally expressing the meaning of their relationship...
Walking up the Aisle
For some couples, it is one of the biggest moments of their life. Walking up the aisle to the person you'll share your life with, in front of all your family and friends is something you won't forget. And yet that moment is but a mere minute of your future together. 
A big fan of inclusive weddings, Hobart celebrant Kath Tilly believes it adds to the day when guests play an active role in the ceremony. "One of my favourite ways to include guests at the start of the wedding ceremony is to surprise them with a 'communal bouquet'." 

A communal bouquet tied together with lace
Kath explains, "when guests arrive, they are greeted with a basket of flowers and invited to each take one. Guests are then creating the aisle way as the music starts and the couple/bride walks down the aisle collecting a flower from each of the guests as they go. Once the couple/bride arrives at the altar, the colourful bouquet made with many well wishes from their loved ones is tied with a keepsake ribbon."
Not everyone wants to walk up the aisle however. And many couples these days elect to do away with this tradition, particularly if they don't want to be 'given away'. On this topic, Sydney celebrant Amy Watson shared with us "sometimes it's not only what you include in your ceremony that makes it unique, it's what you leave out and there are many old traditions that just don't resonate anymore with modern couples." 

First Look by Lulu & Lime 
We've seen a growing movement recently, with more and more couples walking themselves down the aisle, either the Bride alone, or together as a couple. This is sometimes preceded by a 'first look' prior to the wedding ceremony. At a first look, a couple gets to see each other for the first time in a more intimate setting away from the eyes of all the guests.  It's a great opportunity to share a special moment together before the big event, and couples often stroll hand in hand into their wedding ceremony from there. It's worth considering the value of first look photos too - they can be highly emotive and are a wonderful reminder afterwards of the feelings that were shared together in that moment.
Adelaide photographer Bridget Quain is a big fan of the role parents are playing at weddings these days. "As the world moves towards greater equality for women, I love the role reversal I now see at Weddings.  Dad traditionally walks the Bride down the aisle, but in some cases Mum will join.  In other examples the father has maintained the walk down the aisle, but Mum has given the opening speech at the reception.

Mums love signing the marriage documentation. Image: Bridget Quain
Gone are the days when the focus was on the 'Father of the Bride' with a string of duties to deliver and Mum silently in the wings.  These are now shared roles between parents (together or divorced) in a sign of unity.  I especially love it," says Bridget, "when the Mum's are joint witnesses and you can see their happiness spilling over as they sign the certificate.  I think this is a simple way that couples are modernising their celebration to align with social expectations and I look forward to seeing more of it!!"
The Order of Service
Amy Watson loves seeing couples put their own spin on tradition and incorporate elements into their ceremony that reflect their personalities. "Some of my favourites are a signature drink on arrival, or shot/toast as the couple are introduced as newlyweds. This always goes down a treat with guests and is often a twist on a culturally significant tradition. 
I love seeing couples use the tired old 'order of service' as a way of injecting some fun. It could contain funny bios or a roasting of the wedding party, instructions for a treasure hunt or group sing session or some cute pics of the couple. It can also be used as a way of communicating your values as a couple. Perhaps you have donated to a worthy cause instead of buying your guests a gift, a new tradition I absolutely adore and hope to see more of."

Both parents are gracing the aisle these days
The Exchange (of vows & other things)
Aside from the legalities which you are required to say during your wedding ceremony, you can exchange whatever other words and things that you like. "The tradition of exchanging vows," says Amy, "has also been turned on its head (in a good way). More couples are now writing personal vows and some even taking it further by exchanging 'ninja vows'. What the?! I hear you say.
Ninja vows are simply vows that you write for each other rather than for yourself. When the time comes you exchange cards and are forced to read all those lovely promises your partner has written for you and the result is generally a whole lot of fun and your guests left in stitches. You can do the same thing with The Asking which is traditionally the part where you say I Do.
My couples often ask their guests to do their own vows, maybe a vow of support for the couple, or a promise to commit to the party that's about to follow. The more you include your guests and make them feel part of the whole experience, the more memorable the experience will be for everyone."
It's worth noting that you don't have to exchange rings if you don't want to. Amy suggests that you can exchange something else or nothing at all.  Incidentally, you don't have to carry flowers either if it's not your thing.

Wedding shots - Bridget Quain Photography
The Witnesses
Penelope from Celebrations by Penelope encourages couples to think laterally when choosing their witnesses. "People get stuck on their witnesses being from their wedding party. A witness just needs to be over 18 and not under the influence! Pick your mums, your granny or your best mate. Share the wedding love around and give the honour to someone that you want to give a unique job or task to."
Another option that's inclusive and fun for guests is to randomise the signing. "More people are doing a 'lucky dip' of sorts where they pick their witness name out of a hat/bag. Sometimes they put in 20 or so names of people they might like to pick or sometimes the whole guest list. But at the end of a ceremony to say, 'And the winner is...come join us at the signing table' creates so much excitement and just a little extra flair to the day."
Use these ideas as inspiration to create your own unique wedding traditions. You can personalise virtually every element of your wedding ceremony to create special moments throughout that are filled with meaning to you both. To amp up the fun, incorporate inclusive elements that your guests can get involved with. And remember, if it doesn't feel right for you, kick that tradition to the curb and create your own!
Cover image: Elsa Campbell Photography