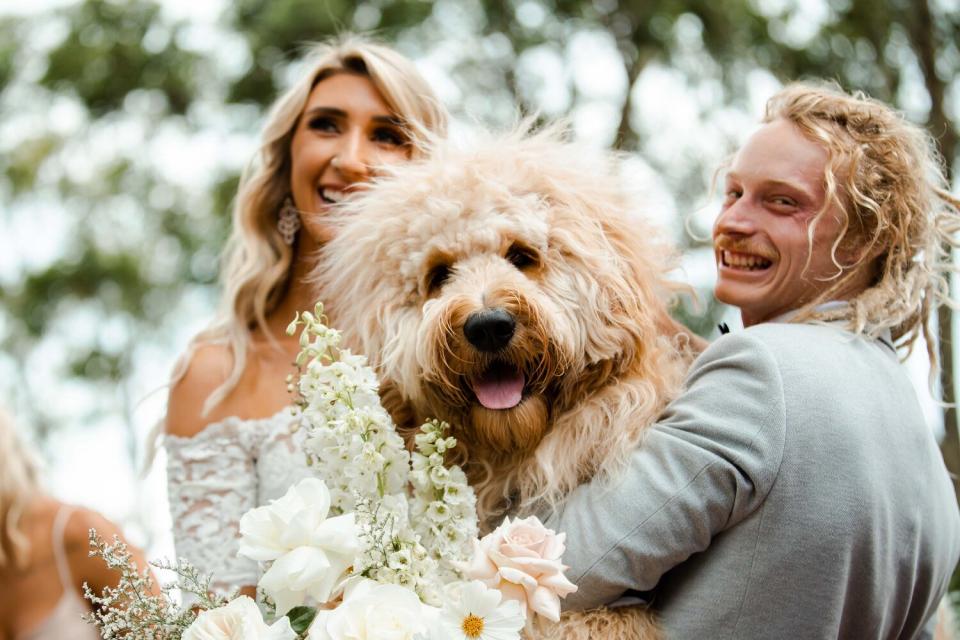 Pet friendly wedding venues have become increasingly more prevalent in Australia over recent years. As more and more couples have requested the presence of dogs and other animals at their wedding ceremonies and receptions, it has become reasonably common to see pets being catered for on the wedding day.
In fact, the presence of pets at weddings has given a boom to an industry of products and services dedicated to ensuring they are looked after on their parents' big day. From pet minding services that cater to the needs of pets and their owners at wedding venues, to pet clothing and accessories that match the day's dress code.
Below is a list of the most pet friendly wedding venues in NSW. From dog friendly wedding venues to places where you can share your wedding with llamas, donkeys and horses. These are the wedding venues that welcome your furry friends with open arms and a scratch behind the ears.
Most pet inclusive venues will require that your fur baby has a dedicated attendant on your wedding day. The attendant will be required to pick up after your pet and ensure they're under control via a leash at all times. Attendants are also required to keep dogs away from the wedding venue's restricted areas such as commercial kitchens and food prep areas.
When it comes to choosing your pet's attendant, you can either nominate a wedding guest or hire a professional pet minder. Professional minders remove the responsibility of looking after your pet from your guests and ultimately yourselves - so that you can all relax knowing that Rex the Labradoodle isn't digging up the veggie patch or chasing the neighbour's sheep.
Here is a list of pet friendly wedding venues that welcome dogs and animals in all fluffy shapes and sizes.
Pet Friendly Wedding Venues
Best in NSW
Blue Mountains Venues
Byron Bay Venues
Central Coast Venues
Hunter Valley Venues
Illawarra Venues
North Coast Venues
Riverina Venues
South Coast Venues
Southern Highlands Venues
Sydney Venues
Off-the-beaten-track 
Top 10 Pet Friendly Wedding Venues in NSW

1. St Joseph's Guesthouse
Location: 1029 Saint Albans Road, Saint Albans, NSW 2775
Capacity: 10 - 100
Accommodation: Sleeps 10
St Joseph's Guesthouse is a dog friendly wedding venue built in the ruins of 160 year old church. This unique Hawkesbury venue has 5 bedrooms in the upper two storeys offering pet friendly accommodation for 10 guests.
On the ground floor of St Joseph's Guesthouse is an intimate function space seating 60 guests or catering for 100 for a cocktail reception. Affordable wedding packages start at $3,500 including the accommodation and exclusive use for 3+ days.  

2. The Woods Farm
Location: Bayly Road, Tomerong, NSW 2540
Capacity: 120 - 200
Accommodation: Sleeps 126
The Woods Farm is a pet friendly wedding venue and farm stay with a menagerie of petting animals onsite. Located in Jervis Bay on the South Coast, The Woods Farm sleeps your entire guest list and is an ideal destination for a weekend wedding away.
The property features a one-of-a-kind open air chapel which you reach via a spectacular garden arbor walkway. There is no grander wedding entrance for you & your pooch! The reception venue at The Woods Farm is a rustic wedding shed hung with an awe inspiring collection of elegant chandeliers.

3. Chapel Hill Retreat
Location: 

Berambing Crest, Berambing, NSW 2758

Capacity: 150
Accommodation: Sleeps 34
Chapel Hill Retreat is an all-in-one country venue with incredible valley views over world heritage Blue Mountains national park. Pets are welcome to attend the wedding ceremony location, any of the outdoor reception sites and can stay in the 7 cottages onsite.
The stunning retreat has 7 ceremony & reception spaces including lush gardens, a natural bush cathedral, a non-denominational chapel and a beautiful white function room adjoined by a spacious event deck with breathtaking views.

4. Goosewing Cottage
Location: 

1194 Mount View Road, Mount View, NSW 2325

Capacity: 20
Accommodation: Sleeps 12
Goosewing Cottage is the ultimate Hunter Valley elopement venue for couples with fur babies. At this eco-friendly farm you can BYO donkeys or other furry friends to be a part of your special, intimate elopement. 
All inclusive wedding packages start at an affordable $3,295 with a choice of celebrant and an award winning (& dog loving) photographer included. A reception dinner can be hosted in the larger of two onsite cottages which has a swimming pool, or you can book a private dining room at one of the many amazing local restaurants. 

5. The Cove Jervis Bay
Location: Ellmoos Road via Booderee National Park, Jervis Bay NSW 2540
Capacity: 150+
Accommodation: Sleeps 111
Wedding Packages: BYO
The Cove is a secluded seaside resort situated on its own private beach in Jervis Bay. Venue hire of this amazing coastal oasis includes accommodation for your entire guest list, a choice of pet friendly ceremony sites including the beach or beachfront garden and use of the reception hall or outdoor bar & courtyard for a wedding reception under the stars.

6. Leaves & Fishes
Location: 737 Lovedale Road, Lovedale, NSW 2325
Capacity: 2 - 300
Accommodation: Sleeps 12
Leaves & Fishes is a 20 acre Hunter Valley property with lush tropical gardens and rainforest providing a beautiful setting for pet friendly weddings. You'll need to ask for permission to have pets onsite and decisions are made based on the age and temperament of your hound.
Venue hire includes 5 luxury boat sheds that sleep 12 guests. One of the boat sheds is a 2 bedroom villa with a large deck over the water suitable for intimate wedding receptions. For larger weddings there's a gorgeous Tuscan-style sunken garden, a unique banquet hall with a roman bath and a little restaurant.

7. Tides Byron Estate
Location: 290 North Teven Road, Teven, NSW 2478
Capacity: 140
Accommodation: Sleeps 22
Wedding Packages: Tailored
Tides Byron Estate is a pet friendly destination specialising in private weddings and comes with amazing views over a macadamia plantation to the northern coastline of New South Wales. Just 30 minutes from Byron Bay, this 100 acre property features a luxury 8 bedroom villa and a modern wedding hall which comes fully furnished with a picturesque outdoor terrace.
The two storey luxury villa has a poolside event space perfect for pre-wedding & post-wedding events, or which can be utilised as your wedding venue for smaller celebrations.

8. Goolawah Retreat
Location: 288 Point Plomer Rd, Crescent Head NSW 2440
Capacity: 30 - 150
Sleeps: 32 + camping
Wedding Packages: DIY/BYO
Situated by the coast and surrounded by native bushland, Goolawah Retreat is a beautiful place for outdoor, festival style weddings. Hire of this 28 acre estate comes with 5 self contained cottages for 2+ nights and use of a covered pavilion and adjoining festoon-lit courtyard for receptions.
Goolawah Retreat is a very relaxed wedding destination that is highly accommodating of four legged friends. Extra guests are welcome to camp onsite and the venue has no curfew.

9. Mali Brae Farm
Location: 562 Nowra Rd, Moss Vale, NSW 2577
Capacity: 30 - 110
Accommodation: Complimentary for 2
With 90 acres of relaxed farmland, manicured gardens and a picturesque lake around which to meander with your pooch, Mali Brae Farm is one of the best pet-friendly wedding locations in NSW. The property features 6 ceremony sites (including a dog friendly indoor venue) and two reception venues - a micro wedding hall that seats 30 - 55 guests, and a renovated barn for up to 110 guests.

10. Eleven Eighty Weddings
Location: 1180 Bolong Road, Coolangatta, NSW 2535 
Capacity: 80
Wedding Packages: DIY/BYO
Accommodation: Sleeps 15
With 5 pet friendly event spaces onsite, Eleven Eighty is one of the state's most versatile places to get married with dogs. This quirky little 3 acre block features a glass marquee courtyard, a micro wedding barn that seats 30 guests, a refurbished school hall often used as an indoor dance floor and a renovated train carriage that seats 20 or can be utilised as a getting ready salon. 
Pet Friendly Venues in the Blue Mountains

11. Loxley on Bellbird Hill
Location: 

993 Bells Line of Rd, Kurrajong Hills, NSW 2758

Capacity: 130
Info: Pet friendly wedding venues with private, manicured gardens at a heritage style lodge. Dedicated space for smaller weddings. Accommodation for 26 with a swimming pool onsite.

12. Dryridge Estate
Capacity: 220
Info: Dog friendly wedding venue with gardens, a clear roof marquee & sprawling country views. One of the best pet friendly places in the Blue Mountains to hire exclusively for the weekend. (12 guests are accommodated onsite)

13. Burnham Grove Estate
Capacity: 150
Info: You'll want to have your dog well groomed and dressed in his finest black tie for your wedding in these stunning manicured gardens. Pets are welcome for outdoor wedding receptions & there's also a permanent marquee. 
---
---
Pet Friendly Venues in Byron Bay

14. Coorabell Estate
Location: 36 Keys Road, Coorabell, NSW 2479
Capacity: 10 - 150
Accommodation: Sleeps 10
Just 20 minutes from Byron Bay, Coorabell Estate is a private 5 bedroom property that allows pets at weddings. The beautiful house and grounds are situated on 28 acres with stunning views over surrounding rainforest. There's a terrace lawn for outdoor or marquee weddings and for smaller celebrations the house has a poolside cocktail area and a covered balcony that seats 40 guests.

15. Midginbil Eco Resort
Location: 252 Midginbil Rd, Midginbil, NSW 2484
Capacity: 150
Accommodation: Sleeps 150+
Wedding Packages: DIY/BYO
Midginbil Eco Resort is a fun and pooch friendly wedding destination located on 400 acres in the Byron Bay Hinterland. At Midginbil your entire guest list stays onsite with you for the weekend for 3 days of curfew-free celebrations. The property has 3 ceremony venues, a reception barn, marquee area, a late night bonfire site and a swimming pool, tennis and volleyball courts.
---
Pet Friendly Venues on the Central Coast

16. Somersby Garden
Capacity: 120
Info: Secluded 50 acre garden property with plenty of pet friendly wedding venues to choose from. 

17. The Stables of Somersby
Capacity: 250
Info: Hire this dog-friendly farm for your exclusive use and stay overnight in the stables. One of the Central Coast's DIY & BYO wedding venues, the location is an ideal blank canvas for glam rustic weddings. 
Pet Friendly Venues in the Hunter Valley

18. Adams Peak Country Estate
Capacity: 180
Info: Rustic barn venue with ceremonies overlooking the Hunter Valley. Available for exclusive use & weekend hire with accommodation for 24. BYO drinks on request. Great spot for outdoor reception.

19. Margan Winery
Capacity: 200
Info: Eco-friendly winery that offers garden weddings with a country vibe. All-in-one venue available to hire for your exclusive use.

20. White Barn
Capacity: 150
Info: All-in-one blank canvas venue to style as your own. High-end barn with all inclusive packages.

21. Maddies of Bolwarra
Capacity: 60
Info: Blank canvas, garden venue with a rustic vibe. Well suited to smaller weddings and elopements with accommodation for 6. 
---
---
Pet Friendly Venues in the Illawarra

22. Ravensthorpe
Capacity: 200
Info: A Georgian manor house with classical gardens & mountain backdrop. Blank canvas space for your exclusive hire. Accommodation onsite for 10+ with a swimming pool & tennis court.

23. Tumbling Waters Retreat
Capacity: 140
Info: Stunning ocean view venue with luxury accommodation for 24. Private garden ceremonies overlooking the ocean.  Option to BYO alcohol on request. Also suited to small weddings & elopements. 

24. Seacliff House
Capacity: 180
Info: The ultimate light-filled blank canvas barn with an industrial vibe. Floor to ceiling glass windows with views across rolling green hills to the ocean. BYO stylist! Property can accommodate 24 guests.

25. The Woolshed
Capacity: 350
Info: A rustic blank canvas to style as you please. Exclusive use for wedding receptions. 
Pet Friendly Venues on the North Coast

26. Stanley Park
Capacity: 200
Info: Historic waterfront estate for DIY & BYO weddings. Suitable for small weddings & outdoor receptions. The property is available for your exclusive hire & accommodates 15.

27. Longview Farm
Capacity: 120
Info: DIY & BYO farm weddings with no curfew. Rotating house provides luxury accommodation for 16 and is suitable for small weddings & elopements. Property can be hired exclusively for the weekend and accommodates 36 in total + glamping. 
Pet Friendly Venues in the Riverina

28. Kimo Estate
Capacity: 200
Info: Rustic, BYO venue in an historic grain shed. Farmland property with unique, eco-friendly & self contained accommodation for up to 30 guests. 
Pet Friendly Venues on the South Coast

29. Willow Farm Berry
Location: Galls Lane, Berry - South Coast, NSW
Capacity: 130
Willow Farm is a 160 acre private property, synonymous with outdoor weddings. The farm is dog friendly but has animals onsite and therefore all pets must be kept on a leash.
Reception venues include a rustic entertainment shed although most couples hire a marquee to make the best of the beautiful countryside setting. Wedding packages are DIY & BYO including ceremony, photos & reception and owner Keri also provides an all inclusive option.

30. Fig Tree Park
Location: 58 Sherringham Lane, Central Tilba, NSW 2546
Capacity: 2 - 200
Accommodation: Sleeps 2
Wedding Packages: DIY/BYO
Fig Tree Park is a country estate located near the quaint town of Tilba Tilba and is situated on a hill side overlooking 180° views of the ocean. A two storey French-style cottage sits at the centre of the property and is surrounded by paddocks of horses where your pooch and you can roam for gorgeous wedding photos.
Fig Tree Park features beautifully manicured gardens and a huge fairy lit fig tree under which is perhaps the most spectacular setting for outdoor wedding receptions in NSW. Set up with large round tables and cross back chairs the amazingly romantic backyard lights up in the evenings under thousands of twinkling fairy lights. Elopement packages available.

31. The Lodge Jamberoo
Location: 406 Jamberoo Mountain Road, Jamberoo, NSW 2533
Capacity: 300
Accommodation: Sleeps 136
Wedding Packages: All inclusive
The Lodge is a quiet pet friendly hotel that you can hire for the exclusive use of your wedding. The 43 newly renovated rooms surround a huge 25 metre swimming pool offering a fun setting for a poolside recovery party.
The wedding ceremony site is in an amazing Pine Tree Cathedral and features an open air timber chapel set beside a quietly trickling stream. The reception venue is a beautiful blank canvas hall that comes with a choice of all inclusive wedding packages starting at under $100 per person.

32. Mountain View Farm
Location: Tilba Tilba, NSW
Capacity: 2 - 120
Accommodation: Sleeps 2 - 14
Wedding Packages: DIY/BYO
Overlooked by Mount Gulaga, Mountain View Farm is a picturesque and relaxed country estate where you can tie the knot with your pooch at the altar. The farm has an authentic dairy shed and adjoining marquee paddock for wedding receptions and optional accommodation in a love shack and glamping tents.
Mountain View Farm is home of pop-up daisy field weddings which are available for a limited 6 week season from mid August to late September each year. The property offers scenic country weddings all year round.

33. Driftwood Shed
Capacity: 100
Info: Marquee venue next to a rustic, 100 year old shed in a country setting on the shoalhaven river. DIY & BYO, blank canvas space suitable for outdoor receptions. Accommodation for 6 for the weekend.
---
---
Pet Friendly Venues in the Southern Highlands

34. Growwild Wildflower Farm
Capacity: 120
Info: A registered sanctuary with the Wildlife Land Trust. Picturesque and tranquil wildflower farm on 25 acres providing budget-friendly, DIY & BYO weddings in a bush setting. 

35. Weddings in the Wilde
Capacity: 200
Info: A budget-friendly weekend venue with late curfew that suits outdoor, festival style receptions. Rustic wooden chapel on a bush bound property with budget-friendly accommodation for 140 guests.

36. Fitzroy Inn
Capacity: 150
Info: Hire for exclusive use for the weekend and have a garden ceremony and marquee or rustic restaurant reception. Heritage property that accommodates up to 30 guests.
---
---
Pet Friendly Venues in Sydney

37. William Inglis Hotel
Capacity: 700
Info: Budget-friendly, industrial style spaces set amongst waterfront gardens with accommodation for 300. All-in-one venue with luxury hotel accommodation and day spa services. Outdoor receptions & ceremony-only packages available. 

38. Springfield House
Capacity: 200
Info: Budget-friendly garden venue in Sydney's Hills District. Blank canvas indoor space with option for outdoor receptions. Private and exclusive use for pet-friendly weddings.

39. Manly 16ft Skiff
Capacity: 150
Info: Waterfront wedding venue facing Sydney Harbour. Arrive by boat! All-in-one garden venue with a blank canvas reception space to style as your own.
Pet Friendly Wedding Venues Elsewhere

40. The Vinegrove
Capacity: 100+
Info: Romantic, all-in-one venue on a 100 acre vineyard and farm with accommodation for 8 onsite.  Marquee or outdoor receptions, garden ceremonies and exclusive use for the weekend with late curfew.
Pets have never been so welcome at wedding venues across NSW. You can bring your favourite fur babies to any of the above wedding venues and include them in your special day in whatever way you wish. From walking you up the aisle, to standing with the bridal party, to bringing in the rings, or simply participating like any other guest at your wedding. 
Enquire about availability at any of the above pet friendly venues using the links provided.
Cover image: Samuel White