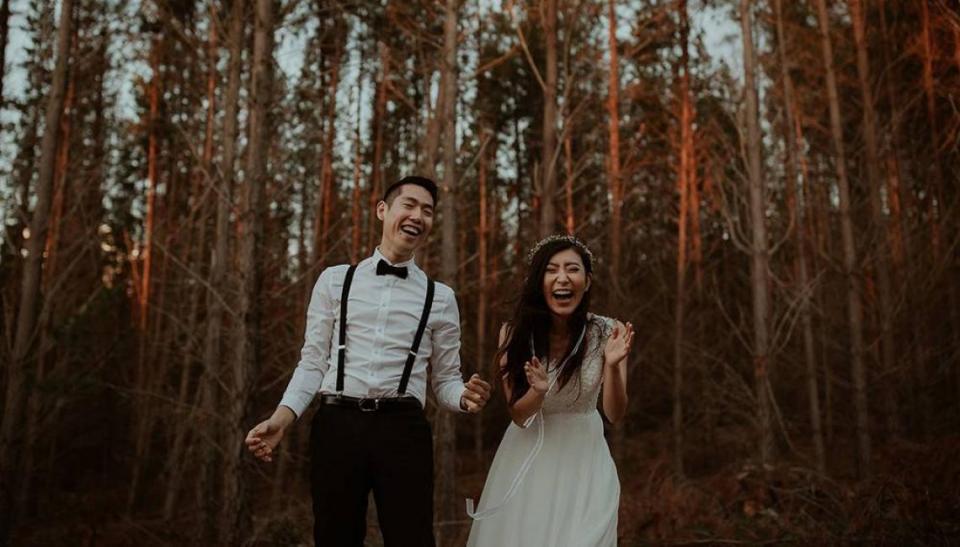 Looking for a photographer for your South Coast wedding? From the internationally recognised, award winning rock stars of the industry to fresh faced start-ups, the South Coast has all the options in every price bracket so you're guaranteed to find the perfect wedding photographer to fit your budget.
When most couples first start researching wedding photography, they want to find out the average price of packages in their area. This is a useful exercise to understand what your budget will afford, and what you could expect to receive with your package.
Average cost of wedding photography on the NSW South Coast
The average cost of wedding photography on the South Coast of NSW is around $3,200. But it's important to understand the huge variabilities in what you can receive for that "average" price. While one photographer may offer a $3,500 package with 6 hours of photography excluding an album, the next may offer a $3,000 package with 12 hours of coverage plus a 20 sided album.
So first things first, you'll want to establish what your photography budget is, in a range that you're comfortable with. Couples who marry on the South Coast spend anywhere from $500 to $25,000 on their wedding photography. The area is a hot spot for weddings involving the rich and famous hence the upper price bracket. But if your initial thoughts on your own spend are somewhere between $2,500 - $6,000 you're amongst the majority.
One reason couples like to know the average cost of wedding packages is to get a realistic sense of what they can expect to receive for their budget. Another reason is due diligence - no one wants to feel they've been ripped off or paid too high a price for a product or service. There's a common myth in the wedding industry that when you mention the word wedding a few zeros get added to your quote. You can be reassured that wedding photography isn't the industry that attracts the quick-buck entrepreneur. The days are 12+ hours long, involve late nights and huge stress (there's one chance to get 'the shot' at the many poignant moments that happen throughout the day). Not to mention the tens of hours of editing. Chances are, if you love the images of your chosen photographer, and their price is somewhere close to your budget, you're on a winner.
So, how to find the winner? The two most important things you want from your wedding photographer are images that you LOVE, and to enjoy the company of your photographer since you'll be spending THE BIGGEST DAY OF YOUR LIFE with them. Don't underestimate the importance of that 2nd point. Wedding day memories last a lifetime. You want your memories to fill you with warmth and joy.
The moments when you're busting out your biggest grins will probably produce your most cherished wedding photos. Unless you're Posh Spice, photos of you smiling, laughing and loving will be the ones that give you all the good feels. The key ingredient is receiving these photos is being happy on your wedding day. 

Image by South Coast wedding photographer: Two Creeks
Your wedding photographer will be working hard behind the lens, not just creatively but also interpersonally with you. Directing your photo 'shoot' and ensuring good vibes is part of their mandate. They want to produce amazing art for their clients to give you a beautiful product, but also because they're challenging themselves artistically. When you are happy, smiling, laughing and enjoying yourself, the likelihood of them achieving their next killer shot goes up 10 fold.
Your job is to choose a photographer who's a great cultural fit for you and your partner. After you make this choice you'll pay a deposit at which point responsibility for producing gorgeous wedding photos for you will shift onto your photographer. The choice you make when booking your wedding photographer will determine the images you receive. Be sure you are comfortable with them!
Here's a couple of points to help you figure out who might be the perfect photographer for you. What will they be like, and how will they work:
A great communicator
No fuss
Fun 
Easy going
Adventurous
Take charge
Fly on wall
Sensitive

Multi-lingual
The photographers at Wedlockers are endorsed by professionals in the wedding industry. These endorsements enable you to filter the marketplace and shortlist photographers with characteristics you like.  They also give you insight into how each photographer will work on your wedding day and where their particular expertise lies. As a Wedlockers member, you can find these endorsements towards the bottom of each business listing. To search by endorsements, use the filters on our Wedding Photography page.
The first step in finding your South Coast wedding photographer though, is to look at images produced by photographers who service the area. If you want to love your wedding photos, look for images that resonate with you. Do the images make you feel all warm and fuzzy inside? Do you go "awwww" when looking at them? Or "wow!"
There's hundreds of wedding photographers that service the South Coast region, with many driving in from Sydney, the Southern Highlands and Canberra. There's also plenty of great quality local photographers who live and breathe wedding life on the South Coast. They'll be your go-to choice for the ins and outs of great close-by locations for wedding photography. 
This list of 30 wedding photographers on the South Coast includes a price guide and a locality guide which will save you hours in research. Use this list to view photographers in your price bracket. Photographers put their best and most representative images in their Wedlockers profile, so what you see there is a great indication of what that photographer will deliver for you. 
Once you've found a couple of photographers you like, check their endorsements.  Will they be a great cultural fit? Don't necessarily discount a photographer who doesn't have the endorsements you'd prefer to see, particularly if you love their work. Sending an enquiry will enable you to gauge their response and assess if it'll be worth your time in meeting with them.
You can quickly enquire with photographers by using the contact form on our listings. This informs the photographer where you found them and helps them with their marketing. (It's free to enquire & also doesn't cost the photographer.) You can use the copy and paste function to share details about your wedding if you are enquiring with more than one business.
What to say when you enquire
Here's a few tips on how to enquire with a wedding photographer. You'll save yourself time later by following these guidelines:
Invest time

Most couples enquire with 3 or more wedding photographers. They will however, only book 1. You can imagine then the volume of enquiries that photographers are fielding from customers that will not book them. Many of these clients they will never hear from again after investing significant time in drafting replies. Photographers develop a nose for sniffing out enquiries that are unlikely to book. Make sure it's not you that's been filtered from their inbox. If you want a response from your favourite South Coast photographer, and you want them to respond to your specific questions - invest time in personalising your enquiry to them. Which leads to the next point…

Provide the details

Most enquiries include a request for package information & availability for your preferred wedding date. Here's what you should provide in order to receive that information: the date of your wedding, the location of your ceremony and reception, the approximate number of guests, the number of Bridesmaids/Groomsmen, what parts of your day you'd like captured, your preference for 2 photographers if you want 2, approximate start and finish times.

Give them the 'why'

You will spend a lot of money on your wedding photographer and they understand you want to receive AMAZING photos having made that investment. However, you want your relationship with your wedding photographer to be more than a transactional one. Wedding photography is not a product that comes with guaranteed fixtures and features like a washing machine. There's no guarantee on what your set of images will look like (hooray!), because what you're investing in, is someone's creativity and human effort. That's why we suggest explaining to your wedding photographer why you are enquiring with THEM. People understand the 'what' (you're asking for) but they're motivated by the why. To get the best from your photographer on your wedding day, you want them to be looking forward to your wedding as much as you are. Start the relationship off well by explaining why you love their work.
And now you're all set to start your search by browsing our list of 30 South Coast wedding photographers. It comes with a price & locality guide to short circuit the research process. The list caters for all the most popular price brackets from budgets of less than $2,500 to the average range of $2,500 - $4,500 plus the higher end of $4,500+. Photographers on the South Coast book out quickly due to the volume of weddings in the area - so make sure you enquire early.
 View South Coast Photographers
Cover image by Olguin Photography