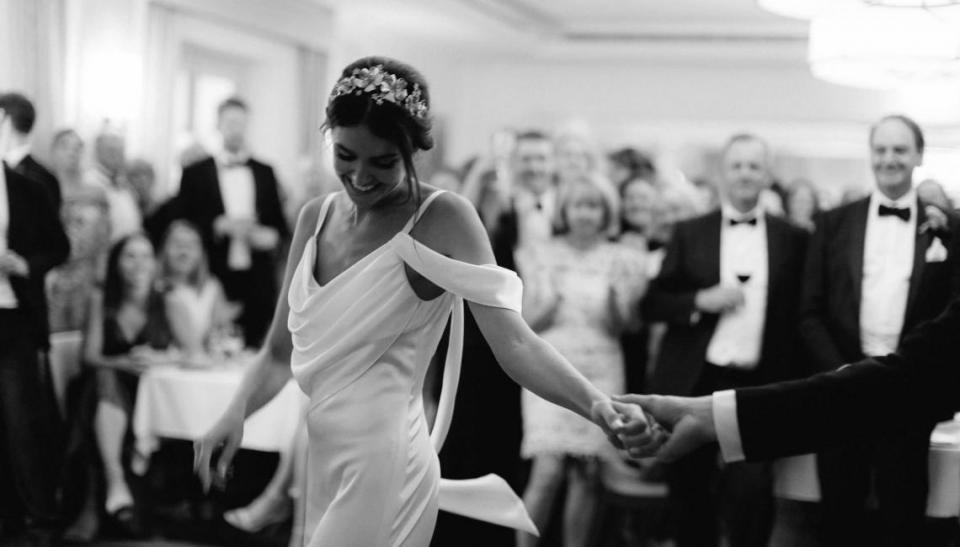 Wedding planning can be SO stressful! There are so many things to keep track of, and it just seems like every single weekend is full of wedding appointments! Florist appointments. Dress alterations. Visits to the reception venue. You can't remember the last time you actually just hung out with your partner and did something fun – and wasn't wedding planning supposed to be fun?
Then someone asks if you're taking lessons for your first dance – and maybe you hadn't even thought about it. Or perhaps you had, but do you even have the time? Now it's got you thinking! It would be kinda nice to spend some quality time together as a couple…. 
Wedding dance lessons are absolutely one of the most fun things you can do together in the lead up to your wedding. If you're tossing up whether to take the grand jetés, here's everything you need to know about dance lessons - why do it, what to look for, and what to expect.
So - why take lessons?
Think about what you want your first dance to look like. Will it be:
an intimate moment for just the two of you? 
a studious effort to get through the song without tripping each other over? 
a 'wow' moment for your guests, with all the lifts, dips and swirls of a Patrick Swayze movie? 
Regardless of what you want the first dance to look like, the best goal is often to get to a level of confidence, where you are relaxed and the dancing happens naturally, without being conscious of what you're doing. This will allow you to let your body move unconsciously and in a natural way, rather than your mind being focussed on executing each step or hitting your marks. And as the two stars of the show - when you and your partner are smiling, relaxed and enjoying yourselves - so too your guests will follow. There's nothing that warms the heart more than watching two people having fun!
But doesn't it have to be perfect?
 First Dance captured by Nicole Butler Photography
This is something that leading ballroom dance instructor, Ryan Herbert, from Move With Me Dance Studio in Sydney's northwest, has heard many times before. "I think a lot of people will come into a wedding dance lesson with the heavy weight of expectations on their shoulders. They'll think they'll have to have a perfect, highly choreographed wedding dance to the perfect song. I spend a lot of time saying to people that being in the moment and enjoying your dance together as husband and wife is what you should be aiming for. Not trying to execute a Dirty Dancing style lift!"
Remember – this moment is about you and your partner. It can be helpful to think about what you want to remember from your first dance, once the wedding day chaos is over.
"This will be the first time you will dance together as husband and wife, and be able to share that moment with friends and family. The reason the first dance exists is to take a moment amongst the craziness of the wedding day, look into each other's eyes, and have a moment to spend with each other," says Herbert. "I know it can be very easy to get sucked into the idea of an overcomplicated routine, but in my experience, it's usually better to keep it simple. A lot of weddings these days are put on for the guests, and a lot of couples forget the day should be about them."
But I'm too busy to go to classes!
The stress of wedding planning can take its toll on couples in the lead up to the day. There are often so many things to do, that taking an hour out of the schedule to do a dance class can seem impossible.  
"People tend to feel guilty if they're taking time out for themselves, when planning a wedding," says Herbert. "But it's actually a really nice excuse to do something for yourself, which you can also justify as being worth doing, as it is part of the wedding planning."
The Bride will usually be the one in the couple pushing for the dance lessons, with the Groom reluctantly giving in to keep the peace. Most of the time though, Herbert has found that after the first lesson it's the Groom who is enjoying it the most, because they enjoy taking the lead and having a chance to be in charge and make decisions!

First Dance Rehearsal captured by Across the Forest
"The time you spend in the dance studio, giggling and having fun as a couple, can be more valuable than the skill of learning to dance. Couples sometimes tell me they can't remember their first dance, and that it flew by, but they often come back for more lessons after the wedding because they loved the way that dancing made them feel," says Herbert. "Coming to the lesson can be a moment to STOP stressing during the wedding planning process."
I'm a terrible dancer, how will I ever learn to dance?
Our advice? Don't take it too seriously! Herbert recommends looking at a wedding dance lesson as your downtime, rather than another wedding-related chore to tick off the list. "I think the bulk of wedding couples tend to enjoy learning the dance not because of the dance itself, or because they are gaining a skill, but because they get to spend time together where they're not stressed out. Learning the dance is actually the one time they get to hang out as a couple, and have a laugh together."
So, what do I look for in an instructor?
A dance instructor should be open to your ideas, and listen to you, but also should be honest with you about what is achievable and not achievable. There are a lot of instructors who will promise you the world, but ultimately you may end up disappointed and out of pocket when they can't deliver. A good instructor will consider the time available, and any limitations. If you only have two weeks rather than 6 months, you probably won't be able to achieve a fully choreographed, professional level masterpiece – and they should be honest in telling you this.
What can I expect in the first lesson?
You don't need to bring anything special to your first lesson – just wear comfortable clothes and shoes that are easy to move in. As the day approaches, you can work towards wearing heels if you will be wearing them, and in your final lessons you can try dancing in a skirt or dress to give you an idea of how it will feel.
Your instructor will probably spend the first lesson teaching you the basic steps of the dance, which can be repeated over and over with a few 'flashier' steps thrown in to make it appealing. You may even be able to try dancing these steps to your first dance song in your first lesson. And if you don't have a song? Don't stress too much. Try listening to some of your favourite slow songs, listen to the lyrics and see if they have any words which really communicate how you feel about your partner. Your instructor will be able to let you know if the song will work.
So, how many lessons will we need? 
Couples will take 4-6 lessons, on average. The more lessons you take, the more polished the dance will look, but 4-6 lessons should make even the most nervous dancers feel comfortable, and not look stilted or forced. 
"You want a routine that you can dance with your partner and enjoy. Rather than looking like you're fresh out of dance school, it will look like you've been dancing confidently for years, and this should make you feel pretty good about dancing in front of your guests," he says. 
How much do wedding dance lessons cost? 
For 4-6 dance lessons the cost will be average around $350-$750, depending on the price of the lesson and how many you take. When you enquire, ask about the price of private lessons and whether the studio offers any package deals. You may find that booking a package of dance lessons works out much cheaper per lesson than paying each time you go.
How do I make sure I get good value?  
For Herbert, it's a simple answer."Practice! Practice! Please practice! Do your homework. Every lesson, I spend about a quarter of the time going over what was taught in the previous lesson, because they have usually forgotten it. If you practice, you're essentially getting an extra lesson's worth of content out of the deal, compared to if you don't practice."
You will only get one chance to do your first dance as a wedding couple, and making sure that you are setting yourself up to have a dance you'll remember for all the right reasons, is why you are doing this. Yes, you are paying for the physical time of an instructor to teach you, but what you are really buying for yourself is confidence, and the ability to enjoy the moment together on the night.
Think about the moment you step onto the dance floor, hand in hand with your partner. Will your feet be stumbling over each other as you silently will the song to finish? Or will you be full of confidence and excitement as you step onto the floor, ready to create a moment that you will cherish for the rest of your life? 
This article was written by Nicky Oliver - wedding planner from White Magnolia Events. Cover image by Robert Meredith Photography