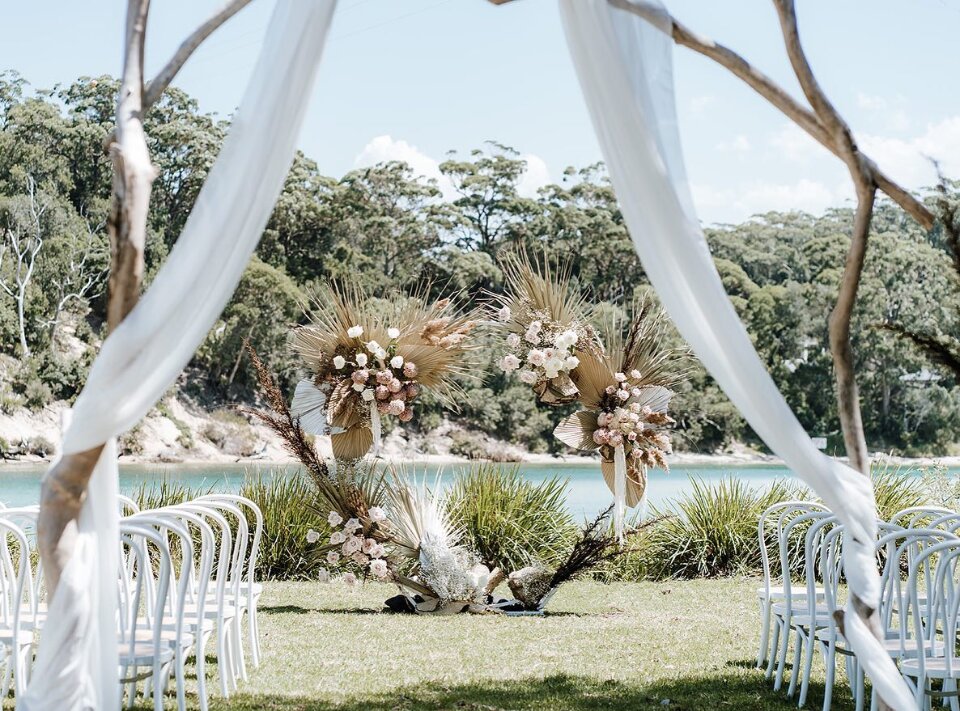 Beach Weddings: Australia | NSW
Australia is one of the best places for a beach wedding in the world. With more than 10,000 sandy shores spanning 60,000 km of oceanfront, Australia's undulating coastline is an expansive paradise of beautiful locations for beach weddings.
Getting married on the beach is popular in Australia and there's no shortage of venues offering beachside weddings and receptions. From oceanfront resorts & luxury hotels to secluded retreats and restaurants, Australia's best coastal wedding venues are among the world's most exclusive seaside destinations.  
Some of the most popular beach wedding places in Australia include world-famous stretches of sand. Bondi Beach, Palm Beach & Manly in Sydney have many beachfront venues. The popular holiday spots of Byron Bay & Jervis Bay boast some of Australia's best coastal resorts, along with Surfers Paradise, the Gold Coast, Noosa and Queensland's Sunshine Coast.
Being an island continent, beach weddings are an Australian specialty and part of our culture. If you're considering a beach wedding Australia has the whitest sand in the world plus, with a year-round temperate climate its always beach wedding season in Australia. 
Here's a list of beautiful places for beach weddings down under. All of these beachside venues offer wedding packages for 2 - 500+ guests and are among the most beautiful coastal venues in Australia.
Beach Wedding Venues in Australia
NSW Venues
VIC Venues
QLD Venues
WA Venues
SA Venues
TAS Venues
Beach Wedding Venues in NSW

1. The Cove Jervis Bay
Location: South Coast, NSW
Capacity: 150+
Accommodation: Sleeps 111
Wedding Packages: BYO
One of the best spots for a beach wedding in Australia is The Cove. This 3 acre oceanfront resort comes with accommodation for 111 guests, a wedding ceremony garden overlooking your own private beach, a coastal-style reception hall and an outdoor bar & courtyard perfect for seated or cocktail weddings under the stars.
The Cove is located 3 hours south of Sydney on the NSW South Coast and is accessed via a beautiful drive through secluded National Park. Venue hire includes 3 days exclusive use, all onsite accommodation, use of all amenities including the reception pavilion, free lawn games plus kayaks & paddle boards.

2. The Pavilion Kiama Beach
Location: 2 Bong Bong Street, Kiama, NSW 2533
Capacity: 80 - 400
Wedding Packages: All inclusive 
The Pavilion Kiama is an affordable and beautiful beach wedding venue situated on the popular southern coastline of NSW. The reception venue overlooks Kiama Beach and has pretty views to the local lighthouse. There are two ceremony areas on the adjacent waterfront and hotel accommodation is a convenient few hundred metres walk down the road.
All inclusive wedding packages come fully catered and furnished so the only thing you need to bring is styling items and a band or DJ. If getting married at the venue all ceremony set up furniture is provided for you and includes a wet weather option in the entrance foyer bar area.

3. Goolawah Beach Retreat
Location: 288 Point Plomer Rd, Crescent Head NSW 2440
Capacity: 30 - 120
Accommodation: Sleeps 32 + camping
Wedding Packages: DIY/BYO
Goolawah Retreat is a relaxed, 28 acre beachfront venue situated at Crescent Head on the mid north coast of NSW. The property is surrounded by native bushland and has no neighbours or curfew, making it perfect for destination weddings on the picturesque Australian coast. 
Venue hire includes exclusive use of the grounds for 3 days with 5 self contained cottages sleeping up to 32 guests plus the option for additional guests to glamp or camp. For seated or standing wedding receptions there's an open-sided event pavilion with commercial kitchen and an adjoining festoon-lit courtyard that extends onto surrounding lawns. Pet friendly.

4. Kullindi Homestead
Location: Ellmoos Rd, Jervis Bay NSW 2540
Capacity: 20 - 200
Accommodation: Sleeps 20
Wedding Packages: DIY/BYO
Located on the shore of Sussex Inlet waterway, Kullindi Homestead offers an affordable location for DIY weddings in the popular coastal destination of Jervis Bay. Bring tipis, a marquee or sperry tent, food trucks, mobile cocktail bars and whatever else you'd like to create your dream wedding on the spacious waterfront lawn.
The private property does not have a reception venue so hire of your own structure is required, however the affordable venue hire fee is just $3,800 and includes two nights accommodation in 5 self contained units for 20 guests, plus additional guests are able to camp. Pet friendly.

5. Fig Tree Park
Location: Tilba Tilba - South Coast, NSW
Capacity: 2 - 200
Accommodation: Sleeps 2
Wedding Packages: DIY/BYO
Fig Tree Park is a brand new coastal wedding venue that offers beautiful outdoor ceremonies & receptions on spectacular hill top grounds overlooking the ocean. Surrounding a French-style two storey cottage, the grounds feature impeccably manicured gardens with hedges, flower beds and fig trees that romantically light up at night.
Venue hire at Fig Tree Park includes exclusive use of the grounds for your wedding ceremony & outdoor reception, round tables and elegant cross back chairs, set up and accommodation for two in a beautiful little converted barn. Marquees are welcome. Pet friendly. Elopement packages available.

6. Interbane House
Location: Stanwell Park - Illawarra, NSW
Capacity: 50
Accommodation: Sleeps 18
Wedding Packages: DIY/BYO
The backyard of Interbane House offers an impressive backdrop for coastal weddings with sweeping views over bush covered hills and sandy shores of the state's South Coast. The 5 bedroom Airbnb can be hired for weddings and events, sleeping up to 18 guests for 2 nights from $2,900.
The Victorian-period house features a covered entertaining area overlooking the ocean, a spa and fire pit area and spacious open plan living inside well suited to relaxed & intimate weddings. 

7. Tides Byron Estate
Location: Teven - Byron Bay, NSW
Capacity: 140
Accommodation: Sleeps 22
Wedding Packages: Tailored
Situated in popular Byron Bay, Tides Estate is one of Australia's most beautiful places for a coastal wedding. The 100 acre macadamia farm features a year-round temperate climate, a luxury 8 bedroom villa with swimming pool and incredible views over the macadamia orchard to the Tweed Coastline, and a fully furnished & licensed reception venue.
Tides Estate Villa & Hall can be hired for your exclusive use with options of seated dining within the orchard and pre & post wedding events in the villa. The villa accommodates smaller weddings of up to 40 guests around the pool area and has beautiful ocean views to Lennox Head.

8. Palm Beach Wedding Venue
Location: Palm Beach - Sydney, NSW
Capacity: 100
Wedding Ceremony Venue
This private $40m holiday home is situated at Sydney's iconic Palm Beach and is one of Australia's most beautiful locations for beachfront wedding ceremonies and photos. The grounds feature 2,500m² of Balinese-style gardens, the highest quality lawn available in Australia and access by road or jetty. 
Several beachfront reception venues and restaurants are located nearby with plenty of transport options for guests. We recommend engaging a wedding planner to arrange furniture hire and on-the-day set up.

9. Beach Byron Bay
Location: Byron Bay, NSW
Capacity: 50 - 150
Accommodation: in Byron Bay
Wedding Packages: All inclusive
Beach Byron Bay is a popular restaurant and exclusive-use wedding venue situated directly on the oceanfront at Australia's most popular beach destination. The restaurant is an atmospheric space surrounding a central bar and opens onto a large deck with a retractable roof on the ocean's edge.
Wedding ceremonies are welcome on the deck or in the front coastal-themed garden styled with sand, life saver and a beached dingy.
Beach Wedding Venues in VIC

10. West Beach Weddings
Location: Saint Kilda - Melbourne, VIC
Capacity: 200 - 500
Wedding Packages: All inclusive
West Beach Bathers Pavilion is one of the few beachside wedding venues in Australia that are fully licensed for events on the sand. An iconic social scene in Melbourne's warmer months, the pavilion oozes summer vibes. A huge seaside deck overlooks panoramic beach and bay views taking in yachts, spectacular sunsets and the night lights of Williamstown after dark.
All inclusive wedding packages are around $200 per person with menus influenced by the oceanfront location. Ask about off-peak specials.

11. Three Blue Ducks Melbourne
Address: 309 Melrose Drive, Tullamarine, VIC 3043
Capacity: 80 - 400
Wedding Packages: All-inclusive
Situated at URBNSURF - a man made surfing lagoon, Three Blue Ducks is one of the most unique beach wedding venues in Australia. The double story restaurant is a popular spot with foodies and has two reception spaces overlooking the crystal waters of the surfing attraction.
The restaurant's mezzanine level seats up to 120 guests while the main dining room seats 200. In total, weddings with up to 300 seated guests or 400 cocktail style can be catered.
 View Three Blue Ducks Melbourne
12. Trenavin Chapel
Location: 746 Ventnor Road, Ventnor, VIC 3922
Capacity: 130
Wedding Packages: DIY/BYO
Trenavin Chapel is a seaside wedding ceremony venue situated on Phillip Island, overlooking the glistening waters of the Mornington Peninsula. The non-denominational chapel is set within farm-style surrounds and offers venue hire from $4,500 including wedding ceremonies and photos afterwards.

13. Baie Weddings
Location: 

120 McDermott Road, Curlewis, VIC 3222

Capacity: 200 - 500

Wedding Packages: DIY/BYO
Baie Weddings is an all-in-one seaside venue set within the beautiful vineyard of BAIE Park on the Bellarine Peninsula. With 360 degree views over Port Phillip Bay, the winery is one of the most scenic wedding venues along the Victorian coastline.
Beachfront reception venues include a marquee site where you can style your wedding day around the stunning views, and an elegant, industrial style winery shed with high ceilings, polished concrete floors, black walls and feature festoon & drop lights.
Beach Wedding Venues in QLD

14. Villa Botanica Whitsundays
Location: Botanica Drive, Woodwark, QLD 4802
Capacity: 100
Tailored wedding packages
Villa Botanica is a private coastal estate that offers beachfront weddings and outdoor receptions on the Coral Sea. A large deck sets a romantic scene for outdoor wedding receptions on the ocean's edge and there's a covered teak pavilion for waterfront ceremonies.
Venue hire provides exclusive use of the villa grounds for the day, including 5 acres of lush Balinese-inspired gardens for wedding photos. 
 View Villa Botanica Whitsundays

15. Freedom Shores Resort
Location: Airlie Beach - Whitsundays, QLD
Capacity: 40
Accommodation: Sleeps 34
Wedding Packages: All inclusive
Freedom Shores is an intimate resort located at Airlie Beach in the Whitsundays - a popular beach destination on Australia's tropical east coast. The resort is surrounded by lush hills creating a secluded seaside oasis for intimate beach weddings, akin to being on your very own Pacific island.
Luxurious boutique accommodation sleeps up to 34 guests providing exclusive use of the resort for the weekend. Wedding packages are around $30k including a ceremony, celebrant, hair & makeup, flowers, reception venue and catering. Accommodation is additional which guests are able to book & pay for themselves. Elopements start at $10k.

16. Hayman Island Beach Resort
Location: Hayman Island, Whitsundays QLD
Capacity: 2 - 300
Accommodation: Sleeps 300+
The Great Barrier Reef is one of the 7 natural wonders of the world so it's no surprise the best beach weddings Australia has to offer include an oceanfront venue at this incredible destination. The Intercontinental Hayman Island Resort is accessible by luxury catamaran, helicopter or seaplane and has 166 guest rooms across three wings that can be booked for your exclusive use.
This spectacular resort offers poolside, garden or beach weddings with the option of indoor and outdoor receptions. Flexible wedding packages range from elopements to a full venue takeover and all catering and styling is arranged in-house for you.
Beach Wedding Venues in WA

17. Linga Longa Estate
Location: 256 Cassia Road, Southampton, WA 6253
Capacity: 300
Accommodation: Sleeps all guests
Wedding Packages: DIY/BYO
Linga Longa is a private 700 acre estate that offers waterfront weddings in a secluded section of Blackwood River. Nestled in a private forest valley and with glamping and camping available for all guests, Linga Longa is one of Australia's most intrepid destinations for weddings with water views.
Ceremony locations include a floating gazebo suspended over the lake, beachfront lawn and an enchanted forest. The reception venue is a clear walled marquee with a timber deck and spacious lawn suitable for outdoor receptions on the waterfront.
Beach Wedding Venues in SA

18. Beach Huts Middleton
Location: Middleton, South Australia
Capacity: 12 - 150
Accommodation: Sleeps 46
Wedding Packages: All inclusive
Beach Huts Middleton is a private coastal resort with 12 luxury beach cabins styled in the iconic colours of the Brighton Beach sheds in Melbourne. All cabins can be booked for exclusive use of the grounds for your wedding ceremony and photos and the fine dining Blues Restaurant provides fully catered reception packages onsite.
The beach huts surround a village green which is an ideal alternative to beach weddings and offers a relaxed spot for garden parties catered by the restaurant. Adjoining the green is a small wedding hall that can utilised for pre & post wedding gatherings and comes with cooking facilities and a BBQ.
Beach Wedding Venues in TAS

19. Avalon Retreats
Location: 

Rocky Hills - East Coast, Tasmania

Capacity: 25 - 50

Accommodation: Sleeps 6

Wedding Packages: Tailored by Bek Burrows
Avalon Retreats is a coastal wedding location half way between Hobart and Launceston on Tasmania's east coast. The architecturally designed 3 bedroom house can be booked for small beach weddings and elopements, with up to 25 guests able to be seated indoors and up to 50 on the oceanfront lawn.
The modern house features a unique blend of steel, glass and timber with floor to ceiling glass walls overlooking the deep blue water of Great Oyster Bay. 

20. Hawley House 
Location: Hawley Beach - North Coast, TAS
Capacity: 150
Sleeps 40
Wedding Packages: Semi inclusive, BYO caterers
Hawley House is an historic seaside mansion built in the Victorian Gothic period around 1878. Original features include a rooftop bathtub that you can have an actual bath in while overlooking stunning views of Hawley Beach.
The house is situated near Davenport and has a private onsite chapel surrounded by manicured lawns and gardens. Beach weddings can be held on the white sands nearby. For wedding receptions there's a sandstone paved conservatory or the homestead dining room. Pet friendly.
Have a beach wedding venue to add to this list? Get Started
Cover Image: Translucent Photography