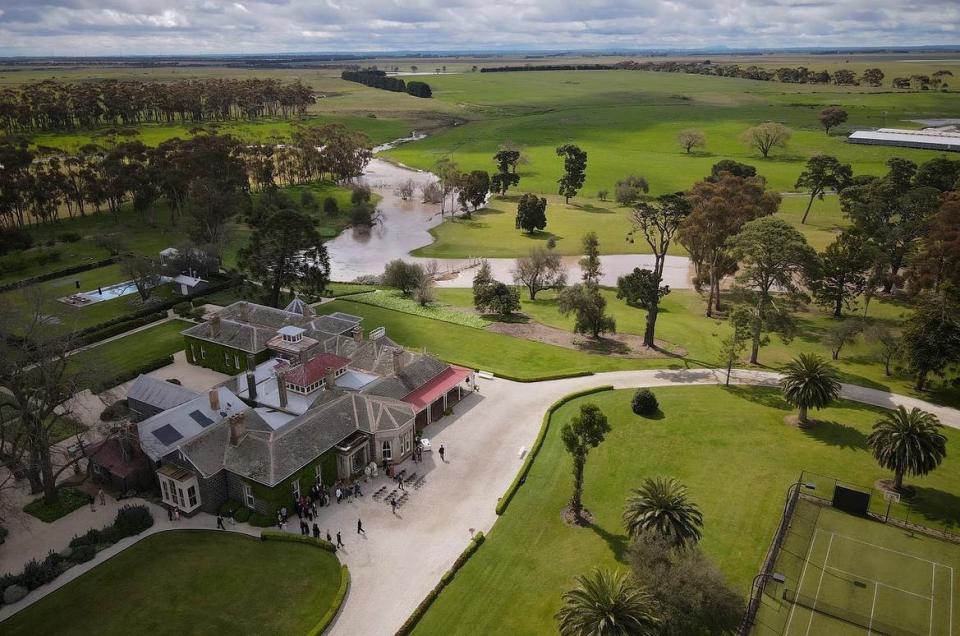 Homestead wedding venues are the ultimate relaxed location for an extended weekend getaway with loved ones. With homely accommodation a bare foot walk from your ceremony and reception venue, homestead weddings are a convenient and laid back setting for fun celebrations in the country.
It's no surprise with Australia's expansive landscape that there are many country estates, private rural properties and luxury homesteads available to hire for weddings. From modernised heritage homes with rustic barns, to brand new farmhouses and quaint country cottages. Australia's amazing collection of private estates offers a vast choice of locations and backdrops for country weddings.
This list contains 18 of Australia's most stunning homestead wedding venues. They are all private residences available to hire for your wedding and come with exclusive use for the weekend. Among the best wedding destinations in Australia, they cater to all budgets and situated in the most incredible settings. 
In general, to hire a homestead for your wedding in Australia the venue hire fee will typically fall between $3,000 - $24,000 for the weekend. This usually includes accommodation and access to onsite ceremony & reception facilities. Where there is no barn, shed, pavilion or function space onsite you'll need to budget for marquee hire.
Most homestead wedding venues in Australia are self catering. This means you have the freedom to choose your own caterers and venues typically have a preferred supplier list that works for the facilities on their property. Many (but not all) venues below allow BYO drinks. 
Contents
NSW Homesteads
VIC Homesteads
QLD Homesteads
WA Homesteads
SA Homesteads
TAS Homesteads
Homestead Weddings in NSW

1. Blair Athol Bathurst
Location: 281 Keppel Street, Bathurst, NSW 2795
Capacity: 10 - 100
Accommodation: Sleeps 10
Wedding Packages: DIY/BYO
Blair Athol is one of the grandest homesteads to hire for weddings in NSW. This landmark Victorian-era mansion has recently undergone a multimillion dollar refurbishment adding 21st century luxuries to the stately suites and reception spaces.
Modern automation and a central elevator seamlessly integrate with upgrades to the original 1892 design including a majestic central staircase, wide archway doors and real gold leaf gilding. Brand new furniture has been painstakingly sourced from around the globe to furnish this incredible residence true to its 1892 origins.
Hire of this Italianate mansion includes accomodation for 10 guests in 5 ornate suites that each have a private bathroom. In addition to indoor function areas there is over an acre of private gardens surrounding the homestead which feature a beautiful ceremony pavilion with sweeping views over Bathurst.

2. Interbane House
Location: 8 Lawrence Hargrave Drive, Stanwell Park, NSW 2508
Capacity: 50
Accommodation: Sleeps 18
Wedding Packages: DIY/BYO
Interbane House is a 100 year old Victorian style homestead located on Bald Hill overlooking the brand new Sea Cliff Bridge near Wollongong. The open plan dining and kitchen open onto a wide wrap around balcony that has incredible views of the ships waiting at sea to service local industry ports. 
The indoor area, balcony and backyard lawn offer a choice of ceremony and reception spaces all with amazing ocean views. The house has 5 spacious bedrooms that sleep up to 18 guests included with affordable venue hire fee starting at $2,850 for a 2 night stay.

3. Coorabell Homestead
Location: 36 Keys Road, Coorabell, NSW 2479
Capacity: 10 - 150
Accommodation: Sleeps 10
Coorabell Homestead is a luxurious 5 bedroom residence located on a 28 acre property just 20 minutes from Byron Bay. The house is completely surrounded by picturesque rainforest and has spacious lawn terraces offering a private setting for outdoor weddings with one of the regions best outlooks.
Venue hire includes a 3 day stay with accommodation for up to 10 guests and comes with an onsite wedding planner to help you create your dream wedding, and any pre & post wedding events you wish to host. A large balcony seats up to 40 guests with views over the rainforest canopy and there's also the option of cocktail functions poolside for up to 55 people.

4. Ravensthorpe Guesthouse
Location: 56 Tongarra Rd, Albion Park NSW 2527
Capacity: 50 - 200
Sleeps 18
Venue hire from $8,500
Ravensthorpe is a heritage 1890s Manor House that accommodates 14 with additional bridal suite and stables accommodation. Three acres of classic gardens featuring a ceremony rotunda, tennis court and swimming pool surround the homestead providing the ideal spot for a destination wedding. 
The Manor House caters for wedding receptions of between 50 - 200 guests in a light-filled conservatory, adjoining courtyard or elegant garden marquee. Venue hire includes exclusive access to the property & rooms for 24 hours with drinks packages provided and catering options ranging from 5 course fine dining to relaxed cocktail style.

5. Eleven Eighty Weddings
Location: 1180 Bolong Road, Coolangatta, NSW 2535 
Capacity: 80
Wedding Packages: DIY/BYO
Accommodation: Sleeps 15
Eleven Eighty offers a unique alternative to homestead weddings with 3-day event hire centred around an old school masters house and a 2nd onsite cottage. The cute little 3 acre property has a refurbished school hall for receptions of up to 50 guests and adjoins a beautiful central courtyard that comes with an optional glass marquee for up to 80 people.
Eleven Eighty has another 3 function areas which can be utilised during your 3 day stay including a luxe rustic barn that seats 30 guests, a train carriage that seats 20 and a relaxed Argentinian BBQ pergola suitable for a recovery brunch. Venue hire includes access to a props shed with all furniture for your ceremony, reception and lounge areas.

6. Tocal Homestead
Location: 957 Tocal Road, Paterson, NSW 2421
Capacity: 140
Sleeps 8
Wedding Packages: All inclusive
Tocal Homestead is an expansive farm style property in the Hunter Valley. The property's heritage-listed homestead is surrounded by beautiful gardens with giant fig trees to frame your wedding ceremony, rustic farm buildings and sheds that make a beautiful backdrop for wedding photos, and stunning regional views.
The reception venue is a 100 year old heritage hay shed which retains its original exterior charm but has been beautifully modernised internally to provide an elegant and romantic space for dining and dancing. The short walk back to the homestead provides accommodation for 8 guests in four luxury suites.

Homestead Weddings in VIC

7. The Epicurean Emu Bottom Homestead
Location: 

Homestead Way, Sunbury, VIC 3429

Capacity: 500
Wedding Packages: All inclusive
Built in 1836 and Victoria's oldest standing residence, Emu Bottom Homestead is a unique wedding venue steeped in history. Located at the foot of the Macedon Ranges and just half an hour from Melbourne, the property offers a unique blend of relaxed country and cosmopolitan vibes.
All inclusive wedding packages provide cucina style Italian cuisine from The Epicurean Group and cater for celebrations of 80 to 250+ guests. Spaces include indoor Homestead Weddings, the Homestead Lawns and for an intimate and rustic setting The Woolshed.

8. Barn Events at Homestead Park
Location: 75 Mount Ararat South Road, Nar Nar Goon, VIC 3812
Capacity: 150
Venue hire from $6,600 or all-inclusive wedding packages
Barn Events at Homestead Park is a 15 hectare, rural wedding venue with a federation era homestead and stables surrounded by pretty private gardens. The picturesque farmland features an olive grove, manicured lawns, barn reception venue with adjoining cattleyards and a powder room in the form of a converted horse box. 
The 1800's homestead oozes old world character & charm and is an ideal backdrop for wedding ceremonies with stunning rural scenery. Wedding packages include exclusive use of the entire property with the option for dry venue hire or all inclusive packages via recommended wedding planners.

9. Coombs Hill Homestead
Location: Buttercup Road, Merrijig, VIC 3723
Capacity: 11 - 100
Sleeps 11
Venue hire from $5,000
Homestead wedding venues don't come more luxurious than Coombs Hill Homestead. This 160 year old American Barn was imported from the USA, restored and rebuilt and now offers a bucket list location for elopements, small weddings of up to 30 guests and a few lucky cocktail weddings for up to 100.
The house is located on 100 acres of farming land in Victoria's High Country and is an ideal wedding destination for couples looking for a beautiful retreat to DIY a very special event. Venue hire includes all accommodation and exclusive use of the property for 3 days for you to arrange & style the wedding of your dreams. 

10. Barunah Plains Homestead
Location: 

4484 Hamilton Highway, Hesse, VIC 3321

Capacity: 500
Sleeps 65
2 Day venue hire (DIY/BYO)
Built in 1866 and listed by the National Trust, Barunah Plains Homestead is one of country Victoria's grandest wedding destinations. The elegantly restored homestead has 10 bedrooms, 4.5 bathrooms, sleeps 22 guests and has a swimming pool, tennis court and lots of exploring opportunities across the farm. Seperate Shearers Quarters sleep additional guests.
There are no early curfews or strict venue restrictions on this remote 640 acre property. After your ceremony and photos in the manicured gardens, wedding celebrations can be set up in the Woolshed or pitch a marquee to take in the estate's many picturesque views. 
Homestead Weddings in QLD

11. Jubri's Hideaway
Location: 63 Chelldan Avenue, Dalby, QLD 4405
Capacity: 80
Sleeps 14+
Venue hire: $5,950
Jubri's Hideaway is a character-filled country estate, bringing a collection of beautifully styled and eclectic wedding spaces together with guesthouse and cottage accommodation. The property is ideal for a weekend getaway where relaxed country weddings can take inspiration from zen, rustic or waterfront backdrops.
Located here is one of Australia's most impressive secret gardens. Hidden behind magnificent Balinese timber doors is a secluded & tranquil oasis styled with authentic totem poles, Buddha statue, handmade gong, and a grand Balinese hut come altar. There's also a water garden, romantic and rustic bush garden and modern reception shed with adjoining bar and outdoor cocktail courtyard. 


12. St Aubins Village
Location: 

73-75 Canoona Road, West Rockhampton, QLD 4700

Capacity: 130
Sleeps 4
Venue hire from $1,800
With an impressive 1889 heritage homestead as its backdrop, St Aubins Village is an atmospheric destination that perfectly blends quaint heritage with modern outdoor weddings. Set on 2 acres of blooming gardens and spacious lawns, this family-run venue is ideal for festoon-lit celebrations under the stars.
Venue hire includes full access to the Heritage Homestead for wedding preparations and photos, plus caterers are able to utilise the kitchen. For your accommodation there are two cute cottages onsite that both sleep 2 guests.
Homestead Wedding Venues in WA

13. Solitaire Homestead
Location: 66 Vidler Road, Naturaliste, WA 6281
Capacity: 250
Sleeps 6
Wedding Packages: Semi inclusive
15% winter discount
Solitaire Homestead is a unique country retreat located amongst the twisted trunks of a peppermint forest in SW Western Australia. The completely secluded property features 110 acres of beautiful farmland with native bush, wildlife and singing birds as your wedding backdrop. 
Plentiful photo opportunities at the homestead and surrounding grounds include 2 tonne, 200 year old antique doors from India and the unique white & green aesthetic of the peppermint forest. The rustic reception shed features two flexible and adjoining spaces with an impressive chandelier of rattan pendants as its centrepiece. BYO drinks. 

14. Old Broadwater Farm
Location: 56 New River Ramble, West Busselton, WA 6280
Capacity: 200
Sleeps 18
Wedding Packages: Inclusive with BYO
A beautifully restored homestead and spectacular new ceremony pavilion provide a stunning backdrop for weddings at the one-of-a-kind Old Broadwater Farm. This idyllic farm near the heart of Busselton has an extensive garden surrounded by golden paddocks with photo opportunities ranging from a romantic garden swing to rustic barns.
Beside the homestead is a permanent, modern marque with two in-built dance floors, air conditioning and professional sound. Opening onto a paved courtyard and deck, the outdoor area provides a relaxed space for pre-dinner canapés or seated alfresco receptions. Two onsite dwellings accommodate 8 guests with a house for 10 within walking distance.

15. Fairlawn Estate
Location: 

39 Chapman Hill Road, Bovell, WA 6280

Capacity: 250
Sleeps 18
Elopement packages available
Fairlawn Estate is an exclusive gated property nestled on the banks of the Vasse River. The 1840 Victorian Georgian house has been kept modern through the generations, offering a luxury wedding destination with expansive views over surrounding gardens and 2,000 acres of working farm land.
Elegant indoor spaces combine modern living and old world nostalgia with a formal dining, cocktail rooms and grand ballroom catering to intimate celebrations. Outside is a blank canvas where larger weddings can be held under the stars or in a marquee amongst the lush gardens and golden sunsets.
Homestead Weddings in SA

16. Templewood House
Location: 

49 Millbrook Road, Inglewood, SA 5133

Capacity: 2 - 120
Sleeps 8
Wedding Packages: DIY/BYO
On a scenic equestrian property in the Adelaide Hills sits Templewood House - an elegant 4 bedroom heritage homestead set in beautiful & relaxed, lush green gardens. Accessed via a stately driveway, the homestead is the picturesque centrepiece around which you have the freedom to design your ideal wedding. 
Inside, a regal drawing room with heritage open log fire places is the ideal spot for getting ready and a character-filled wet weather ceremony option. Outside is a classic English gazebo and flat lawns ideal for marquees or alfresco celebrations. In the High Paddock you'll share stunning 360° views with photogenic & friendly horses.

17. Woodburn Homestead
Location: 

410 Angas Plains Road, Langhorne Creek, SA 5255

Capacity: 80
Sleeps 12 + glamping
Wedding Packages: All inclusive
Built in 1864, Woodburn Homestead is an elegantly refurbished and quintessential Australian country homestead available to hire for the exclusive use of your wedding. Set on 42 acres and sleeping 10, the homestead and surrounding grounds offer a unique collection of flexible spaces to style into your dream wedding set up.
The all inclusive destination features a one-of-a-kind open air chapel complete with restored stonework and limestone crush floor. There's also the rustic 'stables' with an adjoining lawn suitable for outdoor receptions, a marquee lawn, a private garden with 160 year old Morton Bay Fig and a secret cellar ideal for a private, pre-wedding dinner.
Homestead Weddings in TAS

18. Hawley House 
Location: 

68 Hawley Esplanade, Hawley Beach, TAS 7307

Capacity: 150
Sleeps 40
Wedding Packages: Semi inclusive, BYO caterers
The grand Hawley House built in 1878 is a seaside mansion of the Victorian Gothic period complete with rooftop bathtub and surrounded by manicured lawns and gardens. Next to the homestead wedding ceremonies can take place at the quaint All Creatures Church, with a white sand beach and gardens providing alternative locations. 
Hawley House is an ideal wedding destination for couples wishing to stay with their guests for the weekend with accommodation for 40 on the pet & family friendly property. Intimate celebrations of up to 30 guests can take place in the homestead dining room and there's a conservatory over a sandstone paved courtyard for larger weddings.
The homestead wedding venues listed above include a fraction of the country estates available to hire for private celebrations in Australia. If you're still on the hunt for the perfect wedding homestead, house, private property or estate have a browse through our complete list of wedding venues. New properties are listed every week.
Cover Image: Tony Evans Weddings