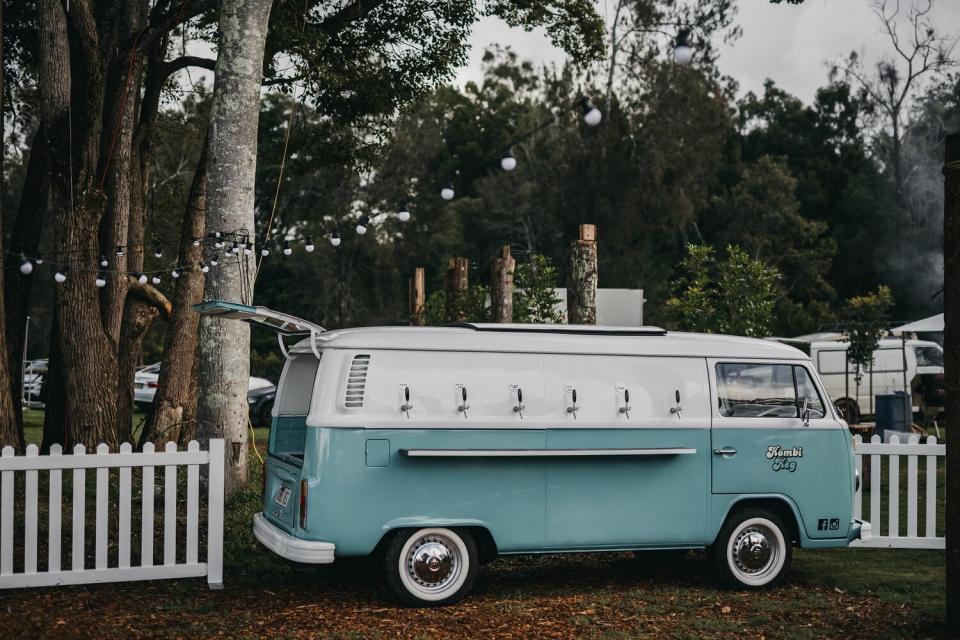 Looking for a Kombi Keg for your next event? The Kombi Keg is a mobile VW Kombi bar fitted with 6 taps that pour chilled keg beer and other alcoholic & non-alcoholic drinks. In Australia, Kombi Kegs are fully licensed offering a convenient all-inclusive beverage service that brings, chills and serves drinks while elevating event spaces with their stylish vintage presence.
Kombi Keg is an international franchise that was founded in Port Macquarie in 2015 and now operates in 50 international locations. Kombi Kegs are available to hire in all of Australia's major capital cities including Sydney and Melbourne and come with optional RSA qualified staff, serving your choice of drinks.
Kombi Kegs are among the most fun mobile bar hire services in Australia with 6 self-service taps built into the side of the caravans. Guests are able to pour their own drinks and the kombis can be stocked with anything from standard or craft keg beer, wine, cider, cocktails, mocktails, ciders, soft drinks and water. 
All Kombi Kegs offer packages with or without RSA qualified bar staff. For events at non-licensed venues such as private properties and DIY wedding venues you'll want the package including RSA staff to satisfy the legal requirements of service of alcohol in Australia. If your venue already comes with RSA staff you can opt for the drop & go package where your Kombi Keg is delivered fully stocked and picked up again at the completion of your event.
Find a Kombi Keg for your next wedding or event:
Kombi Kegs
Kombi Kegs in NSW 

Kombi Keg Sydney
Location: Sydney
Service Area: Sydney, Hawkesbury, Blue Mountains
Hire Cost: $850+
Kombi Keg Sydney are based in the city's north west region and service events throughout Sydney, from the CBD to the Northern Beaches, Hawkesbury, Penrith and the Blue Mountains. In addition to the Kombi, bar hire options include rustic pallets, wine barrels, bar stools, sound & lighting.  
Titled 'Tiny Dancer', this 1970's vintage kombi was once owned by a hippy who had a bed and sewing machine set up in the back. The story goes, he travelled the eastern coastline of Australia making & selling leather jackets at local markets. Eventually realising he'd sell more jackets in a cooler climate he moved to Melbourne and set up at the St Kilda markets.
The leather-smith retired in the late 80's and Tiny Dancer was purchased by Kombi Keg after spending many years in a garage. She's now owned and operated by Rob & Kaycie who bring her to weddings & engagements, hens & bucks parties, birthday & Christmas parties and all sorts of other festivals and events throughout the Greater Sydney region.

Kombi Keg South Coast NSW
Location: Shellharbour
Service Area: Shoalhaven, Illawarra, Southern Highlands
Hire Cost: $850+
Kombi Keg South Coast are based at Shellharbour and service events throughout Wollongong, Nowra, Bowral, the Sutherland Shire and all over the South Coast and Southern Highlands. The South Coast Kombi Keg also offer optional videography services.
'Marmalade' is a 1971 Low Light Kombi owned & operated by Darren and Danielle who service all types of functions from backyard parties to fun DIY weddings, large festivals and corporate events.
 View Kombi Keg South Coast NSW 
Kombi Kegs in VIC

Kombi Keg Melbourne
Location: Melbourne
Service Area: Greater Melbourne
Hire Cost: $850+
Kombi Keg Melbourne is based in the eastern suburbs and services events throughout the greater Melbourne region. You can book 'Genie' for wedding receptions, parties on private properties or at commercial venues and she rolls in with 19L chilled kegs ready to pour.
Kombi Kegs in SA

Kombi Keg Adelaide
Location: Adelaide
Service Area: Adelaide, Barossa Valley, McClaren Vale
Cost: $850+
Kombi Keg Adelaide can be booked for weddings and other events throughout the Adelaide and Adelaide Hills region travelling as far as Barossa Valley and McClaren Vale. In addition to Kombi hire, 'Frankie' comes with lawn games to hire including finska, quoits, croquet and giant jenga. 
Frankie is a restored 1972 Low Light Kombi Van owned and operated by locals Emma and Craig. Emma & Craig love a party are flexible to come to your event in regional South Australia. They bring Frankie with her 6 taps which connect to 19L, 30L and 50L kegs according to your requirements.
Kombi Keg FAQ
What does a Kombi Keg cost to hire?
The cost hire a Kombi Keg starts at $850 and includes delivery & set up, 4 hours hire without staff and you then pay for the cost of kegs and other drinks as required. On average, the cost for a 100 person event for 6 hours is around $3,500 including all drinks and RSA staff. Cheaper packages are available.
Kombi Kegs are no more expensive to hire than other mobile caravan bars.
What is included in Kombi Keg hire?
electric chilling system for quick cooling icy cold drinks
Food grade C02 gas to pressurise kegs

Drink tubs with ice to keep BYO drinks chilled

water & drink-ware station

roof top 55" smart tv (display photos, videos or stream live events)

Surfboard or timber benchtop options

bio cups
What can be added to Kombi Keg hire?
Props and styling
Pop up bars including rustic pallets, wine barrels & stools
Music speaker & lighting
Glassware hire
How many beer kegs will you need? 
How many beers kegs you'll need depends on the number of beer drinkers you'll have at your event and how much they each drink. Based on 3 - 5 drinks per person (evening out the big drinkers with those who'll partake in the just one schooner) you'll need: 
50 people - 1 x 50L + 30L keg
100 people - 3 x 50L kegs
150 people – 4 x 50L kegs + 30L keg
200 people - 6 x 50L kegs
250 people - 7 x 50L kegs