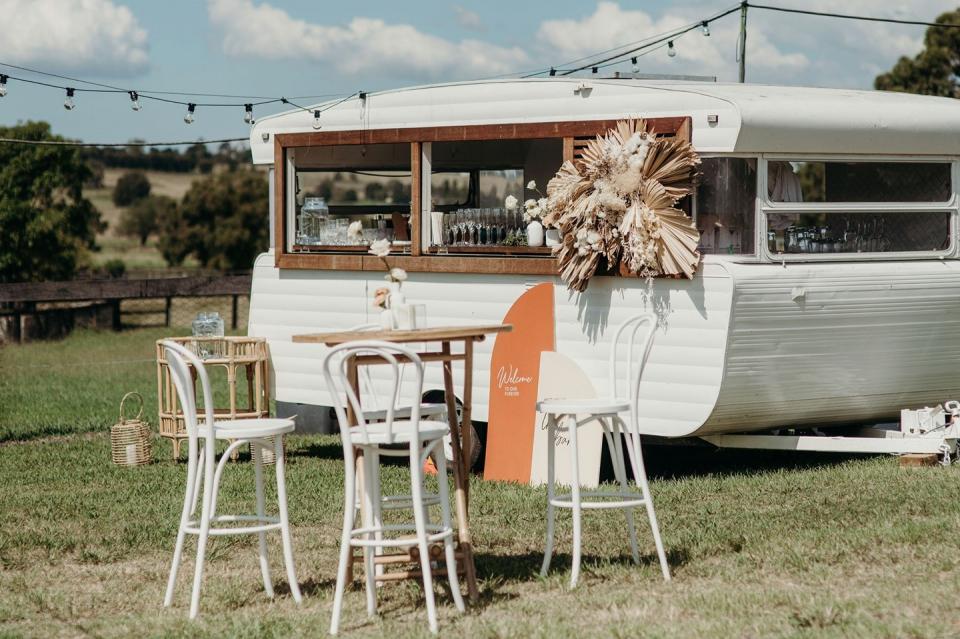 Mobile bar hire is a fun way to elevate your backyard party, garden wedding or special outdoor function and in New South Wales there's a great variety to choose from. From luxury pop up bars to repurposed horse floats and vintage caravans, the state has mobile bars to suit all event themes from Hamptons inspired parties to DIY weddings. 
The mobile bars on this list are absolutely stunning centrepieces, creating a fun and laid back vibe at your event while keeping your guests hydrated and refreshed. They serve a range of chilled drinks from standard & craft beers, wines, champagnes and ciders, to signature cocktails crafted to your liking by RSA qualified mixologists.
Mobile bar hire in NSW includes licensed and non-licensed options. The majority of portable bars in the state are non-licensed which means you're able to source your own alcohol and mixers from wholesale stockists and have them served chilled with ice, straws and garnishes provided by your mobile bar. 
Mobile bar hire packages include two main options; Dry Hire is the cheapest starting at $800 for a drop & go service where your bar is set up for you and left unmanned with the legally required RSA qualified staff being provided as part of your venue hire package. Other packages include RSA staff and are suitable for backyard events and BYO venues.
The cost to hire a mobile bar ranges from $1,200 - $3,500 on average across New South Wales. Things that affect the price include the size of your guest list (the more guests you have, the more staff are required), the location (travel is charged per km), the duration of your event and added extras like styling items, furniture hire and the service of cocktails.
Mobile Bars 
Sydney
Central Coast
Newcastle
Hunter Valley
North Coast
South Coast
Byron Bay
Country NSW
Mobile Bar Hire in Sydney

1. Kombi Keg Sydney
Location: Sydney
Service Area: Sydney, Penrith, Blue Mountains
Hire Fee: $850+
Kombi Keg Sydney is a 6 tap vintage caravan bar that arrives to your event stocked with your choice of drinks. With most mobile bars in NSW being unlicensed and BYO, Kombi Keg offers the unique convenience of bringing & chilling your drinks for you.
The Kombi's interactive self-service taps create a fun experience for guests and packages include the option of drop & go (to self serve) or you can have RSA trained staff on hand to do the pouring, shaking & stirring for you. Taps can be stocked with standard or craft beer, wine, cider, cocktails, mocktails or soft drinks.

2. Kombi Keg Pop Up Bars
Location: North West Sydney
Service Area: Sydney, Penrith, Blue Mountains
Hire Fee: $850+
In addition to the 6 tap vintage caravan, Kombi Keg has a range of pop up bars available as add ons to Kombi hire. Pop up mobile bars include cocktail pallet tables, wine barrel bar benches, rustic barrels and elegant white wine bars. 
Pop up bars are set up alongside the mobile caravan bar to complete your bar styling area. Glassware is available to hire for all drink varieties including cocktails or you are free to BYO.

3. The Rambling Rose Bar
Location: Narrabeen, NSW
Service Area: Sydney
Hire Cost: $1,500+
The Rambling Rose Bar is a non-licensed vintage caravan bar that brings RSA qualified bartenders to your event to serve your BYO drinks. Straws, napkins, glasses, ice and water station are all included in the hire fee which ranges from $1,500 - $2,300 including 3 - 8 hours of service. Pop up bars and cocktail service are also available.

4. The Hairy Coo Mobile Bar
Location: Sydney
Service Area: NSW
Hire Fee: $1,200 + gst
The Hairy Coo converted horse float is a non-licensed mobile bar that serves your BYO drinks to guests. The luxury horse float is purpose built with bronze beer serving taps on the counter and inbuilt refrigeration and ice making facilities. 
Rental options start at $1,200 for a 24 hour drop & go package allowing service staff at your venue to take over operation. More comprehensive packages come with bar staff, ice, glassware and the shaking of cocktails from $1,080 - $2080 for 3 - 8 hours respectively. You can also hire The Hairy Coo for your recovery event with service of tea, coffee, juices and panadol.

5. My Little Peony Mobile Bar
Location: Sydney
Service Area: NSW
Hire Fee: $600 - $2,400 (2 - 8hrs)
My Little Peony is a beautiful 1950's replica Bondwood caravan that travels all around NSW serving your BYO drinks. She comes fully decked out with fridges, ice sinks, lights and music and brings RSA qualified staff to your event ticking the legal boxes.
Mobile bar services are available for events of 20 - 350 guests and include the option of signature cocktails & mocktails crafted in conjunction with your requirements. Hire packages are $300 - $450 per hour (minimum 2 hours) and include 2 staff, all glassware, bar styling and signage. 
---
---
Mobile Bar Hire Central Coast

6. Memory Lane Weddings & Events
Location: Central Coast
Service Area: Central Coast & Hunter Valley
Hire Cost: $1,350+
Memory Lane are a husband and wife DIY wedding team that offer end-to-end wedding planning including hire of Florence, the beautiful 1968 Franklin caravan. Alicia is the organisational, styling & planning whizz and Nathan is the resident mixologist and craft beer expert. 
This bar on wheels serves champagne, beer and fancy cocktails themed to your liking with your BYO alcohol. Also available are day-of wedding assistance, full wedding coordination, grazing tables, luxury picnics and lawn games.
 View Memory Lane Weddings & Events

7. Williams & Co Mobile Bar
Location: Central Coast
Service Area: NSW
Packages: $45 - $500 per hour
Williams & Co is an entertainment company that offers a range of mobile bar hire packages including simple bar staff hire from $45/hr up to tipi bar hire from $1,500 - $3,500. Other options include Lucy, a 1959 vintage Carapark caravan bar available for hire from $500 per hour and Fred, a horse float bar from $400/hr.
Mobile Bar Hire in Newcastle

8. Peaches Mobile Bar
Location: Newcastle
Service Area: Central Coast, Hunter Valley
Cost: $1,500+
Boho queen Peaches is a restored 1970's Franklin caravan that has been transformed into an all-inclusive mobile bar to hire for weddings, hens, engagement parties and other events. Peaches and her RSA qualified staff serve all the main alcohol types and also offer champagne towers and a cocktail service.
Mobile bar hire starts at $1,500 including 5 hours service with 2 staff, premium glassware, hydration station, ice and styling. Lawn games are provided free of charge and optional Lil' Peach is also available, offering a beautiful white bench with wooden service bar for tighter spaces.

9. Boozy Suzie Caravan Bar
Location: Mayfield
Service Area: Newcastle, Hunter Valley
Hire Cost: $1,800+
Boozy Suzie is the ultimate outdoor centrepiece to elevate your DIY wedding. Her big peachy presence comes beautifully styled, ready to serve your BYO drinks anywhere around Newcastle and beyond. When you book Suzie you get personalised service including help to plan your drinks list based on your guests numbers and hours of service.
Suzie offers three package options. There's dry hire for when your venue already supplies staff, a 2 - 3 hour cocktail package keeping guests hydrated while you have photos and a 5 hour party starter. There's also the option of add-on grazing tables. 
---
---
Mobiles Bar Hire Hunter Valley

10. Tropical Shore Mobile Bar Hire
Location: Maitland, NSW 2320
Service Area: Hunter Valley, Lake Macquarie
Hire Fee: $750+
Tropical Shore is an affordable mobile bar that offers full service of BYO drinks. A range of champagne, wine, beer & cocktail carts come as fully styled bars with professional RSA trained bar staff. Mobile cool rooms are also available for hire.
Trailor Bar hire packages start at $1,000 with all glassware, ice, staff, styling and personalised signage included. Champagne cart hire starts at $750.
 View Tropical Shore Mobile Bar

11. The Wandering Gypsy
Location: Singleton NSW
Service Area: Hunter Valley, Country NSW
Cost: $695+
The Wandering Gypsy is a licensed mobile bar that also offers dry hire and BYO alcohol packages. Hire starts at $695 including ice, glassware and qualified RSA staff for you to BYO alcohol. All inclusive packages start at ​$1,575 with 3 hours service including drinks. The more guests and hours you add increase the hire fee.

12. Brumby Bar
Location: Neath NSW
Service Area: Hunter Valley
The Brumby Bar horse float duo are two bold statement bars that are available to hire separately bringing a funky vibe to your wedding. In addition to serving up your BYO bottled & canned drinks, the Black Brumby is fitted for frozen cocktails while the White Brumby brings barista quality coffee (hello recovery brunch!)
Packages include RSA staff, commercial refrigeration, back up ice & eskies, alcoholic and non-alcoholic slushie machines, fruit infused water stations, glassware and a wooden bar with bar stools. The full scale service includes provision of a mobile cool room and generator if required. There's even a popcorn machine (hello eco friendly confetti!)
---
---
Mobile Bar Hire North Coast NSW

13. August & Lucy Mobile Bar
Location: Port Macquarie
Service Area: Mid North Coast
Hire Fee: $850+
August & Lucy is home to Gilbert, a vintage caravan mobile bar with 2 large timber serving windows that come styled to your event. Gilbert travels from Newcastle to Coffs Harbour bringing with him a commercial coffee machine and RSA qualified staff to serve your BYO drinks.
Hire packages start at $850 for a 2 hour garden high tea and range up to $1,950 for 7 hours service of champagne, wine, beer, signature drink and a choice of 3 cocktails. Lawn games and furniture hire is also available with inventory including vintage lounges, arbors, chairs and an assortment of styling items.
Mobile Bar Hire South Coast NSW

14. Sneaky Bevies Mobile Bar & Grazing
Location: Jervis Bay
Service Area: South Coast & Shoalhaven
Hire Cost: $400+
Sneaky Bevies is a funky mobile bar that shakes and stirs all your favourite cocktails. The elegant white portable bar creates an inviting drinks area that elevates your event space and comes with top end glassware, garnishes and styling touches to perfectly compliment your event theme.
RSA qualified bar hire staff work with you to source your preferred drinks and do not charge a mark up on alcohol. Also available are champagne towers, cocktail towers, slushie machines and frozen margarita stations. To complete your cocktail hour Sneaky Bevies can also set up a sweet and savoury grazing station.

15. Meet Mabel Mobile Bar
Location: Gerringong
Service Area: South Coast NSW
Hire Cost: $1,400
The Meet Mabel caravan is a portable bar that services the Illawarra, Shoalhaven and South Coast regions of New South Wales. She serves BYO beer, wine and cocktails with basic packages ranging from $1,400 - $2,200 including 3 - 8 hours service with 2 RSA qualified staff, ice, napkins & straws and a fresh-fruit-flavoured water station.
Mobile cocktail packages start at $1,900 including service of your choice of 3 cocktails for 3 hours. Add ons include extra pop up bars, custom cocktails, floral styling, signage and cool room hire.

16. Sip Swig & Swallow
Location: Canberra
Service Area: South Coast NSW, ACT
Sip, Swig & Swallow is a BYO travelling bar that offers a comprehensive bar and/or cafe experience at your designated event location anywhere within 200km of Canberra (or further afield). Packages include RSA qualified staff, ice & seasonal garnishes, napkins & straws, stemware, water station, personalised menu and bar styling to match your event.
When you hire Sip, Swig & Swallow as your mobile bar supplier you get the option of having your own signature cocktail at your event. All glassware, garnishes and syrups are supplied and you supply the alcohol and mixers. Hire is also available of a standalone bar and two hedge glass walls that fit 50 filled champagne glasses per wall. 

17. Kombi Keg South Coast
Location: Shellharbour NSW
Service Area: Illawarra, Shoalhaven, Southern Highlands
Hire Fee: $900+
Kombi Keg South Coast is an immaculately restored 1971 Low Light Kombi named 'Marmalade'. She's a 6 tap mobile bar that can pour kegs of beer as well as cider, wine, cocktails, and soft drinks. An ideal centrepiece for a DIY garden wedding, guests can pour their own drinks or you can opt for packages with bartender hire.
---
---
Mobile Bar Hire Byron Bay

18. Fern Vintage Van
Location: Brisbane
Service Area: Byron Bay, Northern NSW
Packages: 3 - 8 hour bar or 

café
Fern the BYO vintage van brings her lush rainforest greenery to events in Byron Bay and surrounding regions. You purchase your drinks at wholesale stores and Fern serves them up cold from her two 70L bar fridges.
Fern can also serve organic and locally roasted Bun Coffee Byron Bay which is Rainforest Alliance Certified and part of the Fair Trade Foundation. Packages include glassware and/or biocups, RSA staff and/or baristas, trestle table water station and planet-friendly commercial compost bin.
Mobile Bar Hire Country NSW

19. That Vintage Tradewind
Location: Oberon
Service Area: Blue Mountains, Central West
BYO drinks (refrigeration required)
Imported from Florida in 2017, this 1960s Vintage Airstream is the ideal centrepiece for country weddings. Its large size creates an intimate gathering point in spacious paddocks and she's battery powered with her own 90ltr water tank onboard.
Inside is a rustic timber bar with vintage lights around the servery window and a black leather lounge area which seats 10 people and creates a great photo op. You bring the drinks. That Vintage Tradewind brings the glasses & ice etc.

20. Vinbar Mobile Bar
Location: Albury
Service Area: Albury/Wadonga, Hay, Tumut
Hire Cost: $750+
Vinbar is travelling caravan bar that comes fully licensed and loves to support local breweries and wineries. He brings all your drinks to your event pre-chilled, has up to 4 RSA trained staff, caters for up to 250 guests and runs off his own pre-charged power.
Vinbar can also come with finger food style catering from $30 per person including grazing boards, rice paper rolls, salads and sandwiches.
To hire a mobile bar in NSW you'll need to pay a deposit and sign a contract to lock in your date. After you've paid a deposit for your mobile bar and/or bartender hire you'll be given support to plan your drinks menu. If you're booking a BYO bar they'll help you calculate the volumes of alcohol required and create a shopping list.
Most mobile bar customers source drinks from Dan Murphys or local breweries, wineries and distilleries. Drinks usually need to be provided to the mobile bar already chilled and using on-board fridges and ice the bar then keeps them cool for the duration of your event.
Most mobile bars require access to power via a standard power lead. If your function venue is unable to provide power the bar will supply a generator at an additional cost (around $200 - $300).
A mobile bar on wheels and stationery pop up bars create a memorable stand out feature at your event. More than a drinks service, they provide a destination for guests to congregate at, an elegant styling feature within your space and create a fun and laid back atmosphere. 
Have a mobile bar to add to this list? Get Started