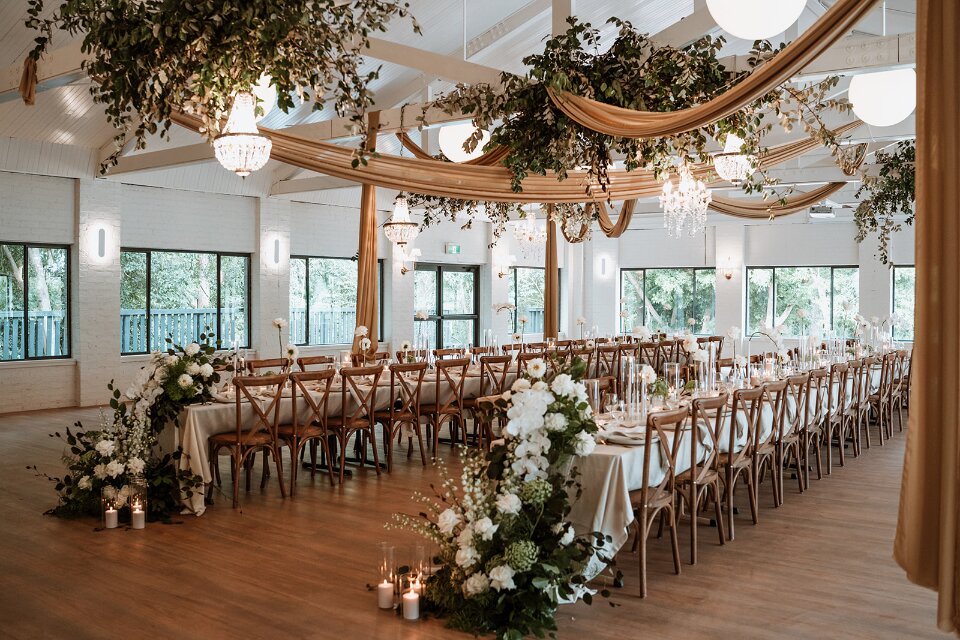 DIY wedding venues in NSW are bursting with opportunities to get creative and plan a wedding that's totally unique to the two of you. From country venues & elegant private estates to backyard reception venues, the variety of buildings, backdrops and facilities at DIY venues in NSW gives plenty of scope to create a unique do-it-yourself wedding.
In NSW, DIY wedding venues come in three price brackets - budget venues, mid range venues and luxury DIY venues. DIY venues that offer the biggest budget savings are largely BYO locations where you can hire your preferred wedding caterers including food trucks and mobile bars.
Most DIY wedding venues fall into the mid range price bracket and are blank canvas spaces where you do the styling. Blank canvas venues are either fully self catered or come with a choice of catering packages charged at a cost per head rate.
NSW has a wonderful range of luxury venues for DIY weddings including private properties & estates and exclusive hire resorts. Private houses sometimes require that a wedding planner is booked, particular at locations where there is no permanent reception structure. Planners assist with hire of suitable marquees, power generators and often overlooked requirements. 
Here are 45 amazing DIY wedding venues in NSW...
DIY Wedding Venues
Top 10 NSW
South Coast Venues
Southern Highlands Venues
Sydney Venues
Blue Mountains Venues
Central Coast Venues
Hunter Valley Venues
Illawarra Venues
Mid North Coast Venues
Newcastle Venues
Northern Rivers Venues
Riverina Venues
Off-the-beaten-track Venues
Top 10 DIY Wedding Venues in NSW

1. The Woods Farm
Location: Bayly Road, Tomerong, NSW 2540

Capacity: 200

Accommodation: Sleeps 120

Wedding Packages: BYO catering & drinks
The Woods Farm is a fully DIY wedding venue located in Jervis Bay on the NSW South Coast. You can bring up to 120 wedding guests to stay with you onsite for the weekend with accommodation in cottages and permanent glamping tents.
Included in the 3 day wedding package is use of the unique open air wedding chapel and luxe rustic reception shed. Expect a quirky property filled with old wares and luxury chandeliers. The 40 acres are home to a wonderful array of friendly farm animals and surrounded by picturesque bush.

2. St Joseph's Guesthouse
Location: 1029 St Albans Rd, St Albans, NSW 2775

Capacity: 60 - 100

Accommodation: Sleeps 10

Wedding Packages: BYO catering & drinks
Built in the ruins of a 160 year old Catholic Church, St Joseph's Guesthouse is one of the most memorable DIY wedding venues in NSW. The award winning 3 level stone building features an elegant ground floor event space and a flat outdoor lawn area that is particularly well suited to rustic or boho styled weddings.
The affordable venue hire fee provides exclusive access to the Guesthouse, grounds & accommodation for 2 - 4 nights so you have time to DIY wedding preparations and relax in the outdoor spa taking in the country views for a day or two after. 

3. The Cove Jervis Bay
Location: Booderee National Park, Jervis Bay, NSW 2540

Capacity: 150+

Accommodation: Sleeps 126

Wedding Packages: BYO catering & drinks
The Cove is a 3 acre seaside oasis with it's own private beach and accommodation for your entire guest list. The DIY venue suits those looking for a weekend escape where everything happens onsite including the option of pre & post wedding events. 
The resort features a pamper room to get ready in, a games garden, a village green with outdoor festoon lighting, an outdoor pavilion with bar circled tree, a chandelier tree grove, a marquee site, cabins, tents and a funhouse. Romantic & intimate outdoor weddings under fairy lit trees are what The Cove is all about.

4. Chapel Hill Retreat
Location: 36 Berambing Crest, Berambing, NSW 2758
Capacity: 150
Accommodation: Sleeps 36
Wedding Packages: Inclusive of catering & drinks
With 7 ceremony and reception spaces that all have spectacular views over the picturesque Blue Mountains, Chapel Hill Retreat is one of the most scenic DIY wedding venues in NSW. It's also one of the most versatile, with optional accommodation for up to 36 guests providing exclusive use of all 35 acres. 
At Chapel Hill you can either have your ceremony, reception or entire wedding day onsite. Popular ceremony sites include a natural bush cathedral, a non-denominational wedding chapel and an open air deck. The deck adjoins a white-walled, blank canvas function room with the option for a marquee or outdoor reception on the open lawns & gardens.

5. The Pavilion Kiama
Location: 2 Bong Bong Street, Kiama, NSW 2533
Capacity: 80 - 400
Accommodation: Hotels within 4min walk
Wedding Packages: Inclusive of catering & drinks
The Pavilion Kiama is an affordable beachfront venue with a blank canvas function space that's easy to style to any wedding theme. With gorgeous ocean views to Kiama Lighthouse, two waterfront ceremony areas directly outside, and catering provided in-house, The Pavilion is the perfect DIY venue for self stylers.
Large airy windows bring sea views and plenty of light into the reception space which has light walls, polished timber floors and an elevated stage. Venue hire includes use of the entrance foyer for pre-dinner drinks before the reception room doors are opened for guests to enter and admire your creative vision.

6. Midginbil Eco Resort
Location: 252 Midginbil Rd, Midginbil, NSW 2484
Capacity: 150
Accommodation: Sleeps 150+
Wedding Packages: BYO catering & drinks
Midginbil Eco Resort is a fun, DIY wedding destination located in beautiful rainforest surrounds an hour inland from Byron Bay. The budget-friendly resort includes accommodation for all guests in a range of rooms & camping options including an amazing village of safari tents that each have their own timber balconies with incredible forest views.
Venue hire includes exclusive access to the entire 400 acres with 3 ceremony sites, a rustic barn and open lawns where marquees or tipis can be set up. Other amenities include a swimming pool, tennis & volleyball courts and a homestead where the bridal party can get ready and which has a communal dining room and a late night bonfire site. No curfew.

7. Willow Farm
Location: Galls Lane, Berry, NSW 2535

Capacity: 130

Accommodation: Sleeps 10

Wedding Packages: BYO catering & drinks
Willow Farm is a 160 acre DIY wedding venue on lush green South Coast farmland. The expansive property has a ceremony paddock or an intimate & highly romantic creekside setting for exchanging vows. A rustic reception barn & modern yoga barn provide the bones of your wedding day.
Willow Farm is renowned for relaxed, outdoor weddings. A flat green lawn in front of the rustic barn, provides the perfect setting for lawn games, drinks & canapés and you can pitch an optional marquee to create a seperate area for dining, dancing or lounging. BYO catering & drinks or ask Keri the owner to organise for you.

8. Eleven Eighty Weddings
Location: 1180 Bolong Road, Coolangatta, NSW 2535 
Capacity: 80
Accommodation: Sleeps 15

Wedding Packages: BYO catering & drinks
Eleven Eighty is a dream venue for small, DIY weddings with 5 unique spaces in which to create an amazing 3 day celebration. Venue hire includes a 2 night stay for up to 15 guests in two onsite cottages, exclusive use of the entire property and all amenities and access to a styling shed with arbors, tables, chairs and velvet lounges.
From largest to smallest, the quirky event spaces at this 3 acre property include the rustic courtyard which comes with an optional glass marquee, an old school hall which seats up to 50 guests, a luxe barn that seats 30 and a refurbished train carriage that seats 20. There's also a relaxed pergola with a wood-fired Argentinian BBQ (comes with wood).

9. Tides Byron Estate
Location: 290 North Teven Road, Teven, NSW 2478
Capacity: 140
Accommodation: Sleeps 22
Wedding Packages: BYO catering
With a white interior, high-end furnishings and a huge glass wall with stunning views over the property's macadamia farm, the wedding hall at Tides Estate is one of the most beautiful coastal locations for DIY weddings in Northern NSW. 
In addition to the purpose-built wedding hall, the 100 acre property features a luxury 8 bedroom villa which has a poolside entertaining area seating up to 40 guests. You can either hire both venues together for a fun 3 day celebration with a poolside recovery party in the villa, or just the hall, or for micro weddings just the villa.

10. Fig Tree Park
Location: 58 Sherringham Lane, Central Tilba, NSW 2546
Capacity: 2 - 200
Accommodation: Sleeps 2
Wedding Packages: BYO catering & drinks
This hillside estate is one of Australia's most scenic outdoor venues with incredible 180° views over surrounding countryside to the ocean's horizon. The grounds of Fig Tree Park are a DIY wedding location framed by up-lit French style gardens, rockeries, manicured hedges and a huge fig tree.
Venue hire comes with elegant round tables and cross back chairs to set up on the lawns, freedom to bring all your own wedding suppliers and complimentary accommodation for two in a romantic barn.
DIY Venues on the South Coast

11. Figbird Cottage
Capacity: 150+
Location: 

330 Comerong Island Rd, Terara, NSW 2540

Wedding Package Inclusions: Venue hire, furniture, accommodation
Accommodation: Sleeps 8 + glamping
Figbird Cottage is one of the best & most affordable DIY wedding venues in Australia. The pretty rose gardens and large European marquee are surrounded by slow & peaceful dairy farm paddocks, creating a perfectly elegant location for relaxed, country weddings.
From barefoot lawn games and festival-style food trucks to black tie receptions served by private chefs, Figbird Cottage is a versatile venue for all styles of weddings - without the hefty price tag. 2 Cottages sleep 8 guests are included with 3 day/2 night wedding packages. Day hire available.

12. Kullindi Homestead
Capacity: 20 - 200
Location: 

Booderee National Park, Ellmoos Rd, Jervis Bay, NSW 2540

Wedding Package Inclusions: Venue hire + accommodation
Accommodation: 5 units
The historic Kullindi Homestead is a unique wedding venue with spacious lawns on the edge of Sussex Inlet waterway. Providing an absolute blank canvas, the property is an ideal location for those who wish to DIY their wedding from scratch.
You'll need to hire a marquee or teepee to pitch on the private waterfront and bring your own catering and drinks. Stay the weekend in five self-contained units, plus there's plenty of space for glamping.

13. Mimosa Wines
Location: 2845 Tathra-Bermagui Rd, Bermagui NSW 2546
Capacity: 180
Accomodation: Sleeps 13
Wedding Packages: BYO catering & drinks
The reception venue at Mimosa Wines is a luxe-rustic space that requires very little styling owing to its incredible view and lavish dining experience. The architecturally designed, chefs hatted restaurant features raw timber pylons, polished floors and open glass walls that extend the space onto a large balcony with extensive views of the vineyard and surrounding national park.
Venue hire provides exclusive use of the 200 acre vineyard on your wedding day, use of a lily pond jetty which is perfect for DIY wedding ceremonies and where you can get creative with floral styling, and overnight accommodation in two onsite cottages with sleep up to 13 guests.

14. Coolangatta Estate
Location: 1335 Bolong Road, Coolangatta, NSW 2535
Capacity: 2 - 200
Accommodation: Sleeps 70
Wedding Packages: All inclusive + BYO
Coolangatta Estate is the perfect DIY venue if you're looking a rustic event space that oozes historic charm. This budget friendly winery is located at Shoalhaven Heads and is the site of first settlement in the region with many of the original buildings providing an atmospheric backdrop for intimate celebrations. 
The 100 acre property has a giant fairy-lit fig tree and a hedge rimmed croquet lawn site for wedding ceremonies that are bordered by stunning views over the vines to surrounding bush-covered hills. Two DIY reception venues include a function centre that seats 200 guests and the original town hall which retains its authentic yesteryear decor for up to 80 guests.
---
---
DIY Venues in the Southern Highlands

15. Growwild Wildflower Farm
Capacity: 145
Location: 

916 Old Hume Hwy, Alpine, NSW 2575

Wedding Package Inclusions: Venue hire, furniture
Accommodation: Next door
Growwild Wildflower Farm is an elegant & affordable DIY wedding venue on 25 acres of native bushland and wildflower plantings. Choose from manicured lawns, private gardens and a rustic barn for your ceremony location and the barn can also be utilised as a micro reception venue for smaller weddings.
For larger wedding receptions there's the option of the permanent marquee which has light wood flooring making a perfect blank canvas to style in any wedding theme, and there are outdoor facilities for the warmer months. Growwild is a registered sanctuary with the Wildlife Land Trust and home to a wide variety of native flora & fauna including the occasional Koala.

16. Briars Conservatory
Location: 653 Moss Vale Rd, Burradoo, NSW 2576
Capacity: 200
Accommodation: Sleeps 130

Wedding Packages: All inclusive
Briars Conservatory is a beautiful light-filled reception space that overlooks lush country gardens and a lake with weeping willows. The fully furnished space is perfect for DIY weddings with white walls & furnishings providing an elegant blank canvas that sets off any colour scheme and aesthetic.
Briars Conservatory is located on 15 rural acres in the heart of the Southern Highlands and has an Inn and Lodge on the same property. These conveniences allow guests to book & manage their own accommodation, plus provides a destination where guests can go for refreshments between your ceremony and reception.

17. Mali Brae Farm
Location: 562 Nowra Rd, Moss Vale, NSW 2577
Capacity: 30 - 110
Accommodation: Complimentary for 2

Wedding Packages: All inclusive
Mali Brae Farm is a 90 acre property that specialises in luxe, barn-style weddings. The all-in-one location comes with a choice of 7 wedding ceremony areas including a rustic shed, lush gardens, weeping willows and historic ruins.
The farm has two DIY reception venues including the original hay shed which is transformed into a modern space with polished floors, a huge rustic fireplace and skylight windows. The other function area is a purpose-built room for micro weddings that seats 30 - 55 guests. Both reception venues offer a luxe backdrop well suited to rustic weddings.
DIY Venues in Sydney

18. Australian Botanic Gardens Mount Annan
Capacity: 200
Location: 362 Narellan Rd, Mount Annan, NSW 2567
Wedding Package Inclusions: Venue hire only or all-inclusive
The Australian Botanical Gardens is Western Sydney's most popular spot for garden weddings. You can hire the lawns and gardens for DIY ceremonies and outdoor receptions and choose from lake front locations, a private rainforest area and secluded woodlands. 
Wedding packages include short venue hire for ceremony only with photos in the gardens after, or extended hours are available for marquee receptions. The gardens have two onsite reception venues that offer all inclusive packages and you can DIY all decorations. 
 View Australian Botanic Gardens 

19. Saint Events Centre
Location: Saint Mary's Leagues Club
Capacity: 20 - 500
Accommodation: Onsite hotel
Wedding Packages: All inclusive
Saints is the event centre located at St Mary's League Club in the heartland of Western Sydney. The centre has 6 blank-canvas event spaces that vary in capacity for different sized receptions, and all are well suited to affordable do-it-yourself weddings. There's even a reception venue that overlooks the playing fields.
Catered wedding packages at Saints start at just $55 per head and include a range of menu options from buffets to 3 courses to cocktail style functions. Simple tableware is provided around which you can style the spaces however you like.

20. Lords Estate
Location: 313 Seven Hills Rd, Seven Hills, NSW 2147
Capacity: 2 - 100
Wedding Packages: BYO
Lords is a private estate conveniently located just off the M7 only 20 minutes from the Sydney CBD near Parramatta and the Hills District. The property centres around an historic wedding chapel that has a refurbished interior with polished wooden floors, white wash walls and removable pews. 
Lords offers a unique opportunity to get married in the non-denominational chapel, plus have your reception onsite - either in the chapel or outside in the gardens. The non-denominational chapel is not only an extremely unique venue, its also one of the few entirely DIY wedding venues in the city. 

21. Butchers Daughter
Location: 11-15 Alexander Street, Crows Nest, NSW 2065
Capacity: 100
Wedding Packages: All inclusive
Butchers Daughter is one of our favourite DIY wedding venues due to the stylish vision of its own Bridget Ditte. Bridget is an amazing florist who elevates simple rooms into experiential spaces through the creation of unusually shaped floral installations combined with textural elements like neon rope lights, candles and coloured glass vases.
Butchers Daughter is a street-front event space that comes as a blank canvas with dark feature walls, industrial flooring and a built-in rustic bar. Venue hire includes a choice of shared dining menus and you can either do your own wedding styling or engage Bridget to execute to your design brief.
---
---
DIY Venues in the Blue Mountains

22. Dantosa Estate
Location: 

76 Mort St, Katoomba, NSW 2780

Capacity: 16 - 60
Accommodation: Sleeps 18
Wedding Packages: BYO caterers & drinks
Situated in the Blue Mountains world heritage listed national park, Dantosa Estate is a completely DIY wedding venue uniquely immersed in beautiful nature. The 9 acre estate centres around a private lake which has a gorgeous ceremony pontoon that makes a beautiful backdrop for wedding photos.
There are two self-contained cottages that sleep up to 18 guests onsite with the larger of the two seating up to 60 guests in its spacious dining room. Lush gardens and a tennis court offer the potential for outdoor weddings and marquees are permitted on the property.

23. Lithgow State Mine
Capacity: 150
Location: 

3A State Mine Gully Rd, State Mine Gully, NSW 2790

Wedding Package Inclusions: Venue hire
Accommodation: Nearby hotels & Airbnb's
The decommissioned coal mining site of the Lithgow State Mine is surrounded by relics of a bygone era. Old trains and coal mining machinery provide the perfect backdrop for wedding photos and with a backdrop of expansive mountain views, the mine provides an atmospheric canvas on which to create your dream wedding.
The Bath House is a unique reception venue with an industrial vibe and white walls to style as preferred. Simply add Persian rugs, a velvet lounge, neon signs or other preferred styling items to bring your own unique character to this incredible space.

24. Waldara Farm
Capacity: 150
Location: 

280 Burroughs Crossing, Edith, NSW 2787

Wedding Package Inclusions: 3 Day venue hire, furniture
Accommodation: Sleeps 20
At Waldara Farm you have 800 acres of grazing pastures and picturesque country landscape on which to plan your DIY wedding. The farm's topography features rolling green hills, rugged mountain landscapes, manicured gardens and beautiful country architecture.
The whole farm is available to hire for your exclusive use with a luxury barn, ceremony shed, gazebo, lawns, gardens, a reception hall and all ceremony & reception furniture included. You are free to choose your own caterers & BYO drinks.
---
---
DIY Venues on the Central Coast

25. Paradise Botanical Gardens
Capacity: 230
Location: 

147 Cherry Ln, Kulnura, NSW 2250

Wedding Package Inclusions: 3 Day venue hire, farmhouse
Accommodation: Farmhouse + glamping
Paradise Botanical Gardens is a private property on 230 acres of pristine countryside located well off the beaten track. Housing a unique collection of open spaces and heritage structures, the venue offers jaw dropping backdrops for DIY weddings.
The Roman Columns are quite unlike any other wedding venue in Australia. Other ceremony & reception venues include the Monet Bridge, Kings Garden and Garden Marquee which are all surrounded by rare plants, animals and a relaxed country landscape with fresh high altitude air. Guests can bring their own tents.
 View Paradise Botanical Gardens

26. Fernbank Farm
Capacity: 140
Location: 

756 Yarramalong Rd, Wyong Creek, NSW 2259

Wedding Package Inclusions: Venue hire + all inclusive options
Accommodation: 4 Bedroom house + 4 bed cottage
Fernbank Farm offers DIY wedding packages for small weddings & elopements up to weddings with 140 guests. You can arrive by road or by air to the stunning gardens with wedding venues including lakeside ceremonies, a permanent arbor, majestic marquee and intimate Hamptons inspired barn.
If you're looking for an easy DIY venue, Fernbank Farm offers the option of degustation menus or a private chef for the weekend.
---
---
DIY Venues in the Hunter Valley

27. Leaves & Fishes
Location: 737 Lovedale Road, Lovedale, NSW 2325
Capacity: 2 - 300
Accommodation: Sleeps 12
Wedding Packages: BYO caterers & drinks
Leaves & Fishes is a dream venue for DIY weddings that comes with indoor & outdoor function spaces for events of all sizes. The Tuscan-style sunken garden offers the most creative scope for DIYers, being a completely blank canvas surrounded by a tropical oasis of rainforest plantings. You can either set up an outdoor wedding here or hire in a marquee. 
Other ceremony & reception venues on the 20 acre property include an ornamental pear tree setting, an amazing banquet hall that features a candlelit roman bath at one end, a restaurant suitable for micro weddings and lush greenery decks. Accommodation is in 5 luxe boat sheds that surround a flowering Lotus Lake with fish.

28. Greystone Estate
Location: 

617 Hermitage Rd, Pokolbin, NSW 2320

Capacity: 32 - 110

Wedding Package Inclusions: 3 day venue hire, acommodation

Accommodation: Sleeps 32
Greystone Estate is a luxury private estate set on 10 park-like acres of beautifully manicured lawns and gardens. Up to 32 house guests can stay onsite for a luxury weekend away celebrating with up to 110 family & friends in total. With several blank canvas spaces onsite, the property is an ideal location for luxury DIY weddings and comes with a private wedding concierge service.
Multiple garden areas for wedding ceremonies include this purpose-built open air pavilion. Reception venues include an all-white function centre and there are several indoor & outdoor spots in the Main House that are perfect for wedding receptions or for pre & post wedding events.

29. Goosewing Cottage
Location: 1194 Mount View Rd, Mount View, NSW 2325
Capacity: 20
Accommodation: Sleeps 12
Elopement packages: $3,295+
Goosewing Cottage is a unique country estate that offers all inclusive packages for micro weddings and elopements. There's a purpose-built open air chapel for wedding ceremonies that either comes with an adornment package featuring a velvet lounge or as a blank canvas for you to style yourself. 
All wedding packages include an amazing photographer and a choice of celebrants who work with you to craft a ceremony that resonates with you. There's two cottages on the property, the larger of which is suitable for private dining for overnight guests only, should you wish to host a DIY reception. 

30. Lonely Goat Olives
Location: 

153 Eglinford Ln, Congewai, NSW 2325

Capacity: 50
Wedding package Inclusions: Venue hire
Accommodation: 2 Bedroom bridal suite
Lonely Goat Olives is a small DIY venue in the Hunter Valley. The property is on a picturesque olive grove surrounded by green farmland and offers a choice of scenic backdrops for wedding ceremonies. Hire of a marquee for DIY wedding receptions is recommended.
The owners at Lonely Goat Olives are very flexible to work with your vision. There's an option for wedding guests to set up glamping tents and the premises is a pet friendly venue.

31. Wallalong House
Location: 

76 Wallalong Rd, Wallalong, NSW 2320

Capacity: 150
Wedding Package Inclusions: Venue hire 
Accommodation: Sleeps 19
With its stone flooring and marble bar, the majestic Indian tent at Wallalong House is one of the most luxurious blank canvas venues in country NSW. Located poolside with dreamy lighting and outdoor lounges dotting the space, there's very little styling required to create a lavish reception.
Wedding ceremony locations include a 200 year old fig tree site with picturesque views from its elevated position. Accommodation for 19 includes a bridal suite in the 1830's stables. 
---
---
DIY Venues in the Illawarra

32. The Lodge Jamberoo
Location: 406 Jamberoo Mountain Road, Jamberoo, NSW 2533
Capacity: 300
Accommodation: Sleeps 136
Wedding Packages: All inclusive
The Lodge is one of the easiest do-it-yourself style wedding locations in NSW with all catering and drinks provided onsite. It's also one of the most fun spots for a destination wedding with 43 poolside rooms for your guests included with venue hire. 
The hotel has an amazing DIY wedding hall with a neutral colour palette that styles to any aesthetic and for ceremonies there's a one-of-a-kind Pine Forest Cathedral that features an open air timber chapel beside a quietly running stream. 

33. Ravensthorpe Estate
Location: 56 Tongarra Rd, Albion Park NSW 2527
Capacity: 50 - 200
Accommodation: Sleeps 18
Wedding Packages: All inclusive
Ravensthorpe is a private rural estate that centres around a Georgian style manor and is surrounded by 3 acres of lush country gardens. Ceremony and reception venues include a chandelier rotunda, a paved garden marquee, private dining rooms, an intimate courtyard and the tennis court where seated dining can be styled under the stars.
Venue hire is inclusive of B&B accommodation for up to 18 guests overnight, all drinks, furniture and a choice of menus by preferred caterers. 

34. Interbane House
Location: 8 Lawrence Hargrave Drive, Stanwell Park, NSW 2508
Capacity: 50
Accommodation: Sleeps 18
Wedding Packages: BYO caterers & drinks
Interbane House is a 5 bedroom Airbnb that can be hired for DIY weddings and events. The Victorian-period home is located on Bald Hill overlooking the new Sea Cliff Bridge and has amazing views of the coastal traffic to the ports of Wollongong.
Up to 18 guests can be seated in the open plan kitchen/dining area. The wrap-around balcony offers a scenic space for cocktail style functions and the backyard can host up to 100 guests with the option of pitching a marquee. An extra 8 guests can be accommodated next door.
DIY Venues on the Mid North Coast

35. Goolawah Retreat
Location: 288 Point Plomer Rd, Crescent Head NSW 2440
Capacity: 30 - 150
Accommodation: Sleeps 32+
Wedding Packages: BYO caterers & drinks
Surrounded by 28 acres of coastal bushland, Goolawah Retreat offers a relaxed and VERY affordable DIY wedding destination for a 3 day getaway with family & friends. DIYers will love this blank canvas property which features a brand new timber wedding pavilion and adjoining courtyard. 
Sleeping arrangements include 5 refurbished cottages and there's more accommodation nearby. The owners also allow camping onsite. With all the bones of your day available onsite, simply choose your preferred caterers, BYO alcohol and do your own styling thing. No curfew.

36. Longview Farm Weddings
Location: 95 Longview Cl, Caffreys Flat, NSW 2424

Capacity: 120

Accommodation: Sleeps 54+

Wedding Packages: $15,000
Inclusions: 2 nights for 14 guests, hire items, RSA staff
Surrounded by picturesque green hills and with a river flowing through the property, Longview Farm is one of the state's most relaxed locations for a country wedding. The secluded landscape is ideally suited to rustic, luxe-boho or country themed weddings in a large refurbished barn on the riverfront or in a DIY marquee or tipis.
The crowning jewel of Longview Farm is the unique rotating house. This luxury residence has a large balcony that can be styled for smaller weddings or pre & post wedding events. Longview is an affordable multi-day wedding venue with late curfew, free styling & hire items and optional glamping.
DIY Venues in Newcastle

37. Stanley Park
Capacity: 200
Location: 

77 Fullerton Cove Rd, Fullerton Cove, NSW 2318

Wedding Package Inclusions: Venue hire

Accommodation: Sleeps 15
With spacious lawns and a scenic waterfront location, the grand estate of Stanley Park offers the perfect blank canvas for outdoor weddings. In addition to the homestead, the estate features a large airy barn that can be styled to suit any wedding theme.
Food trucks, drink carts and outdoor dining are popular at this versatile venue. Hire of a wedding planner and/or stylist is highly recommended.
DIY Venues in the Northern NSW

38. Coorabell Estate
Location: 36 Keys Road, Coorabell, NSW 2479
Capacity: 10 - 150
Accommodation: Sleeps 10
Coorabell Estate is an amazing venue for DIY weddings with stunning views over surrounding rainforest and national park. The private 28 acre property is situated just outside of Byron Bay and comes with a luxury 5 bedroom homestead and the freedom to host pre & post wedding events poolside.
The main reception area is the beautiful terraced lawns where marquees, tipis or Sperry Tents work well, as does long table dining under blue skies. The property comes with an event manager to make all arrangements for you including hire of any required structures and a generator.

39. Forget Me Not Weddings
Capacity: 30 - 250
Location: 

545 Coopers Shoot Rd, Bangalow, NSW 2479

Wedding Package Inclusions: Venue hire

Accommodation: 5 Cottages
Forget Me Not Farm is a private wedding venue on a working cattle farm near Byron Bay. You'll need to hire your own marquee or tipi to pitch on the flat waterfront site and arrange all catering and styling yourself.
The location is well suited to outdoor weddings with award winning gardens and a picturesque dam with water fountain featuring in the communal spaces. Smaller weddings can be held on the verandah of the cottage homestead and do not require a marquee.

40. Riverside Ranch
Capacity: 150
Location: 

151 Micalo Rd, Yamba, NSW 2464

Wedding Package Inclusions: Venue hire

Accommodation: Bridal suite
Hiring the waterfront venue of Riverside Ranch for your wedding gives you exclusive access to 50 acres of relaxed riverfront terrain to make your own for the weekend. The property offers 4 ceremony & 3 reception locations including a saloon and is also suitable for outdoor, festival style weddings. 
The riverfront lawns offer a scenic setting for wedding ceremonies however Riverside Ranch is located 6 minutes from the beach in Yamba so you can easily do a DIY beach wedding too.
DIY Venues in the Riverina

41. Kimo Estate
Capacity: 200
Location: 

1218 Nangus Rd, Nangus, NSW 2722

Wedding Package Inclusions: Venue hire
Accommodation: Eco huts, cottages, homestead
Kimo Estate is the largest wedding venue in NSW with a spacious 7,000 acres of working farmland to explore. Wedding ceremonies can be styled in the gardens of the main homestead or a favourite spot elsewhere on the property, and there's a 115 year old high ceiling, tin walled, grain shed that is well suited to luxe-rustic weddings.

42. Perricoota Station
Capacity: 500
Location: 

Perricoota State Forest Road, Moama, NSW 2731

Wedding Package Inclusions: Venue hire
Accommodation: Sleeps 17+
The Packing Shed at Perricoota Station is a rustic DIY wedding barn on the mighty Murray River. You can arrive to your wedding ceremony by boat via the property's private marina or via horse & cart in keeping with the historic nature of this property.
With 3.5km's of river frontage, there's no shortage of scenic spots for your wedding ceremony. The property is well suited to DIY weddings and you can stay the weekend or longer in luxury onsite accommodation.
DIY Venues in Off-The-Beaten-Track NSW Locations

43. Willow Farm
Location: Berry - South Coast, NSW
Capacity: 130
Accommodation: Sleeps 10
Wedding Packages: $20,000
Inclusions: 2 nights for 10 guests, furniture, RSA staff
Renowned as one of the South Coast's best DIY wedding venues, Willow Farm offers 160 acres of lush green backdrops on which to create your dream wedding. Ceremony options include a feature tree farm paddock, country gardens, waterfront on the dam or a quiet brook on a secluded creek. 
The farm's reception venues include a rustic entertainment shed, an adjoining outdoor area where you can set up long tables or an alfresco dance floor, and an elevated marquee site overlooking the picturesque farm & dam.
Wedding packages are all inclusive (marquee excluded) with the exception of food & beverage that you can choose yourself. 

44. Mountain View Farm
Location: Tilba Tilba, NSW
Capacity: 2 - 120
Accommodation: Sleeps 2 - 14
Wedding Packages: BYO caterers & drinks
Mountain View Farm is a scenic property located under the gaze of Mount Gulaga on the Sapphire Coast. The unique property offers an authentic farm setting with an open-sided Dairy Shed that opens onto a farm-yard style courtyard setting the scene for DIY weddings. There's also space to pitch tipis which fit well with the rustic charm of the location.
Every Spring, Mountain View Farm bursts into colour with fields of Everlasting Daisies coming into bloom. The owners design a one-of-a-kind aisle and altar into the fields each year offering an amazingly unique and incredibly romantic spot to elope with up to 25 guests for the 6 week flowering season. The fields offer a gorgeous backdrop for wedding photos.

45. Tangaratta Vineyards
Capacity: 220+
Location: 340 Old Winton Road, Tamworth, NSW 2340
Wedding Package Inclusions: Venue hire
Tangaratta Vineyards is a ceremony and reception venue located just minutes from the NSW town of Tamworth. The location features a 104 year old chapel, a large function centre and a large outdoor space with a picturesque vineyard backdrop.
Tangaratta Vineyards is an affordable and basic DIY venue with lots of country charm.
DIY wedding venues in NSW cater for every budget and provide an eclectic choice of spaces in which to plan an utterly unique wedding. This list of the top 45 DIY wedding venues in NSW offers options from affordable venues to luxury estates, and from rustic barns to black tie locations.
Not all DIY weddings are hard work. Do-it-yourself weddings don't have to mean you literally do everything yourself. Almost half of all DIY weddings in NSW utilise the services of a professional stylist or wedding planner, either in bringing together a creative vision for the day or in the execution of styling on the day itself. 
It's entirely possible to plan, style, create and do your entire wedding yourself at any of the above wedding locations. We do however recommend hiring a wedding day coordinator at the least, to help with set up, pack down and clean up of furniture, decor and spaces. Another option is to choose a wedding venue with helpful onsite staff (owner operated venues are often very happy to lend a hand).
Have a DIY wedding venue to add to this list? Get Started