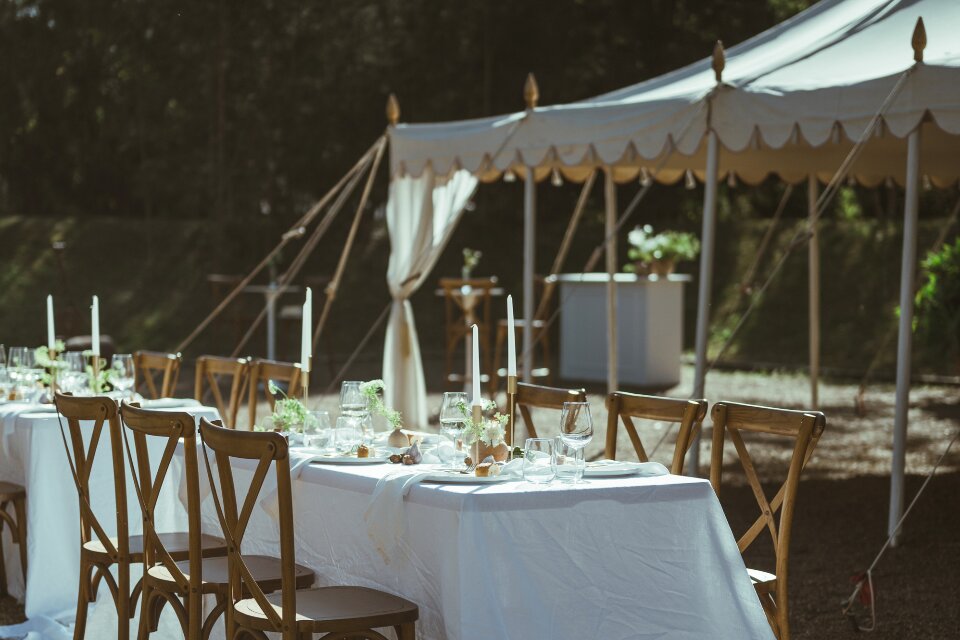 Choosing a marquee venue for your wedding provides the ultimate romantic setting for a reception under the stars. And there's a huge list of other benefits too. Marquee venues offer reliability against the weather, they're the perfect blank canvas to style as your own and they're incredibly flexible in how you can use them.
The range of marquee venues in NSW is wonderfully broad. On this list, there's venues that cater for small weddings of up to 60 guests right up to large weddings of well over 300. There are luxury marquee venues with the likes of polished flooring and built in stone bars, and at the opposite end of the price spectrum there's also cheap marquee venues where it's possible to host your wedding for under $75 per head - with a ceremony & catering included.
These 45 venues in NSW offer marquee weddings in traditional Hocker marquees, Sperry tents, teepees & yurts. Where marquees are permanent structures at the venue they've been identified below, while other locations are more DIY and you'll need to hire a marquee specifically for your wedding.
Without further ado, here's our list of preferred marquee venues for weddings in NSW...
Table of Contents
Top 10 in NSW
Blue Mountains Venues
Byron Bay Venues
Central Coast Venues
Hunter Valley Venues
Illawarra Venues
North Coast Venues
Riverina Venues
South Coast Venues
Southern Highlands Venues
Sydney Venues 
Off-the-beaten-track Venues
Best Marquee Wedding Venues in NSW

1. Eleven Eighty Weddings
Location: 1180 Bolong Road, Coolangatta, NSW 2535 
Capacity: 80
Wedding Packages: DIY/BYO
Accommodation: Sleeps 15
Eleven Eighty a quirky little 3 day venue that offers beautiful marquee weddings in a glass-covered rustic courtyard. The private space comes with a free shed full of furniture and styling items to seat up to 80 guests.
Also on the property are two cottages that sleep up to 15 guests, two indoor venues (a refurbished old school hall and luxe little barn) and a train carriage decked out as a salon where you can get ready.

2. Figbird Cottage
Location: Terara, NSW

Capacity: 150+

Accommodation: Sleeps 8
Wedding Packages: DIY/BYO
Figbird Cottage has the largest permanent marquee on the South Coast and features a white peak roof & clear section over the dance floor. Picturesque English gardens surround the marquee and the property is bordered by peaceful farmland.
Very affordable packages include day rates or 3 day/2 night hire with accommodation for 8 in 2 cottages onsite. 

3. Growwild Wildflower Farm
Location: Alpine, NSW
Capacity: 145
Wedding Packages: All inclusive
Growwild is home to one of the most beautiful marquee wedding venues in NSW. The permanently installed wedding marquee sits in an elevated position overlooking the picturesque gardens and provides a luxury blank canvas on which to create your dream wedding.
The property features 25 acres of picture perfect gardens and is surrounded by native bushland protected by the Wildlife Land Trust. Onsite ceremony venues include a hidden valley lawn and luxe barn catering to all weather scenarios. 

4. Paradise Botanical Gardens
Location: 147 Cherry Ln, Kulnura, NSW 2250
Capacity: 230
Accommodation: 8 + glamping/camping
Paradise Botanical Gardens is a DIY marquee wedding venue situated on 230 acres of pristine hilltop countryside. The impressive property features one-of-a-kind heritage architecture, a grand Kings Garden Lawn ideally suited to unique circular ceremonies, a flat lawn marquee area (with adjoining camping spot where guests can BYO tent or glamp), and farmhouse style accommodation.
The affordable venue hire fee includes exclusive use of the entire property for 3 days so you can relax and enjoy the site's many features. They include rare plants and flowers, heritage Roman Columns and Monet Bridge, spectacular regional views and an abundance of stunning photo locations.
 View Paradise Botanical Gardens

5. Willow Farm
Location: Berry, NSW

Capacity: 130

Accommodation: Sleeps 10
Wedding Packages: DIY/BYO
Willow Farm is a privately owned & operated property with a rustic reception shed and flat lawn site that's ideal for a country marquee wedding. Set on 160 acres of picturesque green farmland, the location is perfect as a tipi wedding venue and there's plenty of space to set up a romantic outdoor dance floor.

6. Ravensthorpe
Location: Albion Park

Capacity: 200

Accommodation: 14
Wedding Packages: All inclusive
Ravensthorpe is a romantic Georgian manor estate with a conservatory and adjoining classic marquee with stone flooring. 3 Acres of gardens surround the property which include a vine covered ceremony rotunda, elegant swimming pool and tennis court set against a stunning mountain backdrop. 

7. Coorabell Estate
Location: 36 Keys Road, Coorabell, NSW 2479
Capacity: 10 - 150
Accommodation: Sleeps 10
Coorabell Estate is one of the best marquee venues in Byron Bay, set within the grounds of a luxury 5 bedroom house and surrounded by pristine rainforest. The lawn terrace of the private 28 acre property is a beautifully intimate setting for marquee weddings and planning is easy with an onsite wedding planner to arrange everything for you.

8. Leaves & Fishes
Location: 737 Lovedale Road, Lovedale, NSW 2325
Capacity: 2 - 300
Accommodation: Sleeps 12
Leaves & Fishes in the Hunter Valley is a popular spot for outdoor weddings with lush tropical greenery surrounding a Tuscan-style sunken garden. The sunken garden is the perfect spot for tents, marquees and tipi weddings and caters for up to 300 guests. The property also features an amazing Lotus Lake around which are 5 boat houses that sleep 12 guests.

9. Midginbil Eco Resort
Location: 252 Midginbil Rd, Midginbil, NSW 2484
Capacity: 150
Accommodation: Sleeps 150+
Wedding Packages: DIY/BYO
Midginbil Eco Resort is a secluded 400 acre property situated in the Byron Bay Hinterland. Hire of the resort includes accommodation for up to 150 or more guests and comes with use of a rustic reception barn, marquee event area, 3 picturesque ceremony venues and a late night bonfire site. No curfew.

10. Kullindi Homestead
Location: Jervis Bay, NSW

Capacity: 200

Accommodation: Sleeps 20
Venue Hire: $3,800
Kullindi Homestead is an historic waterfront property with expansive lawns to BYO marquee or Sperry tent, catering & alcohol. Also beautifully suited to teepee weddings. There are 5 self contained cottages that sleep 20 guests onsite and camping is permitted.
Marquee Venues in the Blue Mountains

11. Burnham Grove Estate
Capacity: 150
Location: Camden, NSW
Info: Stunning country venue that features a permanent white span marquee with festoon lighting and courtyard style flooring. Perfect blank canvas to style as your own with drop floral or green installations.

12. Dryridge Estate
Capacity: 220
Location: Megalong Valley, NSW
Info: Boutique vineyard with permanent ridge-top marquee featuring clear walls & clear span roof that makes the most of stunning valley & night-scape views. Ideal blank canvas for self styled & BYO weddings. Exclusive hire of property available with 2 self-contained homesteads onsite.
Marquee Venues in Byron Bay

13. Ardeena Weddings
Capacity: 130
Location: Carool
Info: Spectacular views across the hinterland to the ocean make this the ideal location for an outdoor wedding styled with teepee or sperry tent and festoon lighting. A DIY & BYO blank canvas venue with 9 guest rooms.


14. Forget Me Not Farm
Capacity: 250
Location: Coopers Shot
Info: Secluded cattle farm near Bangalow with extensive gardens and 4 self-contained cottages. Lots of unique settings for wedding ceremonies & photos and permanent elevated marquee with adjoining Hamptons style sperry tent. 
Marquee Venues on the Central Coast 

15. Fernbank Farm
Capacity: 140
Location: Wyong Creek
Info: Garden venue with stunning permanent arbor ideal for year round ceremonies. Traditional majestic Indian marquee with wood floor. Large grounds with plenty of photo locations and space for Indian & other large cultural weddings. 4 bedroom heritage house with pool & piano + 4 bedroom cottage onsite.


16. Somersby Gardens
Capacity: 120
Location: Somersby
Info: 50 acre bush property with plenty of privacy and permanent pitch roof marquee with wood flooring. Stay onsite at the luxury 7 bedroom residence with pool.
Marquee Venues in the Hunter Valley

17. Marlu Station
Location: 129 Wollombi Road, Broke, NSW 2330
Capacity: 8 - 200
Accommodation: Sleeps 9
Wedding Packages: $3,000+
Nestled on 112 acres of peaceful and picturesque countryside, Marlu Homestead & Station is the perfect ambient location for a marquee wedding in the Hunter Valley. The property is an oasis of beautiful wedding sites from atop Yellow Rock to beside one of the dams.
Marquees and tipis can be pitched virtually anywhere on the property from beside the homestead (popular for smaller weddings) to at The Cattle Yard where there's a unique outdoor bar and romantic festoon lighting. For couples looking for a unique blank canvas that's off-the-beaten-track of popular Hunter venues, Marlu Station is a rare unicorn.

18. Wallalong House
Capacity: 150
Location: Wallalong
Info: Get married under 200 year old fig trees in complete privacy on an elevated site overlooking country views. Then have your reception poolside in the stunning traditional Indian tent with polished concrete floors, 5 metre concrete bar, Coral chandeliers and Edison lights. 

19. Cypress Lakes
Capacity: 900
Location: Pokolbin
Info: Luxury resort set amongst native bushland, sprawling vineyards and manicured golf greens. Hotel & villa rooms available for all guests with onsite day spa & tennis facilities. 9 wedding spaces to choose from including huge lagoon pool marquee that caters for weddings of 300+ guests.

20. Woolshed Hill Estate
Capacity: 100
Location: Rothbury
Info: Relaxed DIY venue with accommodation for 30 onsite. Several great spots for a BYO marquee wedding including a budget friendly option over the tennis court which means there's no need to hire flooring. 

21. Lonely Goat Olives
Capacity: 50
Location: Congewai
Info: DIY & BYO wedding venue on a private olive farm. Pitch a BYO marquee, yurt or Sperry tent overlooking the surrounding countryside and stay in the 2 bedroom bridal suite.

22. Peterson House
Capacity: 200
Location: Pokolbin
Info: New sandstone chapel is a stunning indoor ceremony option and also seats 40 for a reception. Or make use of the permanent white pitch-roof marquee for larger weddings.
Marquee Venues in the Illawarra

23. Interbane House
Location: 8 Lawrence Hargrave Drive, Stanwell Park, NSW 2508
Capacity: 50
Accommodation: Sleeps 18
Venue Hire: $2,850+
Interbane House is a private Victorian style estate with a flat backyard suitable for relaxed marquee weddings. The house and yard have 180° uninterrupted ocean views that take in the new Sea Cliff Bridge. Marquee weddings are DIY/BYO although its worth asking the owner about marquee hire as he was intending to purchase. 

24. Ruby's
Capacity: 120
Location: Mount Kembla
Info: Previously an old post office & now a popular restaurant with adjoining traditional marquee in courtyard. 
Marquee venues on the North Coast

25. The Banksias
Capacity: 120
Location: Crescent Head
Info: Luxury wedding retreat on the waterfront, surrounded by bush and a walk to the ocean. Smaller weddings suitable in the homestead or hire your choice of marquee, yurt, Sperry or Bedouin tent for larger weddings. Exclusive hire venue with golf & tennis facilities.

26. Longview Farm
Capacity: 120
Location: Caffreys Flat, NSW
Info: Unique rotating house on farmland with water frontage. Ideal for small luxury weddings, larger rustic weddings or hire your preferred style of marquee for a more blank canvas. Fully DIY & BYO with late curfew + plenty of space for glamping.
Marquee Venues in the Riverina

27. Tindarra Resort
Capacity: 250
Location: Moana, NSW
Info: Permanent silk lined marquee with festoon lights and cobblestone flooring on the banks of the Murray River. Perfect weekender wedding venue with accommodation for all guests onsite.

28. St Edwards of the Riverina
Capacity: 200
Location: The Gap, NSW
Info: Picturesque country property that makes the most of the great outdoors. Stunning garden ceremonies followed by dancing under the stars in the permanent, clear roof marquee. Use the spacious country homestead to get ready and host a recovering brunch the following day.

29. Nimbo Fork Lodge
Capacity: 150
Location: Killimicat
Info: Secluded and picturesque waterfront marquee with clear span roof and polished wooden floors. Country weddings with a touch of luxury! Accommodation onsite in the main lodge + 6 private cottages.
▹ View more marquee wedding venues in the Riverina
Marquee Venues on the South Coast
30. Mountain View Farm
Location: Tilba Tilba, NSW
Capacity: 2 - 120
Accommodation: Sleeps 2 - 14
Wedding Packages: DIY/BYO
Mountain View Farm is a relaxed and affordable country venue overlooked by scenic Mount Gulaga near Tilba Tilba on the Sapphire Coast. At the start of spring each year huge fields of Everlasting Daisies erupt into bloom providing an even more picturesque backdrop for wedding photos. Tipi or marquee weddings can be hosted beside The Old Dairy shed.

31. Fig Tree Park
Location: 58 Sherringham Lane, Central Tilba, NSW 2546
Capacity: 2 - 200
Accommodation: Sleeps 2
Fig Tree Park is a brand new blank canvas wedding venue that overlooks spectacular ocean views on the NSW South Coast. The property has a flat lawn area perfect for marquee weddings situated against the elegant backdrop of the French style homestead.
Conveniently located 2 minutes to the beach and holiday hotspot Tilba Tilba, Fig Tree Park is an idyllic destination for DIY weddings where you can stay the weekend with romantic accommodation for two in the luxury barn. Wedding packages include exclusive use, tables & cross back chairs, accommodation for 2 nights and the option for all inclusive elopements and micro weddings.

32. Bewong River Retreat
Capacity: 130
Location: Bewong
Info: Rustic DIY venue with accommodation onsite for 38 guests + option of glamping. Blank canvas event space with adjoining marquee. BYO alcohol & catering.

33. Driftwood Shed
Capacity: 100
Location: Terara, NSW
Info: Fully DIY venue featuring permanent white, pitched roof marquee alongside a 100 year old rustic shed. BYO alcohol & catering. Beautiful riverside lawns for wedding ceremonies.

34. Wildwood
Capacity: 10 - 90
Location: Kangaroo Valley
Info: Eco friendly bush venue with permanent marquee-like pavilion. Complete privacy and peace. Cliff top ceremonies. DIY/BYO rustic venue.

35. Terara Riverside Gardens
Capacity: 120
Location: Terara
Info: 5 acres of beautiful gardens on the Shoalhaven River. Rustic barn and greenhouse + white, pitch roof marquee with polished wooden floors.
Marquee Venues in the Southern Highlands

36. Weddings in the Wilde
Capacity: 200
Location: Wildes Meadow
Info: Rustic, bushland setting with affordable accommodation for the entire guest list. Ideal venue for relaxed, festival weddings with outdoor festoon lighting next to log chapel & wood floor white marquee. DIY & BYO, private & late curfew.

37. Southern Highlands Winery
Capacity: 250
Location: Sutton Forest
Info: Winery venue with expansive vineyards & rolling hills. Wedding ceremonies are held in the Tuscan courtyard and receptions in the restaurant, bottling room or large permanent marquee.
 View Southern Highlands Winery

38. Fitzroy Inn
Capacity: 150
Location: Mittagong
Info: Pet friendly, permanent marquee venue with satin lining and polished timber flooring. This marquee wedding venue features 5 acres of manicured gardens and boutique accommodation. 

39. The Secret Garden
Capacity: 200
Location: Wildes Meadow
Info: Stunning 5 acres of cool climate gardens centred around the permanent Sperry marquee.
Marquee Venues in Sydney

40. Lords Estate Chapel
Location: 313 Seven Hills Rd, Seven Hills, NSW 2147
Capacity: 2 - 100
Wedding Packages: Venue hire from $2,000
Lords Estate is a private marquee wedding venue with an adjoining heritage listed, 140 year old deconsecrated chapel. The chapel seats up to 80 guests in removable pews or accommodates 100+ standing and features a modern renovated interior with white wash walls and polished wooden floors.
Outside, marquee weddings can be set up on the spacious lawns within the elegant, rustic style gardens which feature outdoor chandeliers, lanterns and a romantic swing. Lots of photo opportunities exist within the gardens, against the chapel backdrop and in front of the property's 1800's homestead.

41. Pavilion on the Green
Location: Banks Ave, Pagewood, NSW 2035
Capacity: 200 seated, 300 cocktail
Wedding Packages: All inclusive
Pavilion on the Green is an all-in-one marquee wedding venue that comes fully set up with furniture, decor and all inclusive catering packages. Onsite wedding planners & stylists bring your wedding vision together taking full advantage of the 180 degree views over rolling green fairways.
The marquee at Pavilion on the Green lets you indulge in an elegant designer wedding with a reception under the stars just a few minutes from the city centre. 

42. Springfield House
Capacity: 200
Location: Dural, NSW
Info: 5 acres of private landscaped gardens situated close to Castle Hill in Sydney's hills district. Spectacular ceremony entrance via a sandstone staircase. Ask about marquee options.

43. Pilu
Capacity: 60
Location: Freshwater
Info: Northern beaches venue with spectacular ocean views. Marquee space with peak roof and cobblestone flooring, ideal for small weddings.

44. The William Inglis Hotel
Capacity: 700
Location: Warwick Farm, NSW
Info: All inclusive venue with ceremonies in rose gardens and receptions in the private riverside stables or permanent marquee pavilion. Large spaces available for extended cultural events including Greek, Indian, Lebanese etc weddings.
Off-the-beaten-track Marquee Venues

45. The Vinegrove
Capacity: 150
Location: Mudgee
Info: 100 acre vineyard and farm with ceremony & permanent high-roof marquee reception space right in the vines. The ultimate romantic wedding venue - have your first dance under the stars. Optional accommodation for 8.
 View The Vinegrove
Marquee wedding venues are some of the most versatile spaces in NSW. They're a brilliant blank canvas and easy to style as your own with a few carefully selected visual features. Marquees look amazing adorned in hanging floral or green installations and drop festoon lighting, and create a warm and romantic atmosphere at any outdoor wedding venue.