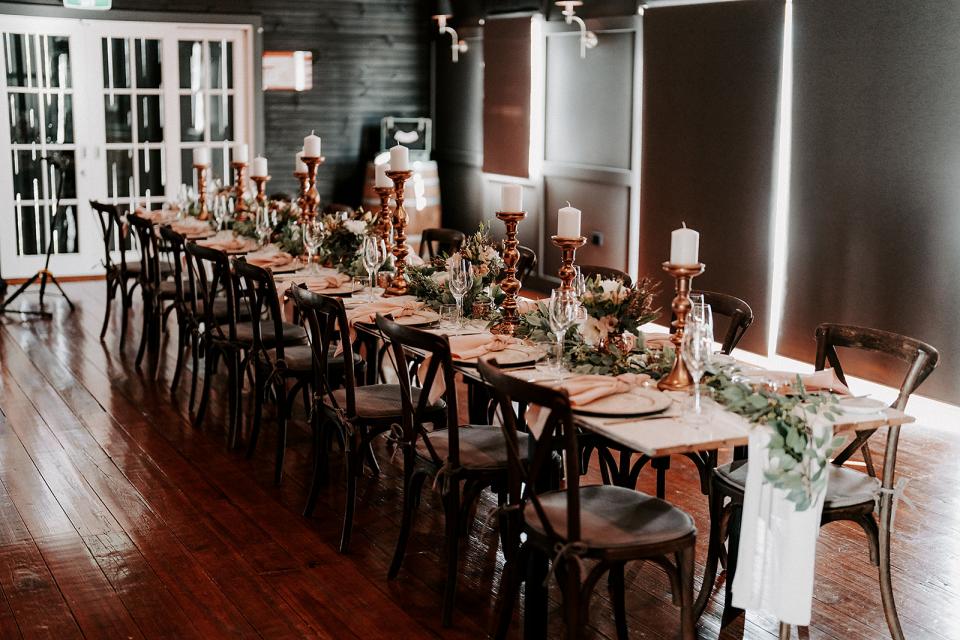 Micro wedding packages in Queensland typically cater for small and intimate weddings with 2 - 60 guests. Small wedding packages are offered by all types of wedding venues from luxury island resorts to private properties and are available in some of Queensland's most iconic destinations including the Scenic Rim and Great Barrier Reef.
Micro wedding packages in Queensland cater to all budgets, ranging in price from under $1,000 to over $100,000. The small wedding packages on this list include spectacular destinations at both ends of this price spectrum and offer world-class backdrops and experiences for intimate weddings.
There is no industry standard when it comes to small wedding packages in Queensland. Some packages include venue hire only so that you can DIY everything to your preference, while others include a large list of inclusions from celebrants, photographers and accommodation to flowers and catering.
In Queensland, weddings of up to 10 guests are usually considered elopements, up to 30 guests are micro weddings and 30 to 60 guests is typically defined as a small or intimate wedding. Venue hire is cheaper with fewer guests due to less rubbish, wear & tear and staffing requirements hence, we suggest advising your guest numbers when making an enquiry.
Here are 10 small & intimate micro wedding packages in Queensland's most beautiful places.
Contents
Top 10 Micro Wedding Packages in QLD

1. White Chapel Kalbar
Location: 87 George Street, Kalbar, QLD 4309
Capacity: 90
Accommodation: Sleeps 8
White Chapel Kalbar is an elegant & romantic small wedding venue located in the picturesque Scenic Rim region of QLD. Perfect for intimate weddings, this beautiful country setting comes a chapel and gardens for your ceremony and photos, and an outdoor bar area for post ceremony celebrations.
Wedding Packages
White Chapel Kalbar offer all-inclusive intimate wedding packages for elopements and small weddings on Monday through Thursday.
Micro Wedding Package for 24 - $7,450: 3.5hrs exclusive use of White Chapel, the gardens & Black Hall pergola, styling with silk florals, a choice of celebrants, 2 hours photography, a wedding cake and grazing station + drinks package.

Micro Wedding Package for 4 - $6,250: Exclusive use of White Chapel and the gardens for 2 hours with styling, silk florals, a small cake, your choice of celebrant, 2 hours photography, 1 hour use of the venue's 1948 Bentley and a 2 night stay at Herrmann House for up to 4 people (located 150 metres from the chapel).

2. Daydream Island Resort & Living Reef
Location: Daydream Island, Whitsundays, QLD
Capacity: 2+
Accommodation: Sleeps everyone
Daydream Island is one of Queensland's most romantic private islands, located at the gateway to the world heritage Great Barrier Reef in the Whitsundays. Just 30 minutes from the mainland by boat and accessible via helicopter, the island is a world-class destination for intimate weddings whether staying at the resort or visiting for the day. 
Private locations for small wedding ceremonies & receptions include an incredible ocean-facing glass chapel, a choice of beaches including a beachfront infinity deck, intimate private dining rooms and a unique underwater reef observatory. We highly recommend staying a few days or longer to enjoy the many restaurants, bars, pools, lagoon, snorkelling, paddleboarding and rainforest treks.
Wedding Packages
Daydream Island provide all inclusive packages for micro weddings & elopements on all days of the week.
All Inclusive Micro Wedding Package $7,000+: Includes styled & catered ceremony & reception for 25 guests (additional guests can be added) with a cocktail or seated menu, drinks package and dedicated wedding planner. 
Elopement Package - $4,500+: 3 hours exclusive use of a private beach location or the glass facade chapel with a styled signing table, bouquet & button holes, wireless sound and a complimentary bottle of French Champagne. Add a 3 course private dinner with paired wines at $250 per person.

3. Workshops Rail Museum
Location: North Street, North Ipswich, QLD 4305
Capacity: 300+
Wedding Packages: $90+/pp
The historic Workshops Rail Museum is one of the most unique wedding venues in the Brisbane region. There are 5 ceremony sites and 3 reception spaces within the grounds, including the incredible Moving Goods Hall with a genuine steam-puffing locomotive on permanent display.
A private dining room offers an intimate reception space for up to 50 seated guests (or 70 standing) and there's a larger dining hall should you require extra seating space. With its atmospheric collection of historic buildings and backdrops, the museum offers amazing wedding photo opportunities and guests get exclusive access to browse the museum while you have photos taken.
Wedding Packages
The Workshops Rail Museum offers all inclusive wedding packages for both ceremonies and receptions.
Ceremony Package - $750: Choice of 5 ceremony sites furnished with timber benches, floral arrangements in the aisle, a registry table & chairs and self-service water station. $900 without reception package.
Reception Package - $90+/pp: Choice of 3 fully furnished reception venues with exclusive use for 5 hours between 4pm and 11pm. Menu options include a carvery buffet ($90), a cocktail function ($120), or a 2 or 3 course menu with canapés ($105 - $150).

4. Woodlands of Marburg
Location: 174 Seminary Road, Marburg, QLD 4346
Capacity: 65
Accommodation: Sleeps 65+
Woodlands of Marburg is a grand country mansion located 45 minutes from Brisbane and Toowoomba. The historic 250 acre property offers a sophisticated old-world setting for micro weddings, with a 19th century chapel, elegant gardens and two small reception venues both seating up to 26 guests.
Wedding Packages
Micro wedding packages start at $9,500 and include your choice of ceremony venue and either the sandstone cellar or stately private dining room (with adjoining formal lounge) for your reception. Additional guests on the following micro wedding packages are around $250/pp.
Intimate Wedding Package for 30 - $9,500: Choice of the

vineyard, chapel or grotto 

wedding ceremony venues plus a reception in the Sugarmill Restaurant & Lounge for up to 30 people fully catered.
Small Wedding Package for 60 - $14,850: 

Choice of 3

 

ceremony venues plus a reception in the Tommy Smith Café or Conservatory for up to 60 people fully catered.

5. Austinvilla Estate
Location: 31 Austinville Road, Mudgeeraba, QLD 4213
Capacity: 130
Accommodation: Sleeps 90
Wedding Venue Hire: $8,000 - $12,000
Austinvilla Estate is a country-style resort located in the hills of the Gold Coast Hinterland just 30 minutes from the Gold Coast Airport. As the estate has accommodation for up to 90 guests it's often hired out exclusively for larger weddings but offers elopement packages mid week. The expansive manicured grounds offer beautiful photo opportunities against the lush bush surrounds.
Wedding Packages
Austinvilla Estate offer all inclusive intimate wedding packages on a Sunday to Wednesday for up to 10 guests and you can add guests at an additional cost. Packages include a wedding coordinator.
Micro Package - $3,000: Use of the Wedding Pavilion & Top Deck for 2 hours with ceremony set up and 1 hour golf buggy for photos. BYO celebrant.
Ceremony + Accommodation - $4,070: Includes everything in the micro package plus one night accommodation in the award winning Regal Suite, champagne toast and canapés for 10 and a vintage drinks station.

6. Intercontinental Hayman Island Resort
Location: 

Whitsunday Boulevard, Whitsundays, QLD 4802

Capacity: 2 - 60+
Accommodation: Sleeps everyone
Located at the iconic Great Barrier Reef, the Intercontinental Hayman Island Resort offers luxury private island weddings surrounded by the unmatched beauty of the Whitsundays. From beachfront to poolside settings, Hayman Island Resort is a world-class destination with everything you need onsite for an exquisite wedding celebration and honeymoon experience.
Wedding Packages
Hayman Island Resort offers luxury elopement and small wedding packages that cater for 2 to 60+ guests. The typical spend for a small wedding with 30 - 40 guests is $40 - $50k including accommodation and packages are tailored to requirements.
Elopement for 2 - 

$8,590: Choice of beach, garden or chapel ceremony location, set up, celebrant, witnesses, champagne, wedding planner, 5 course candle lit dinner under the stars and flowers. 

Micro Wedding Package for 20 - $16,500: 

Choice of beach, garden or chapel ceremony location, set up, celebrant, witnesses, wedding planner, canapés on arrival, 3 course plated menu and 5 hour drinks package. 

 

7. Jubri's Hideaway
Location: 63 Chelldan Avenue, Dalby, QLD 4405
Capacity: 80
Accommodation: Sleeps 14+
Wedding Venue Hire: $5,950
Jubri's Hideaway is a unique little wedding venue located an hour from Toowoomba in the country town of Dalby. This surprising little property is only small in size but it boasts the most eclectic collection of wedding spaces in the state. From a secret Balinese garden with authentic Buddha altar, gongs & totem poles to water, bush & rustic backdrops.
For your wedding reception there's a modern shed and an adjoining outdoor courtyard & bar filled with interesting relics. You can either host a cocktail event in the yard or a seated celebration indoors and there is a Guesthouse (included) plus two cabins available to hire for additional guests.
Wedding Packages
Catering for a maximum of 80 guests, Jubri's Hideaway is the perfect spot for a small destination wedding. Venue hire includes exclusive access to the venue for the weekend and the ability to choose your own caterers according to your budget. 
Micro Wedding Package - $5,950: Choice of ceremony areas, air conditioned shed, outdoor bar, seating & tables and accommodation for 2 nights for 6 people. 

8. Shambala Estate
Location: 104 Beacon Road, Tamborine Mountain, QLD 4272
Capacity: 2 - 60+
Accommodation: Sleeps 8
Secluded within 5 acres of lush tropical gardens, Shambala Estate is one of the most romantic and intimate wedding venues in Queensland's Tamborine Mountain region. The grounds include a non-denominational wedding chapel, gazebo garden, fountain atrium and a favourite with small weddings is the delightfully intimate waterfall grotto.
This environmentally conscious estate is proudly carbon neutral and minimise their footstep with solar power, no single use items and up-cycling wherever possible.
Wedding Packages
Shambala Estate offer intimate wedding packages for 20+ guests on a Monday to Wednesday and for 40+ guests Thursday to Sunday. 
Micro Wedding for 20 - $8,995+: Chapel or garden ceremony, post ceremony champagne & canapés and a 2+ course dinner in the Pavilion Room.
Micro Wedding for 60 - $14,825+: As per above but reception venue is the Galaxy Ballroom for guest numbers over 68.

9. Silver Ridge Weddings
Location: 123 Silver Pinch Road, Silver Ridge, QLD 4352
Capacity: 150
Accommodation: In Toowoomba
If you're looking for an affordable micro wedding package for your ceremony and maybe a small celebration afterwards, Silver Ridge Weddings is an ideal option. Located 15 minutes from the centre of Toowoomba on a cliff top overlooking panoramic regional views, Silver Ridge offers a stunning spot to say "I do" under cover of an intimate little white gazebo.
Several steps from the gazebo across a manicured lawn is an undercover space suitable for use as a wet weather back up and an ideal spot for little post-wedding celebrations. The outdoor lawn is one of the best spots in QLD for a sunrise wedding breakfast!
Wedding Packages
Silver Ridge Weddings offers the cheapest elopement and small wedding packages in Queensland. All small wedding packages come with the option to add a reception on the lawn or in the covered celebration space.
Small Ceremony - $450: Includes exclusive hire of the gazebo and garden for a two person elopement without guests. The celebrant and two witnesses are supplied by the venue.
Micro Wedding for 20 - $1,400: Includes exclusive hire of the gazebo and garden for a wedding with up to 20 guests plus styling items and installation. BYO celebrant. 

10. Evergreen Garden Venue
Location: 

10 Evergreen Court, Parkwood, QLD 4214

Capacity: 8 - 60
Evergreen Garden Venue is a secluded secret garden on one acre in the Gold Coast. The European-style grounds are adorned in rose, jasmine and wisteria and feature beautiful photography backdrops including stone archways, floral arbours and secret laneways.
Evergreen is an outdoor venue that closes at 9pm and is best suited to elopements and micro weddings of up to 60 guests. Marquees are permitted.
Wedding Packages
Evergreen Garden Venue offer all inclusive micro wedding and elopement packages between Monday & Thursday. All packages come with ceremony set up including Americana chairs and signing table. and optional extras include a private seated dinner or High Tea lunch.
Elopement with 8 guests - $5,500: Exclusive venue hire for 2 hours for up to 8 guests with celebrant, flowers, aisle petals and 2 hour photography package. Extra guests are $55 per person.
Mini Wedding for 20 - $11,300: Exclusive venue hire for 3 hours for up to 20 guests with celebrant, flowers, drinks & c

anapés and transport for guests to & from the venue. 

Discount available with BYO celebrant & florist.
Micro Wedding for 20- $17,990: 

Exclusive venue hire for 5 hours for up to 20 guests, 2 hour photography package, flowers, catering, non alcoholic drinks & RSA service staff. BYO alcohol. Extra guests are $220/pp. 
All of these micro wedding packages in Queensland cater for small weddings and elopements of between 2 - 60 guests. They are offered by some of the most picturesque wedding locations in QLD including destinations named among the world's top 10 places to visit. 
If you're still looking for a spot for your intimate wedding you may also like these QLD elopement packages and micro wedding packages in NSW. The east coast of Australia is a hot spot of beautiful destinations for micro weddings with the coast and country of both states offering a wonderful selection of small wedding packages. 
Have a micro wedding package to add to this list? Get Started