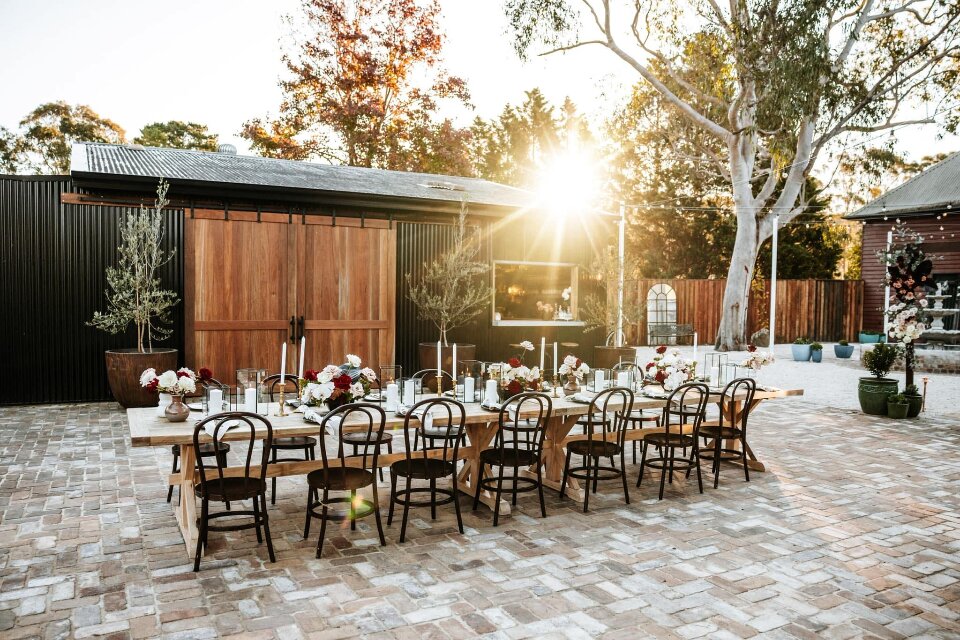 Outdoor Wedding Venues: Australia | NSW
Looking for an outdoor wedding venue in Australia? With a beautiful warm climate and sun drenched landscape, Australia is one of the best places in the world for outdoor weddings. From Queensland & New South Wales on the east coast to the shores of Western Australia, there's no state or territory that doesn't have world class venues in stunning outdoor locations.
The best outdoor wedding venues in Australia include a wide variety of properties with different backdrops. Along the coast are beautiful beach venues on some of the world's whitest sand. National parks hide some incredible forest venues and in the country regions are luxury estates, elegant wineries, garden wedding venues and hill top properties with jaw dropping views.
Here's a list of Australia's most beautiful places to get married in the great outdoors. They are all-in-one destination venues surrounded by the best of Australian nature. Each location on this shortlist not only has an incredible ceremony site but also an outdoor wedding reception venue nestled snugly under a canopy of stars.
Outdoor Wedding Locations
Top 10 Australia
NSW Venues
VIC Venues
QLD Venues
WA Venues
SA Venues
Best Outdoor Wedding Venues in Australia

1. The Woods Farm
Location: Bayly Road, Tomerong, NSW 2540
Capacity: 200
Accommodation: Sleeps 120
Wedding Packages: BYO
Nestled in private bushland just a few minutes from the beach, The Woods Farm is one of Australia's best outdoor wedding venues. Completely immersed in nature, the 40 acre farm stay comes with a beautiful open air chapel, an outdoor chandelier bar, a luxe-rustic wedding hall and accommodation including a glamping village with swimming pool and fire pits.
At The Woods Farm you hire the entire venue for your exclusive use and all your family & friends stay onsite with you. Guests are able to book & pay their own rooms which comes off the venue hire fee making weddings at this beautiful property surprisingly affordable. 

2. The Cove Jervis Bay
Location: Ellmoos Road, Jervis Bay NSW 2540
Capacity: 150+
Accommodation: Sleeps 111
Wedding Packages: BYO
The Cove is a beautiful beachfront resort that offers exclusive use hire for weddings. Situated in Jervis Bay on the NSW South Coast and accessed via an incredible drive through the Booderee National Park, the 3 acre oasis is one of Australia's Top 10 seaside spots for outdoor wedding ceremonies and receptions.
The Cove comes with accommodation for up to 111 guests in beach cabins, a glamping village with fire pits and a large fun house. There is a ceremony lawn overlooking the bay, a reception hall that opens to let in the seaside breeze and a beautiful courtyard for seated or cocktail weddings under the stars.

3. St Joseph's Guesthouse
Location: 1029 Saint Albans Road, Saint Albans, NSW
Capacity: 100
Accommodation: Sleeps 10 + glamping
Wedding Packages: DIY/BYO
St Joseph's Guesthouse is one of the most unique outdoor wedding venues in Australia. Built in the ruins of a 160 year old Catholic Church, the property is now an elegant 5 bedroom Airbnb with a plunge pool, huge open plan dining & kitchen and a ground floor event space that seats up to 60 guests.
St Joseph's Guesthouse can be hired for outdoor weddings with 10 to 100 guests and has a spacious backyard well suited to seated, picnic or cocktail style receptions. The front sandstone steps offer a beautiful spot to get married underneath the original church bell which still works. Affordable venue hire ranges from $3,500 - $7,500.

4. Eleven Eighty Weddings
Location: 1180 Bolong Road, Coolangatta, NSW 2535 
Capacity: 80
Wedding Packages: DIY/BYO
Accommodation: Sleeps 15
The courtyard at Eleven Eighty is a beautifully intimate setting for outdoor weddings and receptions, and is located at one of Australia's most unique little properties. The 3 acre block centres around the courtyard which is adjoined by a luxe barn with indoor/outdoor bar and comes with a props shed filled with furniture including velvet lounges.
Also on the property is an old school hall that seats 50, a refurbished train carriage suitable for private dining or which can be utilised as a salon for getting ready, and an Argentinian Grill with adjoining pergola. Venue hire includes use of all event spaces, free access to the props shed and use of the two onsite cottages which sleep up to 15 guests. 

5. Barunah Plains
Location: 4484 Hamilton Highway, Hesse, VIC 3321
Capacity: 500
Accommodation: Sleeps 65
Wedding Packages: DIY/BYO
Barunah Plains is a 640 acre country estate set on a merino sheep station 30 minutes from Geelong and 90 minutes from Melbourne. With accommodation for 65 guests in the bluestone homestead & shearers quarters and the option for additional guests to glamp, this heritage listed property is one of Victoria's most sought-after destinations for 3 day weddings.
The property centres around the Barunah Plains homestead (1866) and gardens which offer a beautiful setting for cocktail events. There's also many spots for outdoor weddings and marquee receptions with the estate's rural views, creeks, rock walls and beautiful sunsets as your backdrop. No curfew.

6. Fig Tree Park
Location: 58 Sherringham Lane, Central Tilba, NSW 2546
Capacity: 2 - 200
Accommodation: Sleeps 2
Wedding Packages: DIY/BYO
Set on a country hill top overlooking the stunning Sapphire Coast, the gardens of Fig Tree Park offer a jaw dropping destination for outdoor weddings. The property surrounds an elegant French-style cottage and features hedge trimmed lawns, up-lit gardens, expansive ocean views and a statement fig tree filled with hundreds of fairy lights. 
Fig Tree Park is perfectly suited for elopements through to weddings with 200 guests and comes with romantic accommodation for 2 in a luxe barn. Venue hire includes furniture & set up for ceremonies and outdoor wedding receptions with large round tables and luxe cross back chairs. 

7. Midginbil Eco Resort
Location: 252 Midginbil Rd, Midginbil, NSW 2484
Capacity: 150
Accommodation: Sleeps 150+
Wedding Packages: 3 day/2 night BYO
Surrounded by pristine sub tropical rainforest and set on 400 acres of secluded countryside, the eco resort at Midginbil is one of the best outdoor wedding destinations in Australia. Located an hour inland from Byron Bay, Midginbil is a peaceful place where your entire guest stays onsite with you for a curfew-free 2 night celebration.
Amenities include 3 ceremony sites, open space for outdoor wedding receptions, a rustic barn event space, a covered open-air area, homestead dining hall, swimming pool, tennis and volleyball courts and a games room. Guests can pay their own accommodation which includes a village of safari tents that each has its own timber balcony & incredible views.

8. Stonebarn Weddings
Location: Langley Road, Quinninup, WA 6258
Capacity: 100
Accommodation: Sleeps 16
Wedding Packages: DIY/BYO
Stonebarn is a 160 acre private bushland estate set on the banks of the Warren River in South West WA. Renowned for its truffle farming, the secluded estate offers a picturesque destination for 2 - 5 day weddings nestled in a private oasis of nature. 
This incredibly unique location has 5 ceremony sites and 3 reception areas, including an outdoor verandah that overlooks spectacular views of the dam, river valley, surrounding bushland and walking trails. We're loving the private bath in the bush!

9. Freedom Shores Weddings
Location: Pringle Road, Woodwark, QLD 4802
Capacity: 40 - 200
Accommodation: Sleeps 34
Wedding packages: All inclusive
Freedom Shores Resort is a beachfront wedding venue situated on the world-renowned waters of the Whitsundays. This iconic Australian destination is bordered by picturesque green hills making it an intimate location for outdoor weddings on the sands of Airlie Beach. 
Freedom Shores can be hired for exclusive-use weddings of up to 200 guests and comes with 14 bungalows and suites that accommodate up to 34 guests. Marquee hire is complimentary with all weddings and elopement packages are also available. 

10. Maleny Retreat
Location: Mears Lane, Booroobin, QLD 4552
Capacity: 12 - 200
Accommodation: Sleeps everyone
Wedding Packages: DIY/BYO
Maleny Retreat is one of Australia's most popular spots for outdoor weddings owing to its incredible hill top location in the Sunshine Coast Hinterland. The property is located 555m above sea level and is surrounded by 100 acres of lush mountain scenery with expansive views to the Pacific Ocean. 
The retreat offers outdoor wedding packages for 60, 80 and 100 guests with options for marquees, Sperry tents or giant Nordic tipis. You get 4 days hire including 2 nights accommodation for up to 14 guests. Camping permitted. Elopement packages available.
Outdoor Venues in New South Wales

11. Goolawah Retreat
Location: 288 Point Plomer Rd, Crescent Head NSW 2440
Capacity: 30 - 150
Sleeps: 32 + camping
Wedding Packages: DIY/BYO
Goolawah Retreat is located on the sunny Mid North Coast of NSW and offers 28 private acres with 5 self contained cottages for your exclusive use. Goolawah is perfect for festival weddings and outdoor receptions and comes with an open-sided weatherproof pavilion, an adjoining festoon-lit courtyard and sprawling lawns accessible for food trucks and drink vans.  
Set beside the ocean and secluded within surrounding bushland, Goolawah Retreat is completely private and has no curfew. Camping is permitted onsite and pets are welcome. The pavilion has a caterers kitchen and you can BYO drinks.

12. Tides Byron Estate
Location: 290 North Teven Road, Teven, NSW 2478
Capacity: 140
Accommodation: Sleeps 22
Wedding Packages: All inclusive or BYO
Tides Estate is a 100 acre macadamia farm located in a peaceful hinterland setting with incredible ocean views to Lennox Head. The property features a luxury 8 bedroom villa, an elegant reception hall with a wall of glass overlooking incredible views, and 3 outdoor wedding spaces to suit different sized receptions.
Outdoor dining can be set up on long tables within the macadamia orchard, on the reception hall terrace, or for smaller weddings at the villa's poolside entertaining area. The reception hall must be included with all weekend bookings and comes fully licensed & furnished with a choice of caterers. Villa bookings are optional.

13. Australian Botanic Gardens Mount Annan
Location: 362 Narellan Rd, Mount Annan, NSW 2567
Capacity: 2 - 600
Wedding Packages: All inclusive & BYO
The Australian Botanical Gardens located in Western Sydney is a 400 hectare property that features 6 outdoor wedding sites including woodlands, rainforest and waterfront settings. The most popular outdoor area for weddings is the tranquil Connections Garden which is set away from public areas and seats 50 for ceremonies & receptions or caters for 70 standing.
The Australian Botanic Gardens also has a lakeside pavilion and a marquee lawn that caters for larger outdoor weddings. Catering can be arranged onsite or dry hire packages are available to BYO.
 View Australian Botanic Gardens 

14. Figbird Cottage
Location: Comerong Island Rd, Terara - South Coast, NSW
Capacity: 150+
Accommodation: Sleeps 8 + glamping
Wedding Packages: BYO
Figbird Cottage is an affordable location for outdoor weddings set within relaxed and elegant country gardens a few minutes from Nowra. The lush grounds feature hundreds of rose and camellia bushes, ornamental gates, a stunning rose arbour and permanent hard-floor marquee, all surrounded by picturesque & peaceful dairy paddocks. 
The gardens and marquee can either be hired for the day, or together with two onsite cottages giving you exclusive access to the property for 3 days. Venue hire includes set up of your garden ceremony and outdoor wedding reception with all furniture, tableware and lighting. Simply BYO preferred caterer and drinks. Food trucks welcome.

15. Willow Farm Berry
Location: Galls Lane, Berry - South Coast, NSW
Capacity: 130
Accommodation: Sleeps 10
Wedding Packages: BYO
Willow Farm is an idyllic country venue situated on 160 acres of lush green farmland just a few minutes from the popular holiday town of Berry. Spacious lawns overlook the farm's pretty dams and grazing paddocks and provide the perfect blank canvas for unique outdoor weddings. 
Venue hire at Willow Farm comes with the option a seated wedding reception under the stars, set up of an outdoor dance floor with festoon lighting, or the option of a marquee, tipi or Sperry tent wedding. Wet weather options at the farm include a rustic entertainment shed and a Shala (yoga barn). You can either fully DIY or ask owner Keri to assist.

16. Growwild Wildflower Farm
Location: 916 Old Hume Hwy, Alpine, NSW 2575
Capacity: 145
Wedding Packages: DIY/BYO
Surrounded by national park and with 25 acres of wildflower gardens that supply the Sydney Flower Markets, Growwild is one of the top 10 garden wedding venues in Australia. A registered sanctuary with the Wildlife Land Trust, the farm is also regularly visited by Kangaroos, Wallabies and Koalas, some of whom are not shy for a wedding photo.
Amenities include a secret valley accessed via paved paths for ceremonies, a garden marquee that opens on all sides to a courtyard and views across the farm, and a small barn with adjoining courtyard that seats 50 under the stars. The gardens are an easy drive from Sydney and just 15 minutes from Bowral with plenty of accommodation situated right next door. 

17. Paradise Botanical Gardens
Location: Kulnura - Central Coast, NSW
Capacity: 230
Accommodation: Sleeps 18
Wedding Packages: DIY/BYO
The one-of-a-kind Roman Columns at Paradise Botanical Gardens provide one of the coolest outdoor wedding locations in Australia. The heritage columns are uniquely suited to long table dining and with festoon and fairy lights threaded overhead offer an atmospheric setting unlike any other in the country.
Set high in the hills of Kulnura, the 230 acre property is filled with heritage architecture and natural beauty featuring everything from rustic old bridges to rare flora & fauna. There is a grand circular lawn for garden weddings, a waterfront marque site, a covered open-air pavilion hidden in the foliage and a farmhouse included with venue hire. 
 View Paradise Botanical Gardens

18. Coorabell Estate
Location: 36 Keys Road, Coorabell, NSW 2479
Capacity: 10 - 150
Accommodation: Sleeps 10
Coorabell Estate is a 28 acre property situated in the hinterland 20 minutes from Byron Bay. Venue hire includes a luxury 5 bedroom residence which is secluded within sub tropical rainforest and surrounded by lawn terraces that make an idyllic setting for outdoor weddings and receptions. 
Tipis, a marquee or Sperry tent can be set up on the lawns and the property comes with a dedicated wedding planner who makes all arrangements for you. For smaller weddings there is a covered verandah that seats up to 40 overlooking the rainforest canopy and a poolside entertaining area suitable for cocktail events with up to 55 guests.

19. Greystone Estate
Address: 617 Hermitage Rd, Pokolbin, NSW 2320
Capacity: 30 - 110
Accommodation: Sleeps 32
Wedding Packages: Semi inclusive
Greystone Estate is one of the Hunter Valley's most luxurious private properties and comes with 5 star accommodation for up to 32 guests across 3 seperate dwellings. The Hamptons inspired estate is set across 10 resort-like acres and features an open air wedding pavilion for ceremonies, a reception hall and open plan entertainment areas both in and outside of the main house.
The main house has a spacious balcony area suitable for seated or cocktail weddings outside and comes with scenic views across the grounds including beautiful sunsets. Weddings at Greystone Estate are fully customisable with a wedding planning and concierge service included with all bookings. Typical spends are $400+ per person.
---
---
Outdoor Venues in Victoria

20. Feathertop Winery
Location: 

6619 Great Alpine Road, Porepunkah, VIC 3740

Capacity: 200
Accommodation: Sleeps 18
Wedding Packages: All inclusive
Feathertop Winery offers a relaxed and luxurious atmosphere for destination weddings with accommodation for up to 18 guests in three seperate 5 star rated dwellings. Bookings include exclusive use of the entire estate with two indoor & two outdoor event spaces for weddings plus pre & post wedding get togethers. 
The Tuscan inspired terrace is the most popular outdoor wedding venue on the estate and overlooks the rolling hills to the alpine peaks of Mt Buffalo. You can also set up long tables on the lawns overlooking the beautiful vines. 

21. Camp Sunnystones
Location: 

98 Possumtail Run, Merrimu, VIC 3340

Capacity: 500
Accommodation: Sleeps 90
Wedding Packages: DIY/BYO
Camp Sunnystones is a 50 acre bushland estate located beside the Long Forest Conservation Reserve just 45 minutes from Melbourne and Ballarat. A large stone homestead, glamping tents and self catering options offer accommodation for up to 90 guests across the property making the camp an idyllic (and affordable) location for overnight weddings.
There is a beautiful outdoor wedding site nestle in a large private valley where vehicle access is available and marquees or tipis can be set up. There's also a brand new turfed area perfect for marquees that looks out to Mt Macedon and takes in views over the forest's wildflowers, box gums and mallee trees. Venue hire including accommodation is around $5k.
Outdoor Venues in Queensland

22. Black Hall Barn Bar
Location: 87 George Street, Kalbar, QLD 4309
Capacity: 90
Accommodation: Sleeps 8 (optional)
Wedding Packages: All inclusive
Situated in the Scenic Rim on the same country corner as the modern White Chapel and Black Hall Kalbar is a quirky little barn bar suitable for small and private outdoor weddings. The undercover space features a rustic bar, overhead festoon lights and an adjoining lawn surrounded by manicured gardens. 
The barn bar is suitable for use as a covered area for seated dining or as a cocktail style bar area. Venue hire comes with mix'n'match vintage furniture that can be set up on the lawn if you prefer to dine under the stars. Wet weather weddings can be transferfed into the chapel and in the case of torrential downpours Black Hall has you covered for receptions.

23. The Lakehouse Folk
Location: Lake Baron, Sunshine Coast Hinterland
Capacity: 12
Accommodation: Sleeps 10
Elopement Packages: BYO
The Lakehouse Folk is a small outdoor wedding venue that can be hired for elopements with up to 12 guests. The property is situated in the Sunshine Coast Hinterland and comes with the option of two Airbnbs that sleep up to 10 guests.
Backyard weddings at The Lakehouse Folk come with spectacular views over Lake Baron and the surrounding green hills. The intimate and highly romantic location comes with ceremony set up and you can BYO celebrant, photographer and styling elements. Venue hire ranges from $1,000 - $5,000 and comes with and without accommodation.

24. Workshops Rail Museum
Location: North Street, North Ipswich, QLD 4305
Capacity: 500
Wedding Packages: $90+/pp
The Workshops Rail Museum has a unique open-air wedding venue featuring an iconic PB 15, No444 steam locomotive. The Moving Goods Hall is entirely covered under an 11 metre high ceiling but has 3 open sides creating a breezy outdoor feel within a completely weather proof space.
The museum's historic buildings are surrounded by beautiful gardens and impressive industrial backdrops, and create a grand central avenue. Aside from offering many incredible places for wedding ceremonies and photos, there is an opportunity to style long tables along the avenue train tracks for a unique wedding reception under the stars.

25. Rosewood Estate
Location: 1339 Beechmont Road, Beechmont, QLD 4211
Capacity: 200
Accommodation: Sleeps 10
Wedding Packages: DIY/BYO
Amongst the most picturesque wedding venues in Australia is Queensland's 250 acre Rosewood Estate. Set high on the Lamington Plateau with spectacular views to South Stradbroke Island, the estate's manicured grounds offer an incredibly scenic spot for outdoor weddings.
An onsite marquee caters for wet weather weddings with 50 - 200 guests and comes with fairy lights, wooden flooring and an outdoor dance floor. Venue hire includes 3 days access with accommodation for up to 10 guests in the farm house. 

26. Rainforest Gardens
Location: 196 Mount View Road, Mount Cotton, QLD 4165
Capacity: 150
Accommodation: Sleeps 8
Wedding Packages: All inclusive
Rainforest Gardens is a place that flies under the radar when it comes to the best outdoor wedding spots in Australia. The quiet achiever is set on a hillside 30 minutes from Brisbane, and is nestled on 5 acres of beautiful rainforest with stunning regional views to the Moreton Bay coastline. 
The hero of this hidden gem is an incredible amphitheatre with its own private lagoon and ceremony pontoon. Next to the amphitheatre is an open-sided timber chapel which is the wet weather ceremony alternative and a covered pavilion with removable walls for outside wedding receptions. There are 4 chalets that sleep up to 8 guests onsite.
Outdoor Venues in Western Australia

27. Linga Longa Estate
Location: 256 Cassia Road, Southampton, WA 6253
Capacity: 300
Accommodation: Glamping/Camping
Wedding Packages: DIY/BYO
Linga Longa Estate is a picturesque camping venue situated on 700 riverfront acres near Balingup in the south west region of Western Australia. Nestled in a hidden valley and surrounded by beautiful forest, Linga Longa is a spectacular, intimate and relaxed location for weddings in the great outdoors.
The property has several awesome ceremony areas including an enchanting forest cathedral (with fairy lights through the trees) and a suspended gazebo which floats over the lake. The waterfront is an idyllic setting for seated or cocktail weddings under clear night skies and comes with an outdoor log lounge. A clear-walled permanent marquee caters for misbehaving weather.

28. Old Broadwater Farm
Location: 56 New River Ramble, West Busselton, WA 6280
Capacity: 200
Accommodation: Sleeps 18
Wedding Packages: All inclusive
Old Broad Water Farm is convenient to Busselton but is a wedding destination with the country feel of absolute seclusion. The property features an incredible open-air timber chapel, an air conditioned silk-lined marquee and an adjoining cocktail courtyard that flows onto a spacious timber deck. 
The interconnecting spaces of the deck, courtyard and marquee create an intimate setting for outdoor weddings of any style. Venue hire includes accommodation for 8 in two onsite dwellings, exclusive use of the grounds and plenty of country style photo opportunities in paddocks and beside barns. 
Outdoor Venues in South Australia

29. Al Ru Farm
Location: 

1016 One Tree Hill Road, Sampson Flat, SA 5114

Capacity: 350
Accommodation: Sleeps 15
Wedding Packages: All inclusive
The 10 acres of country gardens at Al Ru Farm have been featured in many magazines and coffee table books. This quintessential country location in the picturesque Adelaide Hills, is an idyllic setting for outdoor weddings amongst rose gardens, romantic woodlands, country vistas and waterfront settings.
The two most popular spots for outdoor events includes include the shady Homestead Lawn (pictured) which has views over the lily pond and formal rose garden. The other is the Lake Lawn, a spacious waterfront setting perfect for marquees. Wedding packages are all inclusive with service of your BYO alcohol and come with access to three luxurious accommodation suites.

30. Woodburn Homestead
Location: 

410 Angas Plains Road, Langhorne Creek, SA 5255

Capacity: 150
Accommodation: Sleeps 16
Wedding Packages: All inclusive
Located on 42 acres on quintessential Australian landscape in the beautiful Fleurieu Peninsula, Woodburn Homestead offers a blank country canvas for outdoor weddings with so many creative options. The property centres around an 1864 sandstone homestead which was renovated in 2016 and features surrounding gardens with a giant Morton Bay Fig.
The options for an outdoor wedding reception at Woodburn Homestead are endless, from the incredible open-air chapel which features authentically restored stonework to the festoon-lit lawns beside the stables. There's also a marquee lawn set underneath the twinkling blanket of stars.
Find Outdoor Wedding Venues:
Cover Image: Red Berry Photography