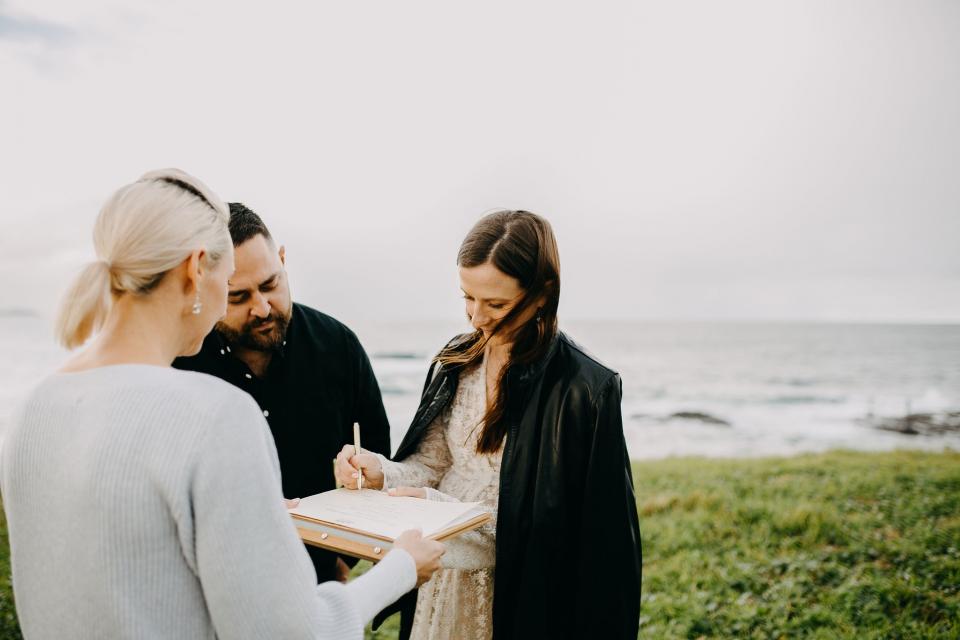 A paperwork only marriage is a quick & convenient way to get married without a wedding ceremony and the associated hype and paraphernalia. Paperwork only marriages are an ideal option for couples who want to get married quickly, cheaply or without the fuss of a larger celebration.
In NSW you have two options for a legals-only wedding (aka paperwork-only marriage). You can either book an appointment to get married at the Registry Office, or hire a marriage celebrant to organise the legalities for you. Below, you'll find a list of celebrants in NSW who offer paperwork only marriage packages.
Types of paperwork only marriages in NSW
The decision of whether to be married at the Registry Office or by a marriage celebrant is typically decided by some common motivating factors. Here's a run down on both options to help you decide which is right for you.
| | | |
| --- | --- | --- |
|   | Celebrant | Registry |
| Price | $300 - 800 | $469 - 799 |
| Online Option | Y | N |
| Venue Choice | Y | Limited |
| Paperwork Lodgement | Y | N |
| Personal Vows | Y | N |
| Queue | N | Maybe |
| Stress Free | Y | Y |
Registry Office Wedding
Getting married at the Registry Office is quick, cheap and reasonably easy for anyone with a good command of the English language. There are 6 main Registry Offices in NSW with 4 located in Sydney, 1 in Wollongong and 1 in the Northern NSW region of Kingscliff.
To get married at the Registry Office you'll need to submit all your own paperwork and attend a marriage interview one month before the date of your intended marriage. At the interview you'll be asked to pay, your documents will be reviewed and you can discuss options and ask questions about your ceremony. If you are not fluent in English you are required to organise your own interpreter who must accompany you to the interview. 
To organise your Registry Office wedding, complete the following documents and then book a marriage interview at your preferred location:
Marriage Celebrant
Booking a paperwork only marriage with a wedding celebrant, much like a Registry Office wedding, is quick, easy and affordable. A celebrant wedding includes all the legal paperwork to officially register your wedding under Australian law and all legalities are finalised for you. 
There are several benefits to choosing your own personal marriage celebrant to help you through the process of getting married. Here's our top 6:
You don't need to attend an interview one month before your wedding. This is particularly handy for interstate and overseas couples who can simply fly into NSW and get married without waiting around for a month first.
Your Notice Of Intended Marriage is lodged for you. You also receive the support of your celebrant in completing the form.
You can choose your own celebrant so you know you'll be married by someone who you connect with.
It's often cheaper
You can pick your own location
You can opt for personalised vows and/or include your love story
A paperwork only marriage is much like an elopement. You get to choose the location, your celebrant and can personalise the moment according to what works for you. Here are 10 marriage celebrants who offer paperwork only weddings in NSW.
10 Paperwork Only Weddings in NSW

1. Michael Janz
Location: Sydney, NSW
Service Area: Greater Sydney
Personality: Friendly, warm, personable
Paperwork Only Wedding: $795
Michael Janz is a warm, personable and friendly marriage celebrant who makes a paperwork only marriage in Sydney super easy. Simple ceremonies are his specialty and he does all the legal paperwork for you. You can choose your preferred park or garden anywhere around the city or beaches and Michael is happy to help you find the right location.
He's a brilliant conversationalist, is very easy to chat with and has a keen interest in other people. Highly experienced & highly recommended.

2. Mick Goldie
Location: Sydney, NSW
Service Area: Sydney
Personality: Happy, jovial
Paperwork Only Wedding: $300
Mick Goldie is Sydney's newest male celebrant and has a super special available for couples wanting a paperwork only marriage in 2022. You can choose a location anywhere on Sydney Harbour or in the Greater Sydney region and Mick will get you legally hitched for $300 (2022 weddings). 

3. Jacqua
Location: Wollongong, NSW
Service Area: Illawarra

Personality: Supportive, friendly, adventurous

Paperwork Only Wedding: $600
Having eloped to the Nevada Desert herself, Jacq gets couples who want a non-traditional wedding. She offers a legals only wedding package for $600 that includes the option for personalised vows and does all your legal paperwork for you.

4. Victoria Eustace
Location: Camperdown, NSW
Service Areas: Sydney

Personality: Warm, engaging, supportive

Paperwork Only Wedding: $400
Victoria is a flexible, down-to-earth marriage celebrant who brings a calm presence to small wedding ceremonies. She offers a legals only marriage for $400 within the inner Sydney area and you can upgrade to a more personalised service for $750. 

5. Kerri Mills
Location: Dulwich Hill, NSW
Service Areas: Sydney & Orange

Personality: Warm, capable, generous

Legals Only Marriage: $450
Having grown up in Orange, Kerri is at home in small country towns and will happily travel to get you hitched somewhere off the beaten track. Wedding fees start at $400 for elopements & paperwork only style weddings and go up from there. 

6. Julie Muir 
Location: Mayfield, NSW
Service Areas: Port Stephens - Lake Macquarie

Personality: Genuine, kind, thoughtful, calm

Legals Only Wedding: $500
Bilingual marriage celebrant Julie Muir can get you hitched in English, Irish, Spanish, French and reasonably well also in Italian. Expect a super simple wedding ceremony with a good dose of humour. Wedding fees start at $500 for legals-only including lodgement of all paperwork.

7. The Lady Who Weds
Location: Pottsville, NSW
Service Areas: Tweed Coast, Byron Bay

Personality: Kind, supportive, easy going, lovable

Legals Only Wedding: $450
Rachel is a pet friendly, family loving marriage celebrant who delivers quick & easy registry style weddings from $450. Rachel makes the process easy and carefree for her clients taking care of all paperwork and submissions.

8. Weddings With Jules
Location: Newcastle
Service Areas: Newcastle, Hunter Valley

Personality: Warm and welcoming, funny, compassionate

Legals Only Wedding: $800
Jules delivers light hearted marriage ceremonies in a funny and graceful style. Her paperwork only weddings include a little extra personalisation to make the moment special for her couples. Fees start at $800.

9. Sarita The Celebrant
Location: Long Jetty, NSW
Service Areas: Central Coast, Hunter Valley

Personality: Kind, easy going, sincere, calm

Legals Only Wedding: $450
Sarita has a warm, relaxed and welcoming presence that's perfect for low key paperwork only weddings. Her couples love how she blends the right amount of humour to create a stress free and fun process. Wedding fees start at $450 for a paperwork only option.

10. Jac The Hitcher
Location: Blackheath, NSW
Service Areas: Blue Mountains, Western Sydney

Personality: Thoughtful, fun, riotous

Registry Office Wedding: $666
Legals words, a couple of signatures and two witnesses is all it takes to get married with Jac. She's all about misfits doing it your own way and delivers up an easy paperwork-only fully legal wedding wherever you like, however you like. Expect a short but highly memorable occasion with zero fuss.
Eligibility for a paperwork only marriage in NSW
To get legally married in NSW you & your partner must be 18 years of age or older on the big day. There's a bunch of other rules like you can't already be married and there are restrictions on marrying blood relatives which are incidentally not as strict as you might expect. If you're worried about your eligibility, grab yourself a marriage celebrant from the above list and they'll sort you out.
Notice of Intended Marriage. 
if you are choosing a celebrant to marry you, they will email you the right NOIM for you to fill in, and will lodge it for you online. Your NOIM must be submitted more than 1 month before your wedding date and is valid for 18 months from the submission date.
What you'll need for a paperwork only marriage in NSW
To get married in NSW you'll need either of:
original birth certificates + photo ID (drivers licence)
passports
If applicable to you, you may also need:
change of name certificate
divorce papers
death certificate of previous spouse
The state of NSW makes it reasonably easy to get married without all the fuss of a large wedding ceremony and reception. Simply find a registry office location convenient to you, or pick one of our paperwork only celebrants above and you're 30 days away from being a legally married couple. Love rules.