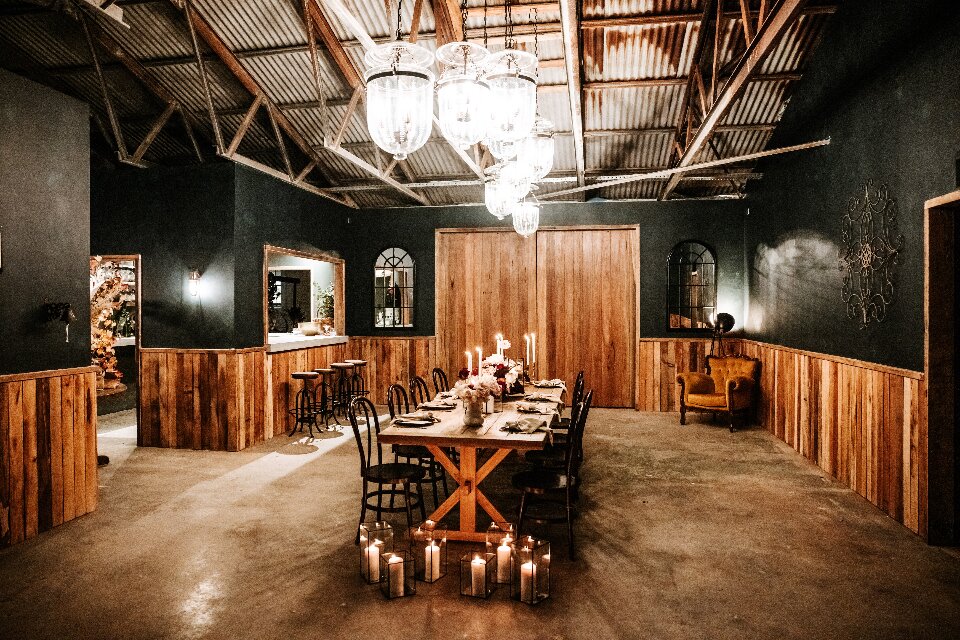 Rustic Wedding Venues: South Coast | Top 10 NSW | Southern Highlands | Sydney | Off The Beaten Track | Blue Mountains | Byron Bay | Central Coast | Hunter Valley | Illawarra | Newcastle | North Coast | Riverina
Rustic wedding venues on the South Coast of NSW include everything from traditional farm yard barns and sheds to wineries, bars and modern retreats. There are private properties that can be hired for the entire weekend, eco friendly bush retreats, farm wedding venues and beachfront estates that all offer rustic spaces to style for your dream wedding.
The South Coast has rustic wedding venues that cater for intimate 2 person elopements up to gala receptions for 350+ guests. The region also caters to all wedding budgets from affordable to luxury and there are venues that provide all-inclusive packages as well as those that allow couples to DIY everything from food & beverage to styling, hire and flowers.
This is a list of our favourite spots for a rustic wedding on the South Coast of New South Wales. It includes the best barn wedding venues, farm sheds, rustic halls and reception venues in the region. From the Illawarra to the Sapphire Coast, here are 20 rustic wedding venues on the NSW South Coast...
20 Rustic Wedding Venues - South Coast

1. The Woods Farm - Bush Chapel
Location: Bayly Road, Tomerong, NSW 2540
Capacity: 200
Accommodation: Sleeps 120

Wedding Packages: DIY/BYO
The Woods Farm is a 40 acre nature wonderland that accommodates all of your wedding guests for the weekend in a luxe glamping village and cabins. The property is tailor made for rustic weddings with old tractors, vintage wares and chandeliers hanging in the trees.
For wedding ceremonies there's an amazing bush chapel that has vine covered timber pylons, a covered roof, open walls and a chandelier altar. A majestic 120 metre arbor of jasmine covered archways creates a romantic aisle through bushland to the chapel. 

2. The Woods Farm - Wedding Shed
Location: Bayly Road, Tomerong, NSW 2540
Capacity: 200
Accommodation: Sleeps 120
Wedding Packages: DIY/BYO
Also at The Woods Farm is this rustic reception venue styled with luxe chandeliers in a purpose built wedding barn. Huge barn doors open onto a large balcony which descends onto surrounding lawns and an outdoor bar area that is typically dotted with couches and outdoor furniture.
Venue hire includes exclusive access to the entire 40 acre farm with use of the wedding chapel & reception hall for 3 days. 

3. Willow Farm
Location: Berry, NSW 2535
Capacity: 130
Accommodation: Sleeps 8
Wedding Packages: DIY/BYO
Willow Farm is a 160 acre cattle farm located minutes from South Coast beaches. The landscape features picturesque lush green paddocks, country gardens and an intimate creek front ceremony location. A barn style wedding venue aptly called 'the entertainment shed' provides a rustic space for wedding receptions and marquees, tipis or outdoor receptions can be set up on the lawns.
Amenities at Willow Farm include a farm house that provides accommodation for 10 for the weekend and a Yoga Barn. The Yoga Barn is a modern space that can be utilised as a ceremony venue in the event of wet weather.

4. Eleven Eighty Weddings
Location: 1180 Bolong Road, Coolangatta, NSW 2535 
Capacity: 80
Wedding Packages: DIY/BYO
Accommodation: Sleeps 15
Eleven Eighty is a quirky little property bursting with creative options for small events with 10 - 80 guests. There's a barn wedding venue that seats 30, a rustic hall that seats 50, an old train carriage that's been refurbished and seats 20 and a grand central courtyard with brick paving that comes with an optional glass covered marquee.
Venue hire includes 3 days exclusive access to the property with accommodation in two onsite cottages. You can pick and choose which spaces to utilise and style them from the free props shed containing a range of tables, chairs, velvet lounges and arbours. 

5. Mountain View Farm
Location: Tilba Tilba, NSW
Capacity: 2 - 120
Accommodation: Sleeps 2 - 14
Wedding Packages: DIY/BYO
Mountain View is an authentic farm wedding venue that sits under the gaze of Mount Gulaga on the Sapphire Coast of NSW. The property features an open-sided rustic shed called The Old Dairy which adjoins a cattle yard courtyard that is well suited to laid back cocktail weddings. There's also space to pitch a tipi and park food trucks.
Mountain View Farm is also the home of pop-up daisy field weddings on the South Coast. Every year from mid August to the end of September huge fields of Everlasting Daisies come into bloom with a one-of-a-kind aisle and altar designed into the plantation. All inclusive micro wedding packages are available that cater for up to 25 guests. 

6. Mimosa Wines
Location: 2845 Tathra-Bermagui Rd, Bermagui NSW 2546
Capacity: 180
Accommodation: Sleeps 13
Wedding Packages: All inclusive
Mimosa Wines is a 200 acre vineyard and chefs hatted restaurant with an incredibly scenic outlook over expansive hectares of national park for as far as the eye can see. Styled with raw timber pylons, wooden tables and wine barrels, the restaurant offers the perfect setting for luxe rustic weddings.
Venue hire is $5,000 and includes your wedding ceremony set up on the expansive balcony or spacious Lily Pond Jetty, accommodation for 13 guests in two onsite cottages and exclusive use of the winery on your wedding day. The chef then tailors your menu & drinks package starting at $160/pp which offers amazing value for one of the best foodie venues in Australia. 

7. The Pavilion Kiama
Location: 2 Bong Bong Street, Kiama, NSW 2533
Capacity: 80 - 400
Wedding Packages: All inclusive 
The Pavilion Kiama is a rustic reception venue conveniently situated on Kiama Beach and has expansive ocean views that take in the local lighthouse. The highly affordable venue is a light-filled space with polished wooden floors, an elevated stage and an entrance foyer bar that doubles as a wet weather ceremony space.
While The Pavilion is located in the centre of Kiama less than 5 minutes walk to hotel accommodation, it sits on its own peninsula where there's a rustic grandstand on one side and two rows of old sheds on the other - a perfect all-in-one location for unique wedding photos and sheltered wedding ceremonies.

8. Coolangatta Estate
Location: 1335 Bolong Road, Coolangatta, NSW 2535
Capacity: 2 - 200
Accommodation: Sleeps 70
Wedding Packages: All inclusive
Coolangatta Estate is the site of first settlement in the Shoalhaven region and has two rustic wedding venues on its 100 coastal acres. One is a function room with timber decor that caters for weddings of up to 200 guests. The other is a rustic wedding hall which was the original community centre built by convicts and retains its authentic heritage vibe.
The budget friendly winery has a giant fairy-lit fig tree and hedge trimmed croquet lawn for wedding ceremonies and there's a 26 unit motel with a swimming pool that guests can book & pay themselves. Rows of pretty grape vines, a backdrop of bush covered hills and historic buildings offer a variety of rustic backdrops for beautiful wedding photos.

9. Growwild Wildflower Farm
Location: 916 Old Hume Hwy, Alpine, NSW 2575
Capacity: 30 - 120
Wedding Venue: Farm & Barn
Growwild Wildflower Farm is a sprawling wildflower farm set on 25 picturesque acres of lawns and plantings surrounded by national park. Due to its rustic location, Growwild is a registered sanctuary with the Wildlife Land Trust and you can expect to see lots of unique flora & fauna here, including the occasional Koala.
The gardens provide a beautiful setting for rustic wedding ceremonies and outdoor receptions and there are several secluded lawns & courtyards to choose from. Reception spaces include a luxe garden marquee and a barn wedding venue that seats up to 50 guests. 

10. The Barn - Mali Brae Farm
Location: 562 Nowra Rd, Moss Vale, NSW 2577

Capacity: 60 - 110

Accommodation: Complimentary for 2

Wedding Packages: All inclusive
Mali Brae Farm is a private 90 acre farm with 2 rustic reception venues onsite including this refurbished barn which seats up to 110 guests.
There are 6 ceremony venues to choose from including historic ruins, weeping willows in a pretty waterfront setting and a rustic wedding shed that doubles as a wet weather option. 

11. The Lodge Jamberoo
Location: 406 Jamberoo Mountain Road, Jamberoo, NSW 2533
Capacity: 300
Accommodation: Sleeps 136
Wedding Packages: All inclusive
The Lodge is a 43 room country hotel that offers exclusive venue hire for private events with a 2 night stay for all guests. This unique hotel comes with a luxe rustic wedding hall that is easily styled to any colour scheme and an amazing Pine Tree Cathedral with an open air timber chapel for wedding ceremonies.

12. Augustine's Room - Mali Brae Farm
Location: 562 Nowra Rd, Moss Vale, NSW 2577
Capacity: 30 - 55
Accommodation: Complimentary for 2
Wedding Packages: All inclusive
Augustine's Room at Mali Brae Farm is a luxe rustic reception venue that was purpose built for small weddings of between 30 - 55 guests. Wedding packages include exclusive use of the farm with 6 ceremony sites to choose from and accommodation for 2 in the dairy. 

13. Figbird Cottage
Location: 330 Comerong Island Rd, Terara, NSW 2540
Capacity: 150+
Accommodation: Sleeps 8
Wedding Packages: DIY/BYO
Figbird Cottage is a country wedding venue set within pretty English-style gardens surrounded by peaceful dairy paddocks. As you enter the gardens ornamental white gates open to spacious lawns and an 8 metre fairy-lit rose arbour framed by hundreds of roses and camellia bushes.
The property centres around a luxe European marquee that opens onto a cocktail lawn overlooking surrounding farmland. Venue hire includes exclusive use of the entire property for 3 days/2 nights with accommodation in two farm houses. Day hire is also available. Inclusion of all furniture, lighting and tableware make Figbird Cottage an affordable option.

14. Interbane House
Location: 8 Lawrence Hargrave Drive, Stanwell Park, NSW 2508
Capacity: 100
Accommodation: Sleeps 18
Wedding Packages: DIY/BYO
Interbane House is a private 5 bedroom home located on Bald Hill near the take off point for local paragliders. The house has incredible ocean views with a birds eye views of shipping traffic to local ports and directly overlooks the new Sea Cliff Bridge.
The open plan dining room, surrounding balcony and flat backyard offer a choice of settings for rustic weddings and you hire in your preferred caterers and BYO drinks.

15. Ravensthorpe Guesthouse
Location: 56 Tongarra Rd, Albion Park, NSW 2527
Capacity: 200
Wedding Venue: Georgian Homestead
Ravensthorpe Guesthouse is a romantic Georgian style country homestead perfect for vintage or rustic styled weddings. The all-in-one wedding location caters for ceremonies & photos in the 3 acres of English gardens followed by wedding receptions in a light-filled conservatory, adjoining rustic courtyard and marquee.
With mountain and country backdrops setting the scene for relaxed country weddings, Ravensthorpe is the ideal spot to enjoy a 24 hour wedding experience on the South Coast. Wedding packages include getting ready to ceremony to reception and a recovery brunch the following day. Accommodation for 14 wedding guests.

16. Fig Tree Park
Location: 58 Sherringham Lane, Central Tilba, NSW 2546
Capacity: 2 - 200
Wedding Venue: Private Estate
Fig Tree Park is a brand new blank canvas wedding venue located in the Sapphire Coast region of Southern NSW. The property features a landscape well suited to rustic wedding ceremonies and receptions including vine covered arbours, rose gardens and wide open lawns.
Just 2 minutes away from local beaches, the homestead and gardens afford scenic views across the local countryside to the ocean. You can set up a marquee near beautiful old fig trees and have the open sea as your wedding backdrop. The property sleeps 2 and suits micro weddings & elopements up to events for 200. 

17. Kullindi Homestead
Location: Booderee National Park, Ellmoos Rd, Jervis Bay NSW 2540
Capacity: 20 - 200
Accommodation: Sleeps 20
Wedding packages: DIY/BYO
Kullindi Homestead is a farm style wedding venue located on the banks of Sussex Inlet near Jervis Bay. Events centre around a waterfront jetty where an expansive lawn offers a blank canvas to create your dream wedding. With installation of a tipi the space is easily transformed into a rustic wedding venue and food trucks and drinks carts are welcome.
Venue hire starts at $3,800 and includes 5 self contained units that sleep 20 guests plus the option for additional guests to camp. 

18. Kianinny Bush Cottages
Location: 246 Tathra Rd, Tathra NSW 2550
Capacity: 150
Accommodation: Sleeps 150+
Wedding Packages: DIY/BYO
Kianinny Bush Cottages is a 100 acre bushland property centred around a freshwater lake that has a gorgeous pontoon for wedding ceremonies. The lake is overlooked by one of two rustic wedding halls that both feature side opening walls, relaxed bushland views and have a commercial kitchen for use by your chosen caterers.
There are self-contained bush cottages for 150+ guests that when hired provide exclusive use of the entire resort. There's plenty to do at this amazing destination which is used by school camps during the week such as canoeing, zip-lining, mini-putt and archery. 

19. Terara Park Farm
Location: 174 Millbank Rd, Terara, NSW 2540
Capacity: 180
Accommodation: Sleeps 12
Wedding Packages: DIY/BYO
Terara Park is a 22 acre horse farm wedding venue with a dam and overhanging jetty ceremony area. There's a large converted indoor arena suitable for barn style weddings and 4 self contained units that sleep 12 guests. 

20. Oaklands Event Centre
Location: 3546 Princes Hwy, Pambula NSW 2549
Capacity: 300
Accommodation: Sleeps 8
Wedding Packages: All inclusive
Oaklands event centre is a large, rustic barn wedding venue situated on a hobby farm with horses, donkeys and an assortment of other farm animals. There's an onsite farmhouse where you can have your wedding ceremony and photos in the gardens, and lots of farm backdrops for beautifully rustic wedding photos.
Farm weddings at Oaklands are highly affordable with all catering and drinks provided onsite. There's even an after-party beer hall or you can host a recovery party in the private farmhouse courtyard. 
The South Coast of NSW has a wonderful selection of rustic wedding venues that all offer something a little bit different. From modern wedding barns to refurbished farm sheds, the above list of rustic wedding venues are some of the best spots to get married on the NSW South Coast.
For more amazing places to tie the knot, check out our list of favourite South Coast wedding venues.