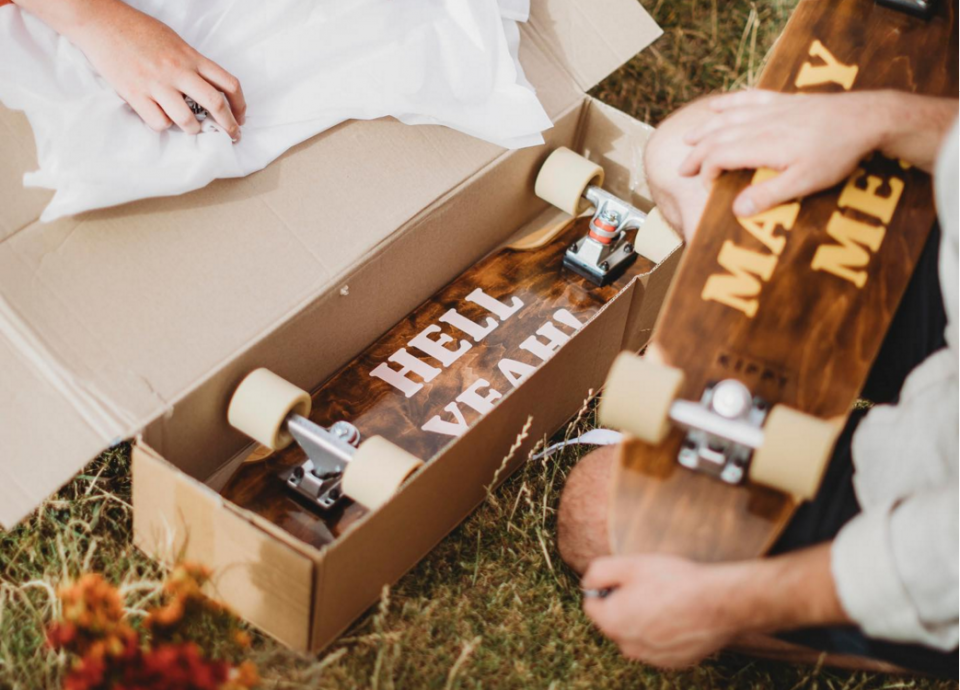 No matter how long you and your partner have been dating for, a marriage proposal is secretly, or not so secretly, on everybody's minds. But maybe the bigger question to those who are planning on doing the proposing, is how do I make sure my wedding proposal is unique? 
From private to public affairs, extravagant and simple, the options for how to ask your partner are virtually endless.  Choosing a setting and scenario where you & your partner feel relaxed and happy is perhaps the most important criteria to get right - you want this moment to be a happy story that gets retold through the ages!
You don't need to rewrite the rule book to create a meaningful and unique proposal.  Simply add your own particular style, likes and unique eccentricities as a couple to these top ten unique wedding proposal ideas. 
Top 10 Unique Proposal Ideas
1. On a bush walk
This first unique proposal idea is great for couples who include walking amongst their usual favourite activities. It might sound like a fairly 'normal' proposal idea, but there's so many ways to add your own flavour to this one.
Choosing the right walk will be your first important decision.  Does your partner love to tackle an 8 hour grade 5 ascent that culminates in the pitching of a tent somewhere remote and sitting next to a campfire while the evening grows dark? Or are they more the casual meandering type?  Do they love oceanside walks that take in sections of beach where they can dip their toes in the water?  Would they love people to be around to witness this special moment, or prefer a secluded setting where you are left to revel together in solitude?  

Unique beach proposal.  Image: Samuel White Photo 
Invite your partner to join you on a bushwalk, hike, or casual weekend stroll and surprise them by popping the question along the way. You can propose while at a lookout point, at the walk's destination or at any random point along the way when your nerves have calmed and you can get the words out.
2. On a picnic
Everyone loves a picnic right? And there's a thousand ways to take this simple, notoriously romantic idea and give it a unique-to-you proposal-ready upgrade. You can keep it 'tradish' with a DIY rug and trusty wicker basket arrangement but amp it up on the location and food.  Is there a spot with special meaning to you both? The place you first met or a bucket-list location you've both been hoping to get to?  
This causal setting can be a private or public event depending on your location and whether you decide to invite some friends and family along to make this simple picnic proposal extra special. If you are torn between wanting to invite friends and family but still wanting it to be somewhat private, consider taking a small walk with your partner away from the group to pop the question in a more private moment before coming back to celebrate.
Plattier Food Artistry - Perth 
There are plenty of small picnic & styling businesses who will prepare a gorgeous setting in your chosen location.  Many will hire you rugs, arbors, low tables, dining tables, chairs, tableware and furnishings to create a truly one of a kind space that will give your picnic some serious wow factor.  They'll set it all up and pack it down again, so all you need to do is arrive and do the asking.  Download a list of proposal specialists in your area.
3. At a photo shoot
There's so many ways you can tailor this idea to create a unique proposal.  It's also a great option if you want to keep the proposal a surprise until the very last minute.  Simply tell your partner you've organised a couples shoot for you both so you can put a picture of the both of you on your wall.  Or on Mum's wall.  Or to send to your Great Aunt Audrey who lives in New Zealand.  Or simply for posterity. 
Choose a local wedding proposal photographer who will work with you to find a suitable location and plan.  Proposal photographers also offer the option of staying hidden out of sight, so you can capture the moment without your partner knowing. You can then surprise your fiance with the images on the morning of your wedding or in a slideshow at your wedding reception.  If you're going for the hidden camera option, you could take your partner out for a day of taking pictures together at tourist spots or favourite places with your own camera.

Surprise Wedding Proposal - Photographed with Love 
If spontaneity is your vibe, nothing captures a surprised moment quite like a photo booth does. These vintage machines might be a little old fashioned but they're super intimate and will produce the goods. Pull out the engagement ring halfway through your time inside and your reactions will be cemented in film until the end of time. 
4. Spell it out with your favourite photos
Sticking with the photo theme, this proposal idea is for those who love a creative project.  You'll need plenty of time and a place to hide your project while you're working on it.  
Grab some of your favourite photos and collate them into a photo album the kids and grandkids will love. You could even cut the photographs or shape them into the letters of "Will you Marry Me?" Alternatively, you could make a banner with the photos spelling out those famous words! This proposal idea is great for childhood sweethearts or couples who've known each other for several years.
5. A meal to remember
Those famous words "Will you Marry Me?" have never looked as good as they do when they're delivered with your favourite edible goods.  And there's no shortage of ways to turn this simple concept into a unique proposal idea.
In the food.  On the food.  In the drink.  Under the plate.  On the wine bottle…  You get the idea.  Write it, say it or bake it into - there's so many ways to deliver the big question.
The where and who of this idea are the important things to decide.  Will it be a big dinner party with friends, family, parents and the neighbours?  Or a romantic candlelit dinner for two at home, at your favourite restaurant or the local lookout at the end of your street?
If you're not a cook you can rope in some help with carrying out this one. Get an info pack about proposal organisers (how much they cost and what they provide) in your area! We guarantee your partner will love knowing that you've done something out of your comfort zone or skill set in order to propose!
6. Plan a scavenger hunt
This unique idea will appeal to fun loving, adventurous couples.  And you can dial the adventure up a notch by planning in a thrill seeking component that will get your excitement pumping before the main and final event.   
Lead your partner around your house, town or unique set of places that have relevance to your relationship.  Write clues and lead them along with questions, riddles, flowers and/or small gifts until they reach you or the final clue, containing the big question. 
Swap out the final clue for the ring. Or have the final destination on the beach with 'Will you marry me' written in the sand.  Or make the final destination a table for 2 at your favourite restaurant and make a crossword puzzle with the big question hidden inside to do together while you wait for your meals. 
Or go skydiving and propose in the air (if you're a ninja) or when you land (if you're a regular citizen). There's no proposal idea quite as personalisable as the scavenger hunt. 
7. At a 'you' place
This simple proposal idea is memorable in the best kind of way. My Dad asked my Mum if she would marry him on a casual night out at a pub. It wasn't memorable or special at the time, but now whenever we drive past it, my sister and I always remark to anyone and everyone that "that's where my parent's got engaged!" 
Is there somewhere you always go together?  Is there a place, or a sport or a hobby that you regularly enjoy together?  Anything that's part of your together story can provide a great theme for a unique proposal that's never been done before by anyone else.
8. With a nod to the arts

'Simple tends to be best with greater attention to fine detail.' Surprise proposal by Upside Down Events.  Image: In a Maze 
Attention readers, music enthusiasts, art appreciators, tv aficionados, movie lovers, poets and the like. Take inspiration from your art genre of choice and deliver a proposal that speaks of the volumes.  Think quotes, themes, famous scenes, voice impersonations, character parallels, tributes, innuendo and more.
For literature lovers, grab a copy of your partner's favourite book and flip to a random page or it could even be a page with their favourite quote on it. Highlight the words or letters until it spells out the big question. 
Or memorise a favourite scene from a movie you both love and perform it for your partner.  Adjust the wording when you get to the climatic point and pop the big question in. Have fun with this one. Costumes optional.
9. At a big family dinner
If you and your partner are close with your families you may like to share this big moment with them by inviting them all around for dinner.
It's up to you whether you let both families in on the surprise so that they all are ready for the big moment. Alternatively, you could leave the surprise for everyone to find out at the exact moment when your new fiancé does.
If a family event feels right for you and your partner, you may like to prepare not just the proposal for your partner, but a few words to engage everyone around the table.  Have the champagne on standby!
10. On a holiday or mini break

Unique Wedding Proposal with iconic backdrop Sydney Harbour - Photographed with Love
Some couples love to travel and if that's you, what better, and more romantic time to pop the question?  
Your choice of timing and location is limitless.  There's all the tourist places and activities like at a popular attraction, in a hot air balloon, at a famous landmark or in front of an iconic view.  Then there's the intimate traveller moments like private dinners, sunset walks on the beach or atop an elephant in the jungle.
It doesn't have to be an extravagant overseas holiday though, there are literally hundreds of spots that are perfect for a unique proposal right here in Australia.  It could be a weekend away up the coast or a road trip through your favourite country towns. If a destination wedding is a possibility, a proposal in that spot could make a wedding there that little bit more laced in meaning. The possibilities are endless!
Use these unique proposal ideas as a starting point for your own.  Popping the question is a very personal and intimate thing and there are an unlimited number of very simple ways to make it meaningful, special and unique to you both.  Choosing a simple idea from those listed above and injecting your personality into it will ensure your proposal is a moment you both treasure forever.
Cover Image: The Paper Fox