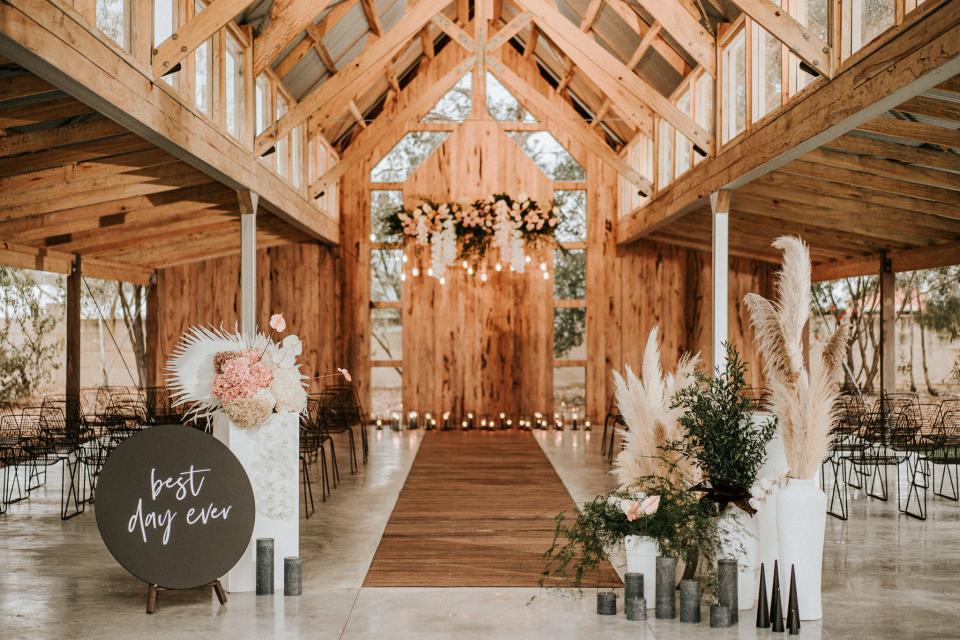 Wedding Chapels: Australia | NSW | QLD


Looking for a wedding chapel that welcomes ceremonies of any religion as well as civil celebrations? Listed below you'll find 20 of the most beautiful, atmospheric and utterly spectacular wedding chapels in Australia.
All of these wedding chapels and churches are non-denominational wedding venues that welcome couples of all faiths, backgrounds and orientations. You can bring your own minister of religion or choose a civil celebrant to marry you, and most are in locations where you can have wedding photos on the grounds after your service.
Australia's wedding chapels come in a vast assortment of styles. From traditional church-like structures with wooden pews and glass stained windows to modern neon spaces with disco balls and turntable tunes. Vegas style weddings are becoming ever more popular with most states now home to rad little non-traditional chapels - some are transportable.
In our country regions you'll find an inspiring assortment of places to get married including open air chapels, pitched roof pavilions and modern all-white churches that come with epic views or beautifully curated altars. There's even chapel Airbnbs.
Some of these wedding venues with chapels are located at 3 day destinations where you need to book your reception and onsite accommodation with the venue for access to the chapel. For your convenience, we've specified which wedding chapels are able to be hired for ceremonies only.  
Here are 20 of Australia's best wedding chapels...
Wedding Venues With Chapels
NSW Chapels
VIC Chapels
QLD Chapels
WA Chapels
SA Chapels
TAS Chapels
Wedding Chapels in NSW

1. The Woods Bush Chapel
Location: Tomerong - South Coast, NSW
Capacity: 200
Accommodation: Sleeps 120
Ceremony Only Packages: No
Wedding Packages: 3 days inc accommodation
Hidden in the woods just a few minutes from Jervis Bay, The Woods Farm has one of the most unique wedding chapels in Australia. This open air, rustic bush chapel featured a mirrored altar, chandeliers and the most grand walkway entrance through a series of curved overhead arbors.
The fairytale-like property is available to hire for destination weddings with 70 - 120 wedding guests staying onsite with you. Luxury 3 bedroom cottages and a permanent glamping village set the scene for a weekend of fun in the many communal gathering areas. The chandelier-filled reception venue is as unique as the bush chapel.

2. St Joseph's Guesthouse
Location: 1029 Saint Albans Road, Saint Albans, NSW

Capacity: 100

Accommodation: Sleeps 10
Ceremony Only Packages: No
Venue hire: 4 Days from $3,500+
The owner & manager of St Joseph's Guesthouse rebuilt this wedding venue himself from the ruins of a 160 year old Catholic Church. The original stone structure now contains 5 luxury bedrooms in the upper 2 stories and an intimate function space on the ground floor.
You can either get married on the front sandstone steps under the original church bell which still works today, inside on the ground floor or in the backyard on top of a circular tank under the building's impressive facade. Ceremonies & receptions are DIY and venue hire ranges from $3,500 - $5,500 for 10 - 30+ guests respectively, inclusive of accommodation.

3. Goosewing Cottage
Location: 1194 Mount View Rd, Mount View, NSW 2325
Capacity: 20
Accommodation: Sleeps 12
Ceremony Only Packages: Yes
Elopement packages: $3,295+
This magical wedding chapel is located in the iconic Hunter Valley wine region and is surrounded by lush farmland and the relaxed scene of rolling green hills. Goosewing Cottage is a specialist micro wedding and elopement venue that offers all affordable all-inclusive packages for ceremonies with 2 - 20 guests from $3,295.
All wedding packages at Goosewing Cottage provide exclusive use of the wedding chapel, a choice of popular marriage celebrants and wedding photos by one of the best photographers in NSW. Other inclusions can be added such as a wedding video, cake, florals and accommodation for up to 12 people in two onsite cottages (one of which has a pool).

4. Lords Estate Chapel
Location: 313 Seven Hills Rd, Seven Hills, NSW 2147
Capacity: 2 - 100
Ceremony Only Packages: Yes
Venue Hire: 4hrs - $2,000
Lords Estate Chapel is a refurbished & deconsecrated 140 year old wedding chapel that welcomes civil and religious weddings of all denominations. The light-filled, modernised interior is an ideal blank canvas for wedding ceremonies and elopements, and comes with removable church pews seating up to 80 guests.
Venue hire includes access to private gardens surrounding the chapel providing a wide range of backdrops for wedding photos, and the option to enjoy champagne and cake outside. Private dining for up to 30 guests is available by request inside the chapel which makes an utterly unique reception venue.

5. The Lodge Jamberoo Pine Chapel
Location: 406 Jamberoo Mountain Road, Jamberoo, NSW 2533
Capacity: 300
Accommodation: Sleeps 136
Ceremony Only Packages: No
Wedding Packages: All inclusive
This beautiful open air chapel is located at a quiet country hotel on a peaceful rural lane just 30 minutes south of Wollongong. The wedding chapel is a tranquil & romantic site to exchange vows set beside a trickling creek and immersed in a natural pine forest cathedral.
As a destination wedding venue, hire of The Lodge comes with 43 renovated hotel rooms which surround a huge outdoor swimming pool. The entire hotel is exclusively yours for the weekend and includes an elegant reception hall, late night bar, onsite restaurant for breakfasts & lunch, pre & post wedding event areas and two large dressing rooms for getting ready.

6. Charlotte's Chapel
Location: 431 Avoca Drive, Green Point, NSW 2251
Capacity: 140
Accommodation: Sleeps 6
Ceremony Only Packages: Enquire
Wedding Packages: All inclusive
Charlotte Chapel at Kantara House is an elegant & all-inclusive destination for private chapel weddings on the NSW Central Coast. Nestled in 4.5 acres of rainforest gardens, the chapel is both private and majestic with an impressive 260kg ringing bell (which comes with its own bell ringer), beautiful hanging chandeliers and enormous gothic-inspired doors.
Kantara House also has an all-weather Green Chapel nestled amongst the trees. This space is covered in a romantic canopy of fairy lights and makes a spectacular spot for a sparkler exit. All inclusive wedding packages cater for seated or cocktail receptions and all furniture including elegant Tiffany chairs are set up for you.

7. Summergrove Estate
Location: 363 Carool Rd, Carool, NSW 2486
Capacity: 130
Accommodation: Sleeps 10
Ceremony Only Packages: Yes
Wedding Packages: $3,500+
Located one hour north of Byron Bay near the QLD border, Summergrove Estate's beautiful white wedding chapel offers a traditional ceremony location near the warm tropics of the QLD border.  The air conditioned, glass-fronted chapel overlooks stunning ocean views and features traditional pews and modern timber floors.
You can hire the Summergrove Chapel without a reception package for Monday and Tuesday ceremonies within 3 months of your intended wedding date subject to availability. Or book the whole place for an all-inclusive destination wedding complete with catered reception and accommodation.

8. Plantation Chapel at Pioneer Country
Location: Tweed Heads - Northern NSW
Capacity: 300
Accommodation: Optional glamping
Ceremony Only Packages: Yes
Reception Packages: All inclusive
The unique plantation style wedding chapel at Pioneer Country is nestled peacefully amongst the property's 200 working acres. Situated just 10 minutes from the Gold Coast Airport, the non-denominational chapel provides a rustic country setting with all the convenience of an inner city location.
The chapel features antique pews that seat 120 guests, a beautiful pitched roof and lattice walls that open to accommodate weddings of up to 300. Also onsite is a barn style reception venue that offers all inclusive wedding packages from $5,000. 
Wedding Chapels in VIC

9. The Altar Electric
Location: 

299 Johnston Street, Abbotsford, VIC 3067

Capacity: 80
Ceremony Only Packages: Yes
Wedding Packages: All inclusive elopements
The Altar Electric is the hippest little wedding chapel in Australia. Located in inner city Melbourne, the team at The Altar Electric offer easy, fun and memorable experiences from mid week shotgun weddings through to an all inclusive 5 hour wedding party.
Wedding packages start at $1,450 for a 30 minute ceremony including a polaroid of you and your lover plus all the paperwork and legals. Extras include photography, video and live-streaming. Plus you can have Elvis marry you complete with a live song of your choice as you walk down the aisle and a personalised telegram invitation from the King himself.

10. Dalywaters Wedding Chapel
Location: 

240 Bungower Road, Mornington, VIC 3931

Capacity: 70
Ceremony Only Packages: Yes
Venue Hire: $2,500
Dalywaters Rose Garden & Wedding Chapel is a picturesque ceremony venue featuring French rose gardens, a vintage all-white chapel, lake & jetty ceremony site and a light filled bridal suite. Chapel weddings include free floral styling from the rose gardens and access to the conservatory bridal suite for 3+ hours on your wedding day. 
Externally, the Dalywaters Chapel is a photographers dream featuring a sixty metre vine covered bridal walk, white weatherboards & lattice, a quaint turret, climbing white roses and ornamental pear trees.  Inside is an intimate open air space with souring white beams, red carpet aisle and the fresh smell of beautiful roses.
 View Dalywaters Wedding Chapel

11. Inglewood Estate
Location: 

130 Eltham-Yarra Glen Road, Kangaroo Ground, VIC 3097

Capacity: 110
Ceremony Only Packages: Yes
Wedding Packages: All inclusive
Immersed in a secluded valley, Inglewood Estate with its vine covered, rustic chapel, renovated hay shed and original timber homestead is a magnificent all inclusive wedding venue. Packages cater for your entire wedding day from getting ready to reception farewells.
The chapel seats 110 guests with plenty of additional standing room and has original antique pews, a harmonium, stained glass windows and wrought iron candelabras. Photo opportunities in the chapel gardens include a beautiful lake & jetty and range of colonial backdrops from replica buildings to horse drawn carts.

12. Trenavin Chapel
Location: 746 Ventnor Road, Ventnor, VIC 3922
Capacity: 130
Ceremony Only Packages: Yes
Venue Hire: From 2hrs - $4,500
The picture perfect Trenavin Chapel is a seaside ceremony venue located on Phillip Island, overlooking the Mornington Peninsula. The non-denominational wedding venue welcomes weddings between all couples with venue hire including access to the grounds for wedding photos.
Adjoining Trenavin Chapel is the Summer House which can be hired in 3 hour blocks for DIY wedding receptions where you arrange your own food & beverages. 

13. Fergusson Winery
Location: 82 Wills Road, Dixons Creek, VIC 3775
Capacity: 200
Ceremony Only Packages: No
Accommodation: Sleeps 6
Wedding Packages: All inclusive
Fergusson Winery in the Yarra Valley is an elegant vineyard, restaurant and wedding venue that features an historic and quaint little white wedding chapel. The Forever Chapel seats up to 70 guests in traditional pews for intimate wedding ceremonies and there is a secret garden with gentle flowing creek beside it.
In addition to the chapel, there are two spaces to choose from for your wedding reception. The barrel room is an airy, rustic setting that seats 80 guests amongst beautiful smelling French oak barrels. The restaurant is an ideal light filled space for larger weddings and overlooks the picturesque vines.
Wedding Chapels in QLD

14. White Chapel Kalbar
Location: Kalbar - Scenic Rim, QLD
Capacity: 90
Ceremony Only Packages: Yes
Reception Packages: All inclusive
The historic White Chapel Kalbar is one of Australia's most beautifully restored country chapels. Located in the quaint Scenic Rim township of Kalbar, the grand white doors open to a modern, light-filled ceremony space complete with vintage chandeliers, elegant white bentwood chairs and a gothic, back-lit altar.
You can hire White Chapel for wedding ceremonies and elopements and have photos in the surrounding gardens where backdrops include a beautiful old barn. Behind the chapel is the aptly named Black Hall, a luxe rustic space that caters for small wedding receptions of up to 85 guests.

15. AnnaBella Chapel
Location: 

264 Wilson Road, Tanawha, QLD 4556

Capacity: 100
Ceremony Only Packages: Yes
Venue Hire: $1,750 
AnnaBella the Wedding Chapel is an intimate, all-white ceremony venue located in the Sunshine Coast Hinterland. This secluded, vintage style chapel is accessed via a beautiful country driveway that passes the property's many photo opportunities including lush gardens, duck pond with rowboat and timber jetty with handcrafted double swing.
The privately owned and operated chapel is non-denominational, booking only one wedding per day which gives you plenty of time for wedding photos in the surrounding 35 acres after your ceremony. The beautifully styled & light-filled interior features large arch windows, antique timber pews and a Chinese altar backed with feature dove print wallpaper. Image: Luke Middlemiss

16. Walkabout Creek
Location: 60 Mount Nebo Road, Enoggera Reservoir, QLD 4520
Capacity: 60 - 300
Ceremony Only Packages: No
Wedding Packages: All inclusive
Overlooking Enoggera Reservoir in the D'Aguilar National Park, is a beautiful outdoor wedding chapel aptly called the Lakeview Stage. Surrounded by amphitheater seating and shaded from the summer sun, this tranquil waterfront ceremony space is just 25 minutes from Brisbane city at the beautiful Walkabout Creek 
There are three private reception venues onsite, all completely surrounded by nature and featuring picturesque views of the reservoir. Wedding packages make planning a breeze with all inclusive with 6 hour venue hire, uncapped beverages and a choice of menus from gold star caterers.
Wedding Chapels in WA

17. Big Love Tiny Chapel
Location: Margaret River, WA
Capacity: 4 - 100+
Ceremony Only Packages: Yes
Wedding Packages: 3 hour hire
Big Love Tiny Chapel is a mobile wedding ceremony chapel that can be hired for weddings anywhere in the Margaret River region. For small weddings and elopements the tiny chapel seats 4 guests. For larger weddings you can get married on the porch with your guests watching on from the front of the chapel. 
Big Love Tiny Chapel is owned and operated by celebrant Anita Revel who married herself in a little white chapel in Vegas. You can either hire the chapel separately, or book it together with Anita's fun ceremonies.

18. Old Broadwater Farm
Location: 56 New River Ramble, West Busselton, WA 6280
Capacity: 200
Sleeps 18
Ceremony Only Packages: No
Wedding Packages: Inclusive with BYO
One of the newest open-air wedding chapels in Australia is this spectacular ceremony pavilion located at Old Broadwater Farm. The luxe rustic space provides a stunning, all-weather destination for wedding ceremonies and is included with all wedding packages along with your fully catered reception + accommodation for 10.
The pavilion is surrounded by extensive gardens, lush golden paddocks and a huge variety of photography backdrops including a romantic garden swing and rustic barns. A modern, air conditioned marque with in-built dance floors and an outdoor timber deck & paved courtyard set the scene for cocktail hour and your wedding reception.
Wedding Chapels in SA

19. Woodburn Homestead
Location: 410 Angas Plains Road, Langhorne Creek, SA 5255
Capacity: 80
Sleeps 12 + glamping
Ceremony Only Packages: No
Venue Hire: $8,500 - $10,500
Hidden up a country drive lined with long gum trees, the historic Woodburn Homestead and surrounding grounds offer a unique collection of sandstone spaces for your wedding. The most popular of those spaces is the property's iconic open air chapel which was once a barn. The area now features restored stonework and a limestone crush floor that lend a boho rustic vibe to celebrations. 
Set on 42 acres and sleeping 10 in the refurbished homestead plus a bridal suite in The Coach House, Woodburn is an ideal spot for a mid-week or weekend wedding getaway. Venue hire starts at $8,500 including accommodation, onsite catering is $75 - $85/pp and you can BYO alcohol.
Wedding Chapels in TAS

20. Tailrace Weddings
Location: 

1 Waterfront Drive, Riverside, TAS 7250

Capacity: 200
Ceremony Only Packages: No
Wedding Packages: All inclusive
The Chapel Room at Tailrace Weddings is an intimate ceremony and reception venue that seats 20 - 80 guests. The bright and airy room has floor to ceiling glass windows overlooking a beautiful private garden and comes with all inclusive wedding packages with catering. 
In addition to the Chapel Room there are 2 other indoor reception rooms and the secluded Willow Lawn that offers a private alfresco space surrounded by tall picturesque trees for outdoor ceremonies & receptions. Tailrace also has a children's play centre onsite and provide supervision on request for kids to play during the reception.
Gone are the days where wedding chapels in Australia were limited to traditional heritage style churches. From little chapels on wheels to open air, luxe-rustic structures with mirror altars and chandeliers. Ceremony locations across Australia have given the chapel wedding a modern makeover. 
For couples wanting a ceremony-only package, please note many chapels at the destination wedding venues listed above may allow you to book just a ceremony if its mid week and within 3 months of your wedding Higher revenue bookings need to be prioritised at other times but most venues love to accommodate couples wherever they can. So if you're in love with a specific wedding chapel, don't be scared to ask. 
Cover Image: Shannon Stent