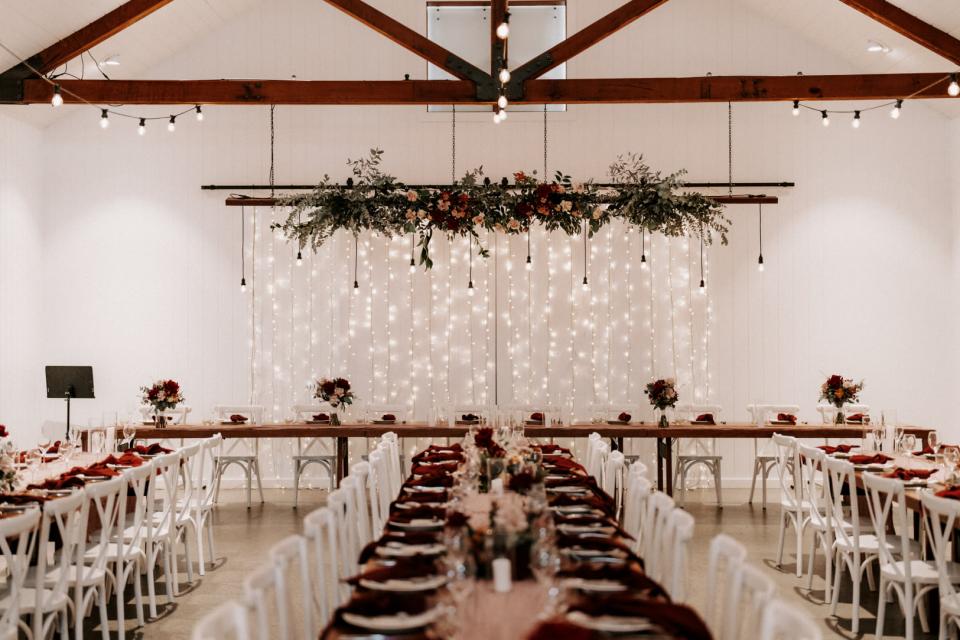 Wedding florists in Australia are among the most recognised wedding floral designers in the world. Creating innovative wedding bouquets and incredible ceremony & reception installations has seen their wedding flowers published in the world's most respected magazines.
Our best wedding florists can bring meaning and personalise celebrations in a way quite unlike any other medium. Taking inspiration from their clients, conceptual floral pieces and one-of-a-kind installations inject the personality, quirks & history of the couple into their wedding arrangements and spaces.
Wedding flowers have the ability to tell a story. They bring uniqueness and awe to spaces, and joy to people. They're experiential & tactile, bringing colour, smell and unique style to spaces. Simply, wedding flowers are a beautiful way to add meaning to celebrations and if you've got the budget it's worth investing in one of Australia's best wedding florists.
In Australia, all inclusive wedding floral packages range from $2,500 - $15,000+. At the upper end you get custom designed wedding blooms & unique botanical pieces alongside show stopping flower art installations. The collection creates a cohesive flow of "wow's" from ceremony to reception. 
Most of the amazing wedding florists below offer full-service wedding flower packages. Small orders of a-la-carte items such as Bridal bouquets, posies & buttonholes for elopements can usually be accommodated, particularly for mid week weddings or if you're picking up rather than require delivery. So don't hesitate to enquire.
Here are 18 amazing wedding flower designers in Australia.
Top 18 Wedding Florists In Australia
Best Wedding Florists in NSW

1. Butchers Daughter
Location: Crows Nest, NSW 2065
Service Area: Sydney
Floral Style: Colourful, Crazy & Beautiful
With a beautiful riot of colourful & crazy blooms, Butchers Daughter transforms ordinary rooms into experiential wedding spaces. From intimate fairytale gardens to underground neon ballrooms, Bridget Ditte's unique eye for innovative floral design pours heart & sentiment into one-of-a-kind, modern weddings.
Tailored around your colour palette, an abundance of lush & colourful blooms are styled to the aesthetic & format of your wedding. Bridget works directly with couples or alongside wedding stylists to furnish complete floral packages at affordable prices. She brings an eclectic range of vases and candles to the table.

2. The French Petal
Location: Byron Bay, NSW
Service Area: Northern NSW
Floral Style: Textural detail
The French Petal is the Northern NSW wedding floral studio of Estelle, a French born florist with a love of nature, flowers, pods, textural foliage and vines. Estelle's portfolio features a mix of bright & muted palettes lofty in rich textural detail and reflects a meticulous execution of the briefs provided by the couples and stylists she works with. 
Estelle offers tailored made florals for weddings, from bouquets & buttonholes for elopements to complete packages including ceremony styling and reception installations. She comes highly recommended by the region's best wedding stylists & photographers and is regularly published in magazines like Hello May.

3. The Faux Fernery
Location: Belrose, NSW
Service Area: Sydney, Hunter Valley, Southern Highlands, Mudgee
Floral Style: Imitation
The Faux Fernery specialise in artificial wedding flower arrangements, recreating current floral trends for you to hire including bouquets, table arrangements, arbours and ceiling installations. They are a sustainable alternative to fresh florals that are not affected by weather, won't wilt, bruise or die and are available year round regardless of season.  
Wedding flower arrangements look unbelievably real and include a mix of artificial, dried and preserved flowers alongside fresh foliages. All arrangements are customer made to client briefs with delivery, set up & pack down included. Decor & candles also available for complete table scape styling. Minimum spend $2,500.

4. Ivy Lane Collective
Location: South Nowra, NSW
Service Area: NSW South Coast, Southern Highlands, Sydney
Floral Style: Romantic & whimsical
Ivy Lane Collective are a small team of wedding florists led by owner Elyza who specialise in the transformation of wedding venues and marquees with large scale floral installations. Dramatic ceiling installs are custom designed for each couple and can include signature florals, material, disco balls, chandeliers and any other amazing things.
The creative style of Elyza and her team is romantic and whimsical with arrangements ranging from simple & elegant to inspired by wild gardens. Full service packages start at $6,000 and include everything you need from show stopping bouquets to fully styled ceremony & reception spaces.

5. The Naked Florist
Location: Newcastle, NSW
Service Area: Australia
Floral Style: Elegant with a quirky twist
The Naked Florist design one-of-a-kind complete wedding flower collections and are regularly sought after to furnish the Hunter Valley's most luxe wedding venues. Fairytale altars, rambling garden rooms and floral wonderlands that reflect a couple's quirky character are the typical end result of collaborations with Ashleigh. 
Ashleigh is at home designing for large scale weddings where florals will make & leave an impression. Her approach to floristry is eco friendly, foraging for stems & foliage locally, only using flora in its raw form and designing foam free creations that are 99% plastic-free. Minimum spend $5,500. Pick up option from $1,500.

6. MISS Floral Studio
Location: Croydon, NSW
Service Area: Greater Sydney, Southern Highlands
Floral Style: Wispy, fly-away foliage
Amy at MISS Floral Studio has an eye for wispy and fly-away foliage, and creates unique arrangements & spaces that celebrate nature's influence. Romantic, loose designs with tangled stems and trailing fronds are her signature style.
Amy's full wedding styling & floral design package includes everything from concept design, floral design, prop sourcing and signage to on-the-day set up & styling. For smaller packages an a la carte menu of signature bouquets, boutonnieres and other individual floral pieces are available by order.

7. E Squared Design Co
Location: Sydney
Service Area: NSW
Floral Style: Riotous & moody
E Squared Design Co is a full service wedding flower & styling studio that offers complete visual concept planning from floor plans to table scapes. Creating wedding wonderlands with her signature lush floral aesthetic, Libby interprets the diverse briefs of her clients, crafting dynamic and surprising spaces that creatively push the envelope. 
Libby's bouquets, table scapes and floral installs harness colour, shape & textures to produce tactile and joyous, sensory spaces, luxe in statement and scale. All-in-one wedding styling, planning & flower packages are available. Minimum Spend $4,500.
---
---
Best Wedding Florists in VIC

8. Sassafras Flower Design
Location: Yarra Valley, VIC
Service Area: Yarra Valley, Melbourne, Dandenong Ranges
Floral Style: Generous & abundant
Jess of Sassafras Flower Design is a specialist wedding florist with 26 years experience creating abundant, lush and romantic floral creations. She believes you can not have too many flowers to which her generous installations are testament. 
Jess custom designs complete collections from ceremony florals to reception installations, working with clients who appreciate her comprehensive service & skills. She is a preferred floral vendor with Yarra Valley's premium wedding venues and her work is regularly showcased in high end publications.

9. Raven & The Rose
Location: Macedon Ranges, VIC
Service Area: Melbourne, Daylesford
Floral Style: Colour pop
Ame is an eco-friendly botanical stylist who creates true-to-season wedding floral arrangements in rich & vibrant colour. What caught our eye was her inspired use of unexpected shades. Pops of vibrant blues amongst brilliant shades of reds, pinks & oranges showcase a modern approach to wedding flowers that result in a remarkable scene.
Ame's unique portfolio includes feature festoon light pieces, table arrangements trailing in wispy fronds, exploding statements perched on bar tops and foliage clouds over dining tables. We're fascinated to see what she creates next.
10. Judah Rose Flowers
Location: Bendigo, VIC
Service Area: Bendigo & Ballarat
Floral Style: Wild, organic, eclectic
Judah Rose Flowers is the sustainable & feel-good wedding floristry team of Grace & Ashe who are based in Bendigo. The pair celebrate the beauty of nature in their creations, working with a majority of local blooms, no floral foam and no toxic dyes. They share a portion of profits with partners alleviating poverty locally, and in India.
Judah Rose create amazing floral arrangements with interesting shapes and fascinating use of texture. Their work is sometimes simple in design, sometimes intricate, and rarely what we would call "normal". There is always an elemental feature, a marvellous botanical choice that adds a fascinating edge to designs.
Best Wedding Florists in QLD

11. Arctic Fox Events
Location: Burleigh Heads, QLD
Service Area: Brisbane, Gold Coast, Byron Bay
Floral Style: On-trend
Arctic Fox Events is an end-to-end wedding planning studio that takes care of everything from wedding flowers to styling and hire. Floral arrangements are individually crafted to compliment colour schemes and include options for impact pieces such as hanging installations in contemporary & on-trend designs. Minimum spend $2,000.

12. Mrs Gibbons Flowers
Location: Salisbury, QLD
Service Area: Brisbane, Gold Coast, Tweed Coast
Floral Style: Modern whimsical
Mrs Gibbons Flowers are a husband & wife run wedding floral studio that creates beautiful custom floral pieces and installations for weddings and elopements. David brings an eye for patterns that strengthens the design process and clambers up ladders doing installations at wedding venues with Amber bringing it all together.
Together, Amber, David and their floristry team bring the aesthetic of your wedding to life using the very best quality blooms from around Australia. You receive uniquely designed wedding flowers that are romantic, modern and whimsical.

13. Pollen Weddings & Events
Location: Gold Coast, QLD
Service Area: Gold Coast, Brisbane, Scenic Rim, Northern NSW
Floral Style: Romantic, lush & abundant
Pollen Weddings & Events is a small wedding floral studio led by creative director, Britt Harley. Specialising in full service wedding floristry and working with lush foliages & romantic florals, the team create textural focal pieces and installations that personalise your wedding spaces.
Unique ceremony installations include suspended or frame arbours, plinths that grow from the ground up and free-form florals affixed to a tree or structural backdrop. Reception styling, table scapes and instals are created to work within the space and to fit with your dining arrangements. Minimum spend $3,000.

14. Pushing Pansies
Location: Sunshine Coast, QLD
Service Area: Australia wide
Floral Style: Full-bodied blooms, placement & form
Pushing Pansies is a creative design studio that offers full service, bespoke wedding florals centred around full-bodied blooms, detailed colour palettes and the placement & form of florals in artistic design. The luxury floral design service is ideal for couples seeking bold & adventurous designs that create a delightful scene. 
Luxurious, full-bodied blooms and uniquely shaped stems feature heavily in designs and are placed to perfection creating floral art forms. Wherever possible, Morgan uses eco conscious practices that reduce the carbon footprint of each of her weddings & elopements. Minimum spend for weddings is $7,000.

15. Gloriosa Florals
Location: Brisbane, QLD
Service Area: Sunshine Coast, Toowoomba, Byron Bay
Floral Style: Bold luxury
Gloriosa Florals specialise in individually crafted collections of big and bold wedding flowers. There are no limits on what unique creations Sarah might dream up for your wedding, she's crafted everything from floral dog collars to hanging reception foliage to swing set installations & fun pre-wedding dinner tables.
The floral design for each of her weddings is absolutely unique right down to the style, texture & colour of blooms selected and the choice of hand dyed ribbon. Expect outside-of-the-box luxury floral pieces that encapsulate the overall style and colour theme of your wedding and work cohesively with your spaces. 

16. Gwen Floral Co
Location: Brisbane, QLD
Service Area: South East QLD
Floral Style: Wild & whimsical
Gwen Floral Co is a specialist wedding florist offering full service florals throughout South East Queensland from the Scenic Rim to the coast. Sarah crafts romantic, ethereal and whimsical collections that are typically less structured & more wild in design and loves dreaming up one-of-a-kind creations for refined weddings.
Expect timeless, romantic & sophisticated floral designs that take inspiration from wild gardens. You'll get a completely customised floral plan designed and tailored to your vision and to elevate the atmosphere at your venues. Minimum spend $2,500 (Brisbane) - $3,500 (Northern NSW). 
Best Wedding Florists in WA

17. Scentiment Flowers
Location: Margaret River, WA
Service Area: South West WA
Floral Style: Classic & versatile
Swathes of glowing customer reviews and a beautiful portfolio of diverse flower arrangements pay credence to Nardine's ability to interpret the vision of her clients. Using the freshest blooms, Nadine creates anything from neutral palettes of stunning roses to classic & native bouquets to arrangements with dried & preserve flowers.
Best Wedding Florists in SA

18. Fleur De Lys
Location: Adelaide, SA
Service Area: South Australia
Floral Style: Bright & fun statement
Fleur de lys specialises in statement wedding flowers that burst with vibrancy in texture, colour and shape. Uniquely designed for each wedding, arrangements include plinths, large urns, decorative installations for entranceways, hanging foliage, posies, tree installations and flyaway table arrangements. 
With 20+ years experience, Liesa knows how to bring elegance to a ceremony and reception venue through floral works of art. Far from ordinary arrangements, her wedding flowers are a celebration of blooms and stems that features intriguing details and fun colour palettes.
Cost Of Wedding Flowers in Australia
How much you should spend on wedding flowers depends on how important flowers are to you. In Australia, the average cost of wedding flowers is around $4,000, but the range at either end of the price spectrum is huge, with budget wedding florals starting at around $500 and spends often exceeding $25,000 at high end weddings. 
Most couples spend 10 - 15% of their wedding budget on florals. When flowers are a major design feature of the wedding and include custom hanging installs, budgets can be as high as 20 - 30%. Packages with hanging installations typically start at around $10,000.
The cost of wedding flowers is based on the value of the flowers, their seasonal availability, complexity of design style and location of your venues. For couples who want ease of planning, many Australian florists offer all inclusive wedding flower packages tailored to your budget where you simply choose the colour palette and the florist chooses & designs the flowers.
Some wedding florists offer full styling services and have decor and hire items such as candles, candlesticks, table runners, draping and vessels with which to style arbours and table scapes. Others offer end-to-end styling, planning & florals with budget, timeline and vendor management included.
Wedding Flower Packages
Due to seasonality of blooms and the effect of weather on the availability of wedding flowers, there are very few wedding flower packages with a guaranteed list of inclusions. For this reason, most wedding florists are only able to provide an accurate indication of costs for weddings within 12 months.
If your wedding is more than 12 months away, it would be prudent to budget an extra 15% for potential price increases on any quote you request now. Also be aware that flowers are a natural product reliant on growing conditions, and hence specific blooms may not be available for your wedding date. In this instance, your wedding florist will create similar designs working to your colour palette and style of your wedding.
In Australia, the starting price of all inclusive wedding flower packages range between $3,000 - $12,000 and typically include:
Bridal bouquet
3 or 4 Bridal party bouquets
5 or 6 buttonholes
Ceremony installation
Bridal table arrangements
Centrepieces for each table
Hanging installations (higher end of budget only)
Signage & cake florals
Set up & bump out
Wedding Bouquet Packages
The average bridal bouquet ranges in price from $250 - $420. The addition of higher value botanicals and flowers such as orchids increase the price, as does bouquets with a greater volume of buds & blooms. You can expect quotes within the following ranges for these popular wedding floral items:
Bridal Bouquet: $220 - $500
Bridal Bouquet & Groom Buttonhole: $130 - $299

Bridal Party Package: $720 - $2,500 (bridal & groom, 3x bridal party, 2x mum & dad)

buttonhole: $25 - $30
bridesmaid bouquet: $130 - $220
flower girl wand: $45
hair florals: $30
throwaway bouquet: $80 - $110
flower crowns: $60 - $130
flower combs: $50 - $60
wrist corsage: $35 - $80

dog collars $75
Ceremony Flower Packages
Wedding ceremony packages start from $2,000 and include the Bridal bouquet, a bouquet or posy for 3 or 4 bridesmaids, 4 or 5 button holes, an arbour arrangement, tossing petals and the delivery & set up of your ceremony installations.
Packages to solely style your ceremony area start at $850 and can include altar florals (pots, plinths, arbour attachments & custom installs such as tree creepers), signing table arrangements, aisle decorations and throwing petals.
Many wedding florists in Australia have arches to hire for your ceremony which is a handy option when your venue provides all other furniture as it means you can avoid engaging a hire company. Here's what you can expect to pay for ceremony flowers:
arch hire: $200
corner features: $600 - $750
par coverage: $1,000+
full coverage: $1,200 - $1,800
free standing: $200+
plinths: $750 - $1,000
rings: $950
moons: $1,000
vessels & urn arrangements: $500
aisle features: $35 - $60+ each
wall vine pair: $485
signing table: $85+ 
aisle petals: $150
petals with cones: $7 - $10 each
aisle florals: $200+
signage florals: $150+
rose petals: $180+
Reception Flower Packages
The cost of reception flowers is based on guest numbers, catering choices (as to how the table will be set up & associated floral requirements), the complexity of designs, selection of botanicals and use of other styling materials. 
Many wedding florists provide signature vases, vessels, candles and other deco items that you either buy or hire as part of your floral package. Some wedding florists for example will provide tall stands that allow for a subtle floral canopy rather than florals that occupy valuable table space.
There are a vast range of options for styling your wedding reception with florals from decorating welcome signs, to fitting out bar tops, to ceiling installs, feature walls and of course table arrangements. Here's a guide to the cost of reception florals & styling:
table arrangements: $180+ each
candles: $500+
stand pop designs: $350+
stand full coverage: $250 - $450
hanging arrangements: $1,000+
vase arrangements: $40 - $110
bud vases: $20 - $30 each
bud stands: $85+ each
small posies: $40 each
cascading table ends: $250+
welcome sign: $85+
bar flowers: $220+
cake flowers: $80+
table foliage: $40 - $100 per metre
How to Save Money on Wedding Flowers
The price of wedding flowers is heavily based on the value of the flowers, so if you're on a budget you can save money by using in-season booms that are in plentiful supply & easily accessible at the time of your wedding. 
Choose venues that do not require a lot of floral artistry to elevate them into a space you love. Finding spaces that have stand alone features such as amazing decor, a gorgeous backdrop or view you really love means less budget on floral styling.
Blank canvas wedding venues often offer a cheaper hire fee which seems like a prudent choice when booking in the first of your wedding suppliers, however come closer to the big day, you end up paying more for wedding flowers to luxe-up an otherwise bland space. Beware of scope creep.
Reuse florals from one space to another such as repurposing ceremony installations within your reception venue. If you're wanting a dramatic installation in your reception space, the cheapest option is to use loads of foraged foliage.
How to Enquire with a Wedding Florist
In the first instance, you'll want to find wedding florists who are available on your wedding date and who's work resonates with you best. For florists to confirm their availability they'll need a rough idea of the volume of work involved in your booking. Hence, aim to provide as much detail as you can in your enquiry such as:
# of arrangements required for your family & bridal party
wedding theme & colour scheme
style of bouquet
type of ceremony arbour + other ceremony styling requirements
type of reception (cocktail or seated)
location of your ceremony & reception
your budget
Once you've received confirmation of availability you can ask for a consultation to discuss floral concepts and seasonal flower options. Your florist will build a brief of the scope and style of your wedding and provide a quote.
Find An Awesome Wedding Florist
Finding a wedding florist to create awesome wedding flowers for your big day is one of the biggest design decisions you'll make for your wedding. The best wedding florists in Australia are in high demand because they inject the personality & quirks of their clients into their floral creations and bring meaning to events with beautiful flowers. 
Leading floral studios conceptualise bridal flowers for each client, creating one-of-a-kind arrangements and transforming spaces into unique experiential events. They don't follow trends. They create them. The above list of amazing florists create wedding flowers like this.
Cover Image: Luke Middlemiss Photography