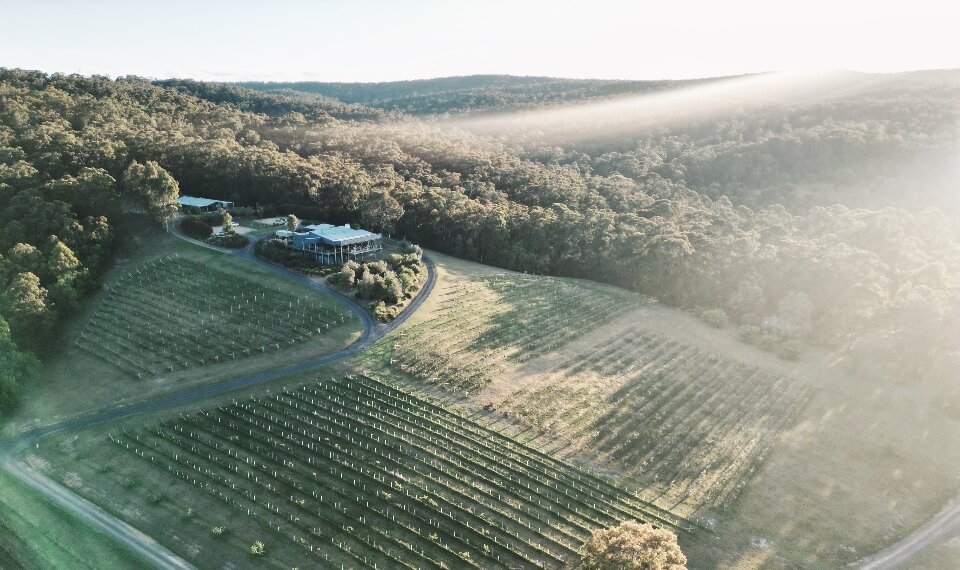 Looking for a winery wedding venue in NSW? Winery wedding venues in New South Wales are clustered around the regions of the Hunter Valley, South Coast, Southern Highlands and Mudgee. They include a wide variety of settings for vineyard weddings from waterfront & bush locations to Hampton's barns and rustic country acres.
The most popular place for a winery wedding is the iconic Hunter Valley where the Goulburn and Hunter Rivers provide fertile soil for rows of Shiraz, Semillon and Chardonnay grapes. Set against the rolling foothills of the Brokenback Mountain Range, the Hunter is one of the most scenic winery wedding destinations in NSW.
Australian vineyards are as synonymous with good food as they are with good wine and wineries in New South Wales are no exception. The state has several vineyard wedding venues with chefs hatted restaurants that not only offer a stunning location to get married amongst the vines, but a dining experience to satisfy the most enthusiastic foodies.
The following winery wedding venues include fine dining restaurants, waterfront locations, historic properties and luxe, boutique estates. Most offer accommodation onsite and all have beautiful wedding ceremony locations where you can say "I do" amongst the vines.
Here are our most recommended winery wedding venues in NSW.
Winery Venues
Top 10 NSW
Sydney Wineries
Hunter Valley Wineries
Southern Highlands Wineries
South Coast Wineries
Country Wineries
Top 10 Winery Wedding Venues in NSW

1. Mimosa Wines
Location: 2845 Tathra-Bermagui Rd, Bermagui NSW 2546
Capacity: 180
Accommodation: Sleeps 13 (optional)
Wedding Packages: All inclusive
Perched on 200 acres overlooking stunning views of the vineyard and surrounding National Park, Mimosa Wines is one of Australia's best winery wedding venues. The architecturally designed and Michelin hatted restaurant has a modern, slightly rustic vibe with an adjoining Tuscan courtyard and huge wraparound balcony.
You can get married amongst the grapevines, on the balcony overlooking the vineyard or at the lily pond jetty immersed in the vines & surrounding bushland. beside the one of many potential ceremony sites. All inclusive wedding packages are very affordable and there's a farmhouse and seperate cottage a charming short walk through the vineyard.

2. Coolangatta Estate Winery
Location: 

1335 Bolong Road, Coolangatta, NSW 2535

Capacity: 2 - 200
Accommodation: Sleeps 70
Wedding Packages: All inclusive + DIY
Elopement Packages: All inclusive
Coolangatta Estate is an historic winery wedding venue with heritage reception spaces located in a beautiful coastal setting. There are two ceremony sites on the 100 acre property including a giant fairy-lit fig tree and an intimate croquet lawn bordered by manicured hedges.
Reception venues include a character-filled 200 year old Grand Hall where the bells ring on the 7th hour and a function room for larger weddings of up to 200 guests. Affordable wedding packages start at under $100/pp during off-peak seasons and there is optional accommodation for up to 70 guests onsite.
 View Coolangatta Estate Winery

3. Squire's Vineyard
Location: 

62 Squire Close, Belford, NSW 2335

Capacity: 2 - 150
Accommodation: Sleeps 30
Wedding Packages: $4,950+
Elopement Packages: $1,650+
Squire's Vineyard is a boutique winery wedding venue located on a secluded private property in a quiet pocket of the Hunter Valley. The expansive 100 acre estate offers intimate elopements through to all-inclusive destination weddings in luxury Hamptons-style surrounds.
A Guesthouse accommodates groups of 14 and has an additional 4 adjoining suites that sleep a further 16 guests. The property is well set up for 'wedstival' style celebrations with pre & post wedding events welcome onsite. Function areas include an all-white reception room and an open-air pavilion on a croquet green. Affordable packages include a huge styling kit.

4. Dark Horse Vineyard
Location: 386 Wilderness Road, Rothbury, 2320
Capacity: 170
Accommodation: Sleeps 6
Wedding Packages: BYO drinks
The custom-built American style reception barn at Dark Horse Vineyard is a striking centrepiece amongst the manicured lawns and pristine rows of grape vines that surround it. The majestic landmark along with its adjoining Barn House accommodation is one of the newest winery wedding venues in the Hunter Valley.
Set on 25 beautiful acres in Lovedale, the vineyard, stables and barn house are exclusively yours for the weekend and come with a variety of furnishings and styling items for indoor & outdoor weddings. We love the generous check in & check out times, the option to BYO drinks and the extensive onsite inclusions that offer great hire savings.

5. The Pavilion At Lowe
Location: Tinja Lane, Eurunderee, NSW 2850
Capacity: 200
Accommodation: Sleeps 2
Wedding Packages: All inclusive
No other winery wedding venue in NSW marries elegant vintage styling with luxe country charm quite as effortlessly as The Pavilion at Lowe. Set amongst beautiful organic vineyards and with side opening walls bestowing a beautiful country vista, The Pavilion is an incredible setting for outdoor weddings just outside of Mudgee.
The spacious & light-filled interior of The Pavilion is fitted with luxe chandeliers, antique furnishings, a clear covered dancing area and a hard floor throughout. Nearby is a rustic open-air bush chapel for ceremonies which has been furnished with ornamental doors, chandeliers and a charming antique ship bell at its altar.

6. Greystone Estate
Address: 617 Hermitage Rd, Pokolbin, NSW 2320
Capacity: 30 - 110
Accommodation: Sleeps 32 (included)
Wedding Packages: DIY (suits budgets of $300+/pp)
Greystone Estate is a Hamptons-inspired private property akin to the style of a winery wedding venue. Although there are no vines on the property, it is located in the heart of the Hunter Valley wine region and features 10 resort-like acres of manicured grounds with a beautiful country outlook, luxe-relaxed vibe and stunning sunsets.
The property has 3 self contained homesteads that centre around the large open-plan main residence which is styled to perfection with its own butlers pantry, luxe furnishings, swimming pool and indoor/outdoor gather areas (perfect for pre & post wedding events). There's also an open air pavilion for covered wedding ceremonies and a modern, all-white stand-alone reception venue. 

7. Peppers Creek Barrel Room
Location: 1946 Broke Road, Pokolbin, NSW 2320
Capacity: 120+
Accommodation: Sleeps 26 (optional)
Wedding Packages: All inclusive
Peppers Creek Barrel Room & Chapel is a luxury European style setting for all-in-one winery weddings in the Hunter Valley. Both the ceremony and reception venue are incredibly styled Tuscan inspired spaces designed by owner Jade McIntosh who happens to be one of the best wedding stylists & florists in New South Wales. 
The chapel is located right beside rows of Merlot vines and has a peaked pergola entrance and side opening doors that provide an immersive vineyard wedding ceremony experience. The sandstone Barrel Room has enormous Indian elephant doors that open to an atmospheric space with high gabled ceilings and an impressive 5 metre stone fireplace. 
 View Peppers Creek Barrel Room

8. Peterson House
Location: 2457 Broke Rd, Pokolbin, NSW 2320
Capacity: 80 - 200
Wedding packages: $179+/pp
Ceremonies-only chapel hire $2,500
Mid-week, winter & January discounts
Centrally located in the heart of wine country, Peterson House is one of the most popular winery wedding venues in the Hunter Valley. There are 3 reception venues on the corner block, the most popular of which is the grand marquee which features views over a cluster of vines and has a large adjacent lawn area where helicopters are able to land.
Peterson House is also well known for its architecturally designed chapel which seats 200+ for ceremonies and up to 120 guests for wedding receptions. All inclusive wedding packages at Peterson House start at $200/pp including a wedding ceremony in the chapel.

9. The Wild Vine
Location: Oura - Riverina, NSW
Capacity: 205
Wedding Packages: All inclusive
The Wild Vine is a working winery wedding venue and boutique farm located 15 minutes outside of Wagga Wagga in country NSW. The reception venue is situated within a quaint colonial style building that oozes old word charm on the outside and has a spacious and modern interior.
The picturesque vineyard and large lawn areas make The Wild Vine a great spot for outdoor weddings. There's a timber stage built against the backdrop of grapevines that's a popular spot for wedding ceremonies and for musicians to set up when reception festivities get started. Minimum 60 guests.

10. Krinklewood Vineyard
Location: 712 Wollombi Road, Broke, NSW 2330
Capacity: 6 - 100
Accommodation: Sleeps 6+
Wedding Packages: DIY/BYO
Krinklewood Estate is a biodynamic vineyard and luxury estate that offers several unique settings on which to create your perfect winery wedding. The French-inspired colonial residence is surrounded by stately formal style gardens with urns, fountains and sculpted sandstone oozing a rustic European edge. 
The estate's beautiful outlook over rows of grape vines is well suited to alfresco celebrations with the main balcony seating up to 30 guests on one long table. The cellar door and its adjoining wine garden caters for weddings of up to 100 guests and expansive lawns provide endless locations for outdoor or marquee set ups.
Winery Wedding Venues Near Sydney

11. Gledswood Homestead & Winery
Location: 900 Camden Valley Way, Catherine Field, NSW 2557
Capacity: 50 - 450
Wedding Packages: All inclusive
Gledswood Homestead and winery wedding venue is located in Western Sydney and features a versatile collection of four function areas that cater for weddings from 50 to 450 guests. The historic property is surrounded by 35 acres of elegant country gardens and offers an all-in-one destination particularly well suited to rustic style celebrations.
Reception spaces feature a red brick interior with exposed wooden beams and in keeping with the vineyard wedding theme are furnished with wine barrels. The cellar door is particularly well suited to cocktail functions for up to 80 guests. All wedding packages include exclusive use of the entire estate.
 View Gledswood Homestead & Winery

12. Dryridge Estate
Location: 226 Aspinall Rd, Megalong Valley, NSW 2785
Capacity: 220
Accommodation: Sleeps 12
Wedding Packages: 
Dryridge Estate is a boutique vineyard wedding venue located in the scenic Megalong Valley just 20 minutes from Blackheath and 2 hours from the Sydney CBD. A stunning clear roof marquee is situated on a hilltop on the edge of the vineyard and offers incredible views over the surrounding sandstone escarpments, valleys and vines.
Wedding packages include use of the marquee, hilltop ceremony sites and 4.5 star accommodation in a 4 bedroom homestead and 2 bedroom lodge. 
Winery Wedding Venues in Hunter Valley

13. Bimbadgen Palmers Lane
Location: 790 McDonalds Rd, Pokolbin, NSW 2320
Capacity: 300
Accommodation: Sleeps 20
Wedding Packages: All inclusive
Located on McDonals Road in the heart of the Hunter Valley, Bimbadgen Palmers Lane offers a spectacular setting for all-in-one winery weddings. The vineyard has panoramic views of surrounding mountain ranges and offers a choice of ceremony sites from hilltop spots to a waterfront pontoon and between the green vines.
The blank canvas reception venue features high ceilings and exposed beams perfect for hanging floral installations. You can also choose to dine outside with long tables overlooking the vineyard, lake and mountains. Special rates are available for winter weddings and there's often availability December/January.

14. Enzo Weddings Hunter Valley
Location: Cnr Broke Rd & Ekerts Rd, Pokolbin, NSW 2320
Capacity: 80 - 150
Accommodation: Sleeps 35 (optional)
Wedding Packages: All inclusive
With its incredible glass windows looking onto rows of grape vines, the chapel at Enzo Weddings is one of the best vineyard wedding venues in NSW. The light-filled space features 18 hand carved timber pews, ringing bells and huge doors that dramatically open for a grand entrance.
Enzo's reception venue is an intimate restaurant that centres around a grand fireplace and features sandstone pillars, luxe chandeliers and high pitched ceilings. All inclusive wedding packages are around $250 per person including a chapel ceremony and a 5 hour fully catered reception with drinks. 
 View Enzo Weddings Hunter Valley

15. Margan Winery
Location: 1238 Milbrodale Rd, Broke, NSW 2230
Capacity: 50 - 200
Wedding Packages: $195+/pp
Margan Winery is an eco-friendly vineyard featuring beautiful gardens, a rammed earth building, rustic barrel room, and an outdoor terrace with stunning views across the vines to Brokenback Mountain. There's also a one-hectare garden and orchard where produce for the chefs hatted restaurant is grown.
You can hire Margan Winery for your exclusive use for up to 200 guests or book the restaurant only seating up to 50. All inclusive wedding packages include an onsite ceremony and margan is one of a handful of vineyard wedding locations to allow pets onsite.

16. Piggs Peake Winery
Location: 697 Hermitage Road, Pokolbin, 2320
Capacity: 30 - 150
Wedding Packages: $135+/pp
Piggs Peake Winery is a versatile venue with the option for small vineyard weddings of up to 30 people in the private dining room or up to 120 guests in the barrel room. You can also host outdoor functions in the paved sandstone courtyard with the ambience of a running water fountain as your centrepiece.
The vineyard has a lakefront ceremony site which has a picturesque bush backdrop and is included in the affordable wedding packages. Piggs Peake is one of the most affordable winery wedding venues in the Hunter.

17. Tamburlaine Organic Wines
Location: 358 McDonalds Road, Pokolbin, NSW 2320
Capacity: 60 - 250
Wedding Packages: All inclusive
The Lodge at Tamburlaine Organic Wines is a beautiful natural timber venue with an airy open-plan design, blank canvas interior and large covered verandahs. The privately owned and operated vineyard offers easy all-in-one wedding packages with your ceremony, reception and catering managed by in-house coordinators.
On one side of The Lodge the deck overlooks a man-made lake and offers a picturesque waterfront spot for wedding ceremonies and pre-dinner drinks & canapés. On the other side is a secluded lawn perfect for private garden weddings.
 View Tamburlaine Organic Wines

18. Ben Ean Winery
Location: 119 McDonalds Rd, Pokolbin, NSW 2320
Capacity: 100 - 500
Wedding packages: All inclusive
Ben Ean Winery sits on a 200 acre vineyard and has 3 seperate ceremony locations including a giant Fig Tree, garden terrace with views over the vines and a huge all-weather courtyard. The courtyard doubles as the vineyard's largest reception venue and is a huge barn-style space with a charming rustic ambiance.
The Laraghy Room pictured is an elegant reception venue that seats up to 150 guests and comes with all inclusive packages that are the average price for Hunter Valley weddings.
---
---
Winery Wedding Venues in Southern Highlands

19. Sylvan Glen Estate
Location: 570 Kareela Rd, Penrose, NSW 2579
Capacity: 140
Wedding Packages: DIY
Accommodation: Sleeps 62
Sylven Glen Estate is a relaxed country estate with 60 acres of vineyards, a private 9 hole golf course and 2 huge guesthouses that sleep up to 62 guests for the weekend. The property is surrounded by ecologically protected woodlands creating a private oasis well suited to relaxed, winery weddings.

20. Bendooley Estate
Location: 3020 Old Hume Hwy, Berrima, NSW 2577
Capacity: 250
Wedding Packages: All inclusive
Accommodation: Sleeps 20+
Bendooley Estate is one the most popular winery wedding venues in the Southern Highlands with a variety of rustic, country and garden backdrops for wedding ceremonies and receptions. The vineyard, lake pavilion and grand doors of the stables function centre are among the most photographed wedding ceremony sites in the Highlands.
Reception venues include the original book barn where shelves of books line the walls creating a cosy and intimate atmosphere. The newer Stables is a grand country space with iron chandeliers and massive cathedral style glass windows offering stunning views over the grounds.

21. Southern Highlands Winery
Location: Oldbury Rd, Sutton Forest, NSW 2577
Capacity: 30 - 100
Wedding Packages: All inclusive
Southern Highlands Winery is an expansive 83 acre vineyard of which 30 are planted with rows of grape vines. Up a winding tree lined driveway, the vineyard offers a spectacular Tuscan style courtyard for wedding ceremonies and has a canopy of twinkling lights for use as an outdoor reception venue.
Other ceremony spaces include The Lake which is shaded by trees in summer, and the vines along the driveway entrance. Previously used as a cellar, The Barrel Room provides a luxe reception space for indoor weddings with 50 to 100 guests and the restaurant offers an intimate function room for micro weddings with 30 - 60 guests.
 View Southern Highlands Winery
---
---
Winery Wedding Venues - NSW South Coast

22. Cupitts Estate
Location: 58 Washburton Rd, Ulladulla NSW 2539
Capacity: 150
Accommodation: Sleeps 20
Wedding Packages: All inclusive
Cupitts Estate is a weekday wedding venue offering all-inclusive ceremonies, receptions & luxury onsite accommodation between Monday and Friday. The heritage property has uninterrupted views across the vineyard and lush green surrounding hills to Burrill Lake and the Budawang Ranges.
Places to get married at the winery include an historic 1850's stone creamery, at quaint cobblestone steps or with the vines as your backdrop. There is a covered wooden terrace for pre-dinner drinks and nibbles, a light-filled reception venue featuring natural timbers and stone and ten brand new pods sleeping 20 wedding guests.

23. Crooked River Wines
Location: 11 Willowvale Rd, Gerringong NSW 2534
Capacity: 200
Accommodation: Sleeps 4
Wedding Packages: All inclusive
Crooked River Wines is a rustic wedding winery with a reception venue (restaurant) located on an elevated section of the property. Ceremonies are held under the shade of large old trees with the vineyard and views across farmland and mountains to the ocean as your backdrop.
---
---
Winery Wedding Venues in Country NSW

24. Magpies Nest Vineyard
Location: 

20 Pine Gully Road, Estella, NSW 2650

Capacity: 100+

Wedding Packages: All inclusive
Magpies Nest is a popular restaurant and winery wedding venue in regional NSW located just outside of Wagga Wagga. The 20 acre vineyard has an atmospheric reception venue situated in an historic 1860's stone building referred to as The Stables.
There is a purpose built ceremony site with sweeping views across the vineyard, olive groves and surrounding rural vista, and beautiful gardens for wedding photos against a variety of backdrops. Wedding packages include a personal coordinator who can arrange tailored menus and wine lists.

25. The Vinegrove Mudgee
Location: 

111 Mt Pleasant Lane, Buckaroo

, NSW

 

2850

Capacity: 150

Accommodation: Sleeps 8
Wedding Packages: 
The Vinegrove is a 100 acre vineyard wedding venue with a garden marquee set right in the middle of the vines. There are two huge cottonwood trees that act as your ceremony altar and are framed by the vineyard. The space becomes are romantic oasis under beautiful lighting at night and is a spectacular location for a first dance under the stars.
Winery wedding venues are amongst the world's most picturesque places to get married. Particularly when the vines are active. Grape vines in NSW start to grow their spring leaves when the weather warms towards the end of August and offer a lush green backdrop for vineyard weddings from mid September until autumn.
During autumn, vine leaves turn a vibrant orange colour and contrast beautifully with surrounding country landscapes which are often a deep green at this time of year, particularly in mountainous landscapes. In the winter months, winery weddings have a beautiful rustic feel with dormant vines stripped of their leaves revealing tidy woody rows.
Vineyards in New South Wales offer an incredibly picturesque setting for weddings year-round. The vineyards on this list are among Australia's best winery wedding venues.
Cover Image: Translucent Photography
Have a winery wedding venue to add to this list? Get Started