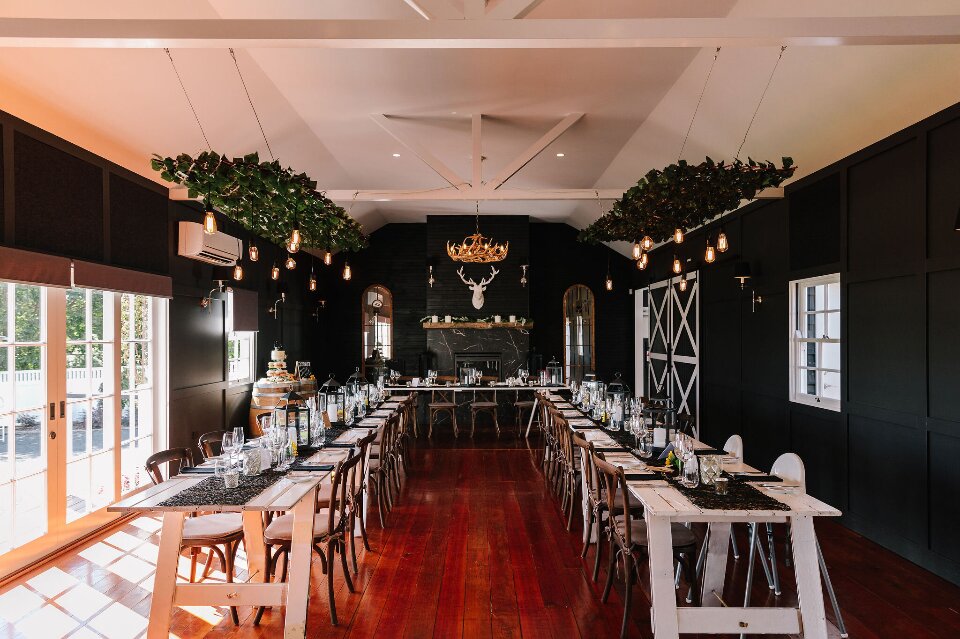 Looking for a country wedding venue in Queensland? These barns, farms and homestead wedding venues are among Queensland's most beautiful rural properties for private celebrations. They are an eclectic assortment of country wedding locations from rustic sheds in regional towns to farm wedding venues on hundreds of outback hectares.
Country wedding venues in QLD come in all price brackets from very affordable to high-end luxury. The cheapest places to get married are DIY properties and at relaxed farm wedding venues where pizza style menus are on offer.
If you're after a more luxe experience, Queensland has some amazing private homesteads and country wedding estates with all inclusive packages starting from $250 - $300 per head. On average, country weddings in Queensland costs between $150 - $200 per person with accommodation on top.
The following list of country wedding venues include some amazing farms, barns and sheds, hinterland escapes with epic views over National Park, Hamptons-style country halls, wineries and country resorts. Some venues are available to hire for elopements and micro weddings while others offer a 3 day country getaway for your entire guest list.
Here are our top 26 country wedding venues in Queensland. 
Country Venues:
Near Brisbane
Near Gold Coast
Near Sunshine Coast
Central QLD
Far North QLD
Country Wedding Venues Near Brisbane

1. White Chapel Kalbar
Location: 87 George Street, Kalbar, QLD 4309
Capacity: 90
Ceremonies: All inclusive (BYO celebrant)
Reception Packages: All inclusive
White Chapel Kalbar is a modern country chapel located in the beautiful Scenic Rim just one hour from Brisbane and 1.5 hours from the Gold Coast. Through an elegant picket fence, grand white doors open to a fresh white space furnished with classic white bentwood chairs and a unique, back-lit altar.
White Chapel can be hired exclusively for wedding ceremonies and elopements and comes with access to a rustic courtyard and lush gardens including an alfresco barn bar. Also adjoining the gardens is Black Hall, a modern black-walled reception venue elegantly styled for luxe country weddings. 

2. Black Hall Weddings
Location: 87 George Street, Kalbar, QLD 4309
Capacity: 90
Wedding Packages: All inclusive
Optional Accommodation: Sleeps 8
Black Hall is a luxe, American style barn wedding venue with polished wooden floors and a modern black & white palette. Styled perfectly for elegant country weddings that space can seat up to 74 guests and caters for 90 for a cocktail event.
Affordable all inclusive packages provide all catering & drinks and the hall comes with a front lawn for games and canapes or seated outdoor dining if you wish. Garden ceremonies are also welcome in this space, with the indoor option of the chapel a few steps away. The venue has a luxury Airbnb a few doors down the road and a mini bus for guest transport.

3. Jubri's Hideaway
Location: 63 Chelldan Avenue, Dalby, QLD 4405
Capacity: 80
Wedding Packages: DIY/BYO
Accommodation: Sleeps 14
Located in the country town of Dalby an hour from Toowoomba, Jubri's Hideaway is a one-of-a-kind destination with a unique choice of backdrops for rustic weddings. From bush gardens and water settings to a hidden Balinese garden complete with authentic buddha hut altar, carved entryway gates and totem poles.
The reception venue is a renovated shed style space with an adjoining indoor/outdoor bar and an eclectic courtyard filled with country knick knacks. An affordable venue hire fee includes accommodation in guesthouses, all furniture for ceremony & reception, bar staff and a choice of caterers. 

4. Bundaleer Rainforest Gardens
Location: 59 Bundaleer Street, Brookfield, QLD 4069
Capacity: 30 - 160
Wedding Packages: All inclusive (BYO drinks)
Ceremony & Elopement Packages: All inclusive (BYO drinks)
One of the most convenient country wedding venues in Queensland is Bundaleer Rainforest Gardens, located a quick 18km from the centre of Brisbane. The four acre family owned property is a nature lovers paradise, immersed in lush rainforest with a pretty waterfall, tranquil creek and surrounded by landscape gardens and century old trees.
On either side of the property are two seperate wedding sites, each with their own ceremony and reception venues. One location features a large white marquee & sun drenched ceremony deck, the other is a rustic treehouse and timber ceremony pavilion.
 View Bundaleer Rainforest Gardens

5. Reflections Lake Cooby
Location: 239 Loveday Road, Geham, QLD 4352
Capacity: 300
Accommodation: Sleeps 150+
Wedding Packages: DIY/BYO
Reflections Lake Cooby is a 50 acre private property on the banks of Lake Cooby, offering a scenic waterfront location for country weddings. The property has no neighbours and hence no curfew, and with accommodation for 150+ guests in brand new cabins, bell tents and a homestead, it's the perfect spot for an overnight getaway with your entire guest list.
Reception venues include a rustic barn seating up to 60 guests, a function centre catering for 120 and a grand permanent marquee for larger weddings with up to 300 guests. There's a bonfire site for later in the evening, stunning views, beautiful sun sets and an affordable hire fee from $3,850.

6. Barn Bar @ Black Hall
Location: 87 George Street, Kalbar, QLD 4309
Capacity: 10 - 40
Wedding Packages: All inclusive
Optional Accommodation: Sleeps 8
The Barn Bar at Black Hall is an open-air rustic wedding venue located on the lawns of Black Hall and White Chapel. Although outdoors, the bar is weatherproof and can seat 20 - 30 guests on one long table. Receptions can also be set up on the lawn and in torrential weather the chapel and hall provide your Plan B.
The venue also has an optional Airbnb a short walk down the road, a vintage Bentley and a mini bus for door-to-door guest transport. 

7. Samford Valley Weddings
Location: Hansen Road, Yugar, QLD 4520
Capacity: 45
Wedding Packages: $600+
An easy 40 minutes outside of Brisbane is one of the most intimate country locations for weddings and elopements in Queensland. Samford Valley Weddings caters exclusively for small wedding ceremonies & photos in its boutique open-air chapel and surrounding rainforest.
The magical setting is located on a registered "Land for Wildlife" property and is a very private, tranquil and environmentally conscious setting immersed in nature. You can hire this rustic wedding platform for $600 and bring up to 45 guests for 2 hours.

8. Greenvalley Country Weddings
Location: Douglas Road, Plainby, QLD 4355
Capacity: 120
Accommodation: Sleeps 6
Wedding Packages: 3 Days, DIY/BYO
Greenvalley Country Weddings is located on a quintessential Queensland farm, offering a charmingly authentic location for laid back country weddings just 35 minutes outside of Toowoomba. Set on 160 acres the property features fields of friendly stallions, rustic photo backdrops and a beautifully refurbished wedding barn.
Due to the rural location there is no curfew at Greenvalley and there is plenty of space for guests camp with onsite bathroom amenities. Venue hire includes sole use of the property from Friday to Sunday and comes with the homestead and an onsite wedding coordinator to facilitate your set up & pack down.

9. Preston Peak Winery
Location: 430 Preston Boundary Road, Preston, QLD 4352
Capacity: 300
Accommodation: Sleeps 18
Wedding Packages: All inclusive
Preston Peak Winery is one of the most popular country wedding venues in Queensland. The 330 acre property has one of the most photographed cellar doors in Australia featuring a huge tree chandelier decked out in sparkling Swarovski crystals. This is just one of the potential sites for your first dance as a newly married couple. 
The property's other marvels include this glasshouse ceremony pavilion which has breathtaking views over the Lockyer Valley, an intimate cocktail courtyard which offers an interactive kitchen experience and a function centre with incredible views. There's also a Bridal Suite, homestead accommodation and loads of amazing photo opportunities.
Country Wedding Venues Near Gold Coast

10. Midginbil Eco Resort
Location: 252 Midginbil Rd, Midginbil, NSW 2484
Capacity: 150
Accommodation: Sleeps 150+
Wedding Packages: DIY/BYO
A couple messaged us recently requesting recommendations for a country wedding venue where all their guests would be trapped with them for the weekend. They booked Midginbil Eco Resort. This picturesque retreat is set on 400 acres in the Byron Bay Hinterland and accommodates all guests including in an epic village of safari tents that each have their own timber balconies.
Midginbil is surrounded by sub-tropical rainforest and has hill top ceremony sites with expansive views over the Night Cap National Park. There's also a gorgeous rustic barn for wedding receptions, a late night after-party bonfire site, a swimming pool, tennis & volleyball courts and loads of options for a recovery day shindig. No curfew!

11. Tides Estate
Location: 290 North Teven Road, Teven, NSW 2478
Capacity: 140
Accommodation: Sleeps 22
Wedding Packages: Tailored
Tides Byron Estate is a highly picturesque farm wedding venue situated on 100 acres south of the Gold Coast. The unique macadamia farm features a fully furnished modern wedding hall with views to Lennox Head and an 8 bedroom, two storey villa with a poolside event space.
Venue hire at Tides Estate includes two options... You can either hire the wedding hall for your ceremony & reception or add the villa and make a weekend of celebrations. The owners also allow long table weddings in the Macadamia Orchard.

12. Glenbridge Country Weddings
Location: 74 Craike Road, Murrays Bridge, QLD 4370
Capacity: 500
Wedding Packages: DIY/BYO
Glenbridge Country Weddings is a family operated working farm on the Southern Downs, 15 minutes from Warwick. Oozing country romance, the property features an authentic rustic shed with adjoining festoon lit yard, a quaint homestead with lush gardens for your wedding ceremony and a hilltop location for marquee or tipi weddings.
The farm's picturesque paddocks offer a variety of photo opportunities with friendly horses, chillaxed cows, hay bales, green crops and tractors depending on the season. Venue hire includes exclusive use for 5 days providing heaps of time to set up & pack down. As a DIY venue you choose all your own suppliers and style the property however you like.
 View Glenbridge Country Weddings

13. Pioneer Country Weddings
Location: 98 Fraser Drive, Tweed Heads South, 2486
Capacity: 300
Accommodation: Optional glamping
Wedding Packages: All inclusive
Just 10 minutes from the airport in the picturesque Northern Rivers is a 200 acre working cattle property surrounded by lush rolling hills and featuring glistening ocean views. Pioneer Country is one of the most relaxed & affordable farm wedding venues in Queensland and comes fully equiped for both indoor & outdoor weddings.
Ceremonies can be held in the plantation style chapel which has walls that open on both sides making the space both airy and flexible in size. There are a number of potential ceremony sites outdoors, loads of photo locations and a barn style reception venue/restaurant that seats up to 220 guests. Cheap wedding packages start at $5,000 with pizza menus.

14. Rosewood Estate
Location: 1339 Beechmont Road, Beechmont, QLD 4211
Capacity: 200
Accommodation: Sleeps 10
Wedding Packages: DIY & BYO
Located high on Lamington Plateau with lush valley views to South Stradbroke Island, Rosewood Estate is one of the most scenic country wedding venues in Queensland. Here, your wedding backdrop includes a vast blanket of world heritage-listed National Park stretching all the way to the ocean.
Perched on the hilltop and making the most of the views is a completely clear permanent marquee with hard wood flooring and outdoor dance floor surrounded in romantic festoon lighting. The 250 acre property also has a quaint country homestead featuring two distinct wings where either side of the bridal party can get ready seperately.

15. The Acre Boomerang Farm
Location: 55 Johns Road, Mudgeeraba, QLD 4213
Capacity: 100 - 300
Accommodation: Available nearby
Wedding Packages: All inclusive
Nestled in the Gold Coast Hinterland, The Acre at Boomerang Farm is a tropical paradise of lush, manicured lawns set amongst a thriving backdrop of pristine rainforest. The property has a secluded & tranquil ceremony site set over a gentle flowing stream, a refurbished 1902 rustic barn for receptions and acres of space for outdoor or tipi weddings.
The property is perfect for intimate country weddings and is run by the team from renowned venues Ancora and Osteria. Wedding packages come with menus designed to share including seasonal grazing tables, canapés and gourmet feasting platters.
 View The Acre Boomerang Farm

16. The Bower Estate
Location: 3165 Nerang-Murwillumbah Rd Natural Bridge, QLD.
Capacity: 150
Accommodation: Sleeps 10
Wedding Packages: 3 Days
Under the gaze of dramatic cliff faces and with vast views over the Springbrook & Lamington National Parks, weddings at The Bower Estate are both jaw droppingly spectacular and environmentally savvy. The family who own and operate this 120 acre private nature reserve are dedicated to the preservation of its world heritage rainforest and wildlife corridors.
The Bower Estate can be booked for 3 day country weddings or single day weddings (week days only). There is a permanent clear roofed marquee and a number of private outdoor areas to suit alfresco celebrations of all sizes. All wedding packages are inclusive of venue hire, food & drinks, furniture, tableware, coordination and set up. 
 View The Bower Estate

17. Austinvilla Estate
Location: 31 Austinville Road, Mudgeeraba, QLD 4213
Capacity: 130
Accommodation: Sleeps 90
Wedding Packages: All inclusive
Elopement Packages: $3,000+
Austinvilla Estate is a full-service country wedding destination set on 111 acres of resort-like grounds in the Gold Coast Hinterland. Surrounded by lush rainforest, macadamia fields and tranquil creeks, the grounds offer total privacy and every amenity you need for a luxurious and relaxed wedding getaway in a beautiful, regional setting. 
There is an onsite beauty parlour, an open-air ceremony pavilion with stunning views across the property, an elegant reception venue with a canopy of romantic fairy lights, a pre-dinner rainforest deck with pop up bar and accommodation for your entire guest list. Other options include a recovery breakfast, post-wedding pool party and meet & greet dinners.
Country Wedding Venues near Sunshine Coast

18. The Old Dairy Maleny
Location: 621 Landsborough Maleny Road, Maleny, QLD 4552
Capacity: 90
Wedding Packages: 3 Days
Elopement Packages: Mid week
Set across 90 acres of manicured grounds on a ridge top overlooking the Glass House Mountains, The Old Dairy Maleny offers an extraordinary setting for country weddings with sweeping views over hills, valleys & rainforest. This magical hilltop paradise comes with unique and versatile event spaces to truly make your own.
With jaw dropping views, The lookout is one of the most breathtaking ceremony sites in Queensland. It is surrounded by spacious lawns with a working Bell Tower a picture perfect setting for alfresco entertaining. Inside, the blank canvas of The Old Barn is a stylist's dream with a grand stone fireplace, high ceilings and views for days.

19. Maleny Retreat
Location: Mears Lane, Booroobin, QLD 4552
Capacity: 200
Accommodation: Sleeps everyone
Wedding Packages: DIY/BYO
With 100 acres of lush mountain scenery as the backdrop for saying "I do", Maleny Retreat is one of the most picturesque country wedding venues in Queensland. Sitting on a hilltop 555m above sea level, this Sunshine Coast Hinterland location boasts views from Glass House Mountain to the Pacific Ocean.
Outdoor and marquee weddings are the specialty at Maleny Retreat with a range of packages available including hire of a marquee, Sperry tent or giant Nordic tipis. There's a 9 room guesthouse and bell tents for accommodation, and camping is permitted for additional guests. 
Country Wedding Venues in Central QLD

20. The Farm Plumeria Road
Location: 

405 Plumeria Road, Black River, QLD 4818

Capacity: 150
Wedding Packages: DIY/BYO
Nestled between the base of Mt Black & Black River only 25 minutes from Townsville is a beautiful expanse of Australian countryside known as The Farm Plumeria Road. This 540 acre farm features is immersed in tranquil bushland and is exclusively yours for the weekend, or for a mid week micro wedding.
The Farm Plumeria Road is a DIY & BYO location where you bring all your own choice of suppliers to create the country wedding of your dreams. The property has a huge 30x12m wedding shed that comes with timber tables & chairs, a rustic free standing bar and assortment of props and decor. Glamping is permitted onsite.

21. Elite Barn Weddings
Location: 

Hervey Range Road, Alice River, QLD 4817

Capacity: 300
Wedding Packages: DIY/BYO
Elite Barn Weddings is a laid back spot for country weddings within an authentic Australian Outback setting. The property is located just half an hour from Townsville and has a huge open-sided wedding reception barn, an open-air & all-white chapel with rustic pews, and many beautiful wedding photo locations including a romantic fairy-lit tree surrounded by timber seating.
The wedding barn features high ceilings, plenty of light and festoon lights throughout, providing a versatile space to suit a wide range of styling. Relaxed boho & rustic weddings work just as well here as a glam, shimmering gold palette.

22. Purnella Park Coachhouse
Location: 445 Torbanlea Pialba Road, Takura, QLD 4655
Capacity: 100+
Wedding Packages: All inclusive
Purnella Park Coachhouse is a quaint little 10 acre country wedding location set within gorgeous rambling gardens just 10 minutes from Hervey Bay. Surrounded by natural bushland and oozing in rustic character, the property offers a charming setting for relaxed country weddings.
Wedding spaces include an open-sided ceremony pavilion that looks over a tranquil lake, the Coachhouse Barn seating up to 60 guests or catering for cocktail weddings of 80, and The Pavilion with hard wood flooring, private bar and rustic chandeliers.

23. The Creek Whitsundays
Location: 30 Valmadre Road, Kelsey Creek, QLD 4800
Capacity: 130
Wedding Packages: All Inclusive
The Creek is a modern farm wedding venue located on 800 working acres in the picturesque Whitsundays. The centrepiece of this property is a grand rustic barn that has an atmospheric interior with timber slat walls, chandeliers, two bars and an adjoining festoon-lit outdoor area with a fire pit.
The photo opportunities on the farm are endless from rusty old Holden utes and a Chevy truck to open paddocks with grazing horses to a lily pond with row boat and a romantic swing. You also get epic sunsets over surrounding mountains and easy, all inclusive packages with a planner, catering, drinks, set up and coach transfers.

24. Gabbinbar Homestead
Location: 344 Ramsay Street, Middle Ridge, QLD 4350
Capacity: 200
Wedding Packages: All inclusive
Summer discounts available
Conveniently located within minutes of Toowoomba, Gabbinbar Homestead is a highly popular spot for elegant country weddings. Inside the grand homestead, spaces accessible for weddings include a library, drawing room, conservatory, ballroom and Bridal Retreat. There is no overnight accommodation but there are plenty of places to stay nearby.
In the 150 year old gardens surrounding the homestead is an open air pavilion with chandeliers that offers an all-weather location for wedding ceremonies. Photo opportunities include a giant Moreton Bay fig, jasmine hedge, jacarandas and woodland settings. Wedding packages include all food, beverages, set up of spaces and nice surprises.
Country Venues in Far North QLD

25. KUR-Cow Barnwell Farm
Location: 

112 Barnwell Road, Kuranda, QLD 4881

Capacity: 120

Wedding Packages: All inclusive
Six minutes from the rainforest village of Kuranda and 30 minutes from Cairns airport is a little known country wedding venue and one of tropical North Queensland's best kept secrets. KUR-Cow Barnwell Farm is a 626 hectare working cattle farm open to the public for farm stays, horse rides, quad bike adventures, and beautiful country weddings.
A marquee dining room and adjoining sunset deck overlook picturesque rolling green pastures and come fully catered with tailored menu options for all budgets. A unique tractor & trailer ride away is the property's scenic Hilltop Arbor, an impressive place to get married with 360 views.

26. Rainforest Lakes
Location: 1030 Kennedy Highway, Kuranda, QLD 4881
Capacity: 600
Wedding Packages: All inclusive (BYO drinks)
Surrounded by lush world heritage rainforest, this tropical North Queensland wedding venue offers an abundance of settings ideal for small and large country weddings. There is an intimate ceremony rotunda which can also be used as a micro wedding venue for elopements and small receptions, as well as 3 seperate restaurants which seat up to 350 guests.
Rainforest Lakes is located 30 minutes outside of Cairns and offers affordable wedding packages starting at $90 per person with BYO drinks.
The above 25 country wedding venues in Queensland offer an eclectic range of places to get married in the state's best rural and outback locations. From farms to rainforest to national park backdrops, whatever kind of country wedding you're planning in Australia's Sunshine State, these country venues offer the perfect rural setting.
Have a country wedding venue to add to this list? Get Started