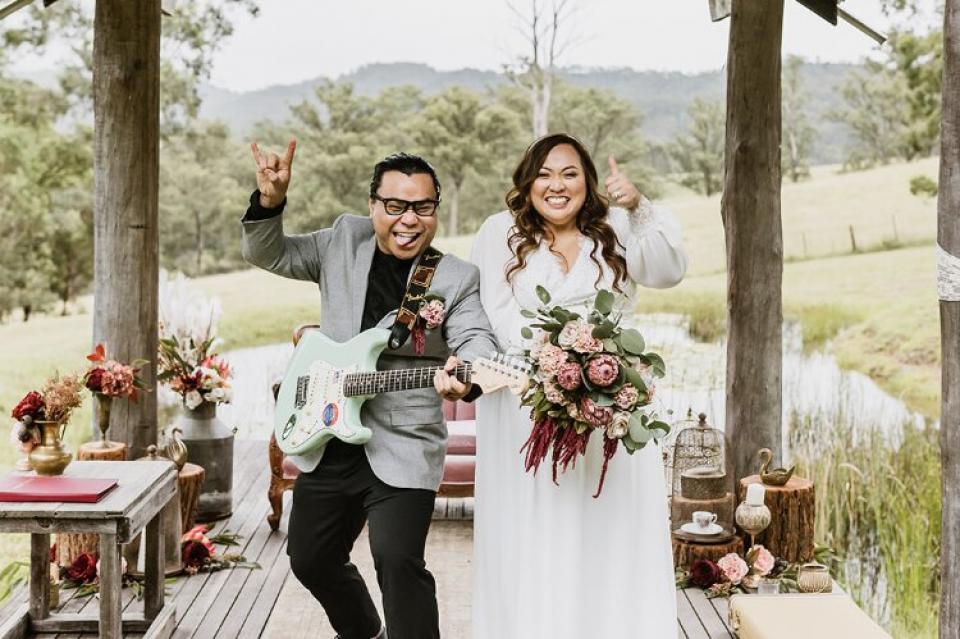 Planning to elope in Australia? Here are 12 elopement packages offered by small wedding specialists, that come with a beautiful location to get married with just you and your boo (or with a few extras too). 
This list of the best elopement packages in Australia includes an intimate wedding ceremony at some of the country's most scenic locations and range from simple & affordable elopement weddings to all inclusive deals, both with accommodation and without.
Australia's most popular elopement packages are provided by specialist elopement venues and cater for two types of intimate weddings; those that choose their own marriage celebrant & elopement photographer, and those who prefer everything to be included in one easy all inclusive package.
There is no standard eloping or micro wedding package in Australia. The quickest & cheapest elopements are a legals only wedding ceremony performed by a marriage celebrant which typically costs between $500 - $700. The most common option is an all inclusive elopement package under $5,000, and there are plenty of luxury places to elope for larger budgets.
Elopement Packages
Top 12 Elopement Packages in Australia
Celebrant Elopement Packages
Photography Elopement Packages

 Find More Elopement Packages
Top 12 Elopement Packages in Australia

1. Goosewing Cottage
Location: Hunter Valley, NSW
Capacity: 2 - 20
Accommodation: Sleeps 2 - 12
Goosewing Cottage is a beautiful little farm stay located in Australia's world-renowned Hunter Valley. The picturesque farm specialises in affordable elopement weddings and has a gorgeous open-air chapel built especially for the occasion. 
Goosewing Cottage offer all inclusive elopement packages with or without accommodation in two onsite cottages that sleep up to 4 & 8 guests respectively. The larger of the two cottages has a swimming pool and spacious dining room suitable for a private chef to cater an intimate reception.
All Inclusive Elopements: $3,295+
All inclusive elopement packages start at $3,295 with venue hire, award-winning photographer and a choice of celebrants included. You are legally married with a personalised wedding ceremony & all official documentation. Optional add-ons include styling of the chapel, bouquets, buttonholes, wedding cake, hair & make-up and video.
Elopement Package with Accommodation: $5,095+
When you elope at Goosewing Cottage you can add a night mini moon for two or have up to 12 guests stay onsite with you. Packages with accommodation start at $5,095 and include a celebrant, photographer, planner and complimentary gourmet breakfast hamper.

2. Mountain View Farm
Location: Tilba Tilba, NSW
Capacity: 2 - 25 guests
Accommodation: Sleeps 2 - 14
Mountain View Farm is a scenic country estate that sits under the gaze of Mount Gulaga on the Sapphire Coast region of New South Wales. The authentic working farm offers a romantic destination for elopers year-round but is a particularly special place to get married in Spring when the Daisy Fields bloom.
Pop up weddings in the Daisy Fields are available from mid August to the end of September each year. And each season has a one-of-a-kind aisle and altar designed into the fields. Optional on-site accommodation is available in a love shack, 3 cottages and 2 glamping tents.
Daisy Field Elope Package: $8,500
Elope with 2 - 25 guests during the limited Daisy Field season from mid August to end of September. The package includes a legal ceremony by a recommended local celebrant, wedding photographer, a live wedding singer, flowers and gourmet grazing table & drinks. Available weekends.
Elope Marriage: Seasonal pricing
Elope in 4 acres of beautiful country gardens and choose from an all inclusive elopement package or bring your own choice of wedding vendors. Comes with use of The Dairy - a rustic undercover event space.

3. White Chapel Kalbar
Location: 87 George Street, Kalbar, QLD 4309
Capacity: 2 - 80
Accommodation: Sleeps 8
White Chapel and Black Hall Kalbar are located on a quiet country corner in Queensland's Scenic Rim region which was recently named as one of the top 10 places to visit in the world. The chapel has a modern all-white interior including luxe white bentwood chairs and a unique neon-lit altar.
Surrounding the chapel are lush gardens, a courtyard & fountain, spacious lawns, a covered courtyard with fireplace and a rustic outdoor bar area. Any or all spaces can be incorporated into your elopement package, along with Herrman House - an Airbnb by the same owners situated 10 doors down the road.
The following all inclusive elopement packages are available mid week from Monday to Thursday. Alternatively, you can dry-hire the chapel and organise your own suppliers.
Elopement Package for 4: $6,250
This small elopement package gives you exclusive use of White Chapel and surrounding gardens for an intimate wedding with up to 4 guests. You get all furniture provided, a registered celebrant to personalise your legal marriage ceremony, professional photography, flowers, a cake, grazing platter & bubbles and a 2 night stay in Herrmann House with breakfast and transfers in a vintage Bentley.
Elopement Package for 24: $7,450
Includes extended use of White Chapel, the gardens and outdoor pergola area set up with furniture & styling for up to 24 guests. A celebrant, photographer, cake, flowers, grazing station and beverage package is included. Add Herrman House if accommodation is required.

4. Leaves & Fishes
Location: Lovedale - Hunter Valley, NSW
Capacity: 2 - 300
Accommodation: Sleeps 12
Leaves & Fishes is a 20 acre rainforest retreat located in the Hunter Valley. The property features lush tropical gardens and a picturesque Lotus Lake with 5 luxury boathouses. Each boathouse has a private deck over the lake where resident water hens and Koi Fish can be watched peacefully swimming around. 
The estate is a beautiful spot to elope year round but is particularly scenic November to March when the Lotus Lake is in flower. The 2 bedroom King Villa is included with all micro wedding and elope packages and features a spacious open living & dining area and large deck suitable for ceremonies and private dining.
Elopement Package For 2: $3,000 - $4,000
The elopement package at Leaves & Fishes includes your choice of ceremony location, photos on the property, two nights accommodation in the King Boathouse, a grazing board and champagne. To elope mid-week the price is $3,000. To elope on the weekend the price is $4,000.
Micro Wedding Package For 20: $7,500 - $8,500
The micro wedding package at Leaves & Fishes gives you exclusive use of the property and all 5 boathouses sleeping up to 12 guests for two nights. You can get married on the King Villa deck or any of the other beautiful garden sites, have wedding photos on the grounds and dine privately on the villa deck or as an optional extra, the over-water restaurant. 

5. The Lakehouse Folk
Location: Lake Baron, Sunshine Coast Hinterland
Capacity: 30
Accommodation: Sleeps 10
In the scenic Sunshine Coast Hinterland overlooking Lake Baroon is an intimate elopement venue that caters for wedding ceremonies with up to 30 guests. Located in the private backyard of two Airbnb properties, The Lakehouse Folk offers a spectacular natural setting to elope with the option of onsite accommodation.
Elopement Package for 2: $1,000
Provides exclusive access to The Lakehouse backyard for 2 hours mid-week with your ceremony set up and use of cottage amenities. In the event of rain the location comes with a large Sperry-style tent.
Elopement Package for 12: $2,000
As per above, with extra guests.
Elopement Package with accommodation: $4,000
The weekend elopement package provides exclusive use of the The Lakehouse and grounds for the couple & two witnesses. You get a ceremony set up and 2 nights in the The Lakehouse Cottage for up to 4 guests. The same package with accommodation for 10 is $4,800.

6. Lords Estate
Location: Seven Hills - Sydney, NSW
2 - 100 guests
Midweek & Weekend
Lords Estate is a large historic property with a private wedding chapel and rectory just 20 minutes from the Sydney CBD. The non-denominational chapel seats up to 80 guests for wedding ceremonies and 30 for receptions, and comes with removable pews, high end audio and customisable interior & exterior coloured lighting.
Behind the chapel is the property's original residence which has several rooms accessible for elopements. The drawing room offers an intimate setting for small weddings with up to 10 guests and there's also a private dining room seating 10 and a whiskey parlour.
Express Elopement Package: $1,850
Includes use of the Lords Estate Drawing Room for 1.5 hours during week days with a maximum capacity of 10 guests. Your legal wedding ceremony, celebrant, photographer, cake & celebratory bubbles are all included.
Wedding Chapel Elopements: Enquire
Includes 4+ hours venue hire, celebrant, chapel styling, wedding cake & champagne, photography & florals. You get full access to the grounds surrounding the chapel for photos after your wedding ceremony.

7. Elope In Sydney
Location: Sydney Harbour, NSW
Capacity: 2 - 30 guests
Elopement Package: $1,995 - $2,505
Elope In Sydney are a small team who specialise in intimate weddings and who offer quick and affordable elopements at a choice of 3 Sydney Harbour locations. The team will also marry you in a city location of your choosing, including your own home, hotel room or a preferred park or garden.
Affordable Elopement Package: $1,995
The affordable elopement package includes a personalised legal wedding ceremony performed by 5 star celebrant Michael Janz in a central Sydney location of your choosing. You also get a wedding photographer for 2 hours including all high resolution images.
All Inclusive Elopement Package: $2,505 - $2,755
The all inclusive package has everything in the affordable plus set up of wedding ceremony styling with up to 24 chairs, an aisle runner and arbour.

8. Figbird Cottage
Location: Terara - South Coast, NSW
Capacity: 2 - 20
Accommodation: Sleeps 8
On the South Coast of New South Wales is Figbird Cottage, a romantic garden venue that is entered via ornamental white gates and a 6 metre festoon-lit rose arbour. Manicured lawns are planted with hundreds of beautiful camellia and rose bushes and the gardens are surrounded by relaxed dairy paddocks. 
The weekends at Figbird are typically booked by larger weddings in the property's grand marquee, but on weekdays and some weekends in off-peak months such as during winter you can elope in the gardens with easy all inclusive packages. There are two cottages onsite which sleep 8 guests in total.
Elopement Package: $3,995
Includes exclusive use of the gardens for 2 hours, ceremony set up, celebrant to perform your legal wedding ceremony & 2 hours photography.
Elopement With Accommodation: $4,950 - 
$7,500
Includes 2 - 4 hours exclusive use of grounds to elope with 6 - 20 guests, a wedding planner, 2-3 hours photography, celebrant, wedding cake, bouquet & buttonhole, ceremony styling and 1 night accommodation in one or both cottages. 

9. Coolangatta Estate
Location: Shoalhaven Heads, NSW
Capacity: 2 - 200
Accommodation: Sleeps 70
Coolangatta Estate is the site of first settlement at Shoalhaven Heads and with the ocean, Shoalhaven River and bush-covered hills surrounding the property is an incredibly picturesque location to elope. Within the winery's grounds are many beautiful backdrops for wedding ceremonies & photos including historic buildings built by convicts, rows of vines and lush fairy-lit gardens.
All Inclusive Elopement Package: $6,999
The elopement package at Coolangatta Estate includes a legal wedding ceremony by a local marriage celebrant, two witnesses if required, 2 hours photography, a 2 hour picnic and 1 night accommodation for two in the onsite motel. 

10. The Altar Electric
Location: 299 Johnston Street, Abbotsford, VIC 3067
Capacity: 2 - 80
The Altar Electric is conveniently located in central Melbourne and is unequivocally Australia's funkiest elopement venue. Fun decor and a jamming DJ and bar create a cracking vibe for highly memorable and super simple elopements.
Quick Elopement Package: $2,000
Includes 30 minutes in the chapel with just you and your boo plus 2 guests. You get a personalised wedding ceremony, all legals and paperwork lodged, witnesses if required and a commemorative certificate and polaroid photo. Live streaming & photographer can be added.
Shotgun Wedding Package: $3,200
Includes everything in the quick elopement package with up to 10 guests, 60 minutes in the chapel and the bar is open for drinks after getting hitched. Live streaming ($950) and photographer ($1,500) can be added.
Micro Wedding Package: $23,000
This all inclusive micro wedding package comes with 5 hours venue hire, drinks, food truck, DJ and 3 hours photography plus your legal wedding ceremony with all paperwork lodged by your celebrant.

11. Workshops Rail Museum
Location: North Street, North Ipswich, QLD 4305
Capacity: 300+
One of the most unique places to elope in Australia is The Workshops Rail Museum. The atmospheric grounds are the site of Queensland's first railway workshop and feature grand industrial architecture that oozes with historic charm.  
Dramatic backdrops for wedding ceremonies and elopements include wide railway avenues, rustic buildings, huge old timber warehouse doors, pretty gardens and a genuine fog-puffing steam locomotive. The heritage-listed site also has a private dining room that seats up to 50 guests for small wedding receptions. 
Elopement Package: $900
The museum offers simple elopement packages including a choice of 5 ceremony sites, timber bench seating, floral adornments and a registry table with chairs. All wedding ceremony packages include use of the grounds for wedding photos.

12. Big Love Tiny Chapel
Location: Margaret River, WA
Capacity: 4 - 20
Big Love Tiny Chapel is a travelling wedding ceremony venue that offers all inclusive pop up weddings as well as destination elopement packages throughout the Margaret River region of Western Australia.
The chapel seats 4 guests inside and for ceremonies with up to 20 guests you can exchange vows on the porch while guests are seated in front of the chapel. Owner Anita Revel is the registered celebrant included with all elopement packages and you're also welcome to hire the chapel from $890 and bring your own officiant.
Pop Up Elopement Package: $1,950+
Pop up elopements are a quick, easy and affordable way to get married where the chapel is parked at a designated location and the venue hire fee is shared between all couples getting married on that day. Pop up elopement packages include use of the chapel for 1hr, venue booking done for you, a celebrant, legal wedding and a bottle of bubbles. Add photographer & flowers.
Destination Elopement Experience: $3,750+
The destination elopement experience is offered twice per year at various locations in the Margaret River region. The packages typically include 2 nights accommodation, an all day elopement adventure with chauffeured transport (such as wine tastings & lunch), celebrant and photographer. Enquire for next dates & itinerary.
Celebrant Elopement Packages

Meggan Brummer Elopements
Location: Mosman, NSW 2088
Service Area: Sydney, Hunter Valley
With more than two hundred 5 star reviews from previous couples, Meggan Brummer is one of Australia's leading elopement celebrants. She's a highly engaging, elegantly spoken officiant who crafts thoughtful and fun wedding ceremonies around her couples and what is important to them. A brilliant storyteller with a sophisticated vibe.
Luxury Elopement Package: $1,607+
Includes your love story written by Meggan, a video & journal guide plus one-on-one assistance to write personalised vows, high definition video of your wedding ceremony delivered the next morning, keepsake script, all legal paperwork completed and submitted.
Ultimate Elopement Package: $2,707+
Includes everything in the luxury package plus a video of you both telling Meggan your love story and your vows in handwritten calligraphy.
 Contact Meggan Brummer Elopements

Josh Withers
Location: Gold Coast, QLD
Service Area: QLD, NSW, TAS
Josh Withers is an international marriage celebrant who specialises in small and intimate wedding ceremonies. He is based on the Gold Coast but regularly travels to Sydney, Hobart, Brisbane and beyond to wed adventurous, fun-loving couples.
Josh is renowned as a vivid, fun & authentic storyteller who's wedding ceremonies are typically script-free. His warm sense of humour and ability to speak naturally off-the-cuff make him one of the most sought after marriage celebrants in Australia. 
Simple Elopement Package: $2,000+
Includes Josh to craft your personalised wedding ceremony and complete all legal documentation to get you legally married. Travel fees may apply.
All Inclusive Elopement Package: $4,260
Includes Josh's wife Britt who brings 10+ years experience planning elopements throughout Australia & overseas as your elopement planner, Josh as your marriage celebrant along with all legal documentation, a wedding photographer with a copy of all high resolution images and dream florals.

Wendy Does Elopements
Location: Eltham, VIC 3095
Service Area: Melbourne & surrounds
Wendy is a down-to-earth, sincere and vibrant marriage celebrant who exudes warmth, joy and loved-up fuzzy feels. You may recognise Wendy from her two seasons as a celebrant on Married at First Sight.
Wendy's marriage ceremonies are entirely all about the two of you. They're always a mix of laughs, warmth and happy tears as she tells your story the way you want it to be told. 
Legals Ony Package: $700+
A simple legalities only wedding ceremony that's short, sweet and to the point costs $700. All the legal documentation is completed and lodged for you making you officially hitched. 
Elopement Package: $1,600+
Wendy's elopement package includes a fun, inclusive and heartfelt marriage ceremony that is 100% personalised to you.
---
---
Photography Elopement Packages

Anna Murray Photography
Location: Bondi Beach, NSW 2026
Service Area: Sydney
Anna Murray is a specialist elopement photographer who brings more than 5 years experience to capturing small weddings around Sydney. Her images are very candid and natural with a focus on photographing highly meaningful and emotive moments. 
Elopement Photography Packages
Elopement packages start at $900 for a 2 hour photo shoot and go up to $4,000 for an all-day elopement experience with up to 10 hours coverage. You receive all high resolution images edited to include a mix of colour and black & white.
 Contact Anna Murray Photography

Tennille Fink Photographer
Location: Brisbane, QLD
Service Area: Australia
Tennille Fink is a professional Brisbane-based wedding photographer who takes a hands-off approach to documentary photography producing candid portfolios filled with very natural, straight-from-the-lens wedding photos. We love her wonderful knack for photographing couples looking into the lens without them feeling like staged portraits.
Elopement Package: $2,200+
Elopement packages start at $2,200 and include a half day of photography with all high resolution photos provided in a downloadable gallery. Travel charges apply for locations further than 2 hours from Brisbane.
 Contact Tennille Fink Photographer

Briars Atlas
Location: Melbourne, VIC
Service Area: World
As one of the world's best wedding photographers Oliver Sansom is regularly flown around the globe to capture the weddings of other leading creatives. He has been named International Wedding Photographer of the Year for his work in analogue formats and put in the World's Top 30 by Rangefinder New York.
Oli has an uncanny eye for capturing for posterity. There is a unique nostalgic feel to his work which he attributes to an ongoing interest in what's at the edges - just to the side of the obvious. Your wedding is captured in a mix of modern digital and analogue formats by a guy who knows his way around making folks feel comfortable in front of his lenses.
Elopement Package: $5,900
With a Briars Atlas elopement package you get one of Australia's top 10 wedding photographers applying his unique angle of the world in and around your community of favourite folks. 
Australian Elopements
Find the best elopement packages in Australia by state:
NSW Elopement Packages
QLD Elopements Packages

Cover Image: Cavanagh Photography
Have an elopement package to add to this list? Get Started