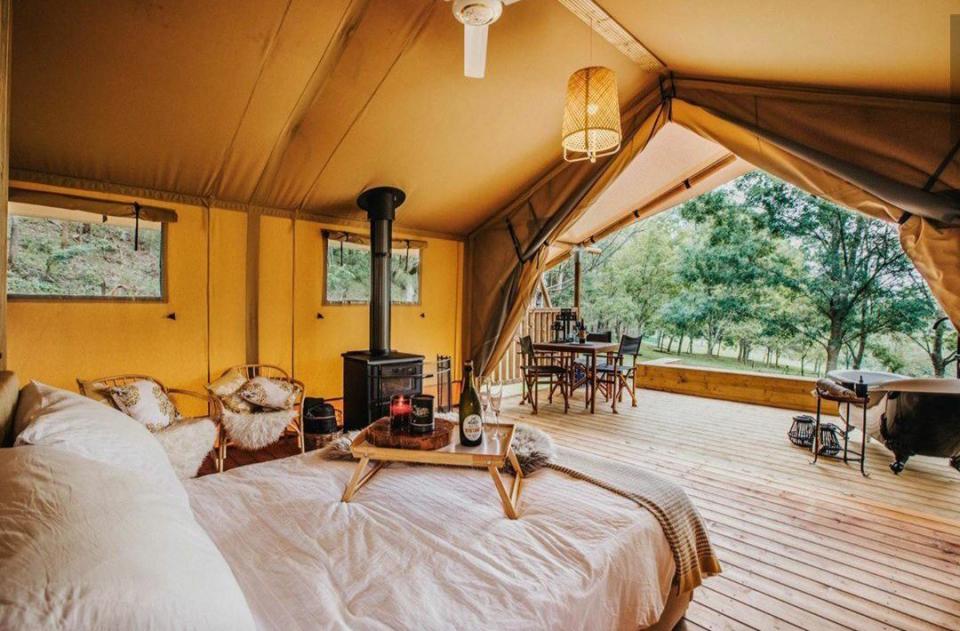 Choosing to have your wedding at a glamping venue is a sure fire way to set the tone of your wedding to chilled and fun. It's an adventure. It's exciting. And it's different! There's still not many couples in NSW who choose to accommodate themselves (or their guests) in a glamping tent on the night of their wedding. 
Glamping is growing in popularity though, which is evident in the expanding number of wedding venues that now offer glamping as an option on their properties. In NSW, glamping venues range from farms to adventure camps to beachside estates to eco lodges and luxury retreats. And the cost of glamping at these venues is just as diverse as what they offer.
Most glamping tents come in two varieties. Portable glamping tents are pitched specifically for your wedding and are taken down again as you head off on your life adventure together. Venues that allow portable glamping tents on their property either own their own tents and they'll charge you to hire them, or tents are supplied by external suppliers. Some venues will make arrangements with external suppliers for you, while others will request you to engage suppliers directly.
Hiring portable glamping tents usually includes a comfy bed, linen, blankets, pillows, floor rugs and some in-tent furniture like bedside tables and luggage stools. Some also include an outdoor table and chairs for two, or deck chairs.
If you're going all out and arranging a glamping village to accommodate your entire wedding guest list, you might also hire a communal glamping tent where guests can congregate for small social gatherings, and furniture and furnishings for an outdoor lounge area. This set up is often referred to as a festival style wedding.
The other glamping option which leans towards a more luxury experience is semi-permanent tenting. These tents are usually pitched over the top of, or adjoining a permanent structure like a deck and are not taken down between bookings. What makes this glamping option great are the experiential extras. Like the perfectly private outdoor baths on their decks in which you can relax while sipping a glass of wine while enjoying the breeze and watching the birds. 
Any wedding venue that provides glamping also offers wedding ceremonies and receptions onsite. They are truly all-in-one venues where (aside from a golf buggy or two) transport will not be required for the duration of your stay. Here is our complete list of wedding glamping venues in NSW.
Glamping Venues
Top 10 NSW
Blue Mountains
Byron Bay
Central Coast
Hunter Valley
North Coast
South Coast
Off-The-Grid

Top 10 Glamping Venues in NSW

1. The Woods Farm
Capacity: 200
Location: Bayly Road, Tomerong, NSW 2540
Accommodation: Sleeps 120
With 18 permanent glamping tents arranged in a mini village, an amenities block and cooking facilities for guests, The Woods Farm is an ideal destination for a glamping wedding on the South Coast. There's also 8 x 3 bedroom cottages onsite.
This 40 acre wedding destination features a unique open air bush chapel that has a spectacular garden arbor walkway leading up to it, and a rustic reception shed with a mix n match of vintage chandeliers hanging from the ceiling. 

2. The Cove Jervis Bay
Capacity: 200
Location: Ellmoos Road via Booderee National Park, Jervis Bay, NSW 2540
Accommodation: 7 room house, cabins + glamping
The Cove is a secluded all-in-one wedding venue that provides the perfect spot for a weekend getaway with family and friends. A popular location for glamping weddings, the resort-like grounds feature your own private beach and a white Hamptons style pavilion with adjoining outdoor bar. Ideal for romantic garden receptions. 

3. River View Island
Location: 841 Rodeo Dr, Tewinga NSW 2449
Capacity: 150
Accommodation: Sleeps 76
Wedding Packages: 2 Day stays
River View Island is a 3 day outdoor wedding venue that comes with 4 glamping tents and BYO camping for up to 50 guests on 8 acres of manicured grassland. You get exclusive use of this 70 acre riverfront destination during your stay and there are two cottages that sleep 15 guests onsite.
The reception venue is a luxe rustic wedding barn that comes with all furniture plus set up & pack down done for you. You're also welcome to hire a marquee to be pitched on the river island.

4. Kullindi Homestead
Location: Booderee National Park, Ellmoos Rd, Jervis Bay NSW 2540
Capacity: 20 - 200
Accommodation: Sleeps 20+
Kullindi Homestead is a private glamping and camping wedding venue located on the picturesque Sussex Inlet waterway near Jervis Bay. The budget-friendly destination is a picturesque spot for DIY weddings where you can set up a marquee or tipi on the water's edge.
In addition to the option for glamping onsite, the property has 5 self contained units that sleep 20 guests. BYO caterers and drinks.

5. St Joseph's Guesthouse
Capacity: 100
Location: 1029 Saint Albans Road, Saint Albans, NSW
Accommodation: Sleeps 10
Built in the ruins of a 160 year old Catholic church, St Joseph's Guesthouse is now a non-denominational weekend wedding venue with a difference. Owner Steve is a relaxed host and provides exclusive use of the property for up to 4 days with wedding packages, including the option to bring glamping tents and food trucks onsite.
The 5 bedroom, 3 level stone building is best suited to intimate day-time weddings of up to 100 guests. There's a downstairs function space that seats 60 or caters for cocktail receptions of up to 100 guests. The very affordable venue hire fee includes accommodation for 10 guests.

6. Glenworth Valley Weddings
Location: 69 Cooks Road, Glenworth Valley, NSW 2250

Capacity: 30 - 330

Accommodation: 4 Villas + glamping
Glenworth Valley is Australia's largest horse riding centre and a popular destination for glamping weddings located 1.5 hours north of Sydney. Stylish bell tents are set under the stars and offer a luxury stay amongst the beautiful sounds of surrounding wilderness.
The 3,000 acre property has a large reception centre that caters for weddings of 30 - 330 guests with stunning views over Glenworth Valley. From the balcony, guests can watch the unique 'Running of the Horses' spectacle as 200 horses run past in surrounding paddocks. 
 View Glenworth Valley Weddings

7. Kings Creek Retreat
Location: 84 Kings Creek Road, Krambach, NSW 2429
Capacity: 30
Accommodation: Sleeps 26
Kings Creek Retreat is a micro wedding venue with a unique village of glamping tipis that sleep 26 guests. All tipis have mains power and come fully furnished with comfortable bedding and carpet on the floors. No need to bring your own sheets.
This Mexican themed farm stay is located 30 minutes inland from Forster and offers an affordable & relaxed spot for micro weddings catered with pizza catering.

8. The Bungalow Guesthouse
Location: 1112 Nowra Rd, Fitzroy Falls, NSW 2577
Capacity: 30 - 140
Venue Type: Farm
Wedding Packages: Exclusive venue hire
Accommodation: Sleeps 76+
The Bangalow Guesthouse is a picturesque rural style wedding destination located on a 100 acre working farm in the Southern Highlands. The guesthouse and annex has 22 bedrooms and the spacious grounds provide plenty of room for additional wedding guests to glamp. 
The 1920's guesthouse was fully renovated in the early 2000's and is a character-filled weekend destination with a 10m swimming poo, tennis court and billiards room. There is large ballroom style reception venue within the guesthouse or you can set up an outdoor wedding taking in the rural vista over rolling green hills.

9. Spicers Sangoma Retreat
Capacity: 60
Location: 70 Grandview Ln, Bowen Mountain, NSW 2753
Accommodation: 12 + glamping for 2
Spicers Sangoma Retreat is a luxury wedding venue ideal for small weddings and elopements. The rejuvenation retreat is a private and secluded location available for your exclusive hire with panoramic mountain & Sydney city views. The accommodation is in luxurious safari style tents offer a high-end glamping wedding experience.

10. Berry Hill
Location: 1832 River Road, Leets Vale, NSW
Capacity: 20 - 300
Ceremonies: Outdoors
Receptions: Tipi, marquee, clear dome
On 75 acres of wilderness in the Hawkesbury Valley sits Berry Hill, a private rural retreat on 2km of river frontage. This expansive country property sleeps 14 guests in a homestead and suites and comes with a glamping wedding village of up to 20 fully furnished bell tents including bathroom amenities and communal fire pit area.
Glamping costs $450 + gst for each tent including 2 nights and there's a minimum 10 tent hire.
Glamping venues in the Blue Mountains

Ding Dang Doo
Capacity: 100 
Location: 

7A Bowen Mountain Rd, Grose Vale, NSW 2753

Accommodation: 2 cottages sleeping 9 + luxury glamping for 2 + portable glamping
Ding Dang Doo is a horse ranch and wedding venue located on 30 scenic acres on the outskirts of Sydney. DIY, BYO & pet friendly venue with stables suitable for elopements and small weddings up to 100 guests. 

Australian Bushland Weddings
Capacity: 250
Location: 

Webbs Creek Road, Wisemans Ferry, NSW 2775

Accommodation: 216 guests + glamping
Australian Bushland Weddings is a weekend style wedding venue perfect for river front glamping. There are two campsites to choose from with both featuring a basic reception venue and accommodation facilities. Camp activities include canoeing, swimming, abseiling, low ropes, archery and more. 
 View Australian Bushland Weddings

Tobruk Sheep Station
Capacity: 200
Location: 

5050 Old Northern Rd, Maroota, NSW 2756

Accommodation: 11 + Glamping
Tobruk Sheep Station is a private working farm that's often used for film and tv production. The all-in-one private property is just an hour from the Sydney CBD and available for extended weekend weddings. With an abundance of space to use at your discretion it's the perfect spot to set up a glamping village.
---
VIEW ALL: Glamping venues in Blue Mountains
---
Glamping Venues in Byron Bay

Midginbil Eco Resort
Capacity: 150
Location: 

252 Midginbil Rd, Midginbil, NSW 2484

Accommodation: 150 including Glamping
Midginbil Eco Resort is the perfect spot for 3 day weddings in a sub-tropical rainforest location where all guests can stay onsite. Budget wedding packages include BYO alcohol, and the whole venue is exclusively yours for the weekend. Accommodation includes permanent safari tents and you can bring your own tents.
Glamping Venues on the Central Coast

Bebeah Farm
Location: 383 Brush Creek Road, Cedar Brush Creek, NSW 2259

Capacity: 40 - 200

Accommodation: Sleeps 10 + glamping
Bebeah Farm is a DIY glamping wedding venue bordering the Central Coast & Hunter Valley regions in the Yarramalong Valley. The farm has a 4 bedroom house that sleeps 10 and a massive flat paddock where a glamping village can be set up surrounded by lush bushland.
Glamping Venues in the Hunter Valley

Cranky Rock Wollombi
Location: 2214 Wollombi Road, Sweetmans Creek, NSW 2325
Capacity: 100
Accommodation: Sleeps 2 - 100
Wedding Packages: $5,000+
Cranky Rock Wollombi is an affordable camping wedding venue located on a 120 acre working farm with cattle and horses in the lower Hunter Valley. The location is named after the 25 tonne sandstone rock that is just one of many beautiful photo opportunities on the property.
Cranky Rock is a laid back and relaxed setting for weddings for up to 100 guests where everyone can bring their own tents or you can set up a glamping wedding village for the weekend. During your stay you'll be immersed in nature with running brooks, a rainforest, open woodlands and deer, wallaby, wombats and lyre birds surrounding you.  

Dashville Glamping Weddings
Address: 103 Kirkton Road, Lower Belford, NSW 2335
Capacity: 300
Accommodation: BYO camping
Wedding Packages: $10,250+
Dashville is a relaxed and affordable country style wedding venue with a campground surrounded by bushland in the heart of the Hunter Valley. The property is a renowned destination for local music festivals and hence, is well set up for group events.  
You get exclusive access to the property with use of The Swoop Inn as your reception venue and catering is available onsite with a hot buffet menu or canapés package. 
 View Dashville Glamping Weddings

Lonely Goat Olives
Capacity: 100
Location: 

153 Eglinford Ln, Congewai, NSW 2325

Accommodation: 5 + Glamping
Lonely Goat Olives is a true do-it-yourself wedding venue that's well off the beaten path of more popular Hunter Valley locations. The olive farm is ideal for elopements & small weddings, is fully BYO and reasonably budget friendly. Wedding packages include exclusive use of the entire farm so you can organise your own glamping and you can also bring your pets. 
---
VIEW ALL: Glamping venues in Hunter Valley
---
Glamping Venues on the North Coast

Longview Farm
Max Capacity: 1000
Location: 

95 Longview Cl, Caffreys Flat, NSW 2424

Accommodation Onsite: Rotating house sleeps 16 + glamping
Longview Farm is the ultimate glamping wedding venue in regional NSW. The riverside country venue comes with a luxury rotating house, reception shed and purpose laid fields ideal for rows of glamping tents to be set up. The property caters for small & larger weddings and offers DIY & BYO wedding packages with exclusive weekend hire. Pet friendly. 

Pillar Rock Farm
Location: 1231 Wooli Rd, Pillar Valley, NSW 2462
Capacity: 200
Accommodation: Sleeps 10 + free camping
Wedding Packages: All inclusive
Pillar Rock Farm is a 270 acre property that offers rustic glamping weddings on the Mid North Coast. The rural destination is an adventure lovers paradise with fishing, bushwalking, rock climbing and mountain biking all onsite. The beautiful native surrounds feature picturesque creeks and wetlands beside untouched forest which is home to huge array of wildlife. 
The barn reception hall features a whiskey lounge, loft and adjoining cocktail lawn with guesthouse accommodation and a hunting cottage plus free camping for wedding guests. 

Goolawah Retreat
Capacity: 30 - 150

Location: 288 Point Plomer Rd, Crescent Head NSW 2440

Accommodation: Sleeps 32 + glamping
Surrounded by 28 acres of native bushland and with stunning ocean views, Goolawah Retreat offers an ideal destination for glamping weddings on the Mid North Coast. The property features 5 refurbished cottages, with camping and glamping permitted onsite. 
At Goolawah Retreat there is plenty of space and beautiful year-round weather for outdoor weddings under the stars. The owners have recently constructed a new Wedding Pavilion that seats 90 guests or caters for cocktail receptions of up to 120. The venue hire fee is extremely affordable and includes exclusive use of the entire property, accommodation and amenities for the weekend. Pet friendly. No curfew.

The Banksias
Capacity: 120
Location: 

1126 Point Plomer Rd, Crescent Head, NSW 2440

Accommodation: 3 bedroom homestead, 5 cabins + glamping
The Banksias is a luxury wedding retreat that combines the best of the bush and the ocean. You can BYO a marquee for larger weddings and pitch glamping tents on the flat manicured lawns. Exclusive weekend hire includes use of the private tennis court and 9 hole golf course.
Glamping Venues on the South Coast

Figbird Cottage
Capacity: 150+
Location: 

330 Comerong Island Rd, Terara, NSW 2540

Accommodation: 2 Cottages sleeping 8 + option of glamping
Figbird Cottage is an affordable and elegant garden venue in peaceful country surrounds. Inexpensive wedding packages include the option to DIY & BYO all wedding suppliers and the venue comes with all furniture and furnishings which means a saving on external hire.
Ceremony venues include stunning rose gardens overlooking surrounding farm land and the large elegant marquee provides a flexible reception venue that opens onto manicured lawns. Owner Lisa will provide as much or as little wedding planning assistance as requested.

Secrets of Terara
Capacity: 100
Location: 

Millbank Rd, Terara, NSW 2540

Accommodation: Homestead sleeps 20 + glamping
Secrets of Terara is a woodlands style ceremony and reception venue on a secluded 13 acre property in the heart of the Shoalhaven. Exclusive weekend hire affords the option to bring glamping tents onsite and make the property your own for 3 days/2 nights.

Bewong River Retreat
Capacity: 130
Location: 

2395 Princes Hwy, Bewong, NSW 2540

Accommodation: 9 Bungalows + glamping
Bewong River Retreat is a BYO catering & alcohol location on the Shoalhaven riverfront. Surrounded by bushland, the 160 acres is an ideal spot for glamping and is also a pet friendly place for weddings. Exclusive weekend hire.

Paperbark Camp
Capacity: 100
Location: 

571 Woollamia Rd, Woollamia, NSW 2540

Accommodation: 38 Safari Tents
Paperbark Camp offers a unique location for beach or forest wedding ceremonies with a tree-top restaurant and reception venue. The property is available for the exclusive hire of weddings when accommodation in all safari tents is booked. Eco friendly venue where the glamping is already set up.
---
VIEW ALL: Glamping venues in South Coast
---
Off-the-grid Glamping Venues

Petrichor Farm
Max Capacity: 150
Location: 

89 Haskins Way, Gundaroo, NSW 2620

Accommodation Onsite: Homestead sleeps 2 + glamping
Petrichor Farm is a 170 acre working farm and wedding venue surrounded by peaceful grazing land in the Southern Tablelands. There's plenty of space to BYO camping tents or set up a luxury glamping village onsite. The property features a reception venue, choice of ceremony spots and an abundance of native wildlife.
NSW has a wonderfully eclectic mix of glamping venues that create the perfect setting for a wide variety of weddings. Whether you simply want a glamping experience for two or an entire glamping village that accommodates all of your wedding guests for the weekend, there's plenty of choice on this list. You can enquire with your favourites using the links provided.
If you have a glamping venue you'd like to add to this list, please contact us at info@wedlockers.com.au or create a free business listing to get started.