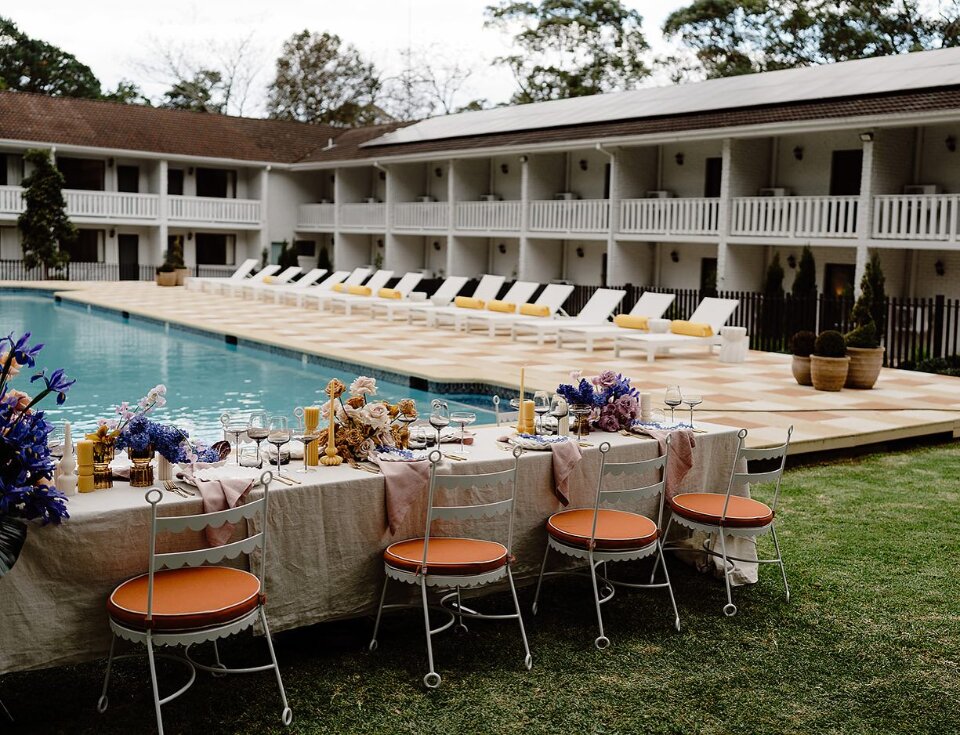 Looking for somewhere a little bit different to tie the knot? Australia's most unique wedding venues range from non-traditional function spaces to the downright unconventional. From little known venues to the weirdest and most wonderful wedding locations, Australia delivers a broad variety of quirky spaces for out of the box weddings. 
Below are 21 alternative wedding venues that provide a unique backdrop for one-of-a-kind celebrations. They are an eclectic collection of non-weddingy places in which anything goes. Fun times and amazing memories are the only common things at these unusual wedding locations.
Amongst this list are funky hotels, whimsical halls, outdoor venues and magical wedding spaces repurposed from heritage treasures such as train carriages, a locomotive shed and crumbling churches & barns. All of these amazing wedding venues come with dramatic backdrops, amazing views and offer a one-of-a-kind wedding experience you won't find anywhere else.
Here are 21 of the most unique wedding venues in Australia curated for those with a mind to be different. 
21 Unique Wedding Venues in Australia

1. The Woods Farm
Location: Bayly Road, Tomerong, NSW 2540
Capacity: 200
Accommodation: Sleeps 120
Wedding Packages: BYO
The Woods Farm is a dream wedding venue on 40 acres of woodlands just 5 minutes from the beautiful beaches of Jervis Bay. At this amazing farm stay your one-of-a-kind 3 day wedding experience starts with a welcome night BBQ, your wedding the next day and a poolside recovery brunch on the last morning.
The Woods Farm is home to one of Australia's most unique wedding ceremony sites. The incredible bush chapel is hidden in the woods and is reached through a series of jasmine-covered archways stretching 120 metres through native bushland. There's also an amazing outdoor bar surrounded by lush trees and a beautiful chandelier reception hall.

2. St Joseph's Guesthouse
Location: 1029 Saint Albans Road, Saint Albans, NSW 2775
Capacity: 10 - 100
Accommodation: Sleeps 10
Venue Hire: $3,500+
St Joseph's Guesthouse is the quirkiest wedding church in Australia. Having been resurrected from crumbling ruins this magnificent building now features 5 luxury bedrooms, spacious living areas and an intimate function space that seats 60 guests on the ground floor (suits up to 100 for cocktail events). 
The backyard of this award winning venue is one of the most atmospheric places for a wedding in Australia. A circular plunge pool and circular band stage are set against the dramatic facade of the church and overlook beautiful views over surrounding bushland. Venue hire starts at $3,500 with accommodation for 10 guests for 2+ nights. 

3. The Cove Jervis Bay
Location: Ellmoos Road via Booderee National Park, Jervis Bay NSW 2540
Capacity: 150+
Accommodation: Sleeps 111
Wedding Packages: BYO
Overlooking its own private beach on the pearly white sands of Jervis Bay, The Cove is a 3 acre seaside resort that can be hired for exclusive-use functions. This secluded coastal oasis is hidden in the beautiful Booderee National Park and with accommodation for everyone onsite, is among Australia's top 5 destinations for outdoor weddings on the beach.
The resort features an oceanfront ceremony lawn, an all white reception hall and a romantic fairy-lit courtyard which surrounds a bar and offers a relaxed Mediterranean-style setting for outdoor wedding receptions. Venue hire comes with a fun house, beach cabins and a luxe glamping village.

4. Goosewing Cottage
Location: 1194 Mount View Rd, Mount View, NSW 2325
Capacity: 20
Accommodation: Sleeps 12
Elopement packages: $3,295+
Goosewing Cottage is a magical spot for micro weddings and elopements in the world-famous Hunter Valley. This beautiful little farm stay offers all inclusive wedding packages for intimate nuptials with up to 20 guests (plus children) and you get an award winning photographer and choice of celebrant as part of the deal.
The farm stay offers optional accommodation in two onsite cottages that sleep 8 guests and 4 guests respectively. The larger of the cottages has a swimming pool, weather-proof outdoor area and a large dining room where private receptions are permitted for staying guests. (Ask the venue about private dining at nearby restaurants for larger wedding receptions)

5. Train Shed Weddings
Location: North Street, North Ipswich, QLD 4305
Capacity: 40 - 500
Wedding Packages: $90+/pp
With an iconic PB 15, No444 steam locomotive taking centre stage, the Moving Goods Hall at Queensland's first-ever railway workshop is a front runner for the most unique place to get married in Australia. This amazing event space has an impressive 11 metre high ceiling, 3 open-sided walls and the track mounted engine which puffs steam on cue.
After closing hours this historic precinct becomes exclusive yours with beautiful gardens and grand architectural backdrops providing stunning locations for wedding ceremonies, photos and receptions. A standout experience offered by this special place keeps your guests entertained with a private tour of the museum while you have photos onsite.

6. The Lodge Jamberoo
Location: 406 Jamberoo Mountain Road, Jamberoo, NSW 2533
Capacity: 300
Accommodation: Sleeps 136
Wedding Packages: $95+/pp plus accommodation
With 43 poolside rooms to accommodate all your guests, The Lodge Jamberoo is Australia's most fun wedding destination. This amazing hotel is located along a quiet country road and is purpose-built for awesome weddings with an open-air pine tree cathedral for ceremonies and a whimsical wedding hall for receptions.
Venue hire for private events includes all hotel rooms, two spacious & fun suites for getting ready, outdoor gardens and courtyards connecting the larger event spaces and a cafe & after party bar. Casual pre-wedding drinks are hosted the night before your wedding and poolside recovery parties are most welcome.

7. Paradise Botanical Gardens
Location: Kulnura - Central Coast, NSW

Capacity: 230

Accommodation: Sleeps 8
Wedding Packages: DIY/BYO
If you're looking for a non-traditional wedding venue in a beautiful outdoor setting, Paradise Botanical Gardens on the NSW Central Coast has several atmospheric and unusual function spaces. From historic Roman Columns to a secret garden with a weather-proof canopy, these 230 hill top acres are bursting with historic treasures and rare fauna & flora. 
Venue hire provides exclusive use of the gardens for 3 days with accommodation for up to 8 guests in an onsite cottage. 
 View Paradise Botanical Gardens

8. Midginbil Eco Resort
Location: 252 Midginbil Rd, Midginbil, NSW 2484
Capacity: 150
Accommodation: Sleeps 150+
Wedding Packages: DIY/BYO
With all your wedding guests staying onsite with you, no curfew, a late night bonfire site, swimming pool, tennis & volleyball courts and an uber groovy safari village (each tent has its own timber balcony & incredible rainforest views), Midginbil Eco Resort is one of Australia's coolest places to have a wedding.
This secluded 400 acre property is located an hour inland from Byron Bay nestled within the sub-tropical rainforest of Night Cap National Park. Venue hire includes exclusive access for 3 days/2 nights and guests are able to pay their own accommodation. 

9. The Pavilion Kiama
Location: 2 Bong Bong Street, Kiama, NSW 2533
Capacity: 80 - 400
Wedding Packages: All inclusive 
The Pavilion Kiama brings together a rare trifecta of wedding awesomeness; a stunning beach location, walking distance proximity to accommodation (no Uber required at the end of the night), and amazingly affordable wedding packages that include a fully furnished ceremony & reception, all catering and drinks.
This modern beachfront venue has an elevated stage, a private bar, an entrance foyer that can double as a wet weather ceremony venue, two oceanfront ceremony sites right outside including one that is sheltered between rustic boat sheds, and a private Bridal Suite.

10. Mimosa Wines
Location: 2845 Tathra-Bermagui Rd, Bermagui NSW 2546
Capacity: 180
Accommodation: Sleeps 13
Wedding Packages: All inclusive
The chefs-hatted Mimosa Wines is an incredibly scenic spot for weddings with some of the best views in south eastern Australia. The architecturally designed restaurant sits on a high section of the 200 acre winery and has sweeping views over the vineyard below and across the canopy of unspoilt national park for as far as the eye can see. 
This amazing place is an ideal function space for foodies and comes with a non traditional wedding menu to delight the most ardent food critic. Venue hire includes exclusive access to the vineyard on your wedding day, a Lily Pond Deck for wedding ceremonies and use of two onsite cottages. 

11. Eleven Eighty Weddings
Location: 1180 Bolong Road, Coolangatta, NSW 2535 
Capacity: 80
Wedding Packages: DIY/BYO
Accommodation: Sleeps 15
Eleven Eighty is a quirky estate with a variety of creative function spaces perfectly suited to intimate out of the box weddings. You can host a pre-wedding dinner in a luxe little barn, get ready the next morning in a train carriage, get married against a street mural in the gardens or in a refurbished school hall and celebrate under a glass marquee in the rustic courtyard. 
This funky wedding destination also has an Argentinian BBQ pergola which offers a relaxed setting for a recovery lunch and there's accommodation for 15 guests in two onsite cottages. Venue hire includes free access to a props shed where you'll find wedding arbors, tables, chairs, velvet lounges and an assortment of creative wedding decor.

12. Black Hall Weddings
Location: 87 George Street, Kalbar, QLD 4309
Capacity: 90
Wedding Packages: $140+/pp
Named among the top 10 places in the world to visit, the beautiful Scenic Rim offers a world-class destination for weddings. One of this region's best places to get married are the enchanting venues of White Chapel & Black Hall which are situated on a quiet country corner and offer an unexpectedly magical destination for modern weddings.
The street-front chapel is true to its name with a completely white interior including elegant bentwood chairs and a neon backlit altar. Behind the chapel a covered courtyard provides a casual reception space with a modern outdoor fireplace extending into beautiful gardens. Across the lawn is the gorgeous reception venue of Black Hall set beside an outdoor bar.

13. The Altar Electric
Location: 299 Johnston Street, Abbotsford, VIC 3067
Capacity: 80
Ceremony Only Packages: Yes
Wedding Packages: All inclusive elopements
The Altar Electric is a hipster wedding chapel that offers fun elopements and micro weddings in the centre of Melbourne city. All inclusive wedding packages are very affordably priced and make getting married super easy and memorable with a range of quirky options. 

14. Old Broadwater Farm
Location: 56 New River Ramble, West Busselton, WA 6280
Capacity: 200
Accommodation: Sleeps 18
Wedding Packages: Inclusive with BYO
This whimsical wedding chapel is located at Old Broadwater Farm, a stunning country-style venue just outside of Busselton's urban centre. The spectacular ceremony site is set on spacious grounds featuring an air conditioned marquee, paved cocktail courtyard and a timber deck suited to seated outdoor receptions.
Wedding packages at Old Broadwater Farm are fully catered with BYO drinks. Venue hire includes accommodation for 10 and there is additional accommodation within walking distance. One of the best elements of this property are the wedding photo opportunities with extensive gardens, a romantic swing, rustic barns and golden paddocks as your backdrop.
15. Chapel Hill Retreat
Location: 

Berambing Crest, Berambing, NSW 2758

Capacity: 2 - 150
Accommodation: Sleeps 38
Wedding Packages: All inclusive
Chapel Hill Retreat is located in Australia's iconic Blue Mountains and has 6 unique wedding locations set against an incredible world-heritage landscape. Across the 35 acre property are elegant lawn terraces, a open-air timber balcony and covered verandah space, a quaint little chapel and a fresh, white-walled function room for wedding receptions.
With 7 onsite cottages and a seperate bridal suite offering the option of accommodation onsite, Chapel Hill Retreat is an ideal spot for a destination wedding. Affordable wedding packages come fully furnished and catered and there's an optional supplier add-on that includes celebrant, photographer, flowers, stylist and cake.

16. Tides Byron Estate
Location: 290 North Teven Road, Teven, NSW 2478
Capacity: 140
Accommodation: Sleeps 22
Wedding Packages: Tailored
This unique wedding destination is located on a 100 acre macadamia farm near Byron Bay. Perfect for a fun 3-day celebration, the property features an elegant all-white wedding hall and a luxury 8 bedroom villa which both have stunning views over the macadamia orchard to the coastline of Lennox Head.
When you book the wedding hall and villa for a fun wedding weekend you can start with a welcome dinner, have a ceremony against the beautiful farm & coast backdrop, dine in the reception hall or outdoor terrace and host a poolside recovery party the next day. For something completely different the orchard offers an alternative wedding reception space under the stars.

17. Goolawah Retreat
Location: 288 Point Plomer Rd, Crescent Head NSW 2440
Capacity: 30 - 150
Sleeps: 32 + camping
Wedding Packages: DIY/BYO
This coastal bush and beach retreat offers a laid back location for outdoor weddings and is particularly well suited to festival-themed celebrations with food trucks. The 28 acre property is surrounded by native bushland and comes with 5 self contained units that sleep up to 32 guests plus an open-sided pavilion with a commercial caterers kitchen.
Being a secluded location Goolawah is one of the few Australian venues to have no curfew and with permission of the owners extra guests are able to camp onsite. The affordable venue hire fee starts at $6,800 including all accommodation. Pet friendly.

18. Pop Up Weddings
Location: Tilba Tilba, NSW
Capacity: 2 - 120
Accommodation: Sleeps 2 - 14
Wedding Packages: DIY/BYO
Mountain View Farm is a scenic country venue overlooked by Gulaga Mountain and is available to hire all year round but is a particularly unique wedding destination in early Spring when fields full of daisies burst into bloom. Special pop up weddings & elopements can be booked at a once-in-a-lifetime altar crafted into the daisy fields each year.
The six week daisy season starts in the middle of August and runs to the end of September offering a limited 6 week season. All inclusive packages are available during this time and come with optional accommodation for 2 to 14 guests in a love shack and glamping tents. 

19. Camp Sunnystones
Location: 98 Possumtail Run, Merrimu, VIC 3340
Capacity: 500
Accommodation: Sleeps 90
Wedding Packages: DIY/BYO
The 50 acre Camp Sunnystones is located beside the Long Forest Conservation Reserve and with accommodation for up to 90 guests onsite is one Australia's most relaxed places for a destination wedding. 
Two outdoor event areas include a brand new turfed site for marquee weddings with views over wild flowers to Mt Macedon and an interesting wedding spot in your own private valley also suited to marquee or tipi receptions. Affordable venue hire including accommodation is around $5k.

20. Fig Tree Park
Location: 58 Sherringham Lane, Central Tilba, NSW 2546
Capacity: 2 - 200
Accommodation: Sleeps 2
Wedding Packages: DIY/BYO
The brand new Fig Tree Park is a little known venue that's quickly becoming one of Australia's favourite spots for outdoor weddings. Located on a country hillside with expansive ocean views this beautiful French-style estate is undoubtedly one the world's most romantic spots to get married.
Thousands of fairy lights in a giant fig tree and manicured up-lit gardens create an intimate ambience on the grounds where large round tables and elegant cross back chairs come set up for your wedding reception. Wet weather options are available onsite and venue hire includes complimentary accommodation for two in a romantic barn.

21. Woodburn Homestead
Location: 410 Angas Plains Road, Langhorne Creek, SA 5255
Capacity: 80
Sleeps 12 + glamping
Venue Hire: $8,500+
One of the more unusual wedding venues in Australia is the open air stone chapel at Woodburn Homestead which was created in the ruins of what was once a barn. The chapel is set beside a rustic shed and marquee lawn and sits on 42 country acres with amazing photo opportunities including along the gum tree lined driveway.

This historic estate sleeps 10 guests in the main refurbished homestead and there is also a romantic bridal suite in a seperate Coach House. Venue hire ranges between $8,500 - $10,500 including accommodation and there are a choice of onsite catering packages with BYO drinks.
Alternative Wedding Venues
Cover Image: Ashleigh Haase Photography⁠