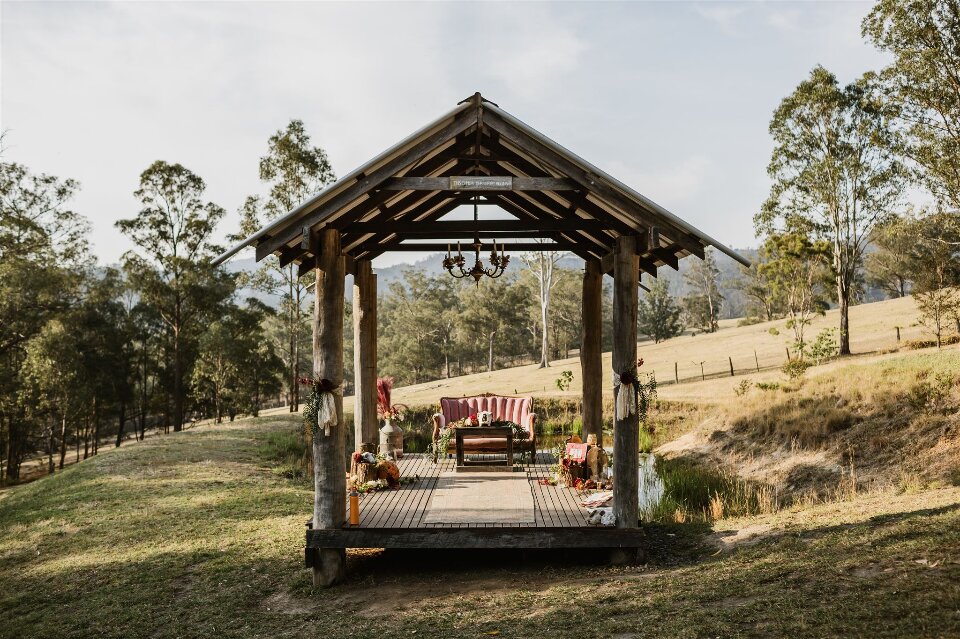 Eloping in Australia is easy and fun!  There's very few mandatory tasks that are required to make the wedding legal and plenty of stunning locations and options to choose from to celebrate in your own special way.
From micro weddings to secret weddings and elopements, Australia has all the options you could ever need to plan precisely the kind of small wedding you want.  And without the worry of having to pay for a hundred extra heads, you're free to create the wedding you deserve.  
Here's how to make an elopement in Australia everything you hope it will be... 
Ultimate Guide to Eloping in Australia
What is an elopement?
Cost of eloping
How to elope
Elopement FAQ
What Is An Elopement?
An elopement is a small & legally binding wedding ceremony with 2 - 30 guests that involves the same formalities of a traditional wedding ceremony. Eloping often refers to getting married in secret with the goal of having fewer people present, saving money and ensuring the focus of the wedding is on what's important to the couple.
Elopements have evolved over the last 20 years in line with social & economic trends. Whereas 20 years ago a couple who eloped were likely doing so in secret without the approval of parents. These days elopements are highly likely to involve the couple's parents as one of a handful of wedding guests to receive an invitation.
Cost of Eloping
The average cost to elope in Australia ranges from $2,000 - $20,000. Cheap elopements include a simple, legals-only style wedding ceremony performed by an authorised marriage celebrant, wedding dresses or suits for two people and an elopement photographer. Elopements increase in price from there, depending on the additional services added.
One of the most cost effective ways to elope is to book an elopement packages. Find a list of recommended elopement packages in these Australian states:
Elopement Packages
 NSW Elopement Packages  QLD Elopement Packages

Elopement Costs
Here's a breakdown of individual elopement costs. The price of an elopement depends on what you choose to include in your special day. The only necessary spend to get legally married when you elope, is the celebrant.
Venue Hire: $0 - $12,000
Venue + Accommodation: $1,500 - $10,000
Elopement Celebrant: $450 - $3,000
Elopement Photographer: $900 - $10,000
Wedding Dresses & Suits: $500 - $20,000
Rings: $400 - $20,000
Flowers: $400 - $6,000
Ceremony Setup: $1,000 - $5,000
Private Dinner: $100 - $600/pp
Wedding Video: $900 - $6,000
Champagne & Nibbles: $200 - $800
Hair & Makeup: $200 - $800
Planner/Stylist: $600 - $4,000
On top of these costs you'll need to budget for outfits for both of you, the rings, the reception venue or restaurant for celebrating after your ceremony, travel costs and accommodation if seperate to your venue. 
How To Elope
The one & only thing you need to elope in Australia is an authorised marriage celebrant who will officiate your wedding and organise and submit your legal paperwork. Everything beyond the celebrant is optional, and where you can put your personal touches to this very special day - or weekend - or week. 
There are no rules when it comes to eloping. You can do whatever the heck you like, however the heck you like - with the words "I do" thrown in at precisely whenever the heck you like. Here's a few ideas & a basic elopement checklist to help you get started planning the best damn day of your life so far...
1. Decide what's important!
Why are you eloping? It may be to skip the fuss of a huge wedding ceremony and perhaps you're keen to keep costs down. But there's also a vision you want to achieve that involves a more intimate audience.  

Plan an elopement that fits with who you both are. Image: Cavanagh Photography
Talk to your partner about what you both value and what getting married means to you.  Think about what you're going to say with your wedding and what it says about you. Then find a meaningful location and people who share your values to help you bring your wedding vision to life.
2. Create an elopement budget
Weddings are pricey, even small ones. Most couples who elope in Australia choose one or two items of importance to 'splurge' on (such as venue, celebrant or photography), and look to save on the budget in other areas. Your wedding is a very special moment in your life. So think about what you want the most from your special day and be generous to yourself in those areas. 

Australia has many beautiful places to elope including this daisy field which blooms in September. Image: Mountain View Farm
3. Choose an elopement location
Among the best places to elope in Australia include world-heritage locations, secret hideaways, romantic escapes and iconic venues. When choosing where to elope, think about what is most important to you. For example, you may like to consider a location;
that has meaning such as where you first met, had your first date or got engaged
that is near family & friends

where you can elope & honeymoon in one location

that enables your favourite pastimes such as bushwalking or swimming in the ocean
A destination elopement is not the only kind of elopement. Other places to elope include local parks and beaches, chapels & churches, cultural venues such as libraries or art galleries, or you can have an at home elopement where a celebrant comes to you.

Australia has plenty of small wedding venues for an intimate elopement like this French-style elopement venue: Fig Tree Park
4. Hire an officiant
An authorised celebrant is legally required to make the wedding official, so your celebrant, by default, is always the most important (other) person at your wedding regardless of what type of ceremony you're having. You can't get married without them. But if you choose to elope, the role your celebrant will play in marrying you and the way they perform the ceremony is quite unique. 
By definition, an elopement is an intimate celebration with very few guests. Instead of addressing a large audience, your celebrant will be addressing everyone at your ceremony on a more individual level. Celebrants who specialise in elopements know how to create an atmosphere and a momentous event of your wedding with just a handful of people present.
Hire a specialist elopement celebrant in the location you intend to elope. Elopement celebrants will perform your official wedding ceremony and organise & submit all your legal paperwork for you as part of their fee.
 Find An Elopement Celebrant
5. Book an elopement photographer
Your elopement will be one of the biggest moments of your life, so you'll want to make sure all the wonderful feelings & moments that you experience on the day are captured beautifully. 

Australian elopement captured by Anna Murray
Australia has an incredible talent pool of amazing elopement photographers, including some who have been named amongst the world's best by leading international publications. Elopement photographers are visual storytellers who largely photograph candidly and have a wonderful knack of capturing intimate and emotive moments without imposing their own presence. 
Elopement photographers offer packages from 2 hours to full day coverage with the average spend being $1,600 - $3,000. 
Another option to consider is the addition of a wedding videographer to capture your special day.  They can create a short highlights reel that you can publish and share online.  You can even have the ceremony live streamed for family and friends to watch as it all happens. 
Video packages range from simply filming your wedding ceremony to the addition of pre & post wedding footage and drone imagery - which is definitely something to consider if you're having a destination wedding in one of Australia's landmark locations.
6. Find the perfect elopement dress
Australia is home to an industrious industry of internationally renowned fashion designers including those who create wedding suits and couture gowns. And in addition to the industry's big names, there's many local city-based design houses where dream gowns, pant suits, two pieces and more can be tailored by the designer, off the rack. 
Grace Loves Lace knows a thing or two about choosing the perfect elopement dress, particularly if you are intending to travel with your gown. "Comfort is the key as you embark on your elopement day. Opt for a lightweight gown that not only enhances your beauty but also allows you to move with ease. We recommend choosing a dress without boning, corsetry, or zips, making it a breeze to pack away in your suitcase."

Grace Loves Lace celebrates individuality with bohemian, timeless & modern designs. Ask about Zsa Zsa - the unique wedding gown designed for adventurous Brides. It's the world's first swim-friendly wedding dress!
Grace advises opting for "breathable fabrics and versatile designs, ensuring both style and comfort throughout the day. When trying on your gown, feel free to lean over to check if you can adjust your shoes or pick something up from the floor. Try jumping, dancing, laughing, and prepare yourself for the unexpected."
Taking inspiration from your venue can also help guide you towards the perfect gown - from the vibrant energy of Sydney to the bohemian charm of Byron Bay. One last piece of advice from GRACE: "Don't forget that your wedding gown should always reflect your style and who you are."
Any of the wedding dress designers listed on Wedlockers will provide you with a custom fitting on your arrival in their city. Make sure you enquire early to get the required appointments prior to your wedding. Australian designed gowns generally start at $1,500 off the rack and custom tailored couture ranges from $5,000.
7. Choose your invitees
Yes, you might have chosen an elopement so that you don't have to worry about who gets invited quite as much, but you still need two official witnesses. If you haven't already decided who to bring with you, consider what's most important to you when choosing who needs to be at the wedding. 
There are no real hard and fast rules for who to invite or how many to invite. Generally, a guest list of under 8 is considered an elopement, under 20 is a micro wedding and 40 or under is a small wedding.
Any of your wedding vendors, with the exception of your celebrant, can act as a witness to your wedding. 
8. Tell those who need to know
You'll probably want to tell your family and closest friends about your wedding.  Think about when, where and how you will share this information.  Will you tell them before, during or after the big day?  

Scenic Rim elopement venue White Chapel Kalbar
Whoever you tell, tell them directly!  Hearing the news directly from you will help them feel included in your big moment.  They may be curious as to why you are choosing or chose to elope.  Have an explanation you're comfortable with at the ready and be prepared that some people may require time to digest the news.  If this happens stay positive and be understanding.  
9. Check on legalities
The legal requirements to get married in Australia generally include: not already being married, not be marrying a person who is immediately related to you, be at least 18 years old, understand what marriage means and freely agree to be married, use the specific words required during your wedding ceremony as directed by your celebrant, submit a notice of intended marriage via your celebrant between 1 to 18 months before your wedding and be married by an authorised marriage celebrant.
You'll need to provide proof of identification and place of birth, as well as a divorce if there have been previous marriages. Documents your celebrant may ask you for in order to submit your paperwork to legalise your marriage include an original birth certificate or extract and an original passport.
10. Don't forget the rings 
When it comes to the rings, narrow your options down to the metals and gems you want to use, then consider what style fits best.  Do you want simple bands, brushed metal, single stones or something more embellished? As a rule, don't worry too much about whether your rings match or not. You can each have your own unique design that fits with your lifestyles in mind. 
Having your wedding rings designed locally is a wonderful experience to enjoy together in the lead up to your wedding. Small Australian jewellers will walk you through the process, discussing who you are and what matters to you, to create designs that speak to your personality and relationship. If you'd like recommendations for small, local jewellers who offer this service in your area send us an email.
11. Think about what comes after
What will you do after the wedding ceremony? What kind of wedding reception do you want? A candlelit table for two catered in a private location, dinner at a restaurant in the city or an outdoor table under the stars at your private country venue?

Elopement set up by Elope in Sydney who offer all inclusive elopement packages with celebrant & photographer
Hiring an elopement planner to take care of all your wedding logistics is a good idea if you're not getting married in your home town. They'll organise your wedding ceremony, book your chosen suppliers and get you the best table at our most popular venues. You can find Australian elopement planners right here.
12. Announce your elopement
Even if you've given a lot of people close to you the heads-up, you should still think about how you're going to make your introduction as a married couple. Your wedding photos and video can be used to help you share the news on social media.
You can also create stationery or other custom-made wedding favours to send to your nearest and dearest so that, even though they weren't there, they have something to celebrate the big day with. Feel free to make a big fuss about it. It was a big moment in your lives together!
Elopement FAQ
1. Is eloping a legal marriage?
Yes, if you elope you are legally married. When you choose an authorised marriage celebrant to officiate your elopement, they will organise & submit your official paperwork and conduct your legally-recognised wedding ceremony making you an officially married couple.
2. Do you need witnesses to elope?
Yes, you need two. All Australian weddings need at least five people present: the two people getting married, two witnesses and a celebrant. Your witnesses can include your photographer, videographer or anyone else you invite. 
3. What documents do you need to elope?
Your celebrant will help you complete the required NOIM (Notice of Intended Marriage) form. You'll need to provide photo ID such as a passport, plus other documentation including but not limited to birth certificates and divorce certificates. Your celebrant will advise what documentation is required based on your individual circumstances such as your age and whether you have previously been married. 
4. Where can I elope to get married?
Anywhere you like. Here's some beautiful places to elope in Australia.
5. How many guests can you have at an elopement?
There's no set rules on how many guests you can have at an elopement. On average, couples who elope in Australia have between 2 - 30 guests.
6. How much does an Australian Elopement cost?
The average cost of an elopement in Australia is between $8,000 - $20,000. The cheapest elopements include a registry office style wedding from $450, with all costs above this fee being discretionary.
7. Should You Elope?
The big question when considering an elopement is should you elope? Here are 10 reasons why you might choose to elope instead of having a more traditional style of wedding. 
8 Reasons To Elope
You want the day to be about you two

(rather than spend it socialising with guests)

You want the day to be intimate 

(and not focused on lots of other people)

You want to avoid drama
You want to save money
You want to avoid stressing over details
You want to avoid traditional cliches
You hate large crowds
You hate being the centre of attention
It's easy to elope in Australia! There's a multitude of beautiful elopement locations, fabulous wedding celebrants, very few restrictions and lots of venues that cater to small elopements and weddings. Decide on your favourite Aussie destination and enquire with an experienced elopement celebrant to kickstart your wedding plans in Australia.
Cover image: Cavanagh Photography